1. When they have to announce that a house isn't haunted, it's never a good sign.
2. The bad news is that this house is haunted. The good news is that he cooks breakfast.
3. Raise your hand if the headless woman from the Civil War era would make you jump when you came up those stairs…
4. A bathroom that looks like a crime scene always makes a listing memorable.
 5. Nothing like a "Welcome" sign in the entry hall to make visitors feel right at home. "Is Slaughter the family's last name?"
6. Anyone else thinking of the "Rubber Man" from American Horror Story?
7. You might want to put an area rug right…there.
More Creepiness in the Real Estate Listings:
6 Freaky Real Estate Photos for Halloween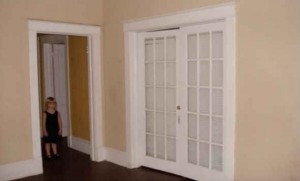 5 Very Scary Real Estate Listings
(Stained floor via Curbed. Kristina snapped the "Not Haunted" sign. Sharon found the cooking ghost in a New Zealand listing. "Slaughterhouse" was from a listing in California.)
(Visited 20 times, 1 visits today)