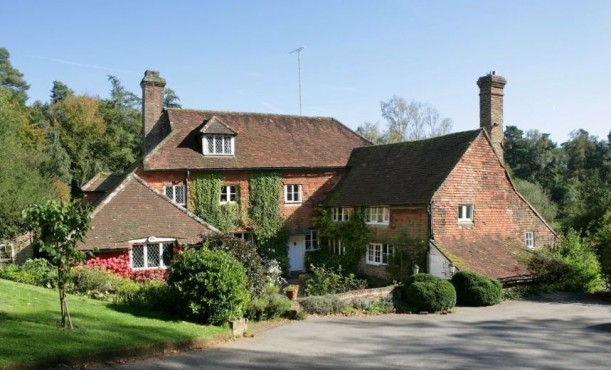 When I was a girl, my parents had an old 1950s hardcover of The House at Pooh Corner that they read stories to us from at bedtime. My family loved Pooh and all of his friends. When my kids were little, it was my turn to read from that battered blue book.
So I was excited to hear that the charming country retreat where author A. A. Milne was inspired to write about Pooh for his son Christopher is on the market for £2 million (about $3.1 m). Let's take a look!
A. A. Milne bought Cotchford Farm in 1925 as a country retreat for his family.
"It was here, amidst the beautiful Sussex countryside and surrounding woodland where the wonderful stories of Christopher Robin and Winnie-the-Pooh came to life," the listing says.
This 3-story, Grade II Listed Country House dates back to the mid-16th century (with later additions).
The house has 6 bedrooms and 3 baths.
It had another famous owner–Brian Jones, the musician and founder of The Rolling Stones, lived here until his death in 1969.
The property sits on 9.5 acres.
The garden has stone statues of Christopher Robin and characters from the Pooh stories.
"The local area is now commonly referred to as 'Pooh Country,'" the listing says, "and places in the books such as the 500-acre wood, Galleons Lap, Poohsticks bridge and Pooh Corner are all based on nearby locations."
"The remainder of land comprises a partially fenced field with a stream running along the southern wooded boundary. 'Pooh Sticks Bridge' is half a mile up stream."
For more photos and information about the property, check the Savills UK listing and Curbed. (Thanks to all the readers who wrote me about it!)
More Authors' Houses:
(Visited 4 times, 1 visits today)