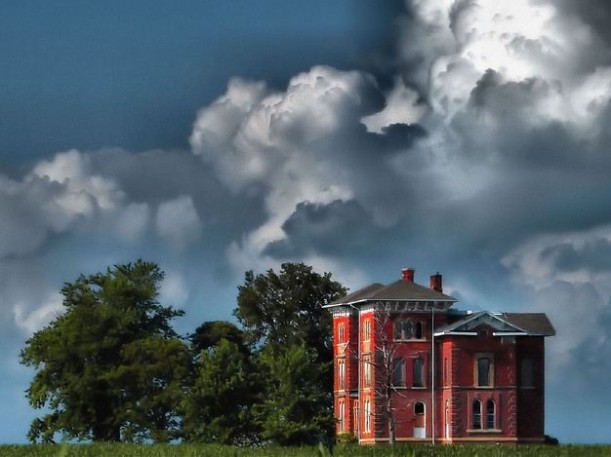 A reader named Carrie wrote me about the plight of Duncan Manor: "This is a house in central Illinois that means a lot to many people. It sat empty and derelict for years until it was sold to a real estate agent and her husband who have a history of saving old houses. They got a lot of the structural work done but now have to sell. The house is sitting empty again and is longing for a new owner to rescue it."

An Old Photo of the House:
According to the Landmarks website:
This grand Italianate home is one of the finest farmhouses in Illinois. It has been a striking presence on the rural landscape since its construction in 1875, and still draws admiration from drivers along Interstate 55. The home is listed in the National Register of Historic Places, but unprotected by any local landmark ordinance.
Duncan Manor Today:

The listing says:
"McLean County's famed Duncan Manor, originally the home of William Duncan, boasts 7 bed's, 6 fireplaces, 11 ft ceilings on 1st and 2nd flrs, 10 ft ceilings on 3rd flr, 4 covered porches (including widow's walk), all original wood trimmings, including magnificent banister for grand staircase in center of home."
You can see the house still has a long way to go, but at least the work has been started.
They've done a lot of the wiring, plumbing, and foundation work, as well as exterior restoration.
Ed Rascaille, who took the beautiful photo at the top of the post, wrote about his childhood memories of the house:
"When I was a boy, this large Italianate farmhouse built for the livestock farmer William R. Duncan was one of the 'crane-your-neck and make guesses' landmarks along Route 66 between Chicago and St. Louis. It sat isolated amidst thousands (seemingly millions to us kids) of acres of corn and bean fields and had an air of mystery…. It is sad that this historic old building is deteriorating rapidly and this memory of millions may someday no longer be with us. I hope something can be done."
How the eaves looked before the current owners started the renovation:
They look beautiful today, restored and like new: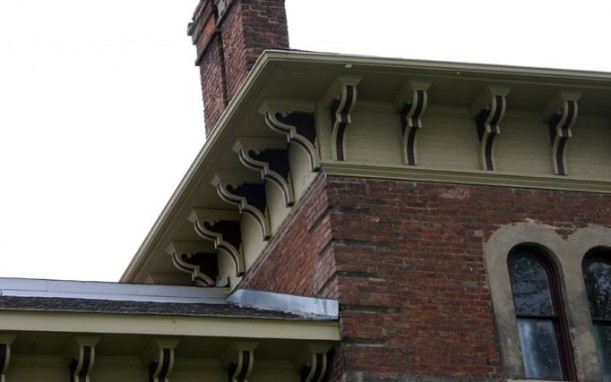 Want to save it? It's on the market for $262,400.
2015 Update: Carrie tells me that a couple bought the house and they're working hard to restore it. They have a Facebook page where you can follow their progress. They have asked the community for volunteers to help around the place and give occasional tours. It's wonderful to see the house coming back to life! 🙂

Here are 5 of my readers' houses on the market right now. Take a look and spread the word! #1. An 8-Sided Cottage on the…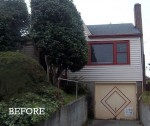 If I had seen this house when it was for sale in West Seattle--even with its fabulous city views and reasonable price tag for the…