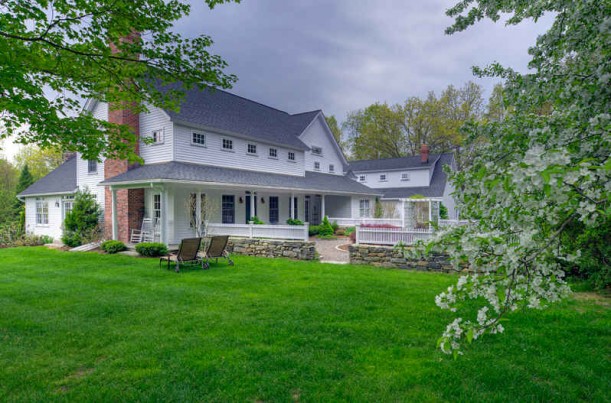 I found what may be my dream home, described in the listing as a "Country Cape" in Washington, Connecticut. I've always fantasized about having a country house like this — possibly because I've watched too many old movies that feature them, like Bringing Up Baby and Christmas in Connecticut.
This one may look like an old farmhouse that's been renovated, but it was actually built in 2005 with authentic beams and fieldstone and lots of beautiful woodwork for added character.
The Country Kitchen:
I keep thinking of more movies that have made me want to buy a country house over the years. Baby Boom is another favorite (despite how moving to the country made Diane Keaton's character kind of lose her mind). Wonder how cute the vet is in this town? 😉
Dining Room:
Family room with stone fireplace and beamed ceilings:
Can't you see this house all styled up for Country Living magazine?
It has 4,700 square feet, 5 bedrooms, 4.5 baths, and a separate apartment over the garage.

A pretty portico:
The back of the house has arbors and a fieldstone wall:
Want it? (I do!) Asking price is $1.495  million. For more photos and information, check the listing held by Carol Bablonka of Klemm Real Estate.

(Visited 2 times, 1 visits today)