Would you pay $4 million to live in a giant "sculpture" in the Hamptons? What if it was designed to "defy death" and keep you alive longer? It may look like a demented daycare facility, but it's the Bioscleave House, the result of years of thought, research, and planning by provocative artist-architects Arakawa and Madeline Gins.
It sits on over an acre in East Hampton, NY, but this is no ordinary piece of real estate. Its designers claim that the homeowners can live longer here–possibly forever! They believe it is "immoral that people have to die."
The house has bumpy, rippling concrete floors, and walls that meet at odd angles. Gins says, "It helps you cradle tentativeness." They don't want you to get comfortable here. Comfort, they believes, equals death. The house forces people to "use their bodies in unexpected ways to maintain equilibrium," and that, she claims, "stimulates their immune systems."
Here are Arakawa and Gins themselves, demonstrating how the space may be used (photos via the NYT, photographer Eric Striffler):
In this house, they say, "Every day, you are practicing how not to die." My question: after a few days, how bad would the idea of death seem?
The bright colors and odd angles are meant to challenge you. The poles are there to help you if you lose your balance. You even have to sign a release before entering the house.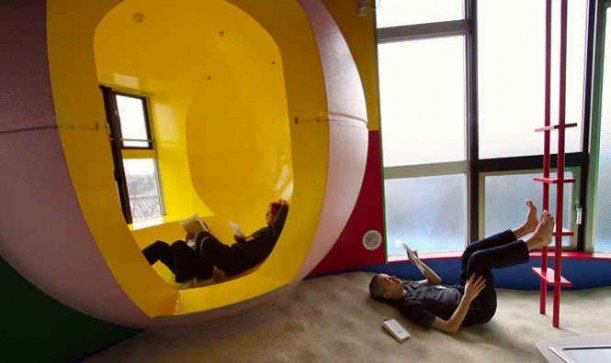 The sunken kitchen looks more like a child's playset than a real cooking space (despite the home's appearance, children aren't allowed inside):
Arakawa and Gins believe that retirement homes and hospitals should all be designed like this, to challenge the residents and help them live longer.
Here's one of the three bedrooms, staged with a pair of sneakers:
One of the two bathrooms, which appears to be open to the rooms around it:
According to the listing:
A synthesis of architecture, art and science, this artistic statement in the form of a life-enhancing environment is a signature and culminating work of the world-renowned team Arakawa + Gins.
Forty years of scientific and philosophical investigation into how best to sustain human life and how to use architecture to help people live exceedingly long lives has been put to good effect in this house like no other. It has at last – for the first time in human history – become possible to live entirely within a sculpture!
What do you think? Would you fork over $4 million to live in a house that defies death? How much is eternal life in the Hamptons worth to you?
To read an interview with Arakawa + Gins that better explains the house, check out the interesting article and audio slideshow at NYT.com. For more information, go to the listing by Sotheby's. (Thanks to Ami for telling me about it!)
(Visited 5 times, 1 visits today)