When I saw this beautiful, beachy Martha's Vineyard house featured on House of Turquoise, I immediately thought of the one from Something's Gotta Give. So I had to laugh when I got to the end of her post and she asked if it reminded anyone else of the SGG beach house. Apparently I wasn't the only one!
Let's compare them, shall we?
The Martha's Vineyard Living Room:
And the Something's Gotta Give Living Room: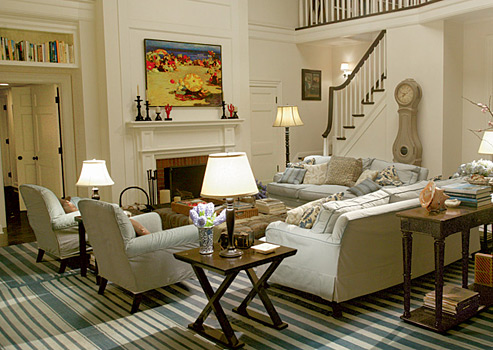 They're obviously not identical–it's not like the Martha's Vineyard room is a copy of the movie set–but they share a similar kind of style. Even the front doors look related (love them!).
The Martha's Vineyard Kitchen: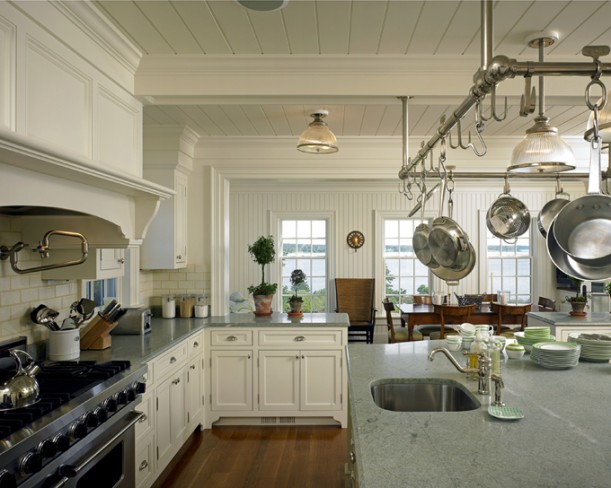 And the one from the movie:
Again, not a copycat version, but you can definitely see the influence in the cabinetry, the subway tile, the light fixtures, and even the drawer pulls. Which version do you prefer?
It's fun to see how a talented designer can take a look from a movie set and interpret it for his or her clients' needs. In this case, the designer is Arden Stephenson, and you can see the rest of the photos from the house in Stephenson's portfolio. (Thanks to Erin of House of Turquoise for bringing it to my attention!)
2/11 UPDATE: I just heard from the designer, who says, "I, too, see the similarities. The funny thing is that this house was 4.5 years in the making, beginning in 2002 – before the movie came out! (For the record, I have never even seen the movie – nor the images of the set design)! It was not until people began comparing my work to the movie that I ever even looked it up!" Isn't that interesting? Thanks, Arden!
10/12 UPDATE: I've been informed that the architect was Patrick Ahearn. "The client did hire Arden as the Interior Designer, but all the finishes, plans, etc. were executed by Patrick Ahearn." You can see more of the house on his website. (Thanks, Jessica!)
Love the Something's Gotta Give house? You can see my post about it with more house photos here. Or visit TV/Movie Houses to see them all!
(Visited 14 times, 1 visits today)