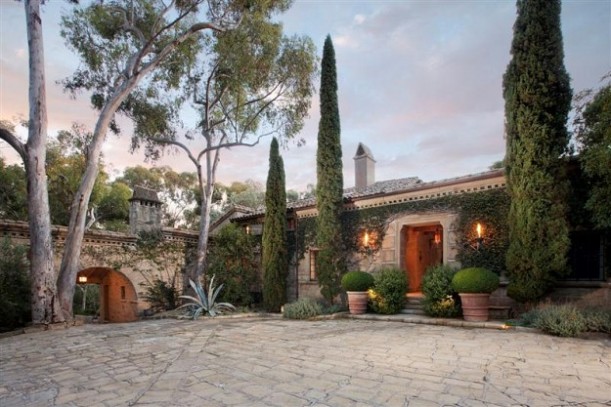 As you know, I love searching through real estate listings. I spend hours each week on my hobby, and it's one of the reasons I started this blog. If I share my findings with you, then it justifies all the time I spend on them, right?
So I was clicking around in the California real estate listings and stumbled across this gorgeous property in Montecito for $24.5 million. Turns out it's the amazing stone villa owned by designer John Saladino.
It was built in 1928 by architect Wallace Frost, but by the time Saladino bought it in 2001, it was, as Veranda described it, "a romantic ruin." He says, "Part of the immediate appeal of the house was its mix of grandeur and modesty." He spent four years restoring it and making it beautiful again.
He even wrote a book called Villa about his love affair with the house. Veranda magazine proclaimed it "a master class in interior, architectural and garden design," and "One of the best design books of 2009–or any year."
Now he's selling his villa and moving on. The listing notes that the house has 14,000 Italian tiles that date to the 18th century. I wonder whose job it was to count them all?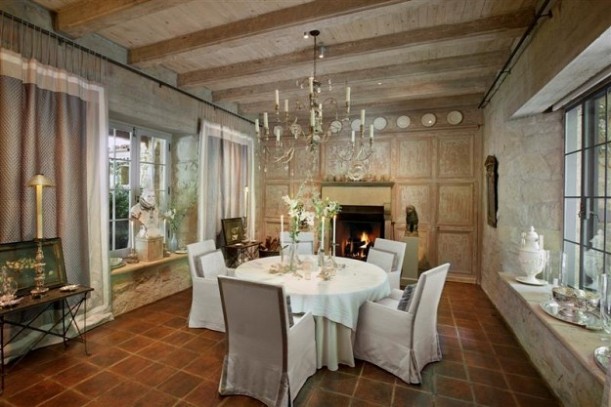 The kitchen looks surprisingly modern: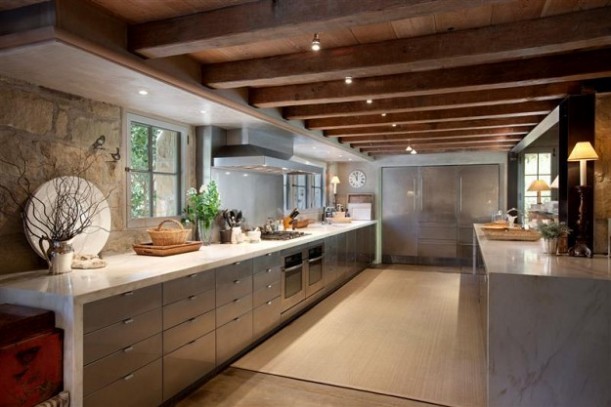 A secret door leads to this two-story office suite (some days I wish the door to my office was hidden!):
The house has 6 bedrooms, 6 baths, and 2 half baths.
Despite the grand price tag, I think the house looks warm and comfortable, like you could really live here (and boy, I'd like to try!).
The villa has 10,000 square feet.
The grounds are amazing. The house sits on 13 acres, all beautifully landscaped with things like "vine-covered pergolas" and "a 2,000-year old Roman column." Oh, and did I mention there's a view of the Pacific Ocean from here?
For more information and photos, go to Village Properties (it's the house on Hidden Valley Lane). For more information about John Saladino and his book, visit his website. You can see the article Veranda wrote about the villa, which includes more photos, here.
(Visited 11 times, 1 visits today)