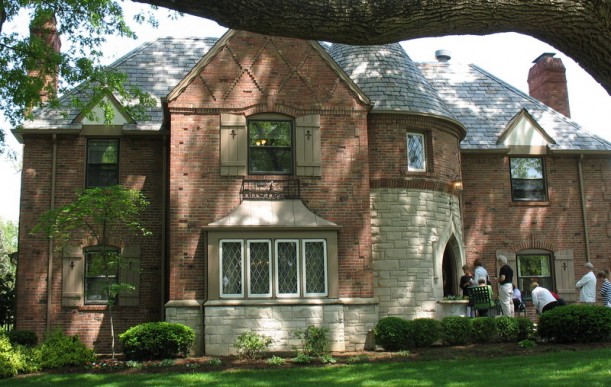 It's time to show you the actual houses that were on the North Avondale Home Tour last weekend. This 1937 Normandy Manor, known as The Levine House, will be our first stop.
The Levine House was built during the Great Depression. The Normandy Manor, or Norman Revival style, is less common in Cincinnati than the Tudor Revival, but the two share details like the hipped slate roof and the semi-circular Norman tower in front. There are diamond-pane casements in the tower and front bay window, and the front door is beneath a dramatic arch (shown below).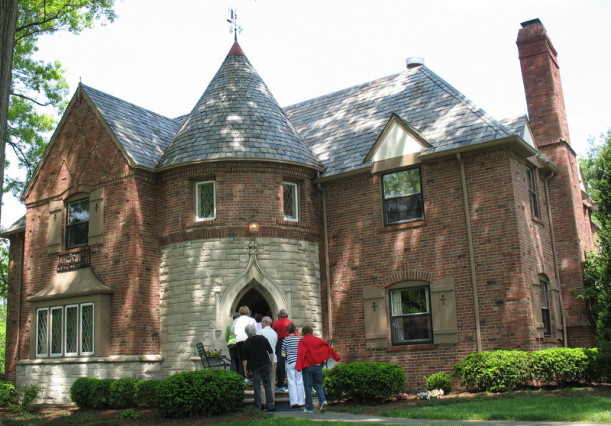 Cincinnati Magazine provided a supplement that featured photos of the interior of the Levine House. Since I wasn't allowed to snap any myself, I scanned them for you to give you an idea of what we found inside:
Stay tuned–I'll show you more photos from the house tour later today of the first luxury apartment building in the Cincinnati area, built in the 1920s.
(Interior photos via Cincinnati Magazine and the Cincinnati Preservation Association.)
This was one of the houses we walked by on the house tour through North Avondale. This three-story home was built in 1908 and has…
The Belvedere, one of the first luxury apartment buildings in Cincinnati, reeks of Jazz Age glamor. The high rise was constructed in North Avondale in…