Homeowner Sues Real Estate Agent.   Marty Ummel says she paid way too much for her house in Carlsbad, California. So did lots of other people who bought at the height of the housing boom. But Ummel is blaming her real estate agent for not warning her that other houses in the neighborhood were selling for much less, and she's taking him to court. Attorney Clifford Horner says, "When your house appreciates $100,000 in the first six months, you're not quite as concerned that maybe the valuation was $25,000 or $50,000 off. But when your house goes down, you ask: 'Who might have led me astray here?'" Could this be a sign of the times? Realtors everywhere are shaking in their blazers.
Give Your Home an Age-Appropriate Makeover.  Upgrading your house can help it sell faster, but only if you choose the right projects. This article suggests which projects you should focus on depending on the age of your home. For example, if your place was built in the '80s, they suggest that upgrading the countertops and ditching the wallpaper should be at the top of your to-do list.
10 Tips on Staging Your House to Sell.   Did you know that buyers make a decision about a house they're looking at within the first 15 seconds? And the clock starts ticking at the curb, before they even step inside. One study showed that staged homes sell in less than half the time. "In this market now, staging is desperately needed even more so, because it's so competitive," says Julie Dana, who wrote a book on the topic. My favorite suggestion from this article is #3: Hide the sword collection.
See the houses featured at the top of each page in the "Hooked on Houses" logo? I took that picture, as well as the one at the…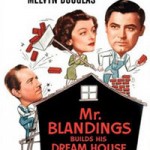 Here are some fun links for you to check out if you need to get your "house fix" today: Over at Retro Renovation there's a…