This beautiful Dutch Colonial in New York will forever be known as the "Amityville Horror House." Ronald DeFeo Jr. notoriously murdered six family members as they slept here in 1974. George and Kathy Lutz bought the house a year later but, after less than a month, fled with nothing but the shirts on their backs.

The Amityville Horror House
The Lutz family's spine-tingling tales about the haunted house were turned into a bestselling book by Jay Anson:
The stories were turned into various  Amityville Horror films over the years:
In this news photo from the '70s, there's something poignant about that "High Hopes" sign:
No one else who has lived in the house since then has reported any supernatural activity. One man who lived there for a decade says, "Nothing weird ever happened, except for people coming by because of the book and the movie."
Here's how the house looked in the 1979 movie: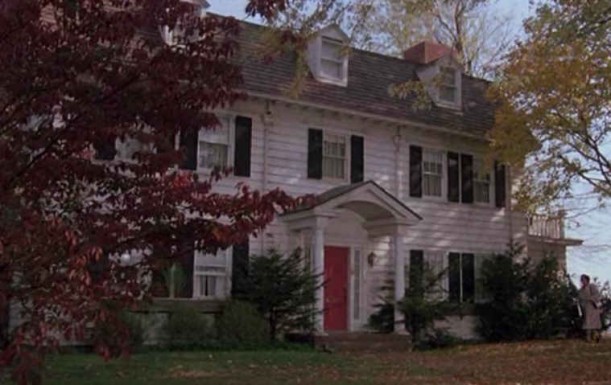 The address has been changed twice since the murders in an attempt to regain a sense of privacy.
The Lutzes paid $80,000 for it in 1975. The current asking price: $1.5 million.
The side of the house in the movie:
Some say the whole thing was just a hoax–elaborate stories made up by the Lutz family.
Their attorney told People magazine that they made it up together over a few glasses of wine. There are details that don't really make sense or hold up under scrutiny (you can read all about it here).
I could only find two interior photos of the house. Love the sunroom!
The Boathouse on the Water:
*2016 UPDATE*
It's on the market again for $850,000. You can see the listing here.
Brave enough to live in the Amityville Horror house? For more information, visit Newsday.


P.S. Visit Houses Onscreen to see more, including…
 (Post includes affiliate links.)
(Visited 128 times, 1 visits today)