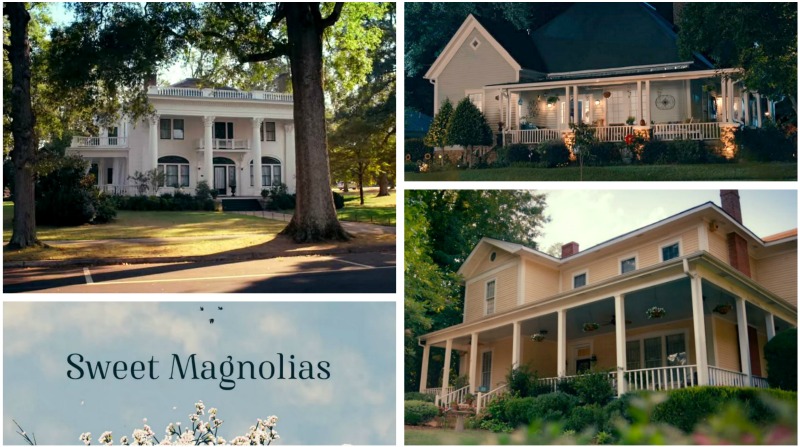 Raise your hand if you watched the new series "Sweet Magnolias" on Netflix and wanted to move to the charming Southern town of Serenity, South Carolina. Not only am I ready to pack my bags, but I also decided I need to start hosting Margarita Nights each week with my friends like Maddie, Helen, and Dana Sue do!
There are some great houses and sets on this show, so I had to find out more about them.
Alas, Serenity is only fictional, and not in SC. The show was filmed in Covington, Georgia, outside Atlanta.
If some of the houses and shots of the town square look familiar, it may be because so many other TV shows and movies have been filmed there, including "Vampire Diaries" and "In the Heat of the Night."
Let's take a look at the historic Greek Revival-style mansion the three friends renovate on "Sweet Magnolias," as well as the houses the women live in.
Note: There are Amazon affiliate links in this post that may earn commission.

The Houses on "Sweet Magnolias"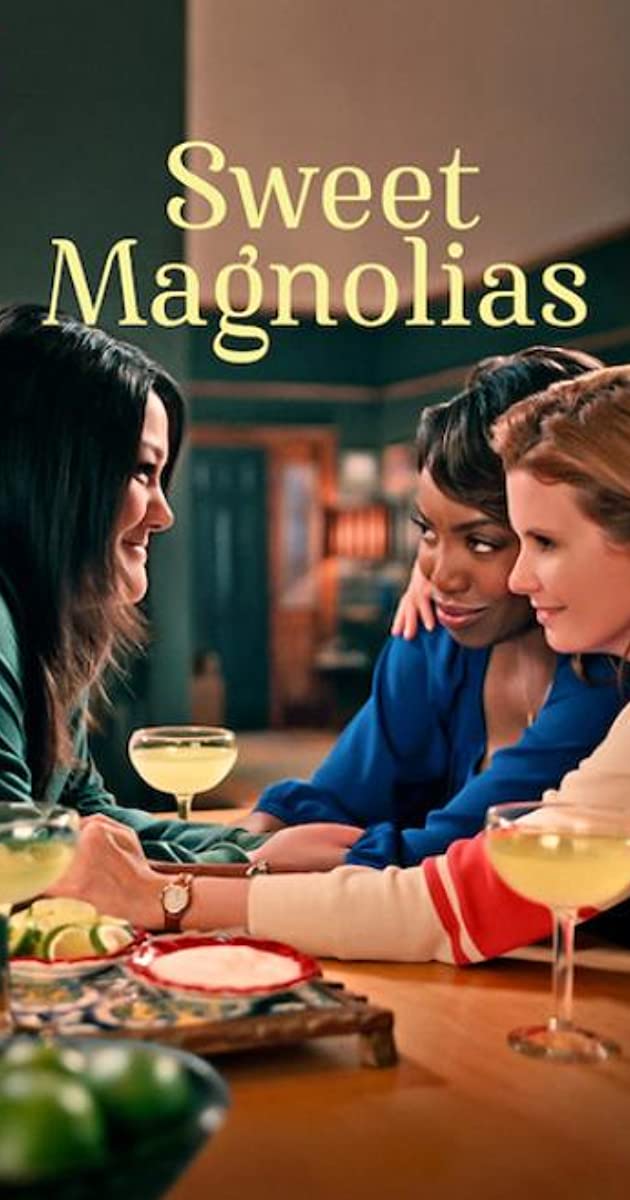 The series is based on the series of novels written by Sherryl Woods,
starting with Stealing Home (Amazon affiliate links):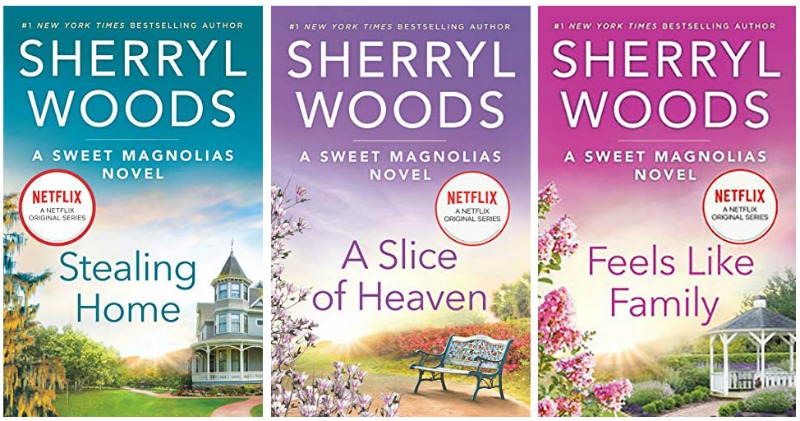 I'm reading Stealing Home right now. It's always fun to compare shows like this to the books they're based on.
If you enjoy Hallmark movies and the popular series "Chesapeake Shores," which was also based on books by Sherryl Woods, you'll probably like "Sweet Magnolias," too.
The show tells stories of love and friendship that take place in a small Southern town where the characters go to church and pray together in a crisis.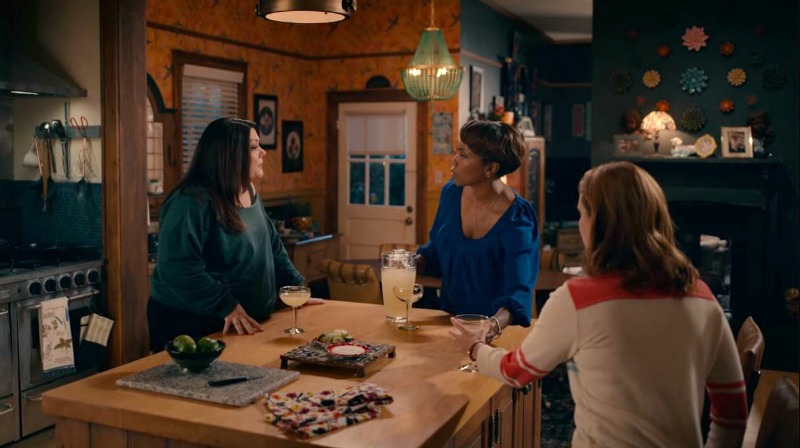 They live in the fictional small town of Serenity, South Carolina,
but it was filmed in and around Covington, Georgia, outside Atlanta: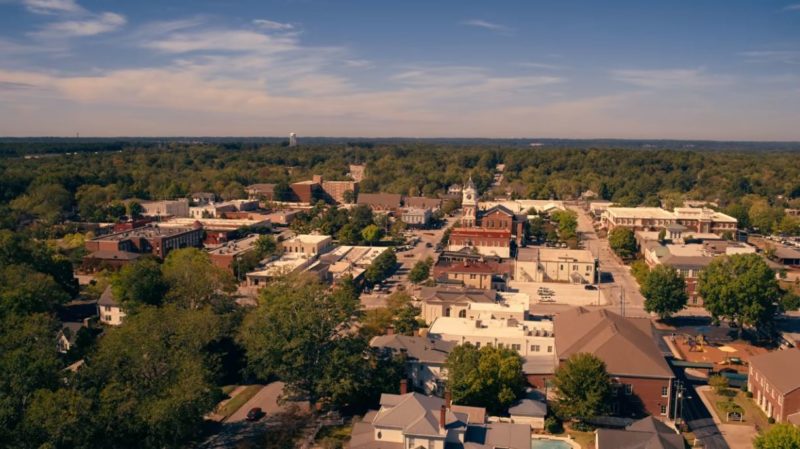 Author Sherryl Woods says she based the town of Serenity in her novels on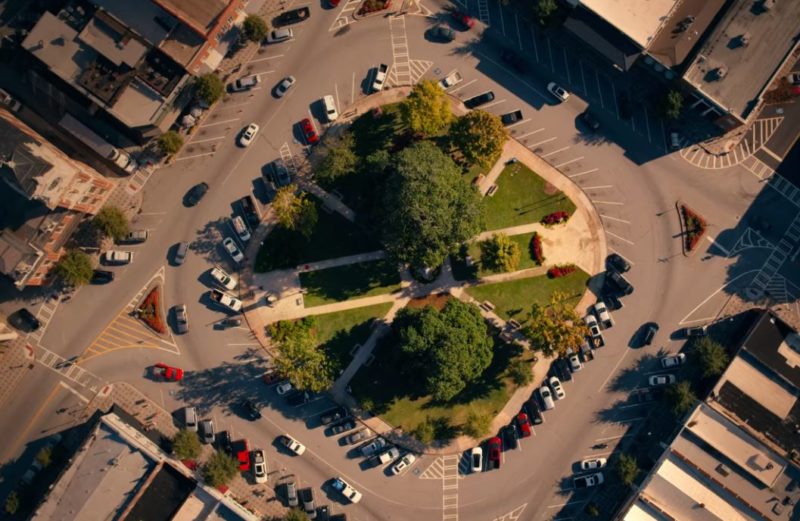 Lifelong friends Helen, Dana Sue, and Maddie are renovating an old mansion
and turning it into a health center and spa for the women of the town:

After it opens, Maddie runs the Corner Spa, while Helen works as a local attorney,
and Dana Sue owns a popular restaurant called Sullivan's: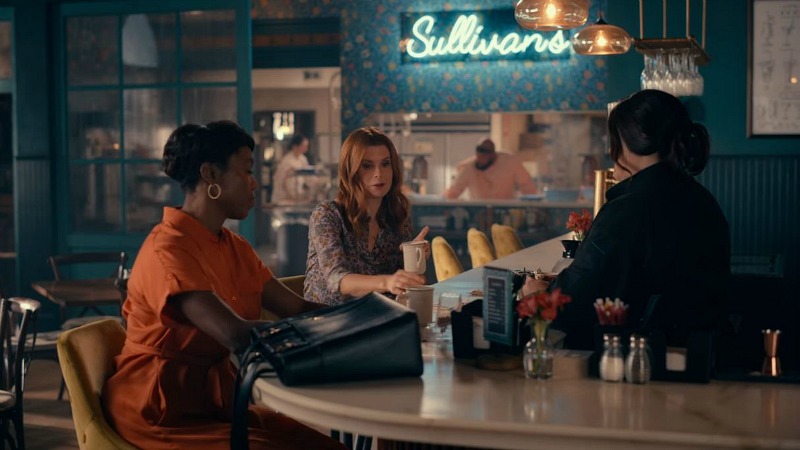 According to Go Covington, they used a local restaurant called Mystic Grill,
which you may remember seeing in "The Vampire Diaries," as well.


The Corner Spa on "Sweet Magnolias"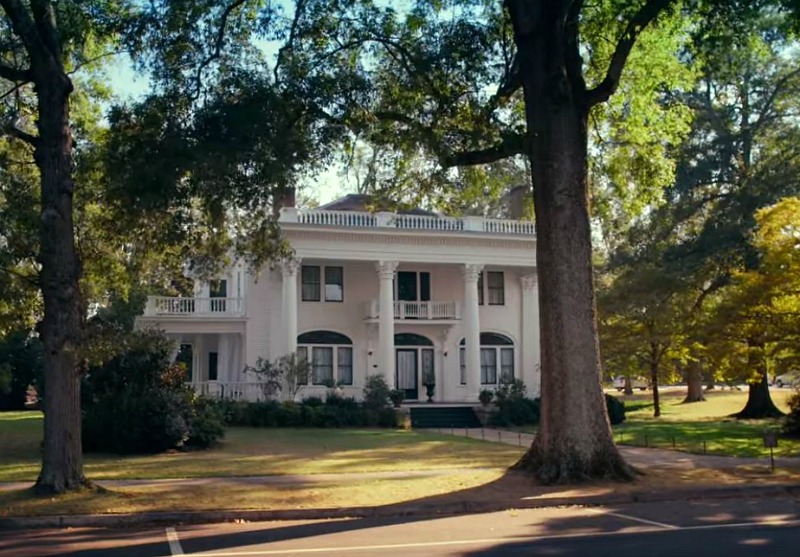 They reportedly filmed the exterior scenes for Serenity's Corner Spa
at the historic Greek Revival mansion known as the Lee-Porter House in Covington, Georgia.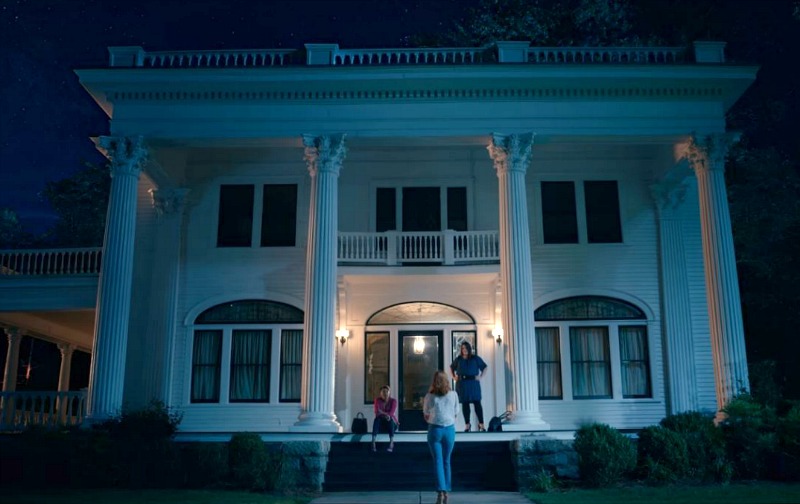 The house shown onscreen and the Lee-Porter House are very similar. However, you can see it looks a little different on Google Streetview, which made me wonder whether that information was correct.
I did a little more digging and found this explanation in Newsweek: "The Corner Spa is actually partly a law office on the town's College Avenue. The office provided the exteriors for the spa, but its interiors were actually a soundstage. The facade of the spa, meanwhile, is actually the town's Lee-Porter Mansion, found at 2146 Conyers St SE."
So it sounds like both locations were used for filming those scenes at the spa.
I looked up law offices in Covington and found a photo of the house from "Sweet Magnolias" on the website for Craig Law. You can also see it on Streetview. Mystery solved!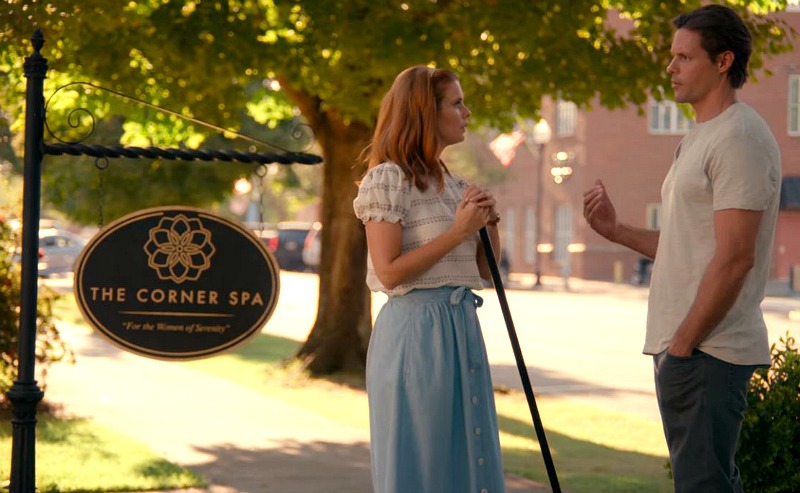 Joanna Garcia Swisher plays Maddie Townsend, a recently divorced mom of three struggling to navigate her newly single life after her husband leaves her for another woman.
Luckily, her son's baseball coach Cal (Justin Bruening) is there for her, though. In more ways than one!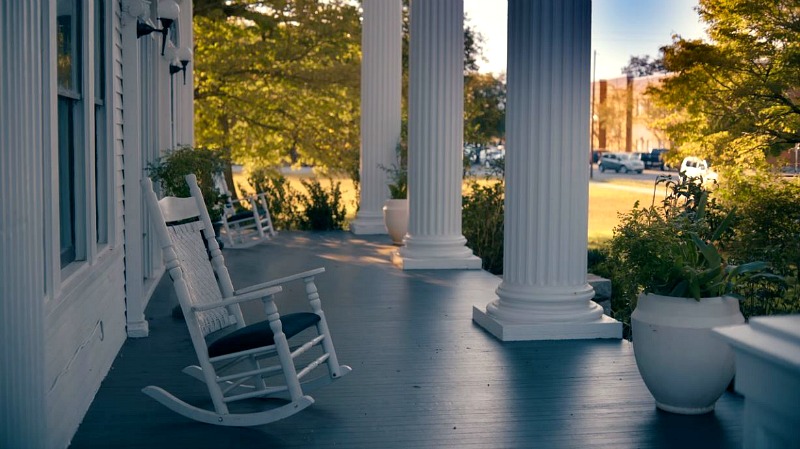 The Corner Spa During Its Renovation: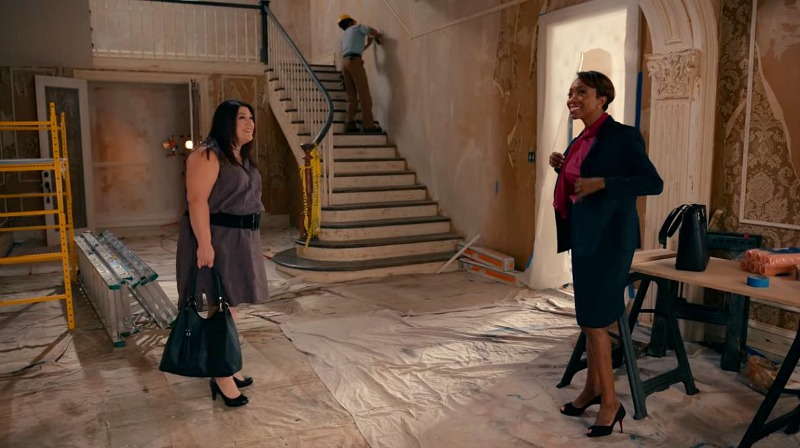 The Finished Entry Hall with Front Desk: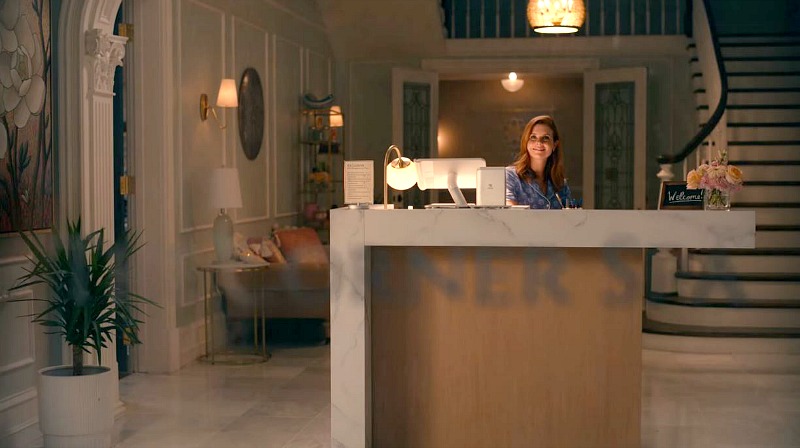 Jamie Lynn Spears plays Noreen, the woman Maddie's husband leaves her for.
This is her first acting role since "Zoey 101" over a decade ago.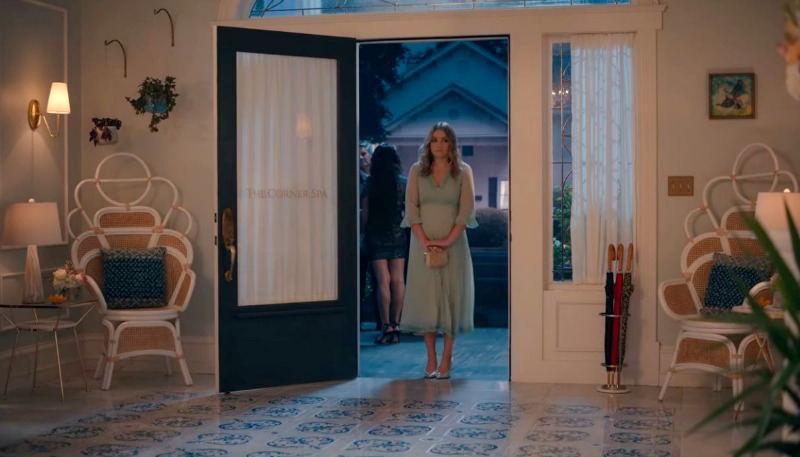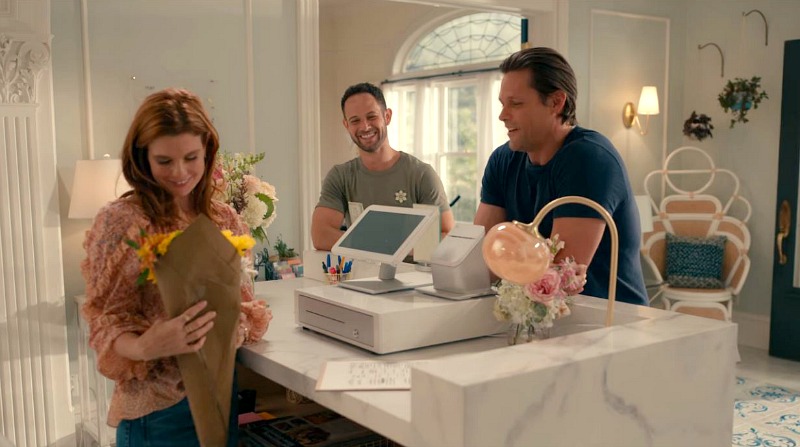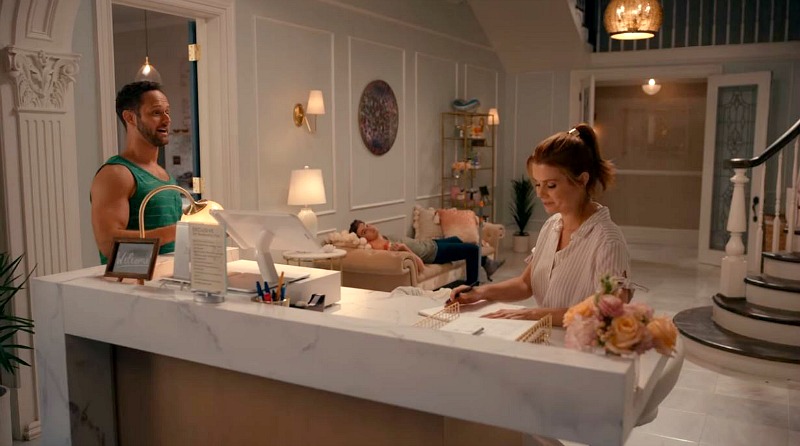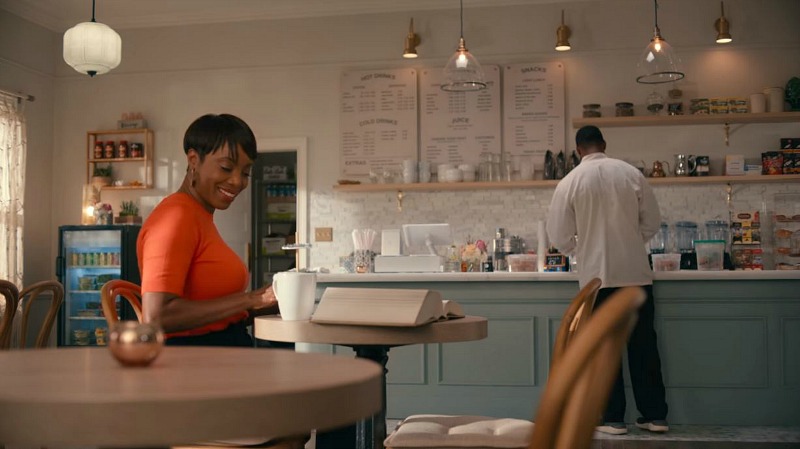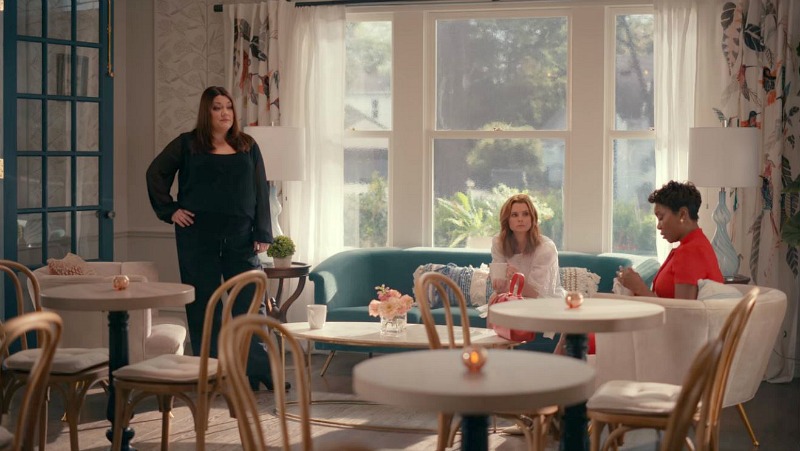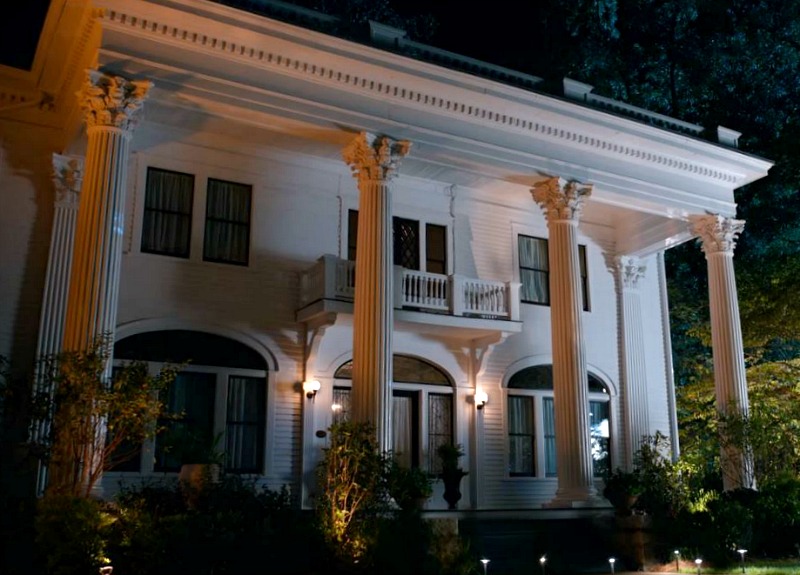 Dana Sue's House on "Sweet Magnolias"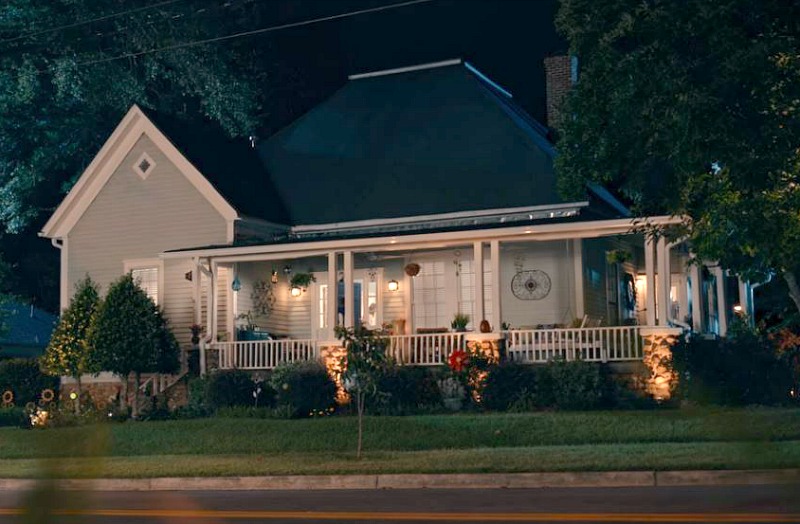 Single-mom Dana Sue Sullivan and her daughter Annie live in this cozy blue house.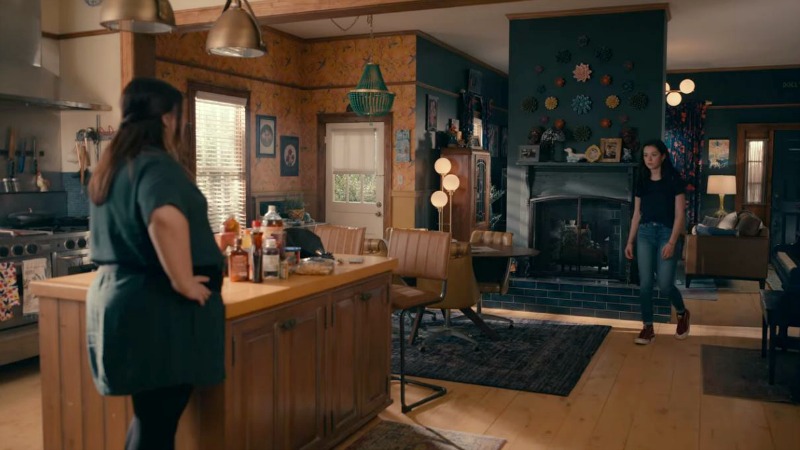 You may remember Brooke Elliott, who plays Dana Sue, as Jane Bingum on "Drop Dead Diva."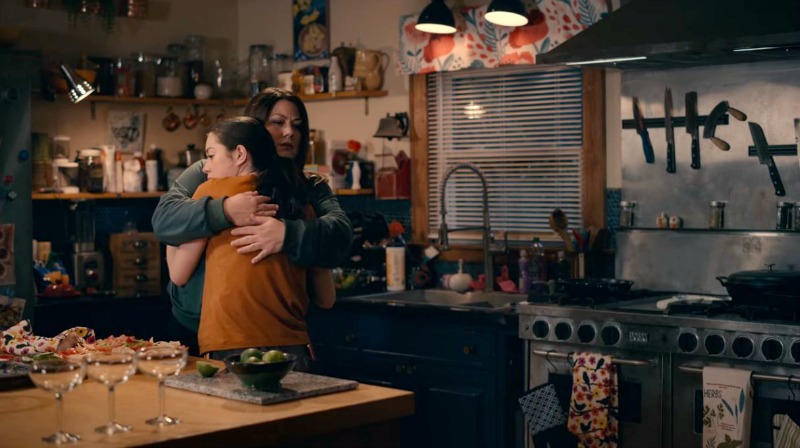 Dana Sue's kitchen is less about aesthetics than the ones her friends have. It looks like it's built to work hard. It's filled with open shelves crammed with everything a busy chef could possibly need.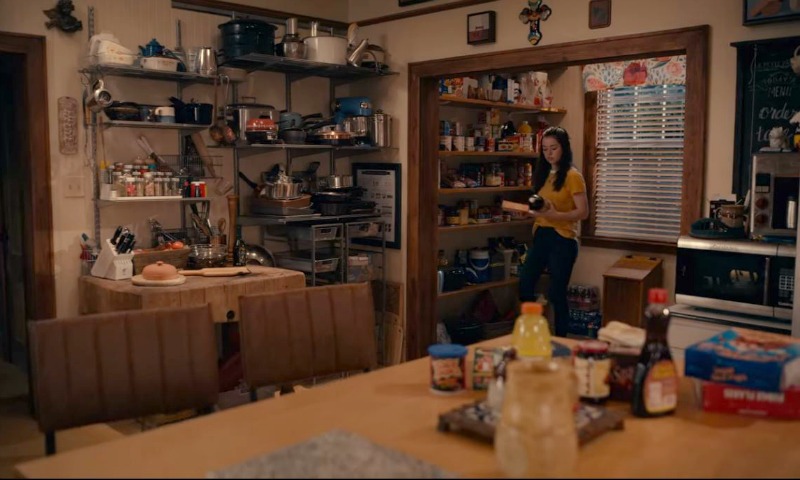 Helen's House on "Sweet Magnolias"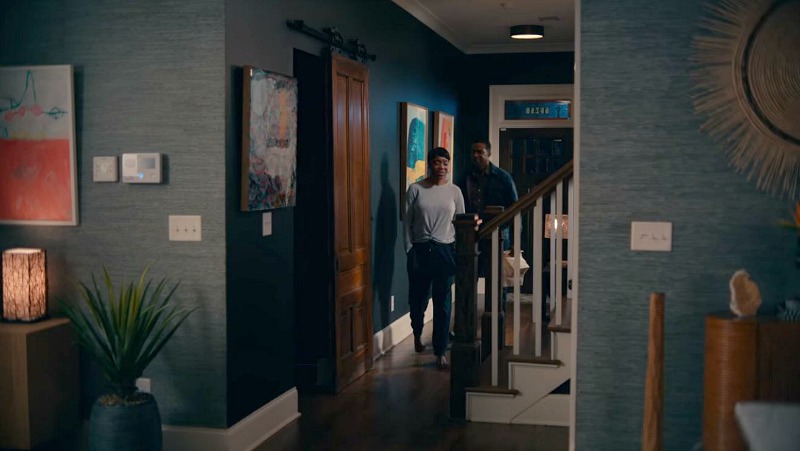 They rarely show the exteriors of the houses on this show. I watched all 10 episodes in order to take these screenshots and found they often would just show a close-up of a porch or pillar rather than giving us a wide view of the entire exterior.
In fact, I was unable to find a single shot of the outside of Helen's house. (If I missed it, let me know which episode you saw it in!)
We didn't see her house at all until late in the season, so it was a nice surprise when they finally introduced these sets. They're some of my favorites.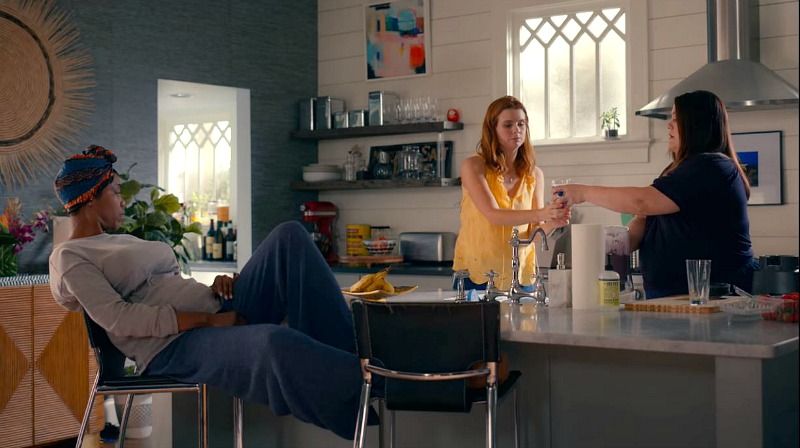 Everyone needs a friend like Helen Decatur (played by Heather Headley).
She's an attorney who fights hard for her clients and takes care of her friends when they're in trouble.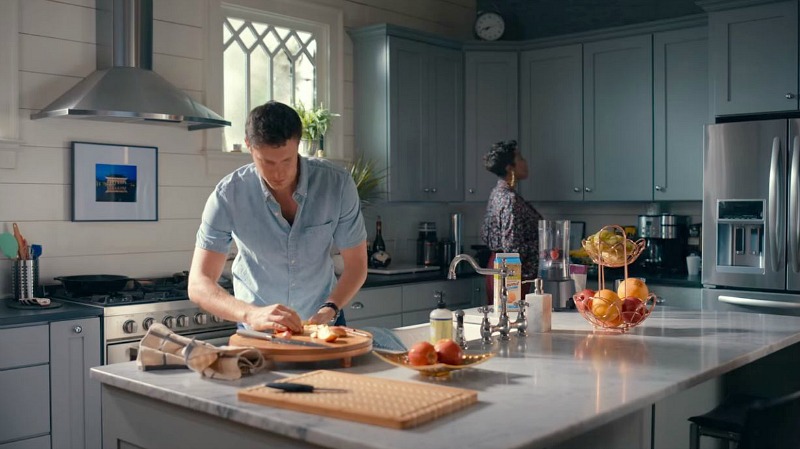 Her kitchen has pale blue-gray cabinets, shiplap backsplash, and a large marble island.
The family room is moodier with dark teal grasscloth wallpaper: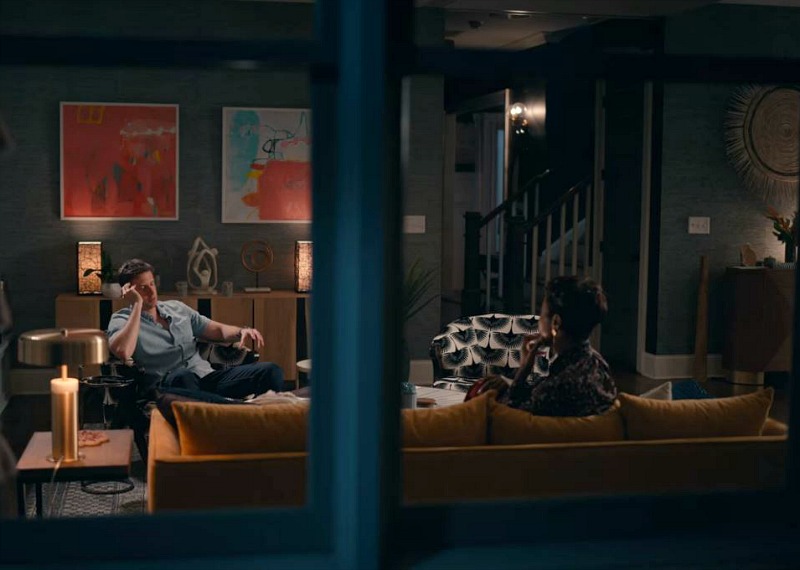 Maddie's House on "Sweet Magnolias"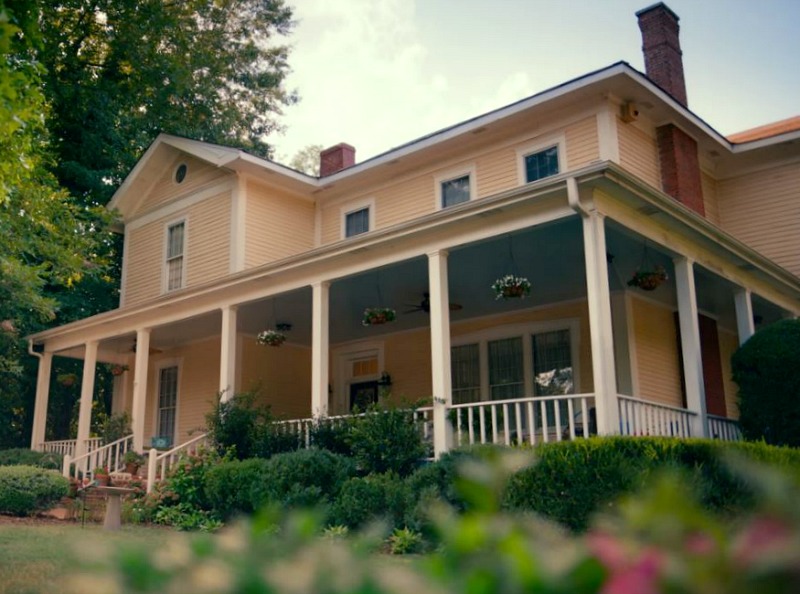 Maddie's porch is the real showstopper of this house for me.
It's probably bigger than my first apartment was!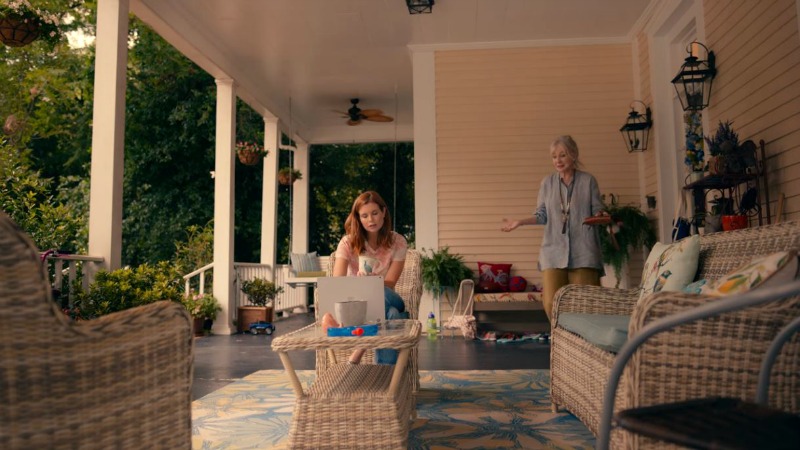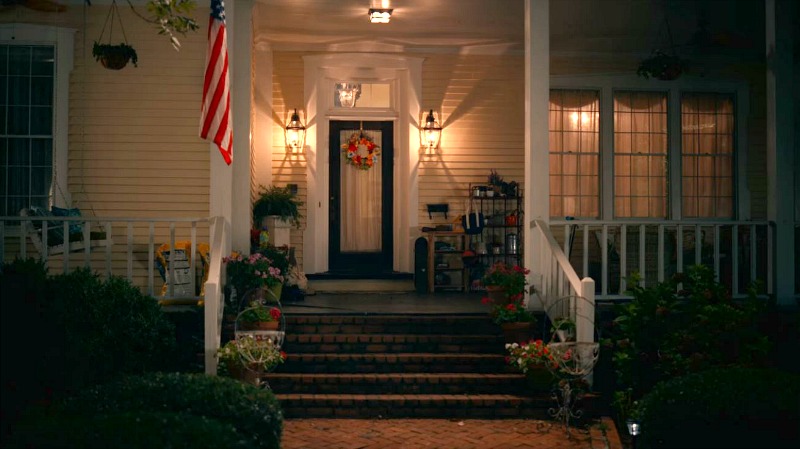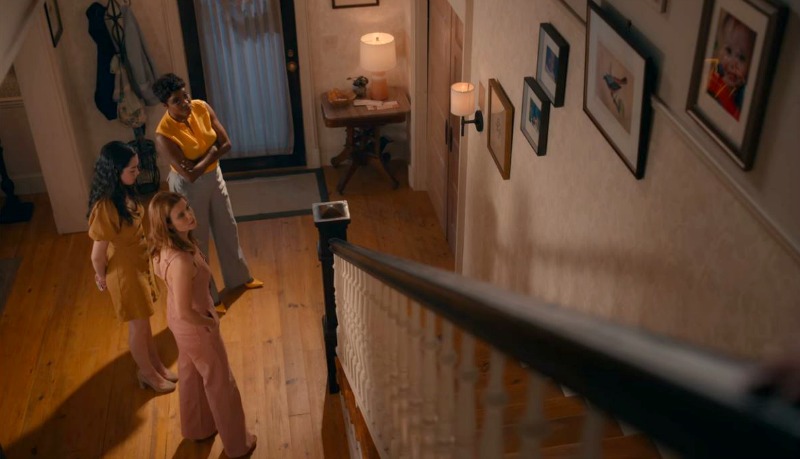 I'm jealous of their Margarita Nights, where they meet in each other's homes and "pour it out," sharing all of their struggles and successes from the week. (Get the recipe for Helen's Lethal Margaritas on JoAnna Garcia Swisher's blog The Happy Place.)
I need to convince some of my friends to do this when we're all able to gather in groups again. Oh, how I miss those days…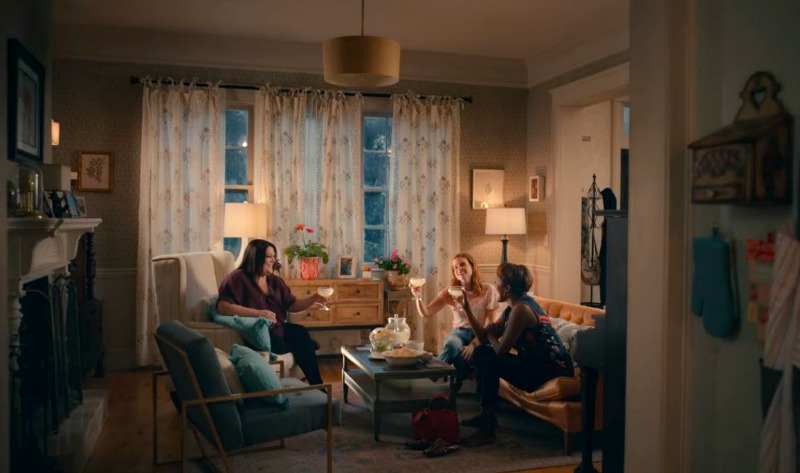 Maddie's Kitchen: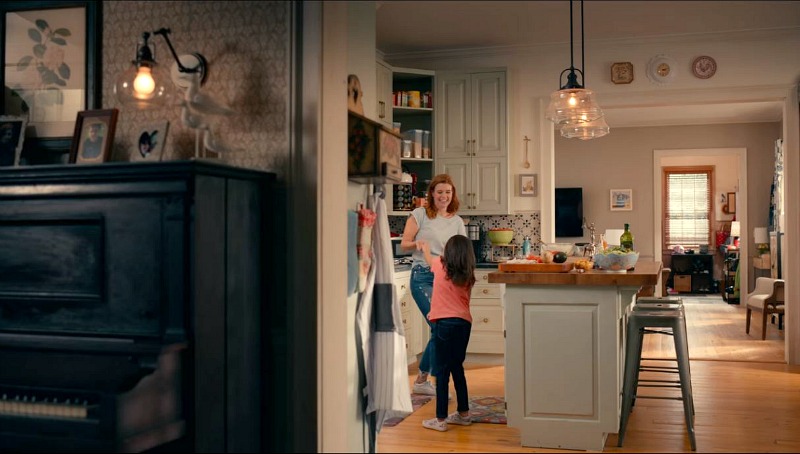 I hit "Pause" every time her gorgeous gas range with this tile came onscreen, just to get a better look at it: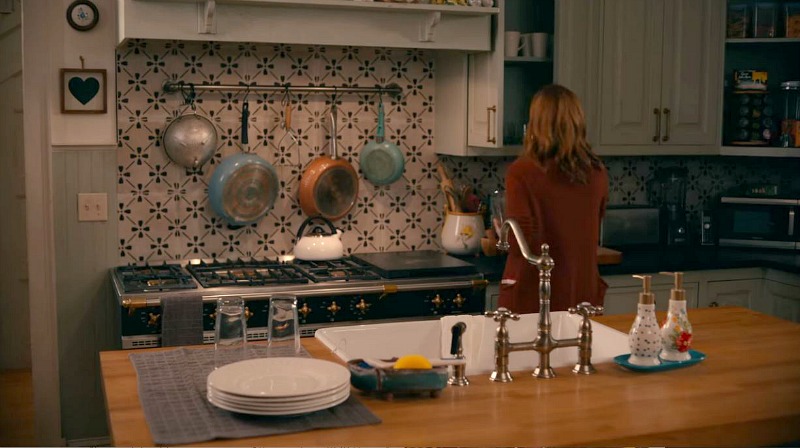 Chris Klein plays Bill Townsend, Maddie's ex-husband: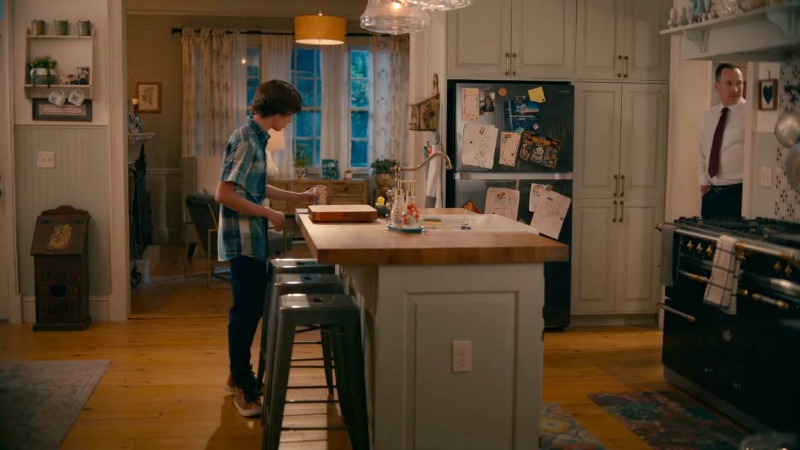 I'm going to admit to you now that my favorite role of Klein's was as Dusty Dinkleman in the goofy 2005 comedy "Just Friends." (Amazon affiliate link.) Every time I see it on TV I have to stop and watch because, as dumb as that movie is, it always makes me laugh.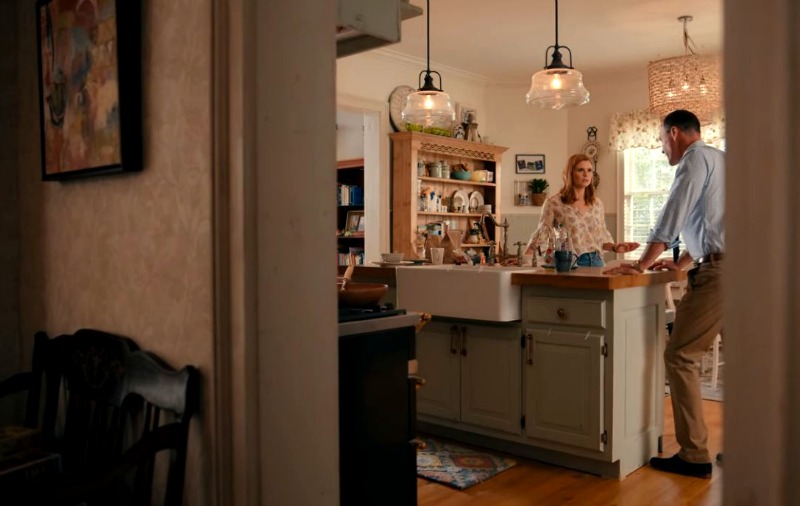 Maddie's Family Room: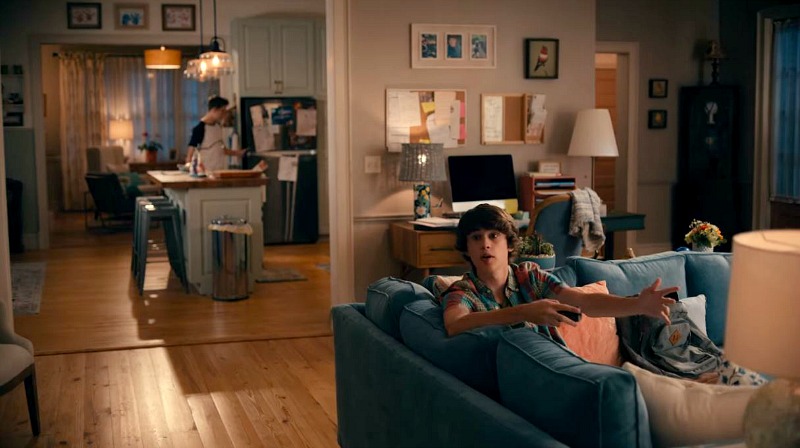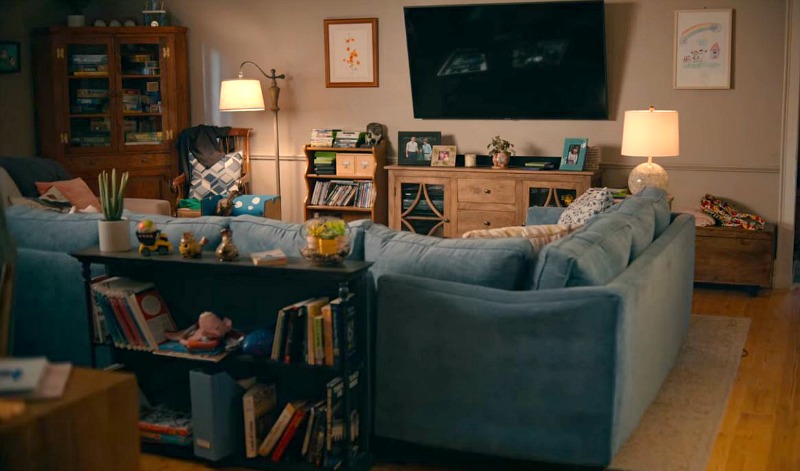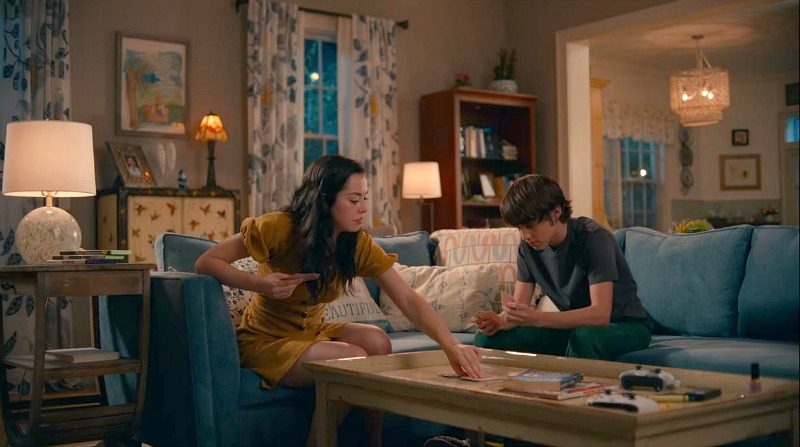 Most, but not all locations were shot in Covington, Georgia.
Serenity High School was filmed in the nearby town of McDonough, in what was once a Middle School.
Serenity's Prince of Peace Lutheran Church is actually Oakhurst Presbyterian in Decatur.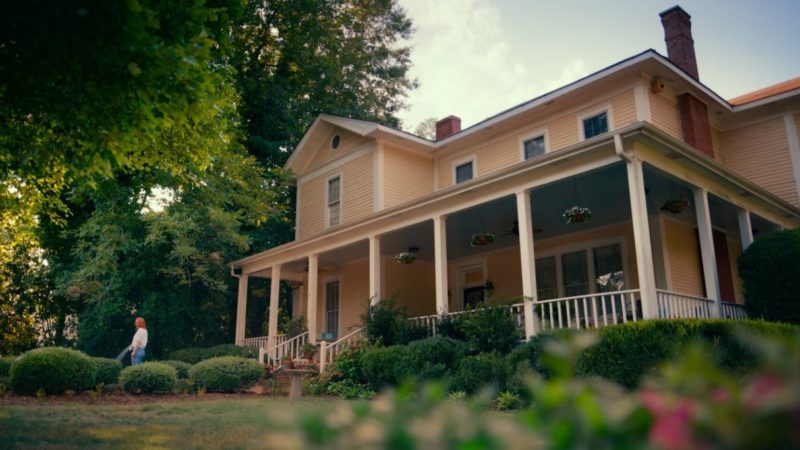 Learn more about the "Sweet Magnolias" filming locations at Go Covington and Southern Living.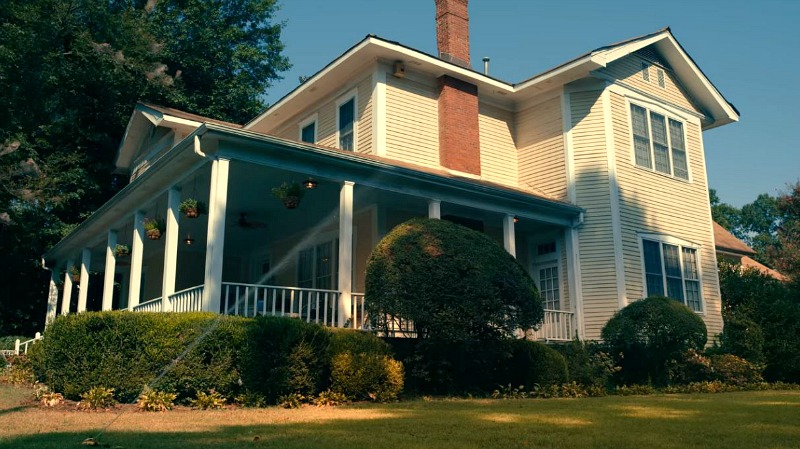 Have you been watching?
The final episode ended on a cliffhanger that had me crying, "Noooo!" when I realized we weren't going to find out what happened.
Luckily, Netflix has already renewed "Sweet Magnolias" for a second season. Here's hoping we don't have to wait too long for it.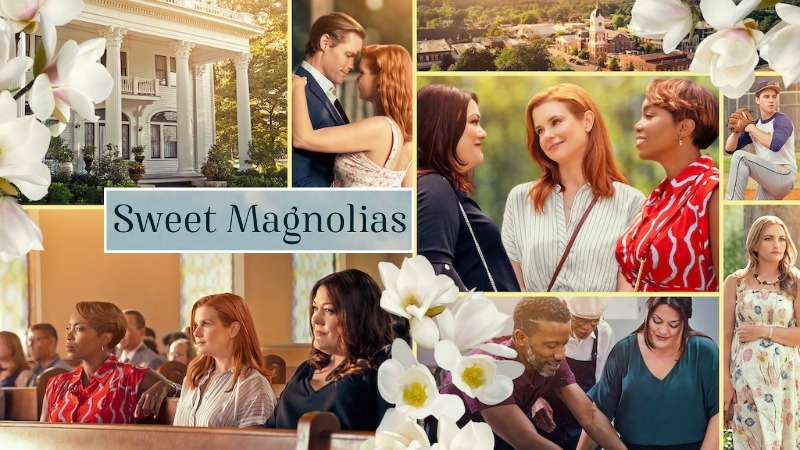 BTW, I send out monthly newsletters to about 12,000 of my readers who don't want to miss any of my posts. If you want to be added to my list, sign up here! 🙂
including Stars Hollow and the houses from Gilmore Girls!