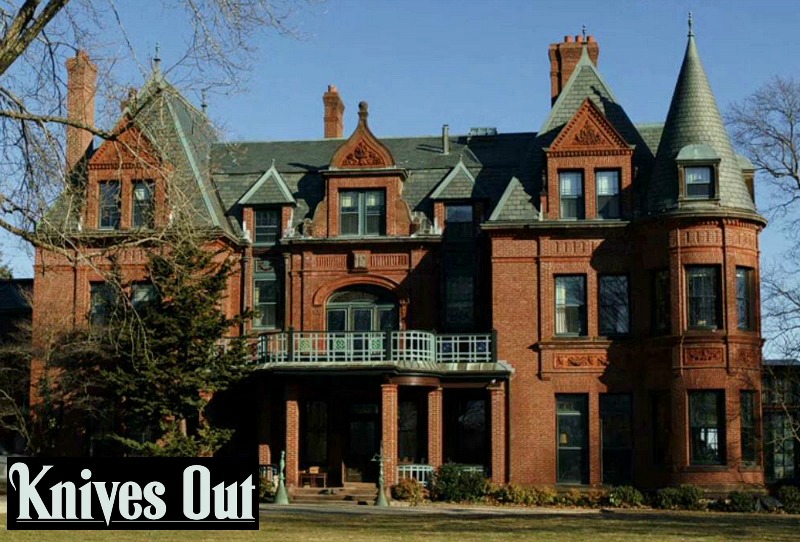 In the movie Knives Out, the wealthy and eccentric crime novelist Harlan Thrombey lives inside a real-life "Clue" board, as one of the characters describes it. The mansion is a character in itself, filled with secrets and mysteries that are slowly revealed as the story plays out.
After watching it, I was so curious about the house that I had to know: Was it real? Did they film on location? Or are the rooms just sets designed on a separate soundstage?
Read on to see photos of the gorgeous old mansion from Knives Out and what I learned about it!
Note: There are Amazon affiliate links on this site that may earn commission without affecting the prices.

The Thrombey Mansion in "Knives Out"
Knives Out is about a mystery writer named Harlan Thrombey (played by Christopher Plummer) who lives in this Gothic Revival mansion. His 85th birthday party brought all of his loved ones together to celebrate, but he's found dead in his study the next morning.
It appears to have been a suicide. But was it?
Private Investigator Benoit Blanc (Daniel Craig) comes to the mansion to investigate.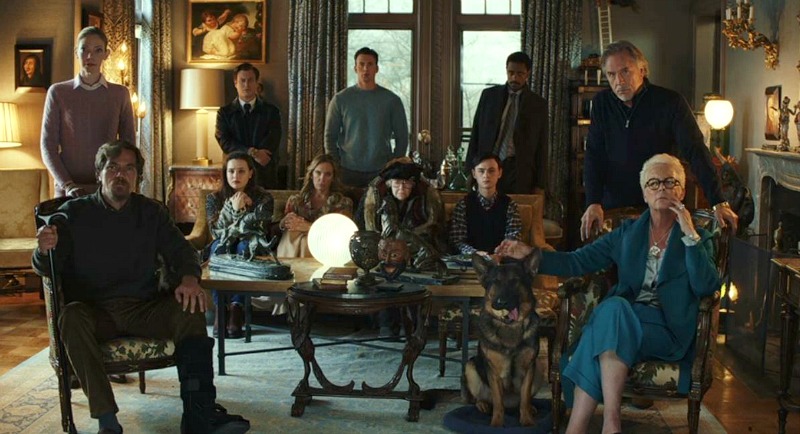 Director Rian Johnson chose two grand houses in Massachusetts to portray Harlan Thrombey's home.
For the exterior, they used a privately owned Gothic Revival mansion: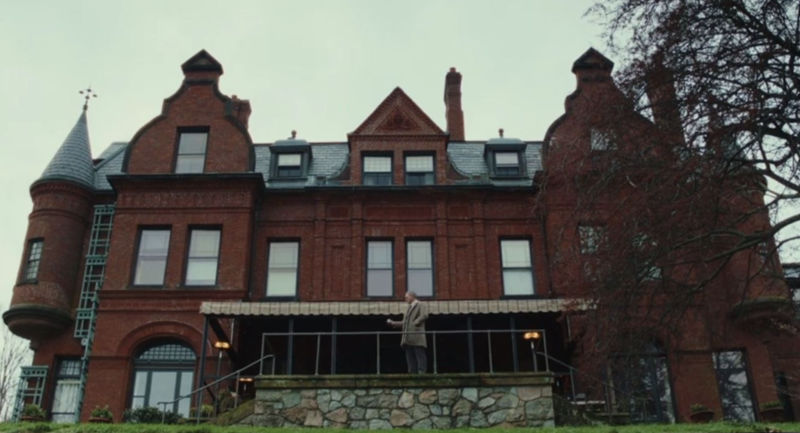 But interior scenes were shot inside the Ames Mansion at Borderland State Park: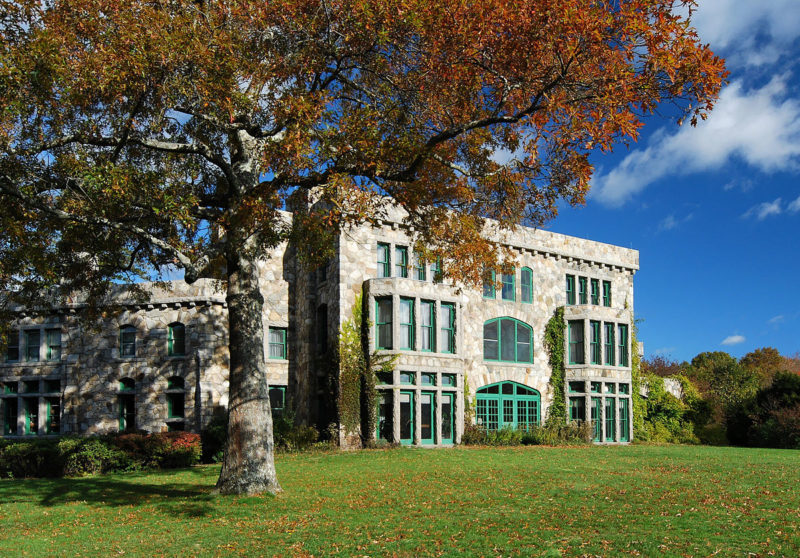 Knives Out was inspired by the 1972 film Sleuth (Amazon affiliate link):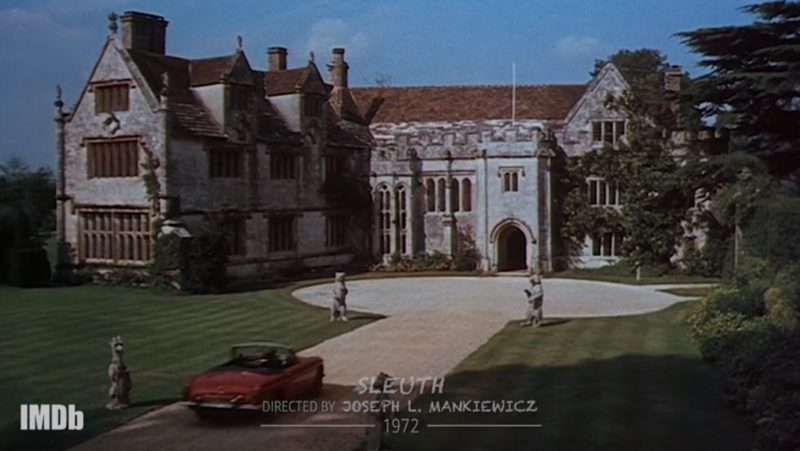 Sleuth was also about a mystery writer (Laurence Olivier) living in a grand old house.
He collected moving dolls and dollhouses, which you'll also see in the Thrombey mansion.
For example, see the sailor figure in the room shown below?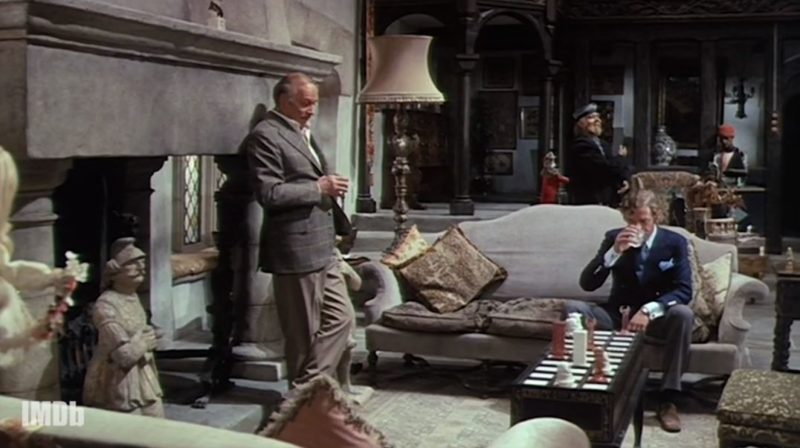 You'll find a similar sailor in the entry hall of the Thrombey Mansion:
Johnson says he was also inspired by his love of Agatha Christie whodunnits:
"The genre is kind of very close to my heart, it's like comfort food for me. I had the basic idea for this movie 10 years ago, but the biggest issue was, how do we give the audience something they haven't seen before. My solution to that was approach it more as a story, not a puzzle, and use emotion as a misdirection."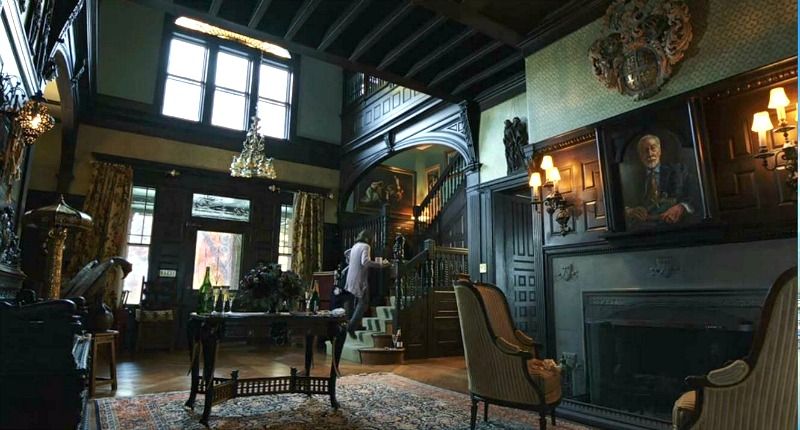 According to the Knives Out page on IMDb:
The portrait of Harlan Thrombey was digitally added in post production. The painting of Harlan wasn't finished until after filming wrapped, so every scene showing it is an effects shot.
That last glimpse of Harlan's portrait at (2:04) is tweaked a little "leaving everything feeling okay." He's now smiling.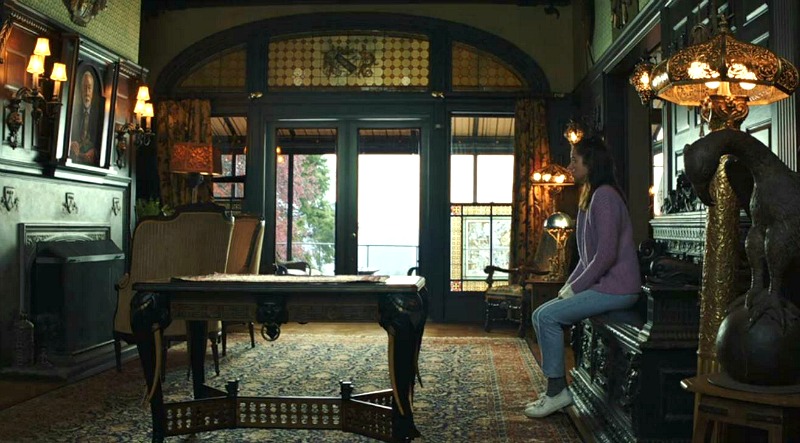 The Library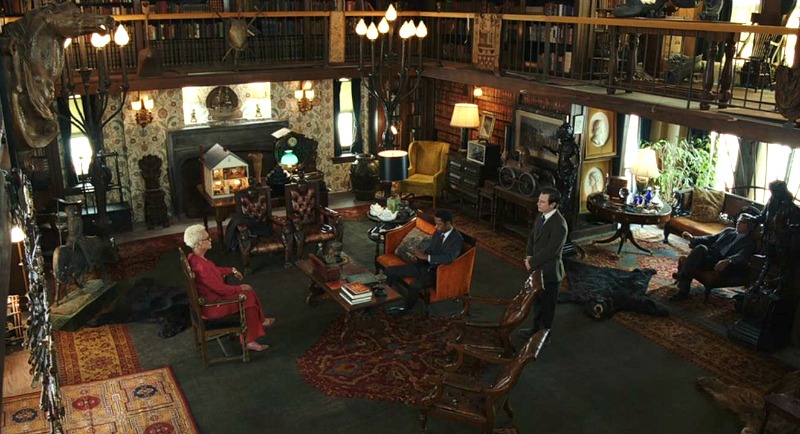 These scenes were filmed inside the Ames Mansion.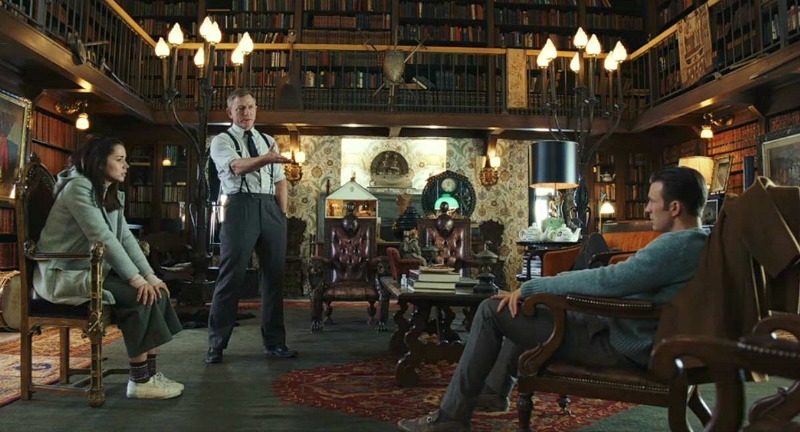 "Knives Out" location manager Charlie Harrington said he knew the Ames Mansion would be a great spot for filming, having previously used the building — and even the same room within it — to film the 2016 "Ghostbusters" reboot.
On "Knives Out," Harrington and crews spent a large portion of production time in that one room, a library in the Ames Mansion, as director Johnson put actors like Chris Evans ("The Avengers"), Toni Collette ("Little Miss Sunshine"), Don Johnson ("Miami Vice"), and Jamie Lee Curtis ("Halloween") under his magnifying glass.
"The movie cuts in and out of that room for pretty much the whole film," Harrington said. "As everyone tells their story, their alibi, we stayed in that room."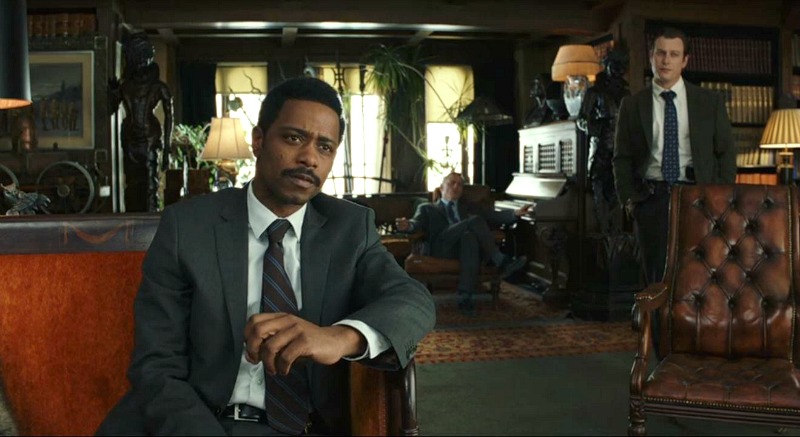 Ransom (played by Chris Evans) refers to P.I. Benoit Blanc and his accent as "CSI KFC."
Johnson says, "I had written into the script that Blanc speaks with a subtle Southern accent," but Daniel Craig "became attached to historian Shelby Foote's cadence and drawl. So it's kind of that, it's a little Foghorn Leghorn, and it's also a little Harlan Pepper which is Christopher Guest's character in Best in Show, which is funny because Christopher Guest is Jamie Lee Curtis' husband."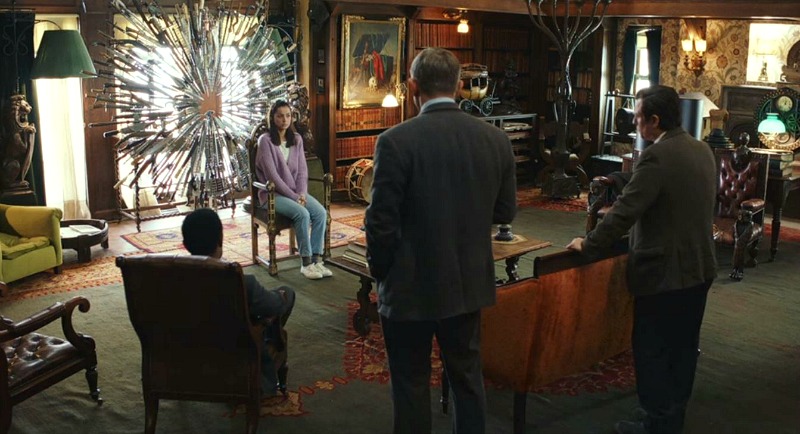 One of the most memorable props in the house was the ring of knives
behind the chair where each of the characters was questioned by the detectives.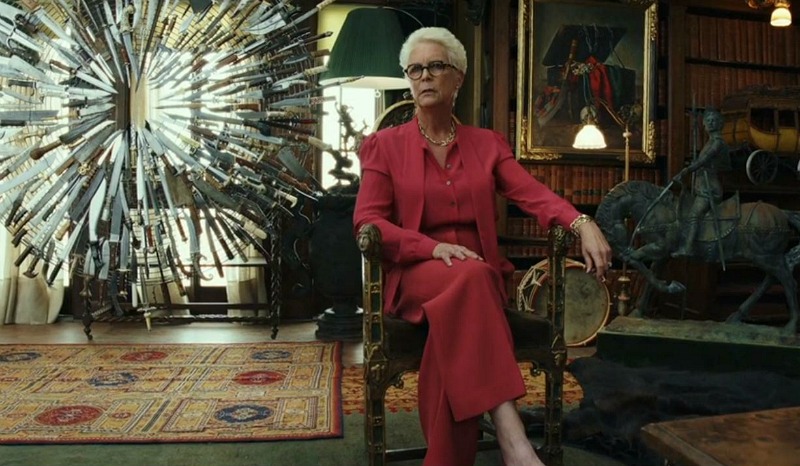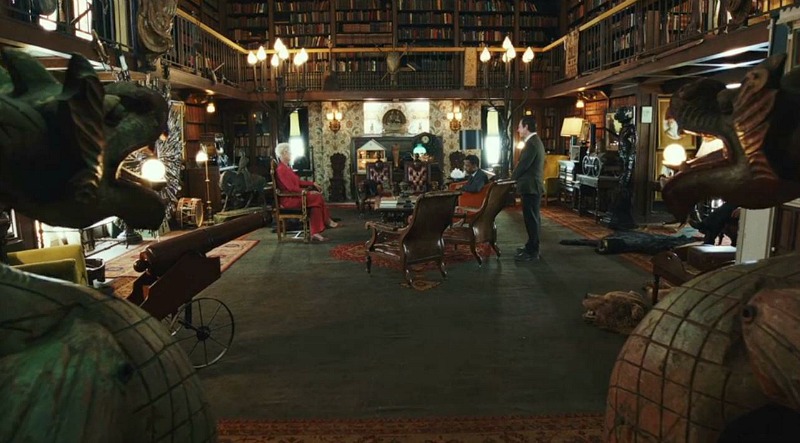 The Parlor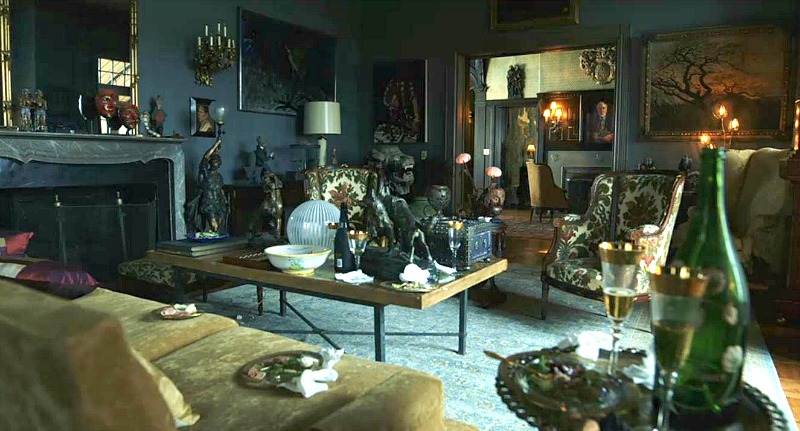 Ames Mansion was originally built as a residence in 1910,
but it's now a part of Borderland State Park in Massachusetts.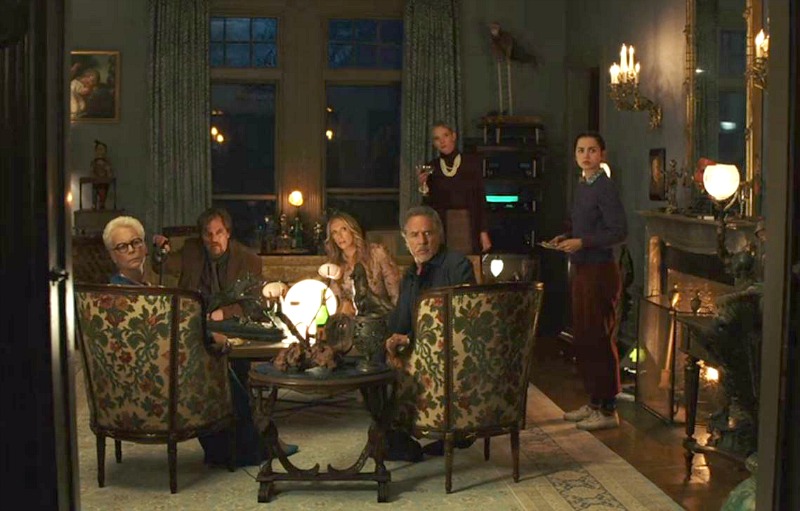 Production Designer David Crank says, "There wasn't a specific kind of architecture that (writer/director) Rian Johnson was looking for. The general rule was that both the inside and outside of the house needed to look like the sort of house that Harlan would describe in one of his mysteries. The moment we walked into the mansion, we knew right away that it had the personality we needed."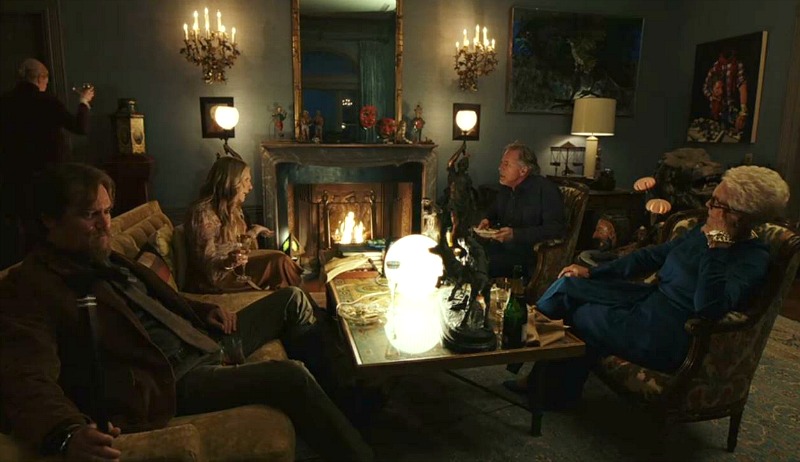 The bedrooms and upstairs hallways were built on a soundstage: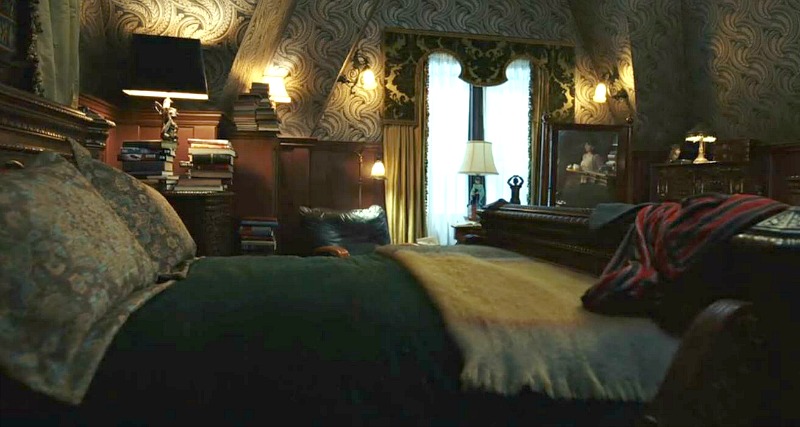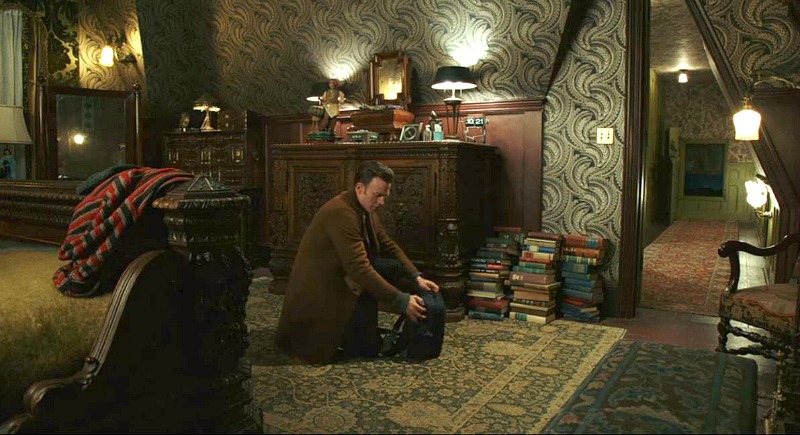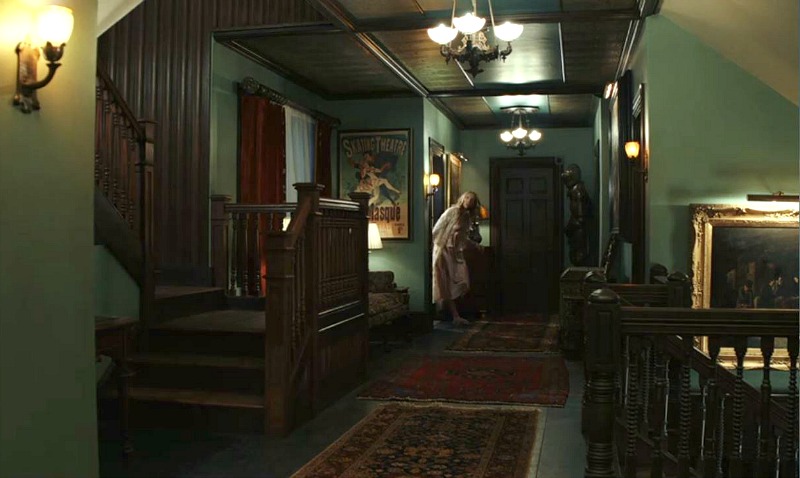 Harlan Thrombey's Office in "Knives Out"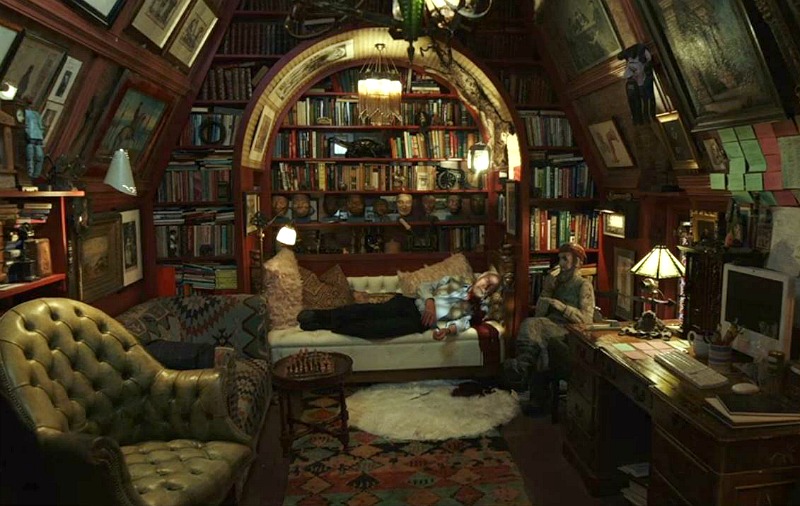 Like the other rooms on the upper floors, Harlan's small red study was a set.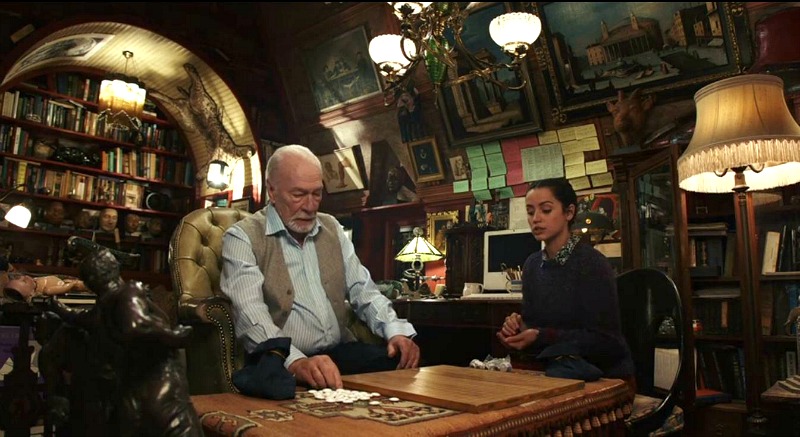 Ana de Armas was a standout in a movie full of colorful characters, holding her own as Harlan Thrombey's devoted nurse and friend.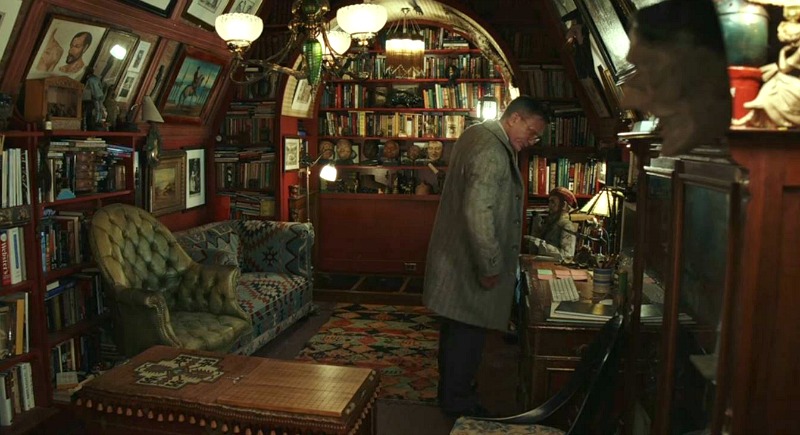 Ransom's House in "Knives Out"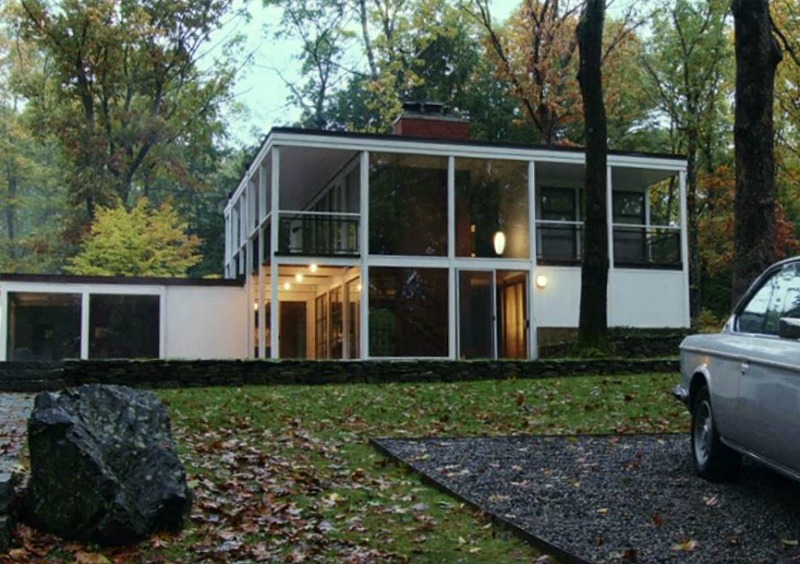 Chris Evans plays Thrombey's black sheep of a grandson named Ransom.
One scene takes place in his 1950s modernist-style house, filmed on location in Lincoln, Massachusetts.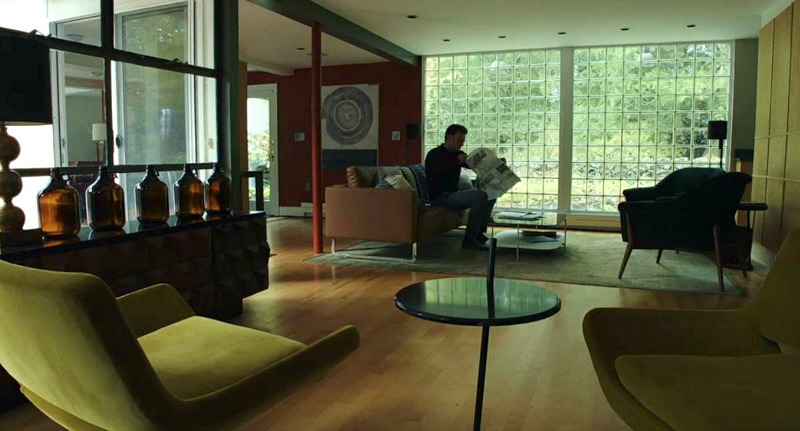 Ransom's house was on the market earlier this year, and the listing said:
Located at the top of the cul-de-sac in the Modernist enclave of Brown's Wood, here's a dazzling International Style Mid-Century-Modern. Designed by Walter Pierce, it's informed by Bauhaus and West Coast-via-Japan architectural principles.
There are three bedrooms; two full baths; a master suite on its own level with a dressing room; a detached garage; and natural gas for cooking and heating. You might recognize this house as a location in the 2019 movie, Knives Out.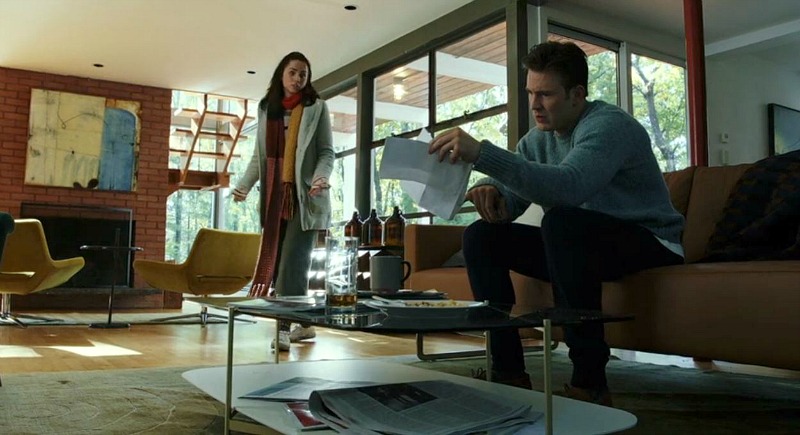 The Thrombey Estate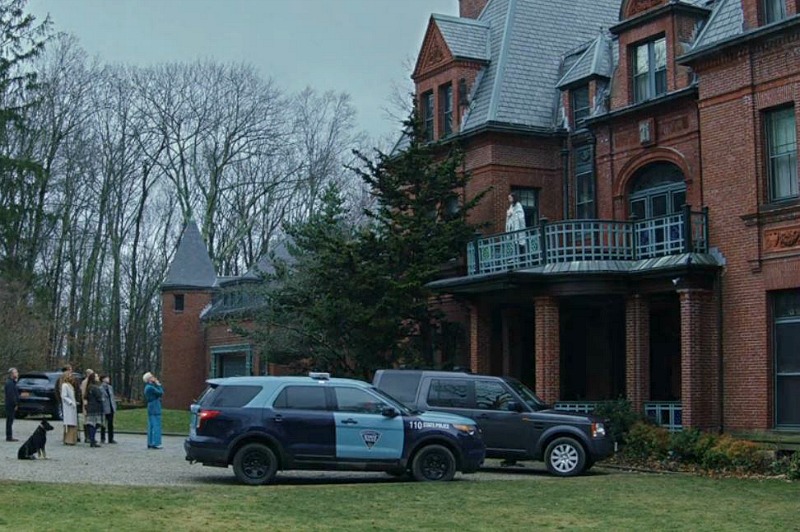 This old photo of the house was shown in the movie: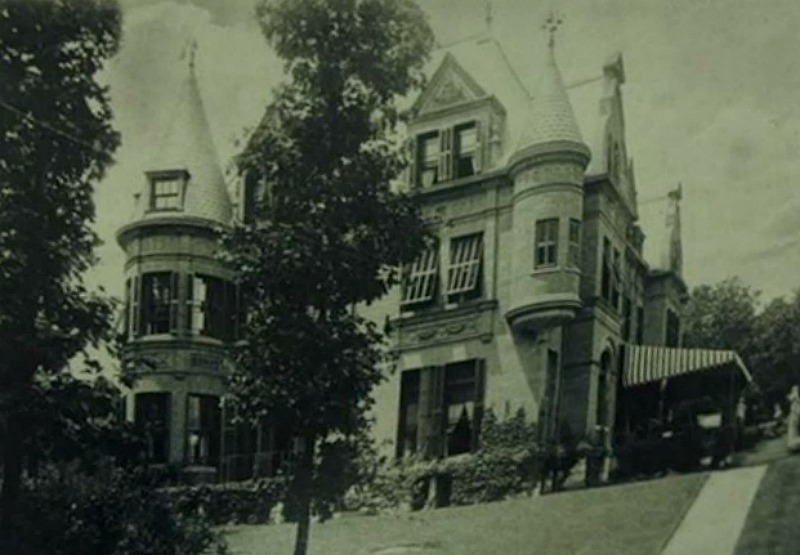 View from the same angle today: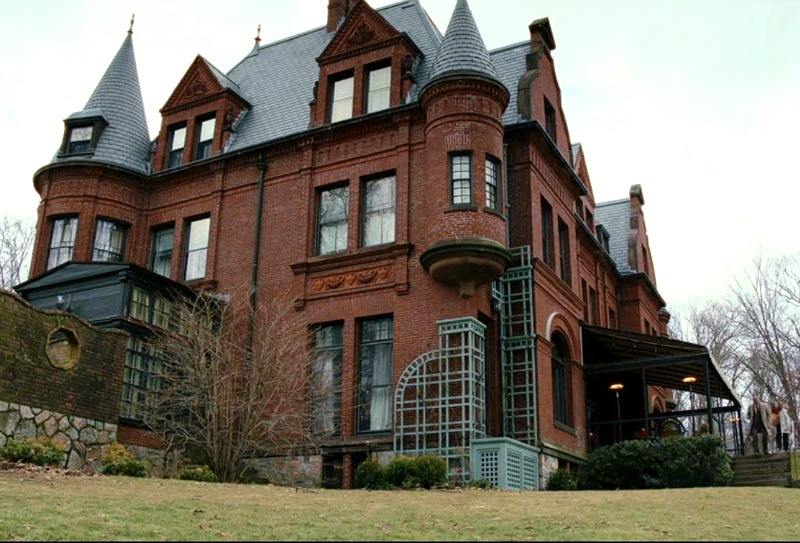 The Boston Globe reports that the exact location of the house where the exteriors were filmed is privately owned and "contractually cannot be disclosed by filmmakers."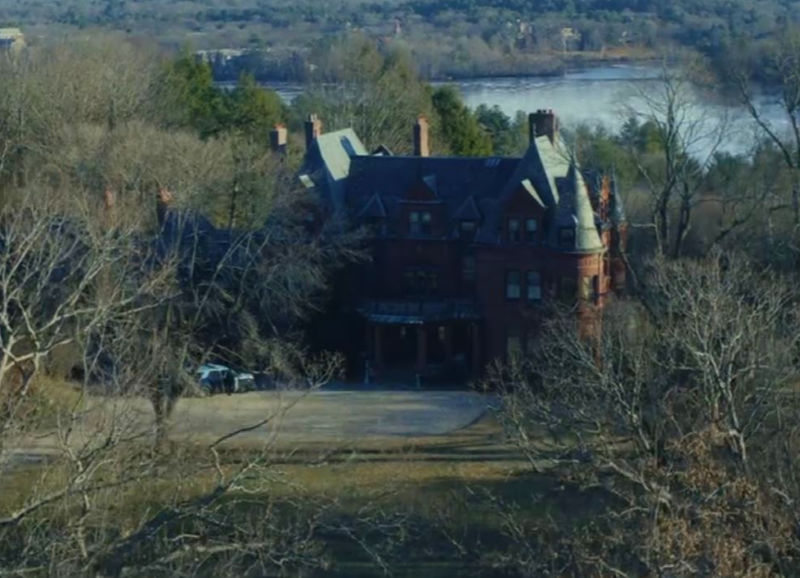 It was built in 1880 and sits on about 92 acres outside Boston.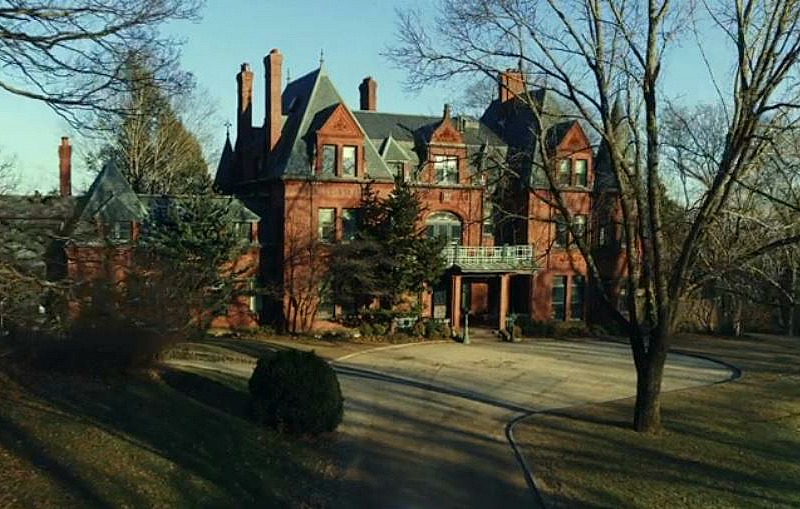 To learn more about the houses and sets from Knives Out: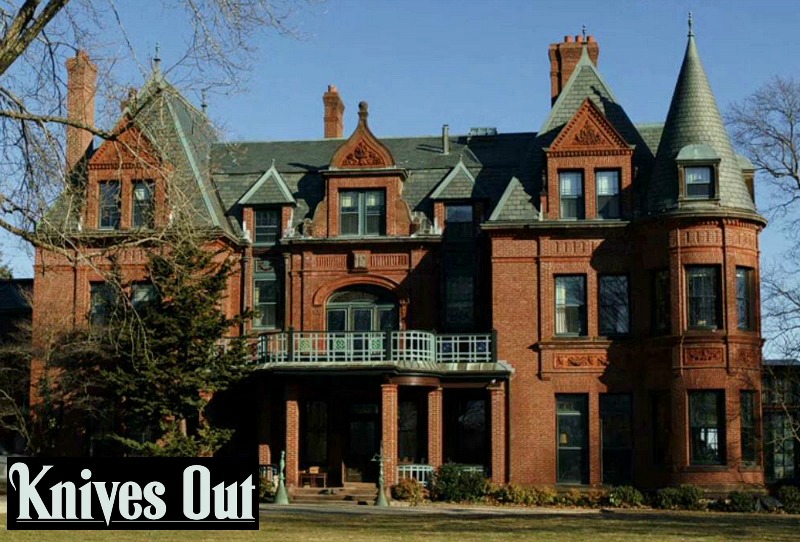 Photo of Ames Mansion via Wikipedia.
The rest are screenshots I took while watching the movie on Amazon Prime Video (affiliate link). I noticed a lot more details in the sets during the second and third viewings. And it was fun to catch all the red herrings and misdirection I'd fallen for the first time!
To see more movie houses and filming locations I've featured,

check my Houses Onscreen page to see the list from A-Z, including

the magical mansion from the Netflix series Locke & Key.