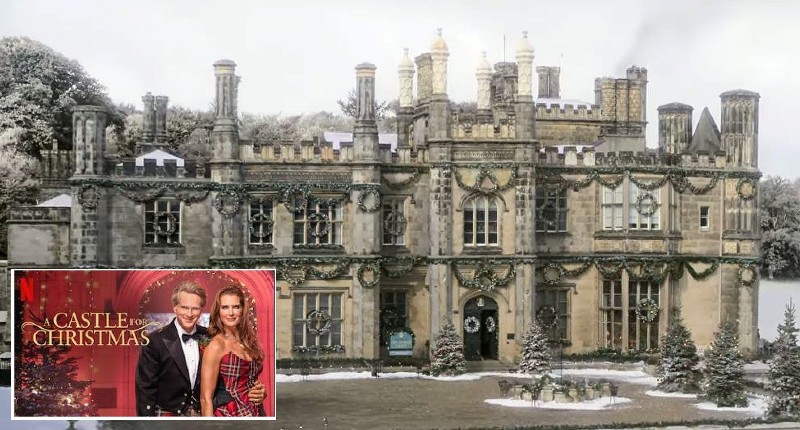 In the Netflix movie "A Castle for Christmas," Brooke Shields plays a bestselling romance author who travels to Scotland and decides to buy the historic 12-bedroom house where her grandfather once worked.
"Here's to women buying castles!" she says in a toast with her new Scottish friends, a sentiment I can get behind.
Laugh all you want about silly holiday romcoms filled with groan-worthy meet cutes and eye-rolling predicaments, but if they feature a house that makes my eyes pop when it comes onscreen like this one did, then I'm in.
"A Castle for Christmas" actually has two houses worth watching for: Dun Dunbar Castle in the Scottish Highlands and the charming village pub called Castle Inn. Let's take a look!

The Filming Locations for "A Castle for Christmas"
In the Netflix movie "A Castle for Christmas," bestselling author Sophie Brown (Shields) flees the country after publishing a novel that makes her readers so angry, there are protests in the streets (I'm not making this up). There's also a meltdown on Drew Barrymore's talk show that doesn't do her damaged rep any favors.
Her family has roots in Scotland, where her grandfather once worked for a grand estate called Dun Dunbar, so she decides to visit and see it for herself.
When she learns that it's for sale, she decides to buy the place. But Myles, the 12th Duke of Dunbar (Cary Elwes), isn't sure he wants to let it go.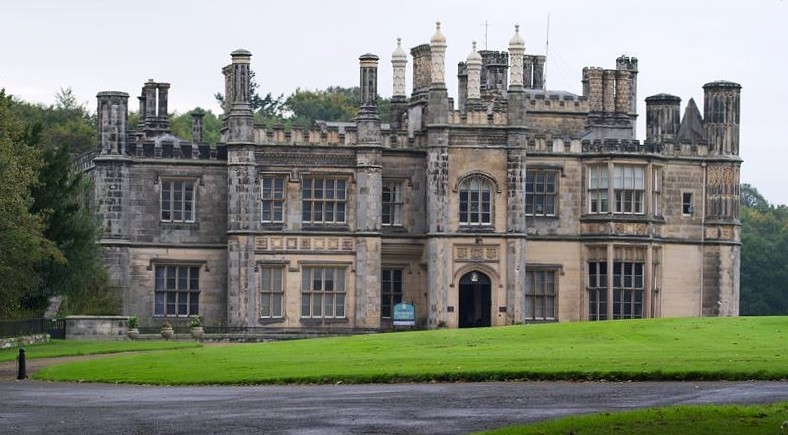 The movie was filmed on location at Dalmeny House, a Tudor Gothic-style mansion built in 1817.
Locals have pointed out in interviews that's it's "not actually a castle."
It sits about 30 minutes outside Edinburgh near Dalmeny Village.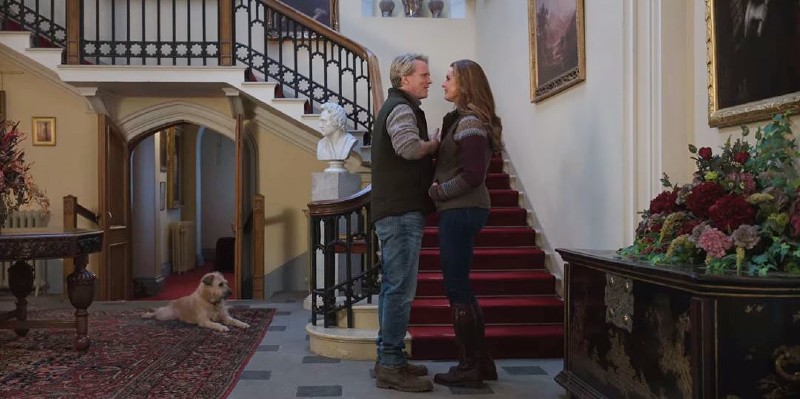 When Dalmeny House was completed in 1817, it marked a great departure in Scottish architecture. Its Tudor Gothic style, with its highly-decorated chimneys and crenellations, looked back toward fanciful 16th-century English mansions, such as Hampton Court.
With its Gothic Great Hall and corridor, its large, formal regency apartments and its sweeping views across the Firth of Forth, it is a house which combines comfort and romanticism. It has produced many imitations throughout Scotland.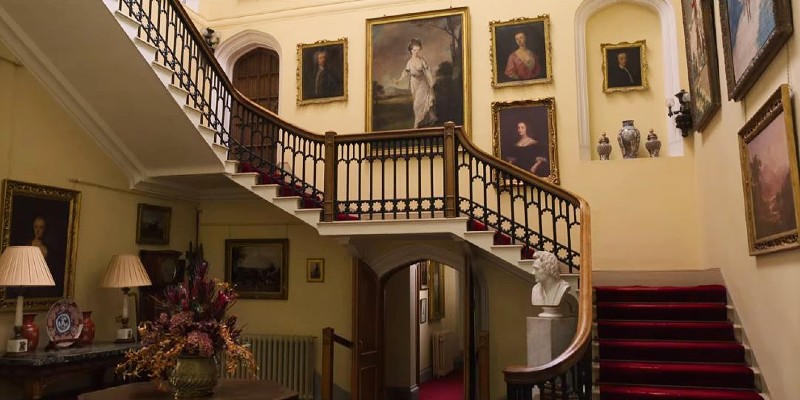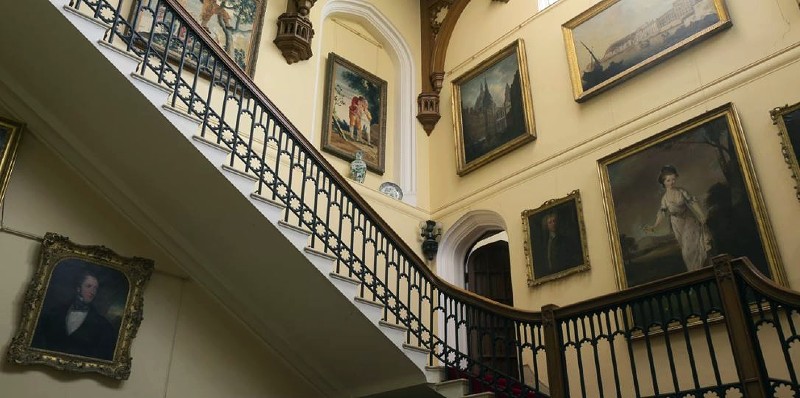 Like Dun Dunbar Castle in the movie, Dalmeny House is open to the public for guided tours
(presumably without a handsome but irascible Duke to show you around).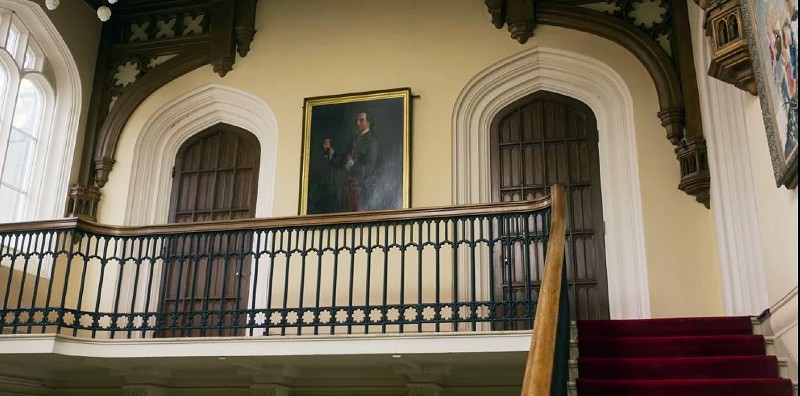 They filmed "A Castle for Christmas" here during the fall of 2020.
The Dalmeny House website refers to this two-story space as "Dalmeny Hall."
In their photo gallery you can see the beautiful hammer-beam ceiling.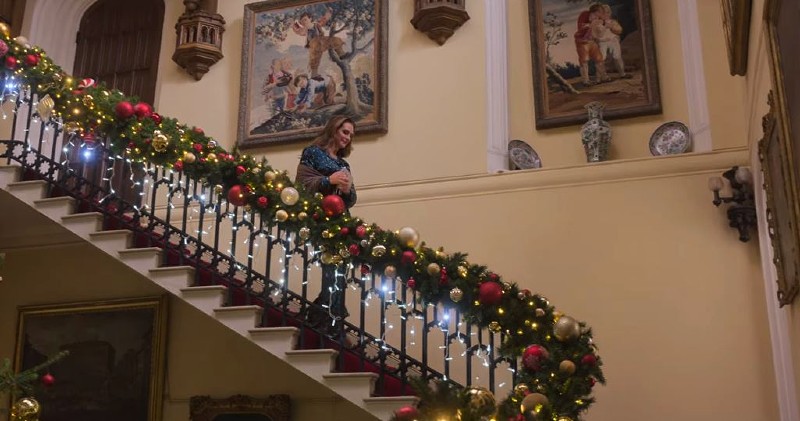 In the movie this space is called the Music Room, but IRL it's called the Drawing Room (below):

During the castle tour, Myles tells Sophie there are 12 bedrooms and 10 baths.
He then gives Sophie the worst room in the castle to sleep in.
He hopes this will scare her off, but (spoiler alert), it doesn't.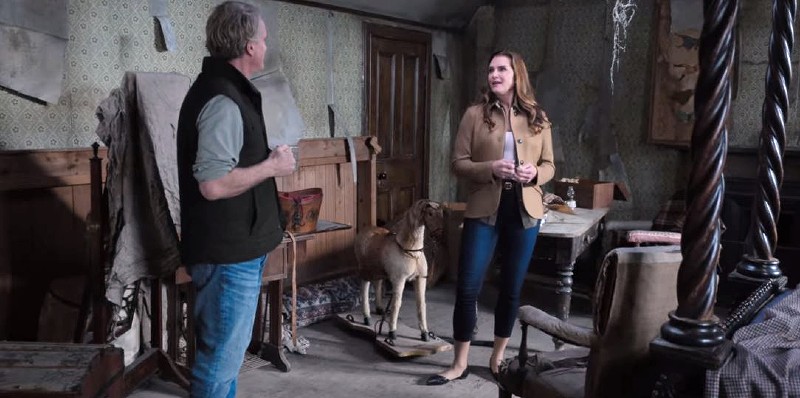 "There's a reason they set horror movies in castles," he tells her, trying to warn her off.
"There are 50 fireplaces, half work.
It leaks after every rain and it rains 150 days a year."
His bedroom looks pretty nice, though (below):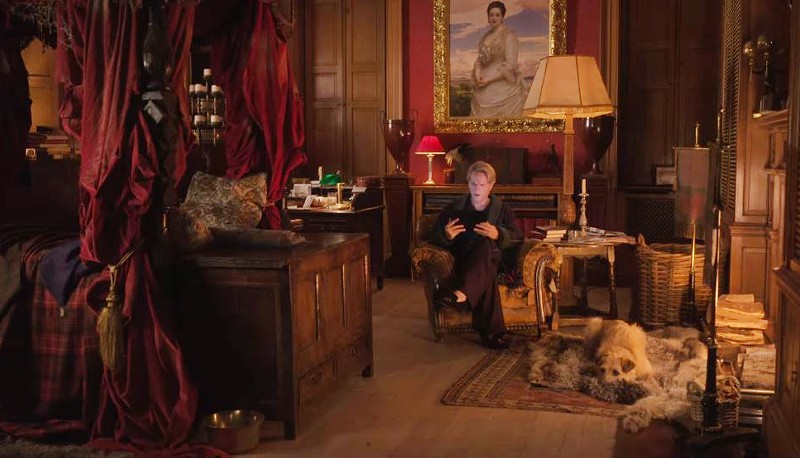 Myles has a dog named Hamish (of course he does!).
Hamish leads Sophie right into the bathroom when the Duke is in his marble tub: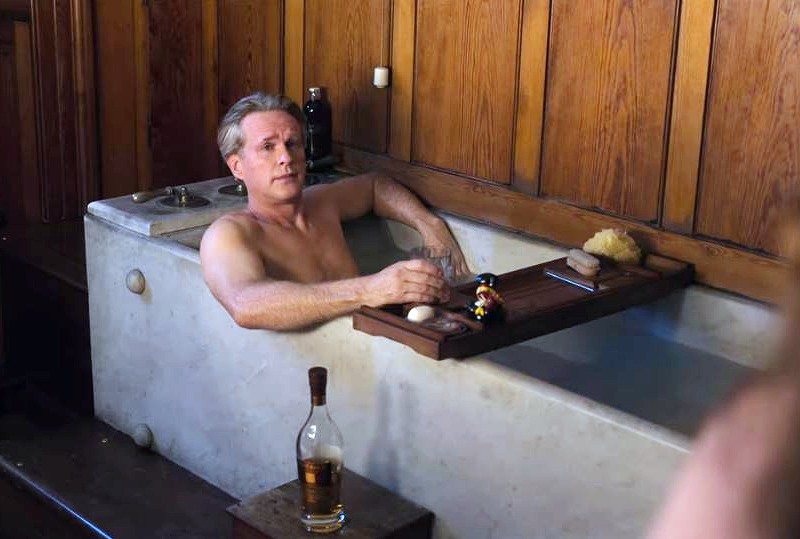 The Dining Room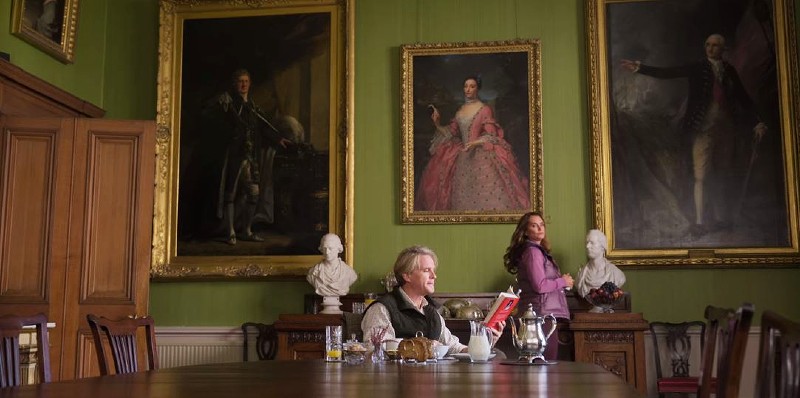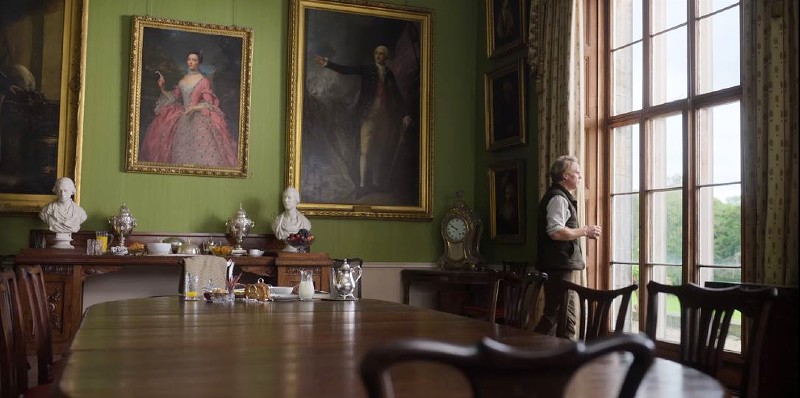 Part of the fun of this movie is seeing the lavish Christmas decorations.
Production Designer Pat Campbell made the castle look as festive as possible: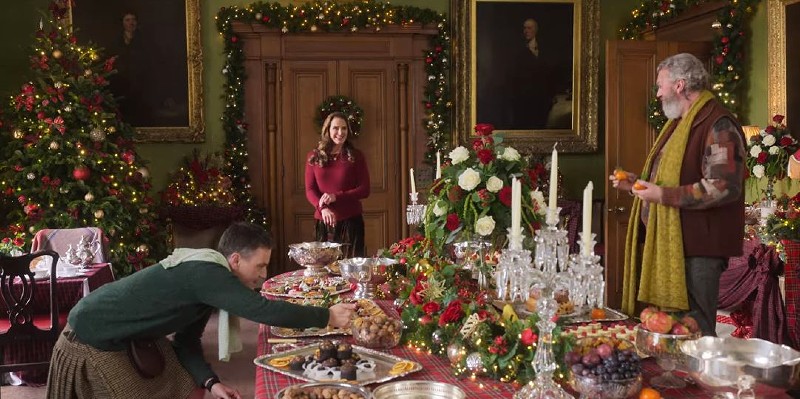 They host a Christmas party for the village in a grand hall lined with portraits.
In the movie, Myles remarks that it's the oldest part of the castle, dating to 1500.
It was actually filmed nearby in Barnbougle Castle, which is on the same Rosebery Estate.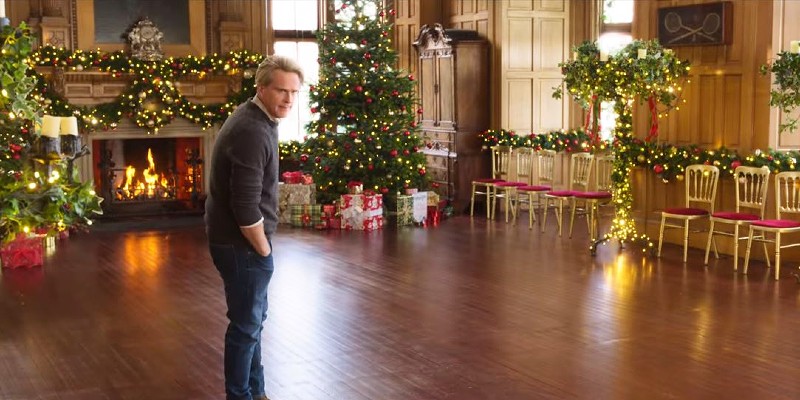 The castle website says, "The sixty-foot long Banqueting Hall
has a Minstrel's Gallery and breathtaking views."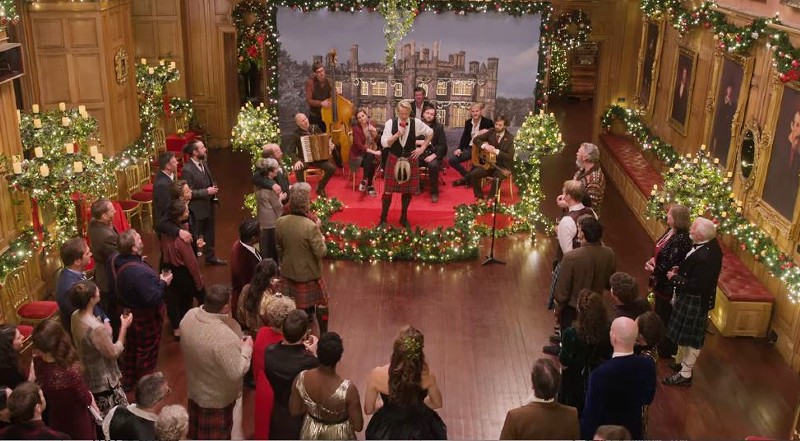 Look familiar?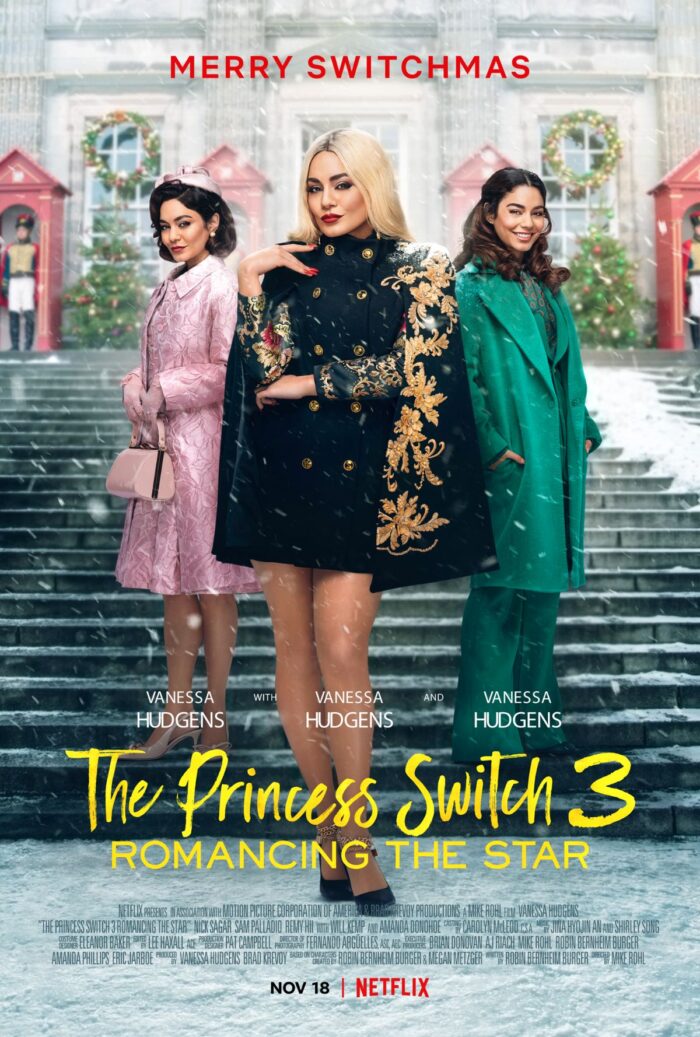 The Castle Library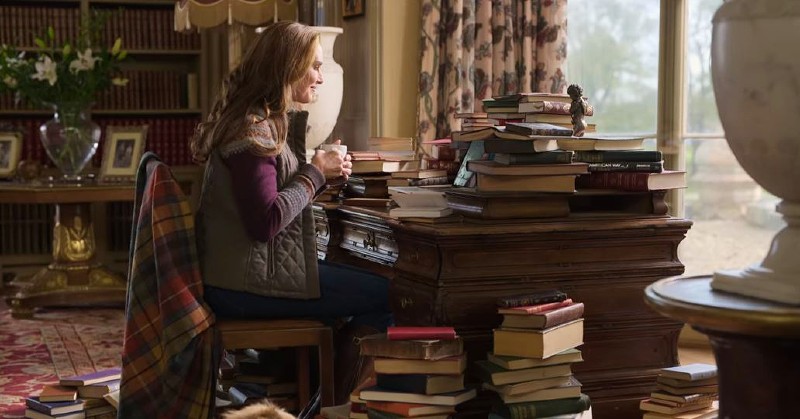 Sophie works on her next novel in the book-filled library.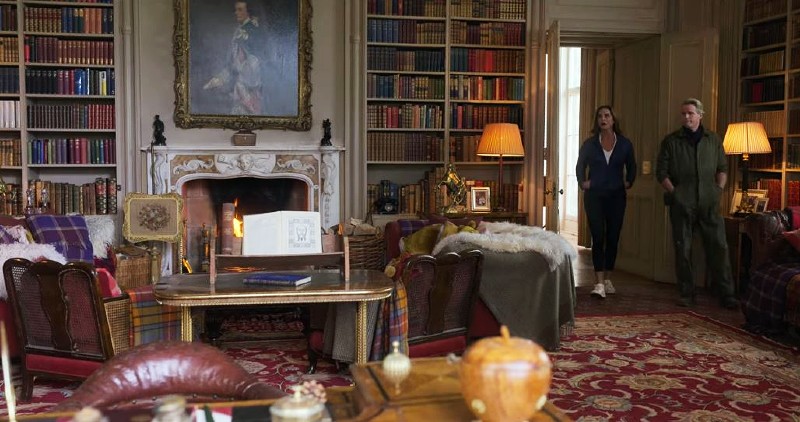 Why doesn't my daughter ever bring me hot chocolate like this when I'm working?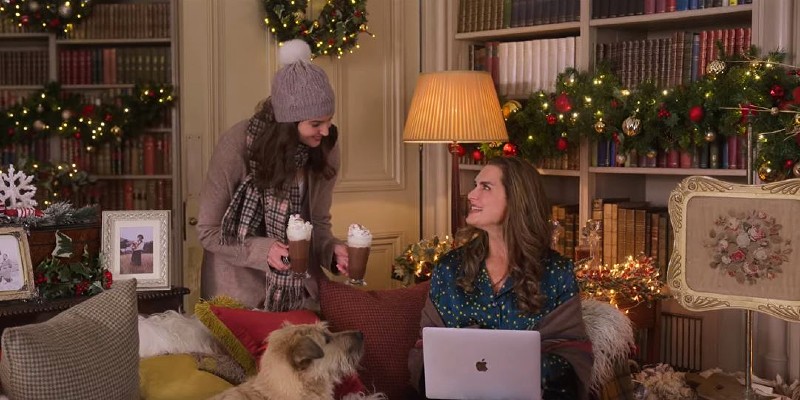 I would love to be sitting by the fire in this library with my laptop right now…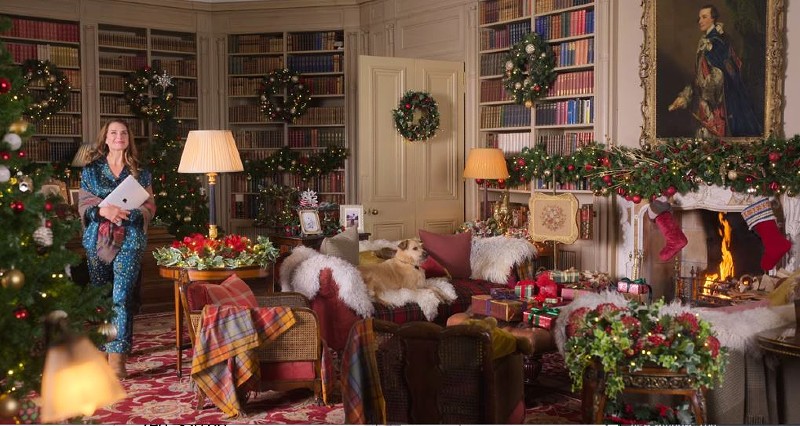 The Back of Dalmeny House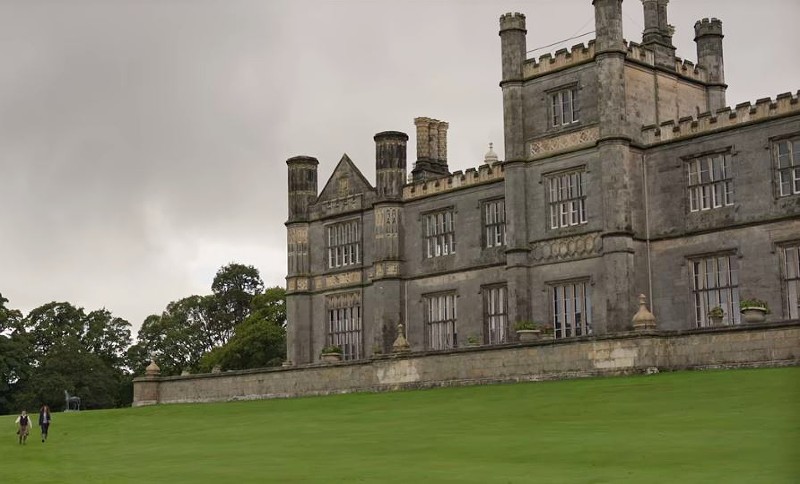 and "Fake Snow" is always an easy square to score.
They filmed in the fall and had to use artificial snow here, but I thought it was pretty believable: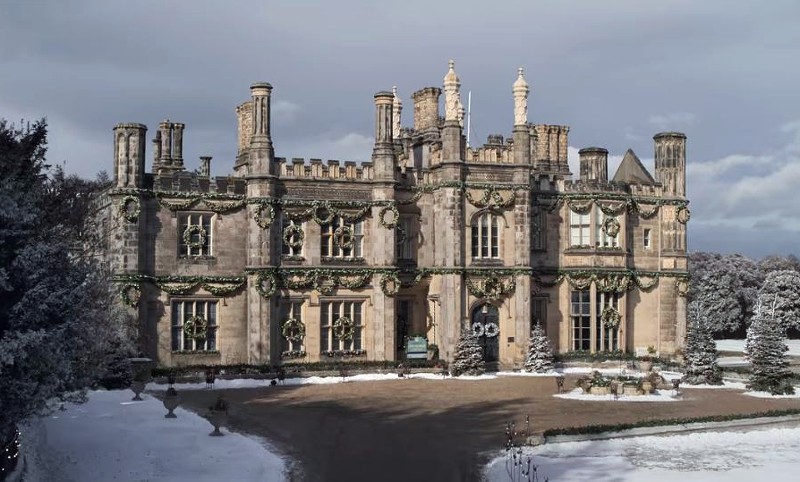 The Castle Inn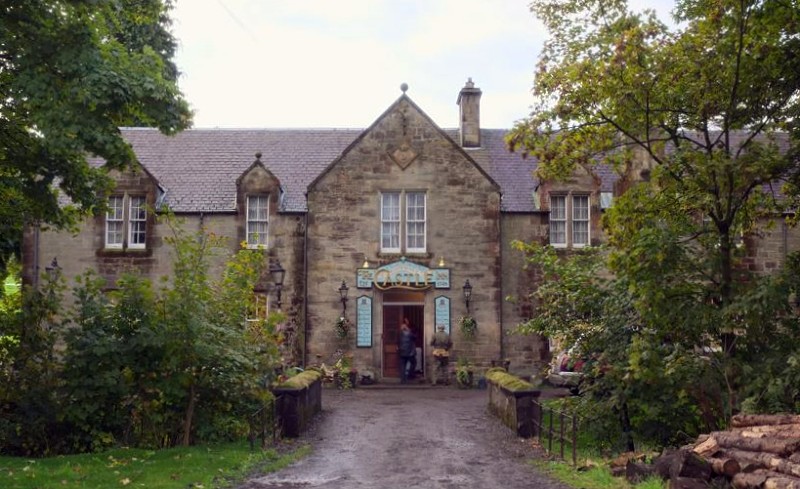 The Castle Inn is where Sophie gets a room when she arrives in Scotland.
She becomes friends with the local knitting group that meets here.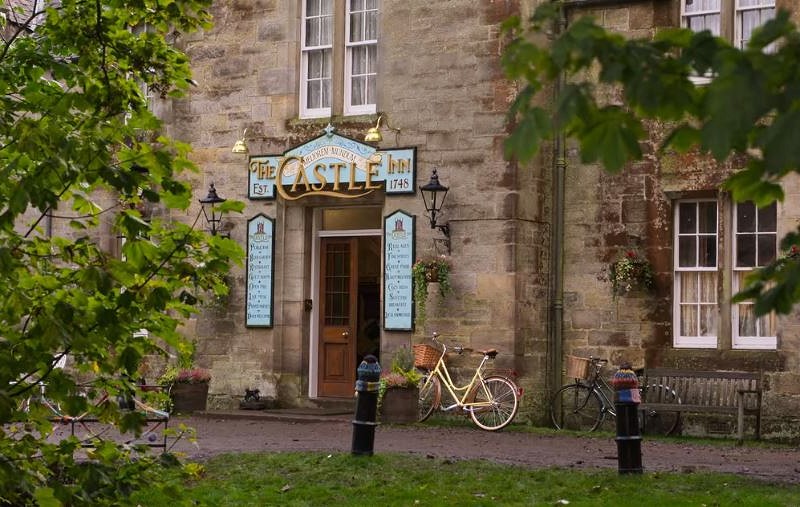 The quaint village scenes were filmed in Culross, near Dalmeny House.
"Outlander" has also filmed in the area, so it may look familiar.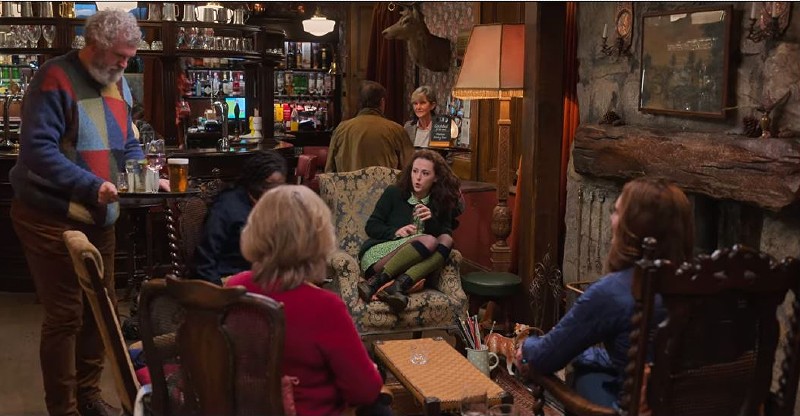 Sophie's Cozy Bedroom at the Castle Inn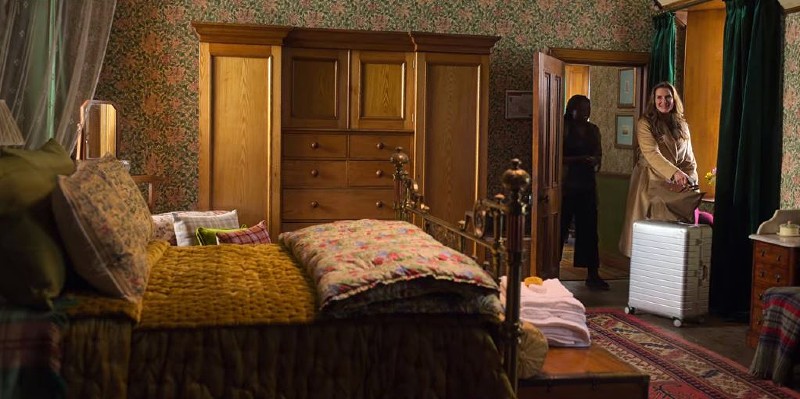 An Edinburgh publication reported that locals weren't impressed by the fake Scottish accents in the movie: "It sounds like Braveheart put through a blender made from the foundation stones of Brigadoon!"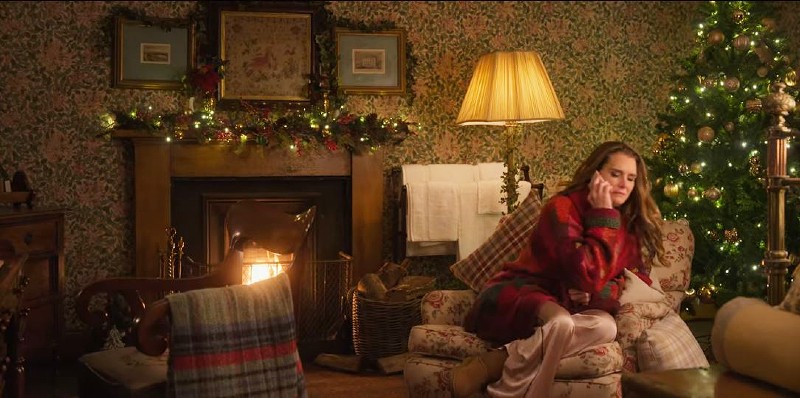 The accent roulette game is in full swing here. Blessed be to every actual Scottish actor in this film who manages to keep a straight face when forced to screech out the kind of slang that is seldom said in real life. Some of these people deserve Nobel Prizes for not descending into cackles whenever Elwes returned from Brigadoon to talk like… well, that.
I promise you that you do not need to roll every R or always say 'aye' instead of 'yes.' But you do need to drop at least a few hard Ts now and then, Cary.
She gives the movie points, however, for actually being shot in Scotland instead of Vancouver.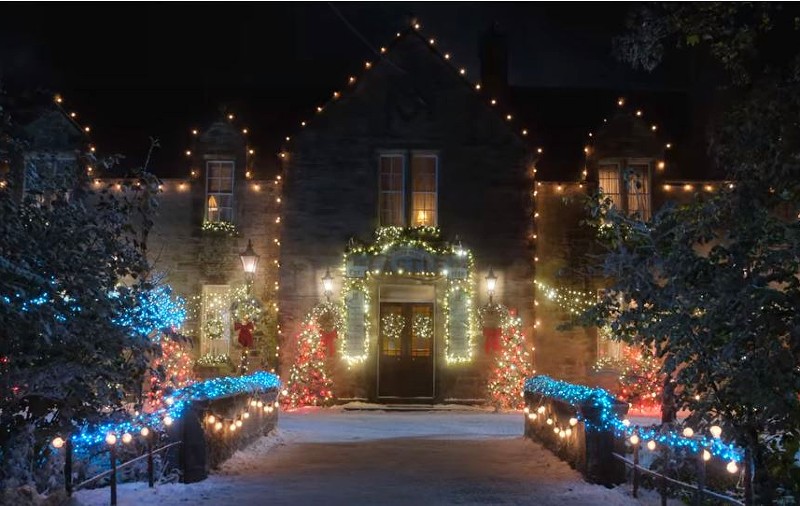 The Castle in Christmas Lights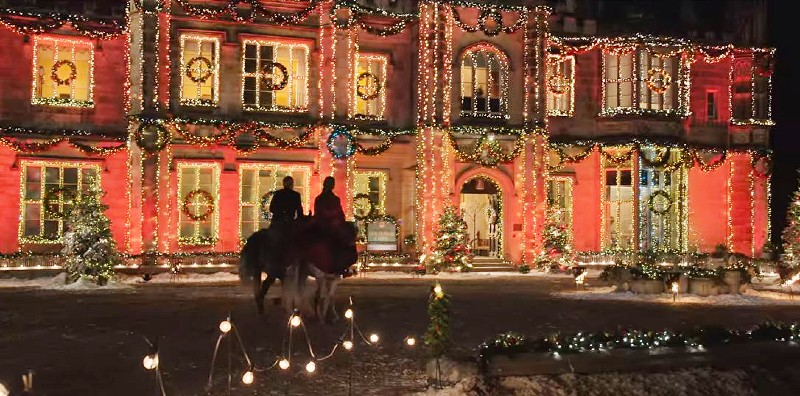 Sophie and the Duke arrived at the Christmas party on horseback (as one does).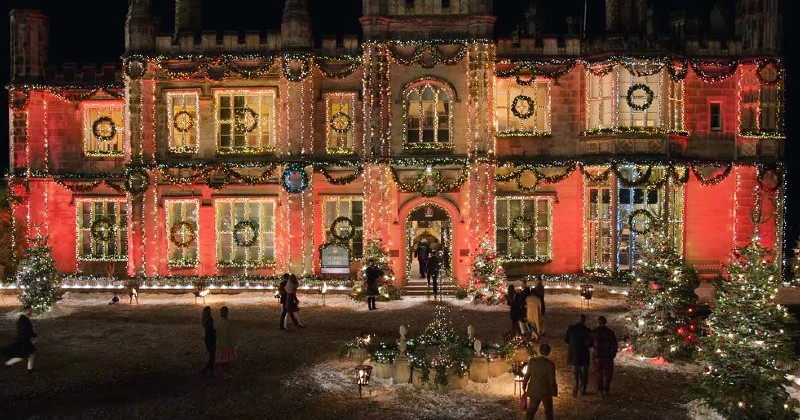 Have you watched it yet? I have to say I wasn't totally sold on the chemistry between Cary Elwes and Brooke Shields. For me the gorgeous settings and photography stole the show, but sometimes that's all I need from a Christmas movie.
The movie is streaming on Netflix, and I took these screenshots while watching it there.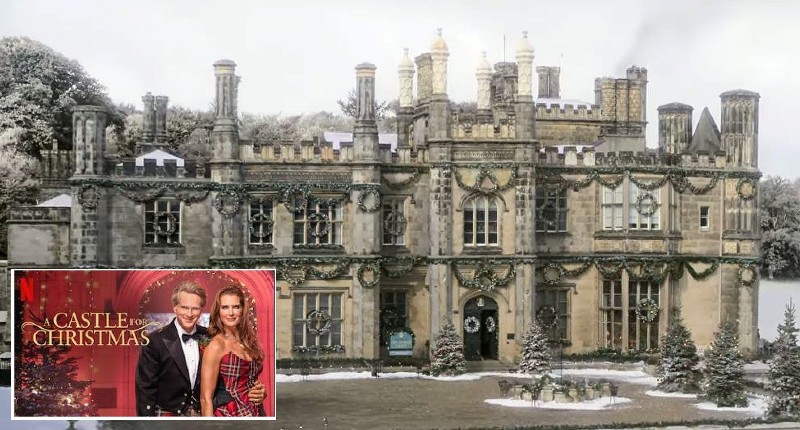 Visit the Dalmeny House website to see photos of most of the rooms where "A Castle for Christmas" was filmed on location. You'll recognize many of them from the movie, including the library and dining room.
P.S. On a personal note, I have to thank everyone who has checked in with me over the past year and told me how much you missed my posts. I thought I was probably done with blogging but…maybe not. I couldn't stop thinking about houses I wanted to share with you and talk about during my break, including this one. Merry Christmas! 🙂
Visit my Movie Houses page to see other filming locations listed A-Z,