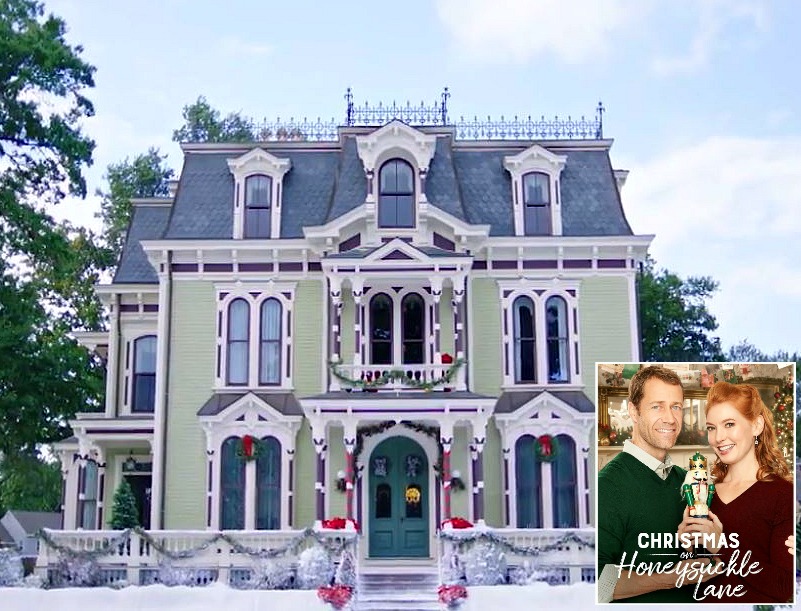 One of our family traditions is to start watching Hallmark Christmas movies together on Thanksgiving night, and we binge our way through as many as possible until the new year. Even my husband and son are willing to watch with us when we make it a game, creating our own BINGO boards to see who can spot as many of the typical plot twists in each movie as possible.
When we watched the 2018 premiere of Christmas on Honeysuckle Lane, I became almost too obsessed with the gorgeous old house to focus on my board, though. I had to know more about it. When I tracked it down, I saw it was on the market recently, so I was able to get more information about it.
It was filmed on location at the Silas W. Robbins House, a B&B in Wethersfield, Connecticut. Take a look!
Note: This post contains Amazon affiliate links that may earn me commission.

The House from "Christmas on Honeysuckle Lane"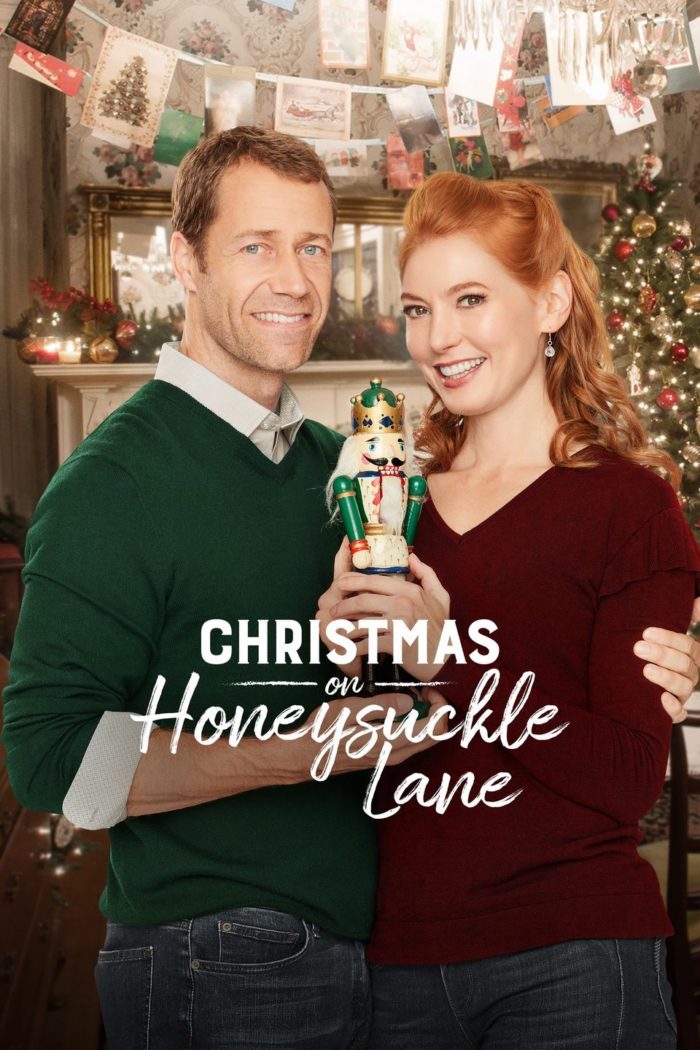 What the movie's about:
Emma (Alicia Witt) returns home to celebrate Christmas for the last time in the house she grew up in. Since her parents have died (note: I get a point on my BINGO board whenever a movie plot features a dead parent!), she and her siblings are selling the house on Honeysuckle Lane.
Morgan (Colin Ferguson) is hired to appraise the antiques in the house. After they find letters hidden in her mother's desk, they work together to solve the mystery of who wrote them.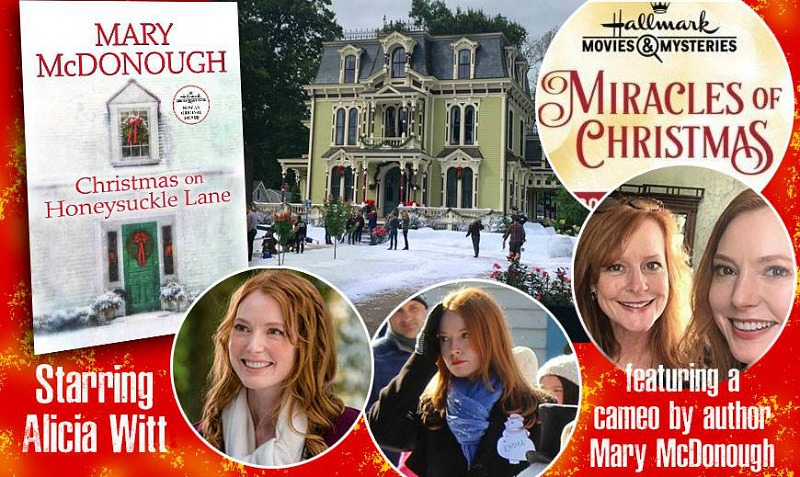 McDonough played Erin on The Waltons, and she has a cameo as Emma's mother in flashbacks here, which is fun.
I started reading the book (Amazon affiliate link) after learning it was written by "Erin Walton." 🙂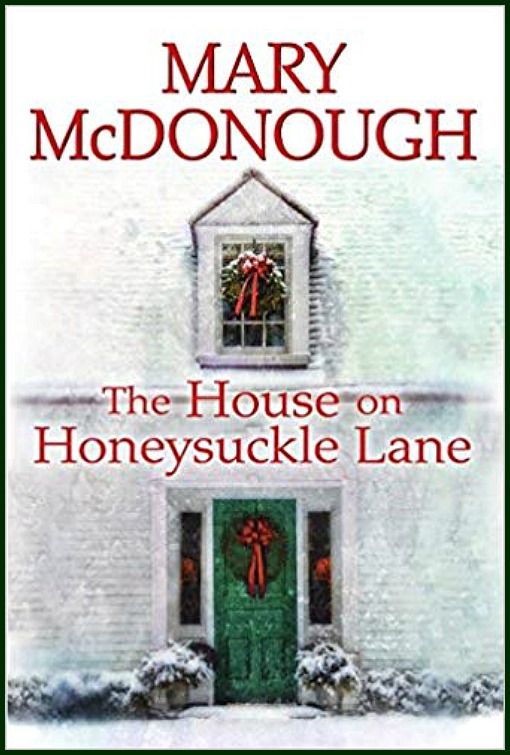 The stunning Second Empire sits on Broad Street in Wethersfield, Connecticut.
Silas Robbins, owner of the seed business Johnson, Robbins and Co, built the house in 1873.
Hallmark Christmas movies almost always have pretty houses in them, but they outdid themselves with this one.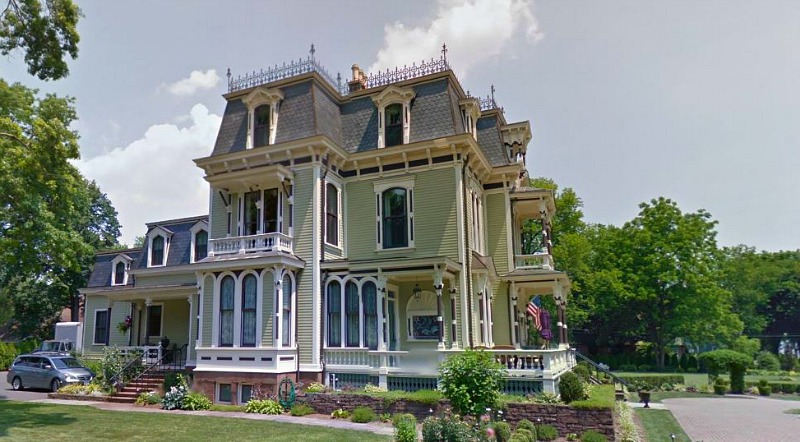 A reader named Joanna told me about her family's history with the house:
"The home was built for my great grandfather, Albert Hubbard, of Wethersfield, Connecticut. He was also a homebuilder and responsible for many of the homes built in that area, typically referred to as Hubbard Homes.
"As a child we visited my great grandparents from our Massachusetts home on many occasions.
"The movie was filmed inside the home. There was a ballroom on the third floor with a beautiful grand piano.
"For me and my four young siblings, it was a bit of a scary home to mill around in!"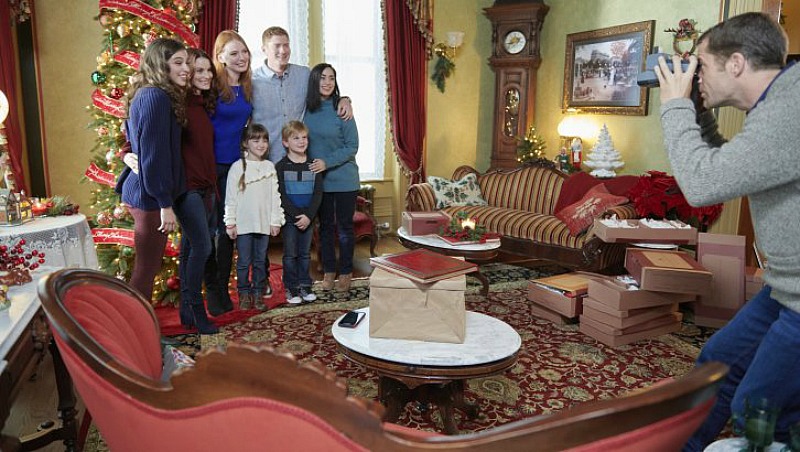 In the movie, the "Christmas attic" for storage is on the third floor, where the ballroom is.
Here we see Witt and Ferguson descending the staircase in the movie (below):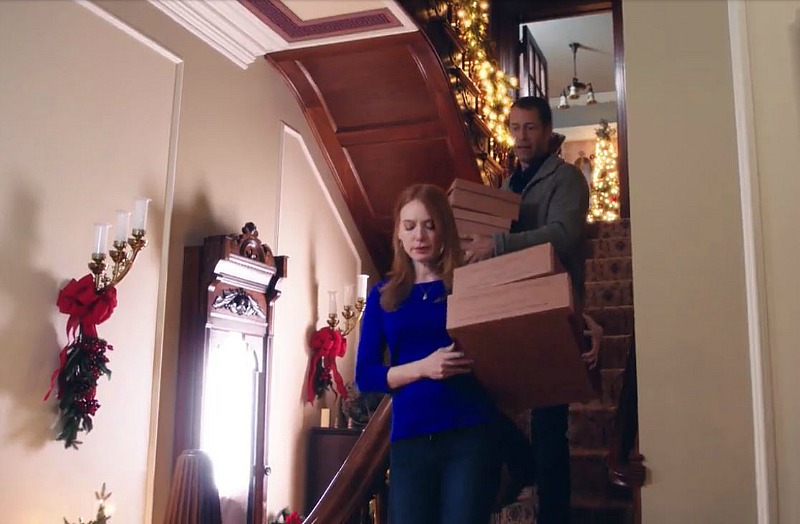 The 2018 listing said:
Beautifully restored authentic 19th Century Silas Robbins House, private estate or turn key B&B on gated acre of gracious gardens and manicured lawn in the heart of the Historic District. Architectural history with every detail, impeccable decor, custom milled woodwork and tin ceilings.
A handsome porte-cochere with its own mansard roof. Large double-leaf entry door is original and features arch and circular openings with beveled glass. Tea Room/library. Three staircases. Carriage house with 3 car garage and living space with full bath.
The finest example of Second Empire architecture in town!
According to the 2018 listing:
This Victorian mansion stands apart as one of the great period homes in Connecticut. Built for the family of a prominent businessman and now operating as a magnificent Bed and Breakfast.
In 2001 a masterful 6-year restoration lavishly transformed its 7,500 square feet to create resplendent interiors. In an area known for its historic architecture this masterpiece is an aesthetic tour de force.
Did anyone else watch Christmas on Honeysuckle Lane and think the house stole the show? They'll be replaying it throughout the month of December — check the schedule for dates and times.
Visit the Silas W. Robbins website for more information and the Douglas Elliman listing from 2018 for all the beautiful interior photos. Production photos via Hallmark Movies & Mysteries.
Check my TV & Movie Houses page to see more I've featured, including