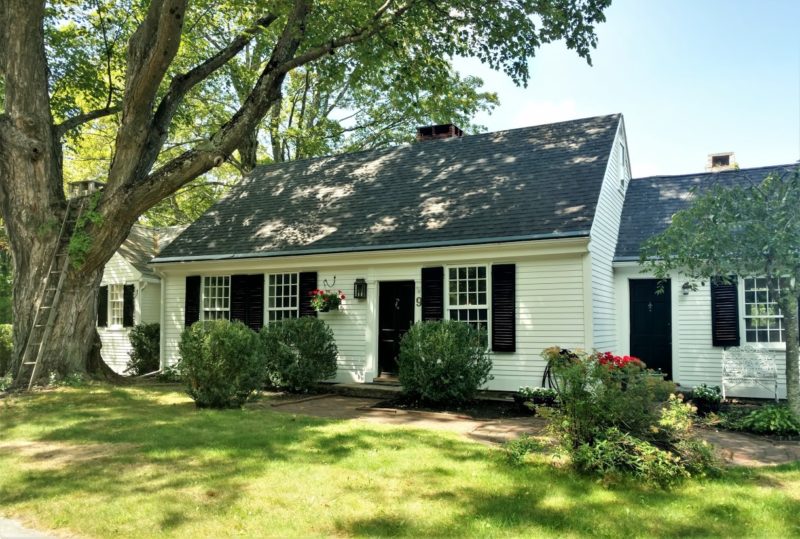 A reader named Donna told me about this Antique Cape, which was built in 1784 on the historic village green of Mason, New Hampshire. Although it's been updated over the years, it still has the kinds of details that old-house fans love, like gunstock corners, wide pine floors, wood-burning fireplaces, and beamed ceilings. It's on the market, so take a look!
Note: This post contains affiliate links that may earn me a commission without changing the price.

An Antique Cape from the 1780s
The front of the house overlooks the historic town green.
The listing says:
Meticulously maintained center-chimney antique cape in the center of Historic Mason. Stunning landscaped property with loads of privacy yet not secluded. Walk to the Town Green for Seasonal Activities. Thoughtfully updated with modern amenities yet antique features throughout.
"Expert landscaping includes granite, brick and stone patios & walkways, perennial gardens, terraces and a covered balcony providing stunning views of abutting conservation land, nature preserve and more. Potential Horse Property with abundant trails."
The entry hall sets the tone with the old door, turned staircase, beamed ceilings, and pine floors: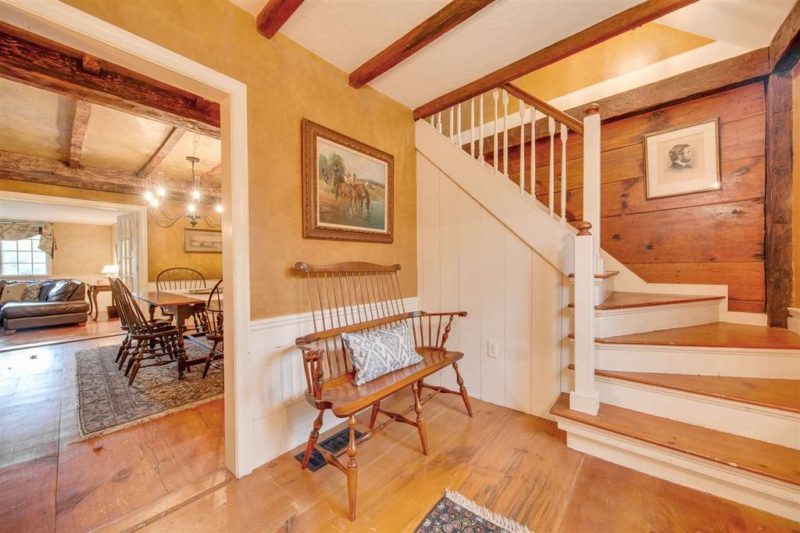 The Dining Room: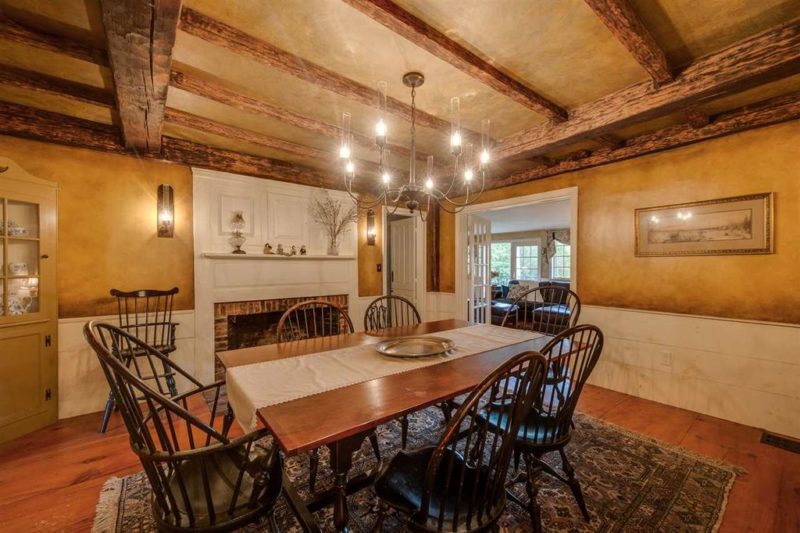 Kitchen:
Not sure the original pine-planked floors in the living room could get much wider than this (!):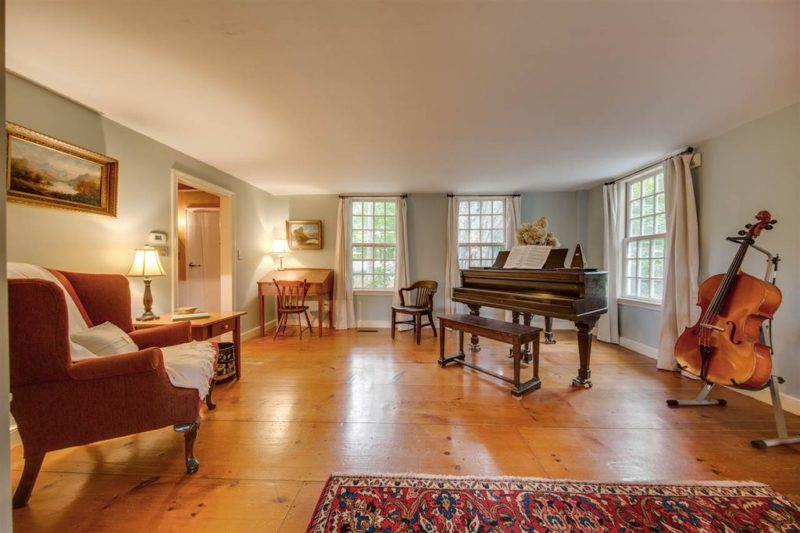 There's a master suite on the first floor and two additional bedrooms upstairs.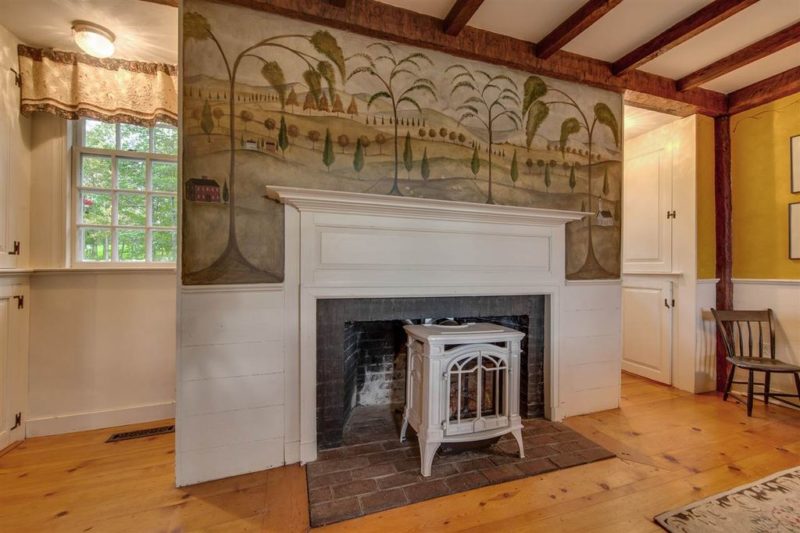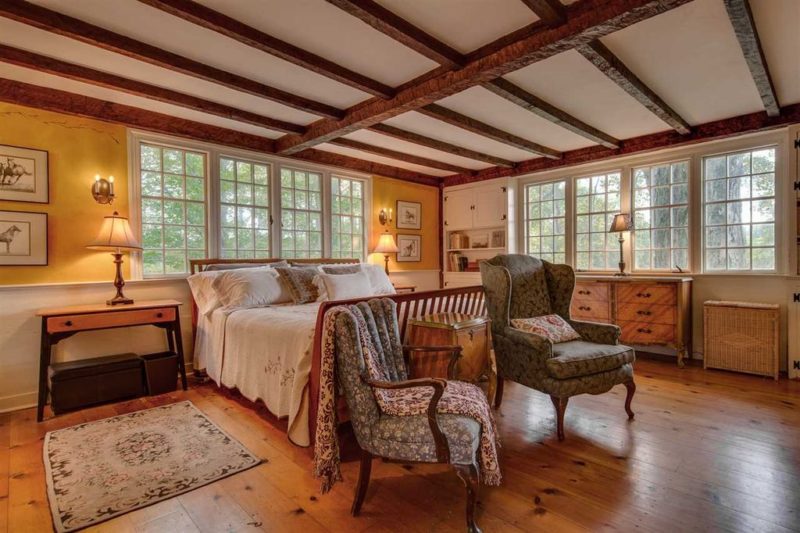 The master bath features an embedded leaf plaster finish by decorative artist Donna Revens:
The back of the house has a covered porch overlooking the sloping lawn and gardens:
Mason is a small town with historical significance. It's the former home of Samuel Wilson, known as Uncle Sam. There's a plaque marking his former home in the village.
The property next door is the former home of artist and author Clarence William Anderson (Amazon affiliate link).
It also comes with an adjacent carriage house:
In this wide shot you can see the back of the carriage house and garages, too:
Donna Revens, who worked on this home, took some of these photos of it. She says she's always loved this one, and I can see why. Thanks to her for telling me about it. It's always fun to see the kinds of houses that are on the market in your hometowns. 🙂

P.S. Visit my Old Houses page to see more of them, including this one:
*Posts contains Amazon affiliate links — thanks!
(Visited 25 times, 3 visits today)