I was disappointed to hear that a different house was used for the Cullen family of vampires in New Moon than they used for Twilight. Looks like they tried to find one that was at least similar in style.
The New Moon house is on the market for $3.3 million, so we get to peek inside. According to the listing, the house is "Arthur Erickson inspired," exquisitely renovated with post-modern design on a half-acre lot.
You can see this staircase isn't open like the one in Twilight was (see photos of that house here).
To see the house used in the first Twilight movie, click here. Which house did you prefer?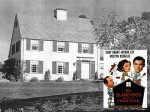 When I was growing up, my mom and I used to watch old movies together on Saturday afternoons, and we loved anything with Cary Grant in…
This Old-Hollywood Estate is for sale (Marlo Thomas lived here!). Beth is planning a Homecreators Conference and is asking for your input. Nicolas Cage just…