I bet you thought you knew just about everything about me at this point, but there's one more obsession I've kept to myself until now: the long-running prime-time soap opera "Dallas."
I was too young to really watch much in its heyday (late '70s, early '80s), although I clearly remember gathering around the TV set with the rest of the world to find out Who Shot J.R.
Last summer I found the DVDs at my local library and got totally sucked into the soap. I couldn't. Stop. Watching.
Family members began to grow concerned about me because I was staying up too late at night to watch "just one more episode." I may have begun to mention the Ewings in a few too many conversations and e-mails.
November 8, 2008, marks the 30th anniversary of the show's premiere, so the cast is gathering at the Southfork Ranch for a reunion. (The actual ranch was built just a few years before "Dallas" began. Interior scenes were shot on a soundstage.)
The reunion is open to obsessed fans the public, and tickets will cost between $100 and $1,000. Those willing to cough up $1,000 are invited to a cocktail hour with J.R., Pamela, Bobby, and Sue Ellen inside the Ewing mansion! Can you imagine?
For $100, you get to take a tour of Southfork and sit in on a Q&A session with the cast. (Click here for more ticket information.)
Here's a view of the Southfork pool where so many scenes were filmed.
The family often had breakfast out on the covered patio (below, taken by tourist Jeff Bailey), and when I was little I remember thinking I wanted one just like it when I grew up and had my own ranch. I would decorate it in yellow and white just like they did! I love that it hasn't changed much in 30 years:
I love Larry Hagman. I'd go to the reunion just to see him! ("Hello, Darlin'!")
Here's a People cover from 1979, when the show was still in its first season:
Check out these Ewing Action Figures from the early '80s, apparently created for the true "Dallas" fanatic (found at Mego Museum):
Other Dallas toys proved popular in The Day, but according to a 1981 interview with Mego VP of marketing, Allan Chernoff, these were a "bomb" for Mego.
And no wonder. Can anyone figure out who each of these figures is supposed to represent? Because I'm kind of stumped. I guess the blonde must be Lucy. After that, I'm not so sure.
I'm having trouble finding interior photos of Southfork from the early '80s when the show was in its prime. So here's what I've decided to do.
Drumroll…
To celebrate the 30th anniversary of "Dallas," I'm going to recap the famous episode in which J.R. is shot, called "A House Divided." That's right. Pinch yourself!
Surely there are other "Dallas" fans out there. Can I see a show of hands? We can re-live the drama, the heavily wallpapered rooms, and the brown plaid fashions together!
I'm so excited. I can hardly wait!
So come back tomorrow and we'll take a little trip back in time to 1980. Even if you never watched a single episode of "Dallas" before, you won't want to miss all the wheeling, dealing, and backstabbing. I bet it'll make you want to throw on a cowboy hat and call somebody "Darlin'."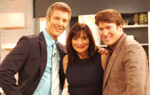 Have you heard of the lifestyle show "Steven & Chris"? I hadn't, but that's because I don't live in Canada. Today I received a letter…
Hold onto your cowboy hats! I'm a HUGE Dallas fan. I still love to watch the old episodes on DVD. So to celebrate the 30th…