There's something about old white farmhouses that get me every time. Anyone who knows me will tell you that I belong on a farm about as much as Eva Gabor did on Green Acres, but I love the idea of it. Lonny magazine tells the story about a family that bought this 19th-century farmhouse on 16 acres in Acra, New York, and spent years fixing it up.
Kieran and Stéphane held their wedding reception in the big red barn with twinkling lights strung through the beams and mason-jar lanterns hanging from the branches of the apple trees.
Stéphane says, "Buying a 150-year old farmhouse sounds romantic and charming, but it's not for everyone." However, he adds, "I can't think of any other projects — other than my children — that have given me as much pleasure or pride."
This picture of what the mudroom looked like when they bought the property gives you an idea of what they started with:
Lonny reports: "The resourceful duo redid it from the ground up, laying slate tile floor, ripping out existing cabinets, and repaneling the walls and ceiling in cedar." Here's how the mudroom looks now:
Much better!
Kieran says the great room was "completely unusable" when they moved in. She adds that it had industrial carpeting, floor-to-ceiling mirrors, and a popcorn ceiling.
Here's how it looked after they gutted it and raised the ceiling:
Then came "beam surgery," as Kieran calls it — restoring and shoring up the existing supports. Here's how it looks now:
A guest bedroom:
They added cedar planks to the walls of this bathroom:
They turned what used to be another bedroom into a dining room:
Next on the couple's project list? The kitchen. I'd love to see how it turns out! Check out the story in Lonny magazine's October issue for all the photos and details about the farmhouse (article written by Sarah Storms and photographed by Ball & Albanese).
P.S. Click here to see more farmhouses, including…
Alantha wrote me about her mother's "really beautiful and unique post and beam farmhouse" in Hopewell, New Jersey. It was built in 1813, and although…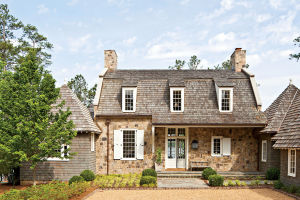 Birmingham architect Bill Ingram designed this charming stone and cedar shingle lake house on Lake Martin with enough traditional details that it looks like it…