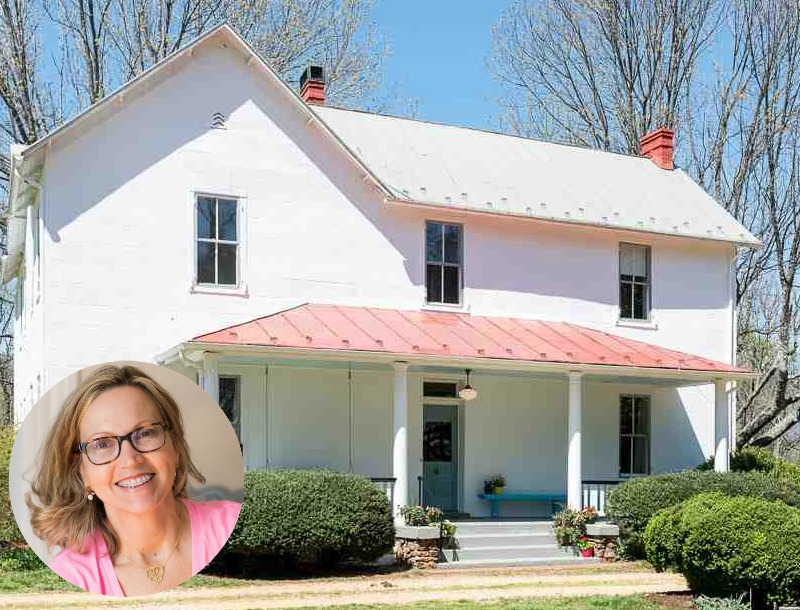 If you read the blog My Old Country House, then you probably have a crush on Lesli's charming white farmhouse in Virginia like I do.
She put her artist's heart and soul into fixing up the old place, so I was kind of shocked when she announced she was selling it.
It just went on the market, so take a look and see if this might be your dream home, too.

"My Old Country House" For Sale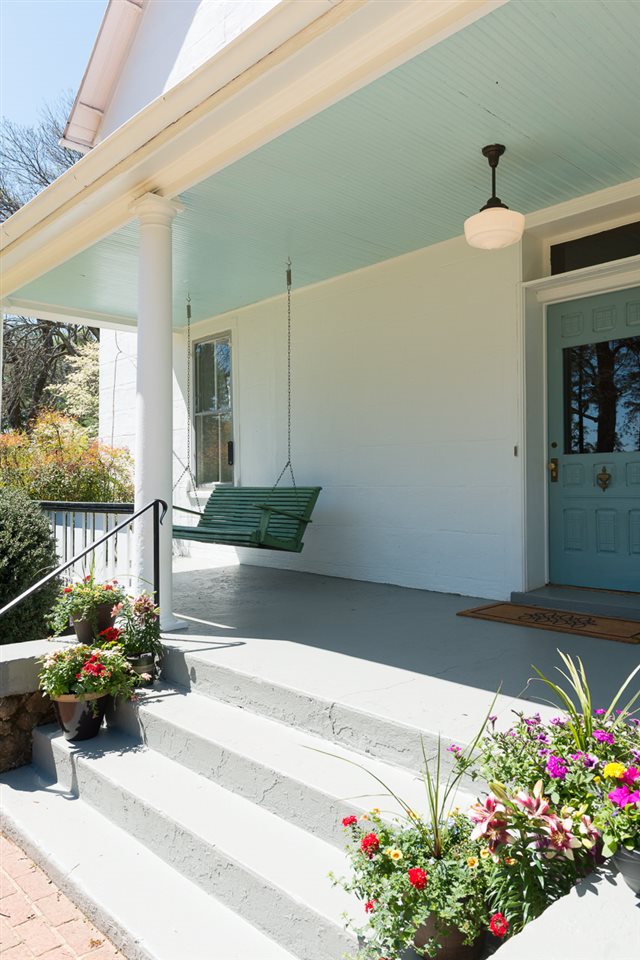 The listing says:
Lovingly restored 1880 farm house in the middle of historic Greenwood country estates. Exceptional location enjoys 2.34 acres w/ Blue Ridge & Ragged Mountain views surrounded on 3 sides by a large neighboring parcel under conservation easement.
Extensive renovations & gorgeous decor has been featured in numerous national magazines including House Beautiful & Family Circle. Timeless architectural details include: scored stucco exterior, metal roof, covered & enclosed porches, 10′ ceilings, refinished pine floors, leaded glass windows, picture rails & original sconces.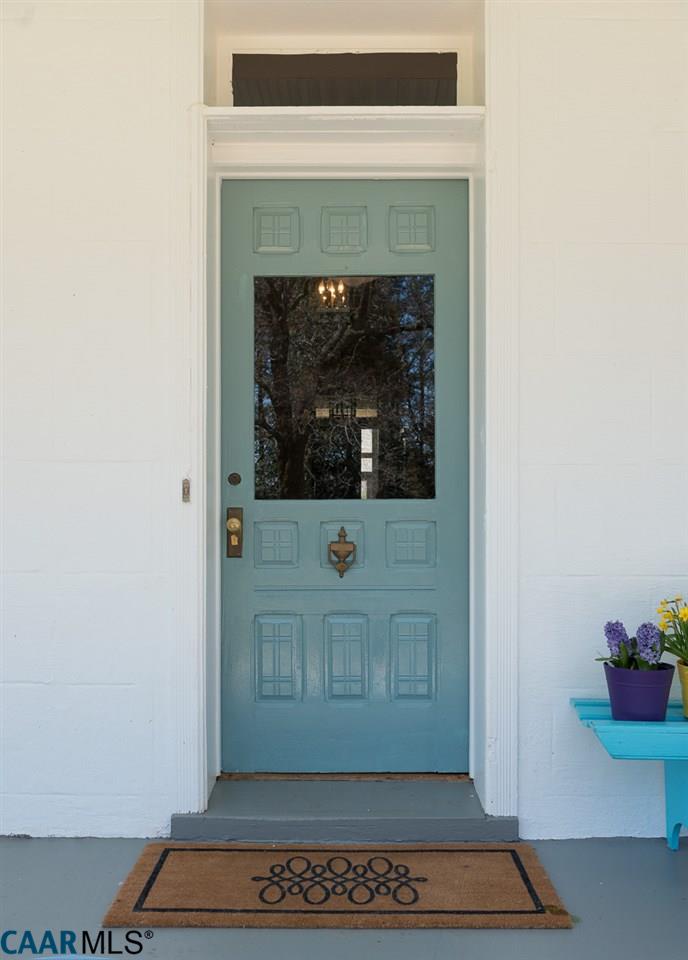 When they moved in, the house had been sitting empty for 3 years and was "full of nasty critters."

Every room was wallpapered, including the ceilings. And the upstairs "hadn't been touched for over 50 years."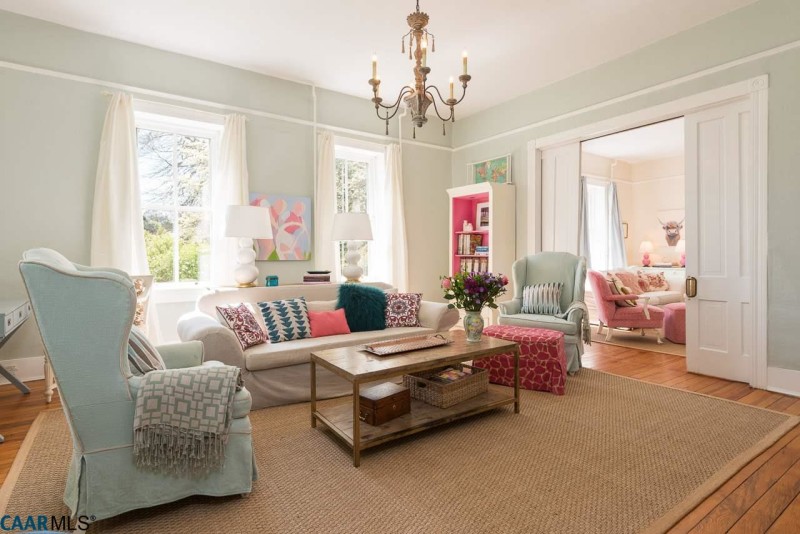 First Floor Before: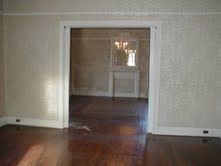 Today: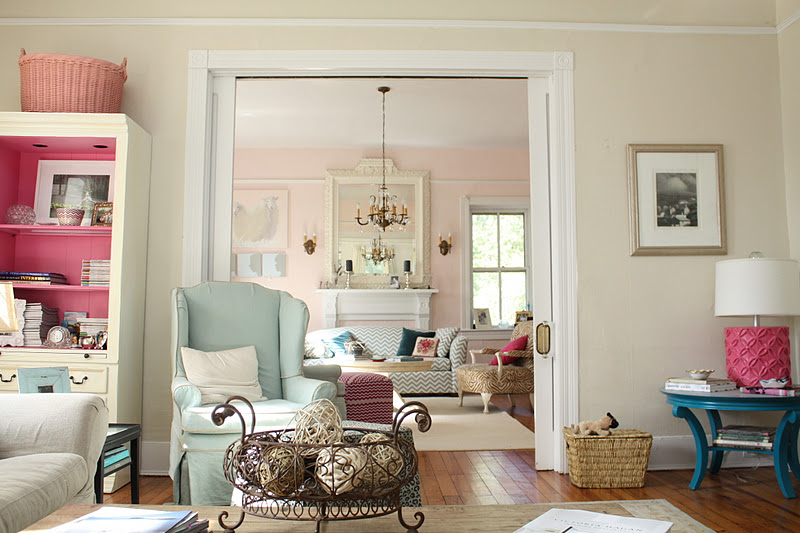 Gotta love these pocket doors!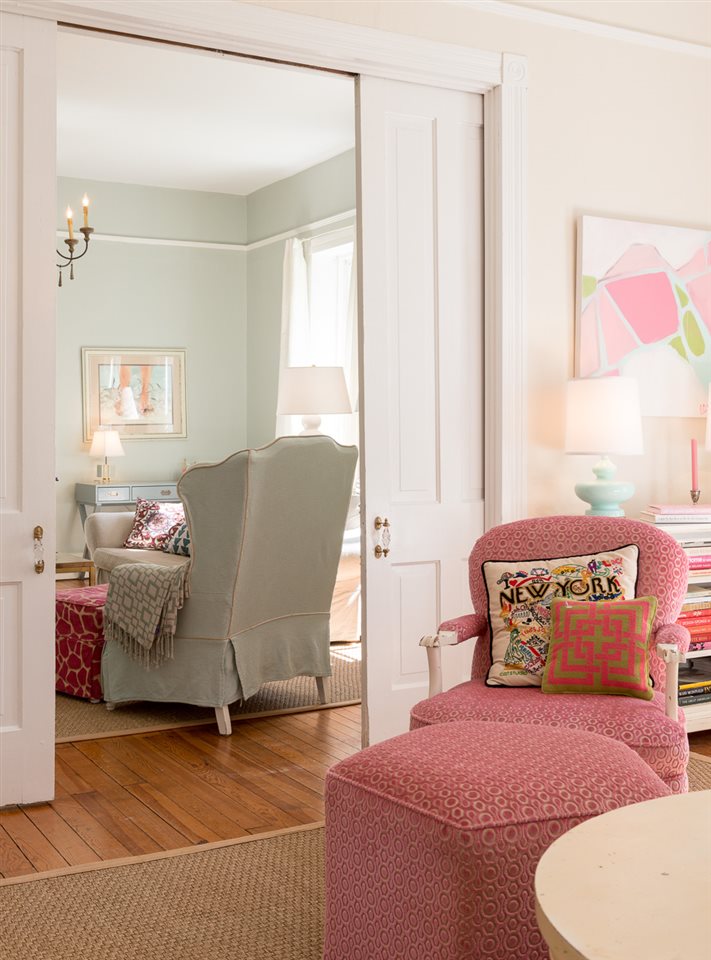 Lesli is a painter, and her love of color shows.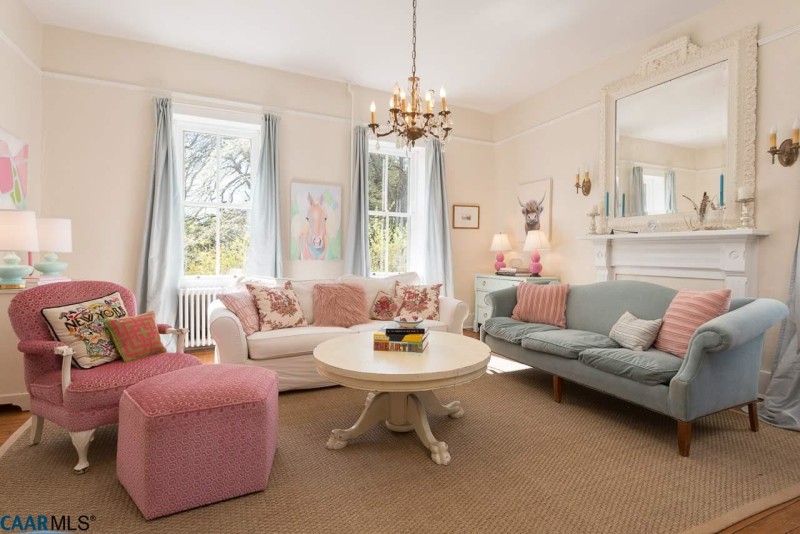 Upstairs Landing: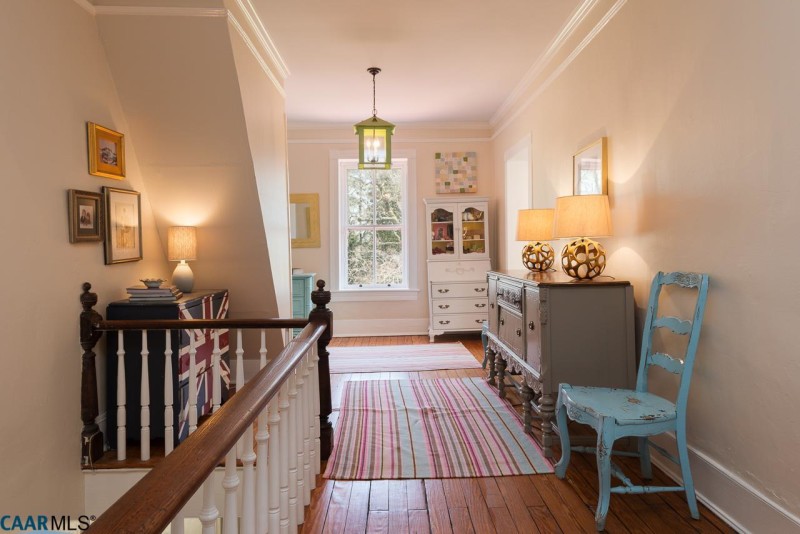 The house has 3 bedrooms, 2.5 baths, and 3,624 square feet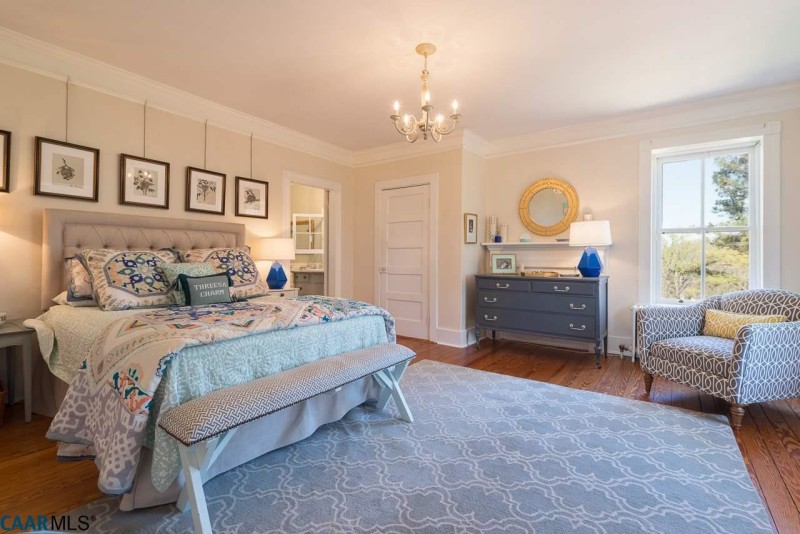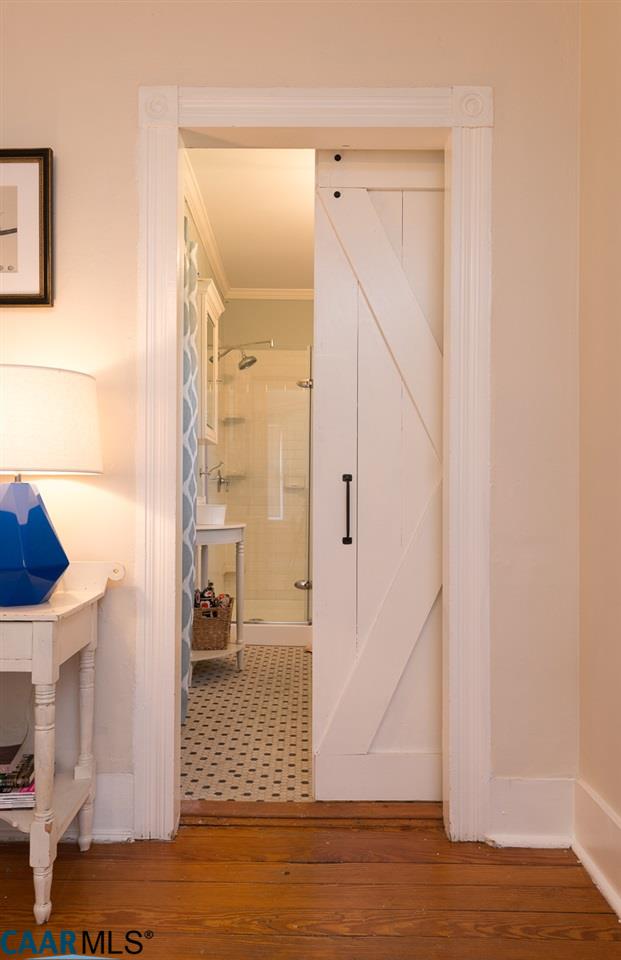 There was only one full bathroom when they moved in. They "carved out" another one for the kids.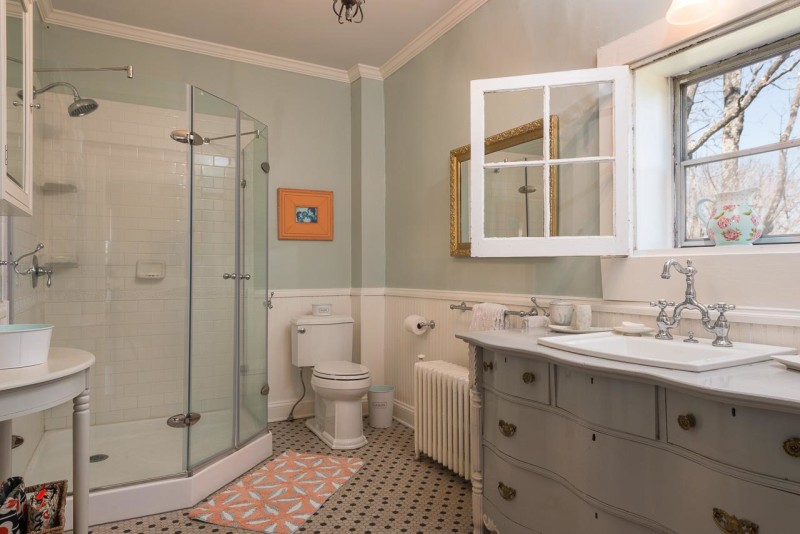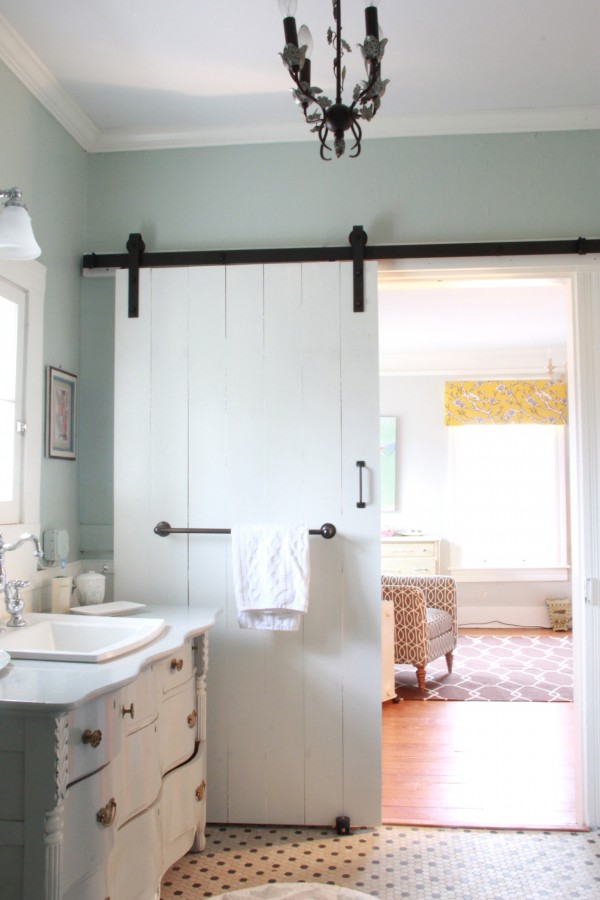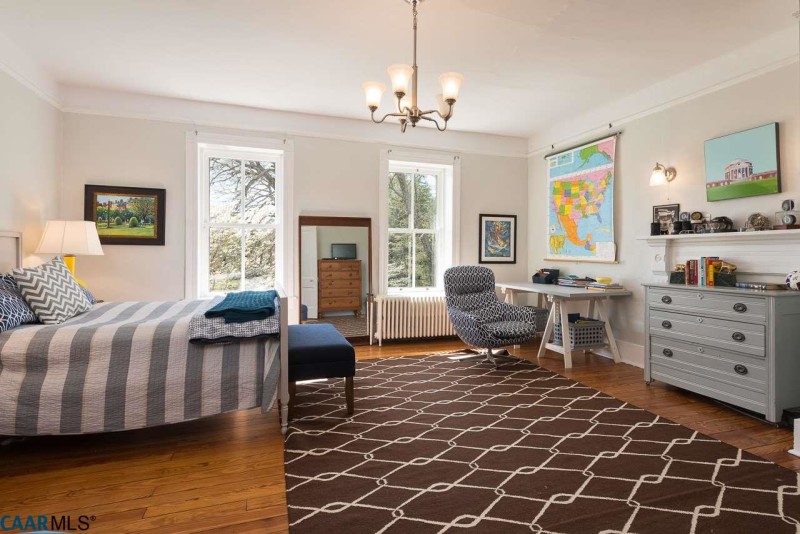 The Colorful Kids' Bath: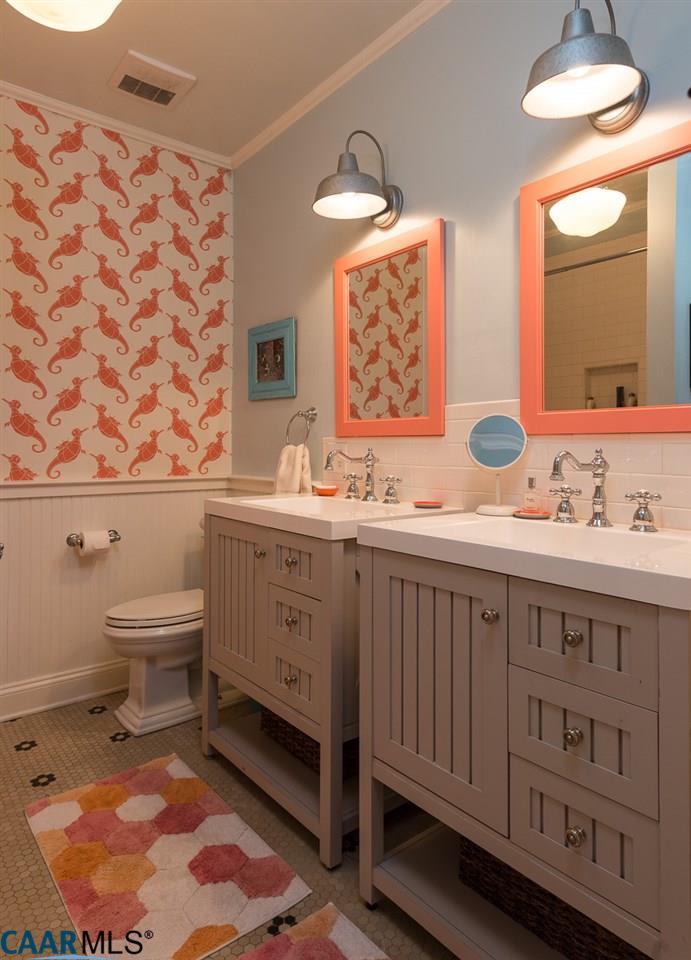 Look closely and you'll see some of her paintings hanging in the rooms.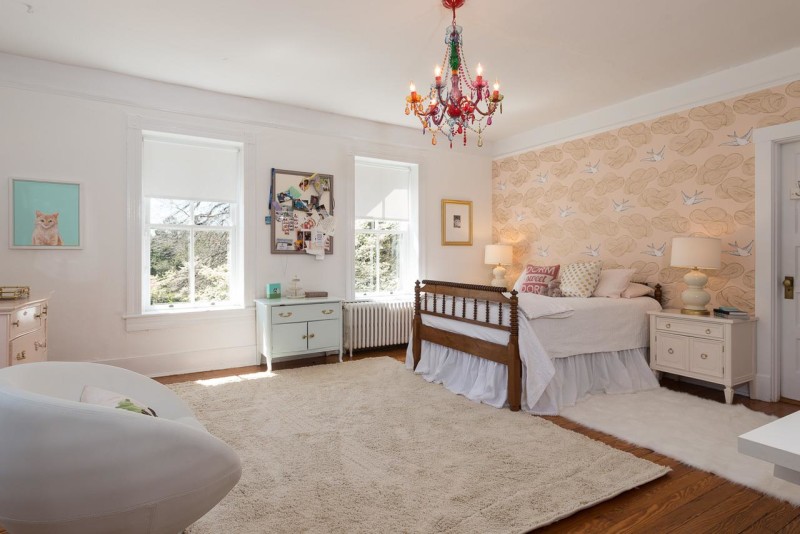 Powder Room: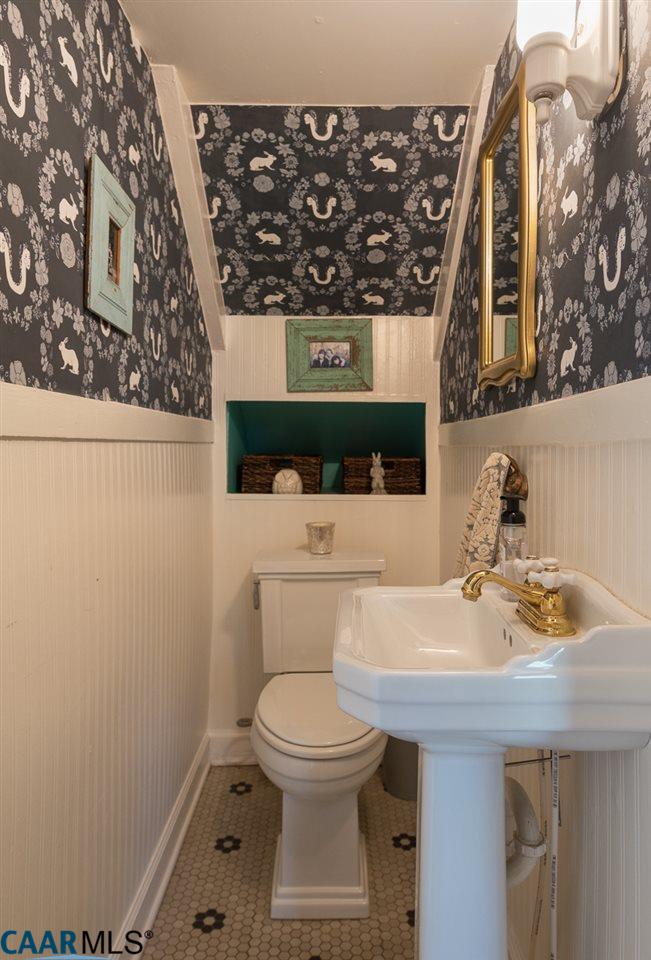 Dining Room: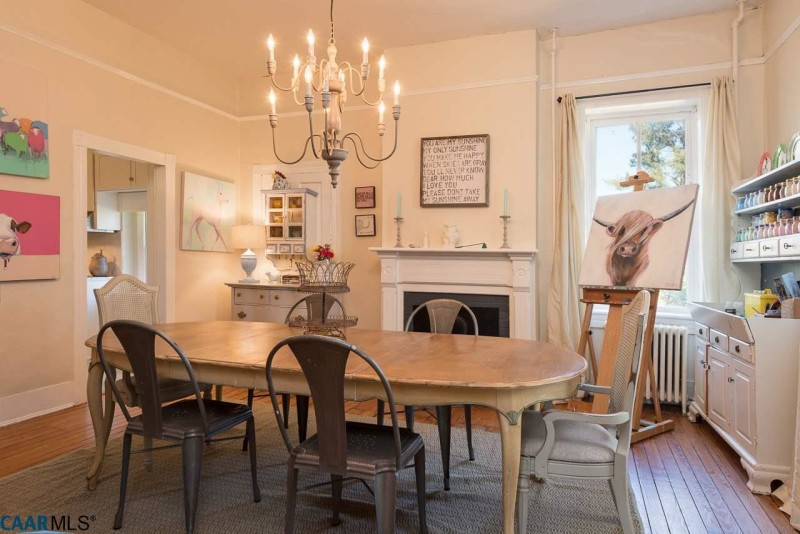 The kitchen hadn't been updated since the 1960s: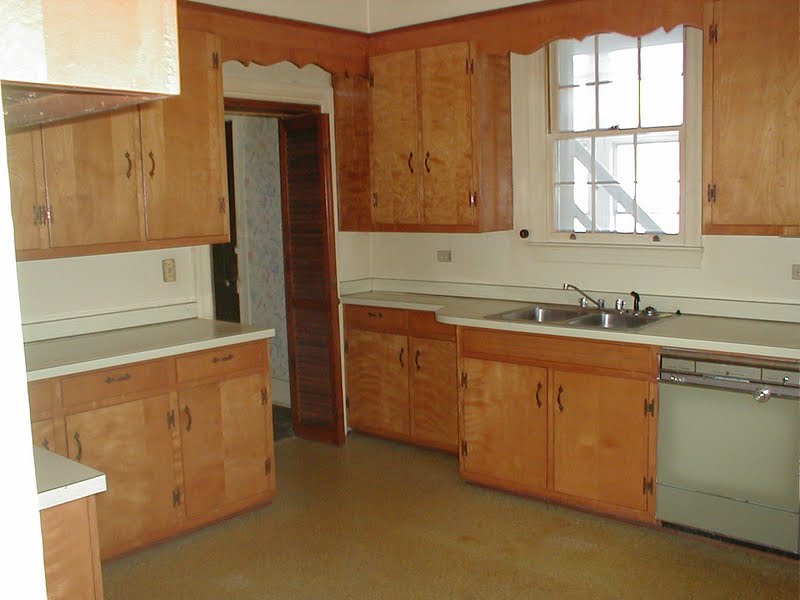 The Kitchen Today: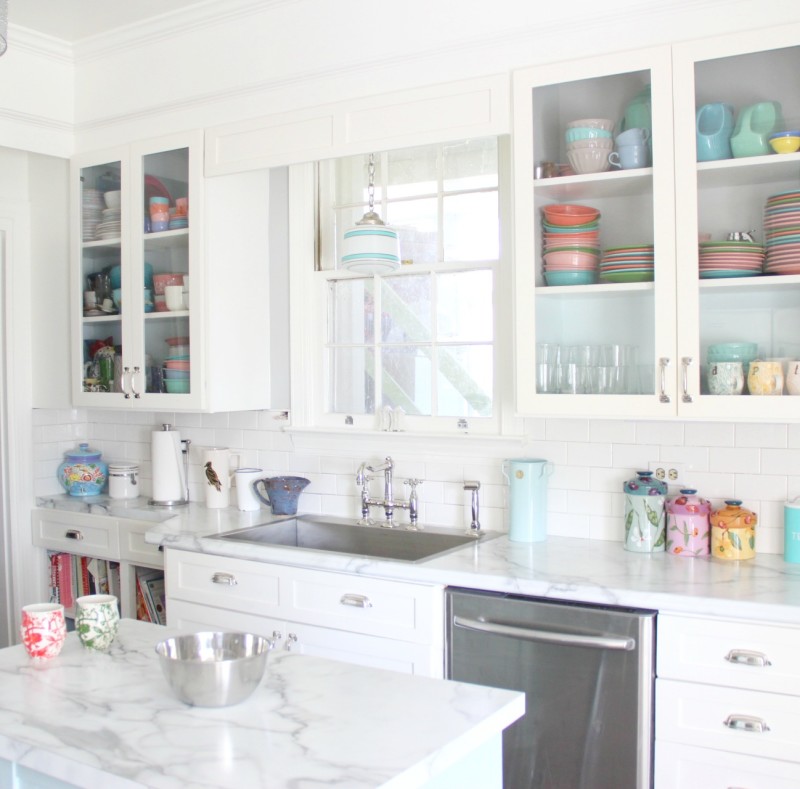 They gave it a makeover on a budget by maintaining the original footprint and layout.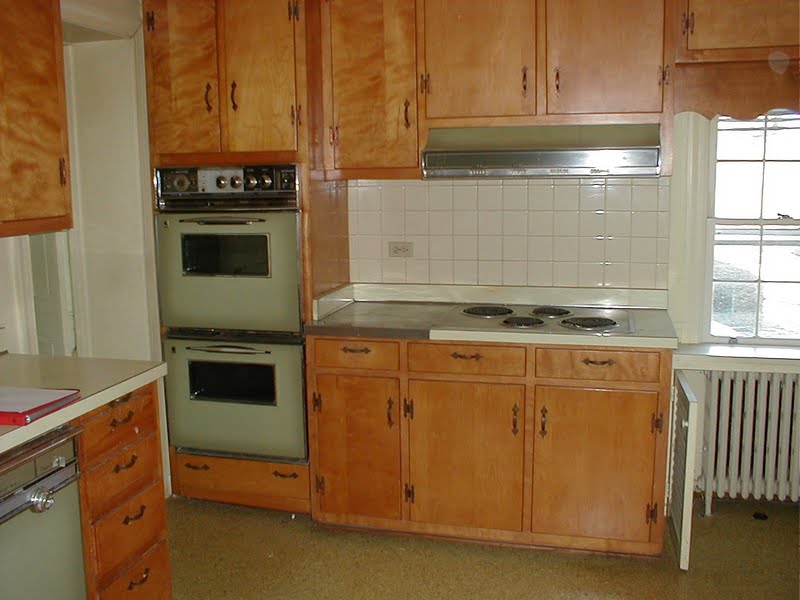 Lesli transformed the old vinyl floors with Benjamin Moore Porch and Floor Paint: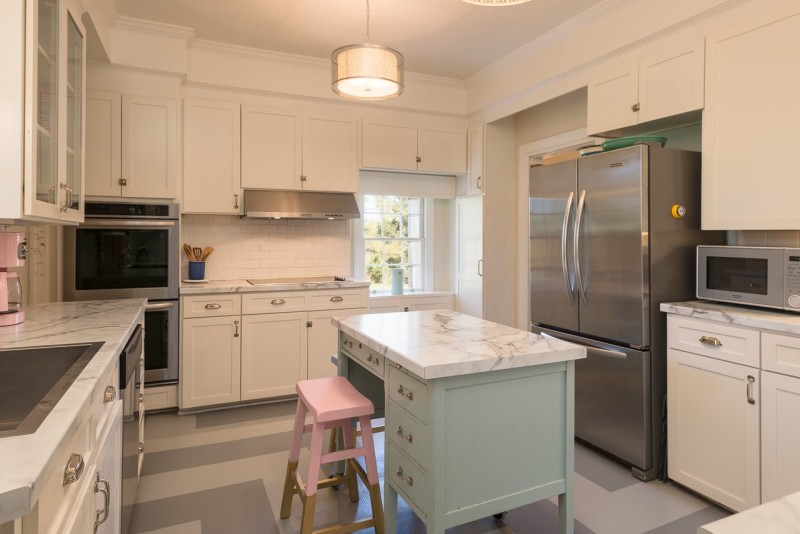 Another cost saver? Those "marble countertops" are actually Formica!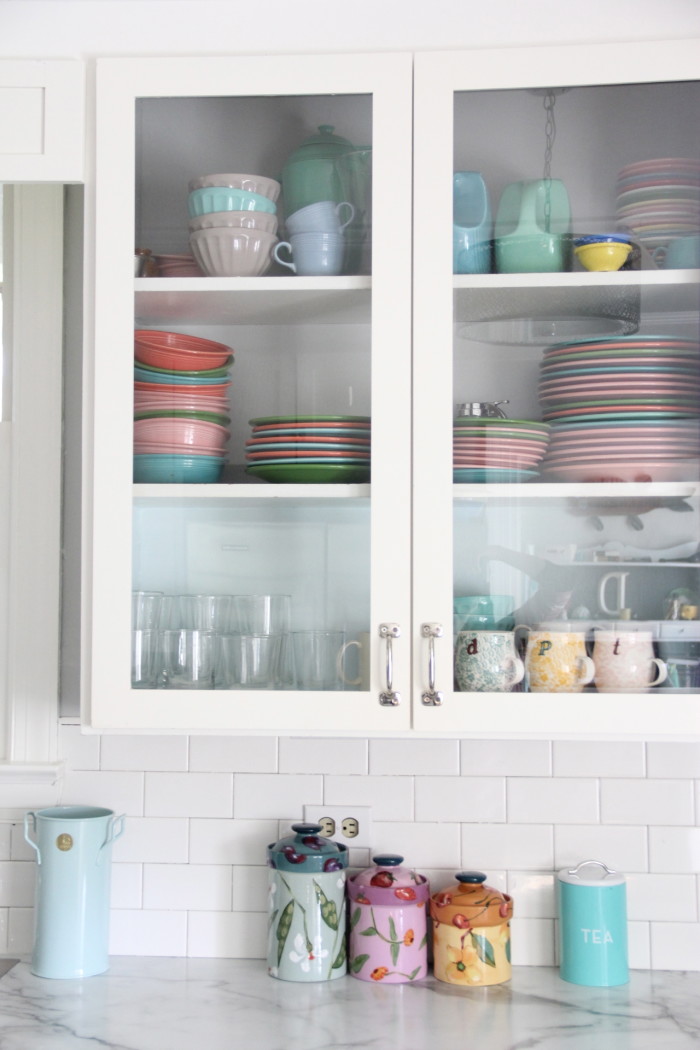 Lesli says, "Instead of spending upwards of $5,000, they cost $850!"
It was named Family Circle's Budget Kitchen of the Year in 2013, for good reason.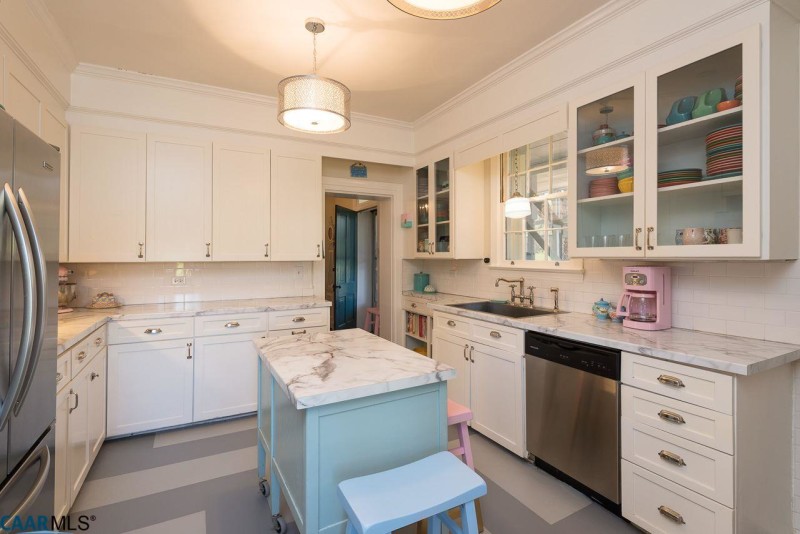 They kept the cabinets, replacing the doors and drawer fronts, and Lesli did most of the work herself. Visit her blog for sources and more details about the kitchen makeover.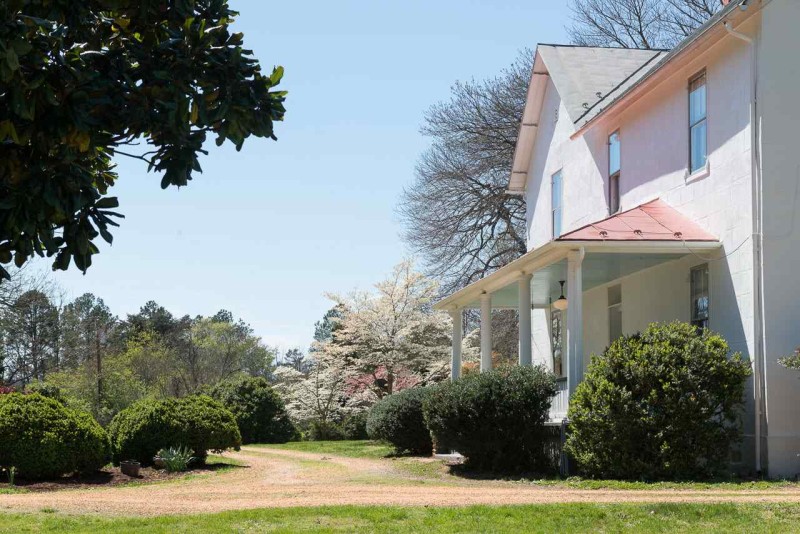 Lesli writes:
I have loved and worked on every inch of this house and I say that without exaggeration. I have raised my family in this house and I'm sending children off to college from this house. It is the most wonderful house I have ever lived in. But I do believe that the time is right for us to move to a smaller home. Though knowing so does not make much of this process much easier.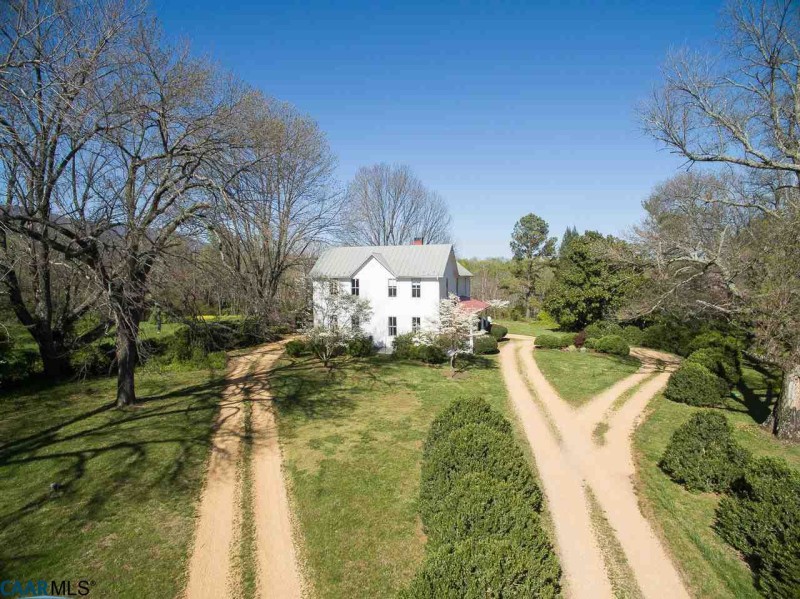 The farmhouse sits on over 2 acres in Greenwood, Virginia, with Blue Ridge Mountain views.
You can also see Lesli's recent paintings on her website (love the cows!).