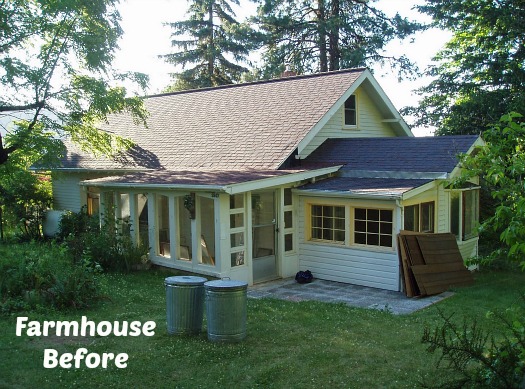 Readers of the blog A Country Farmhouse followed Trina and Mike's adventures in fixing up this old farmhouse that sits on 7 acres in Oregon. We oohed and ahhed over every update and room tour. So I think they heard a collective gasp of shock from their followers when they announced that they're selling the farmhouse and moving on. After all the work they put into it, here's how it looks now: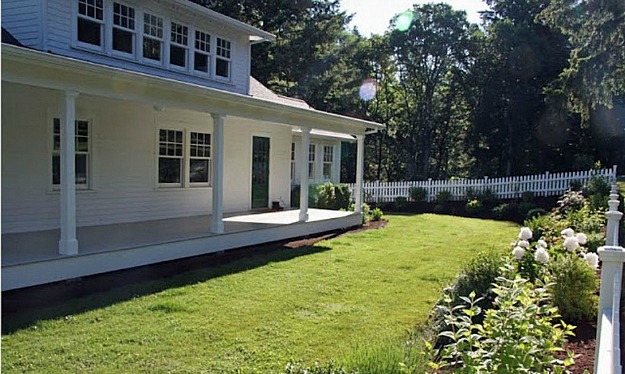 They raised the house higher off the ground and added dormers and a wraparound porch. The white picket fence and gardens add even more charm.
Here's another before photo that shows the side of the house: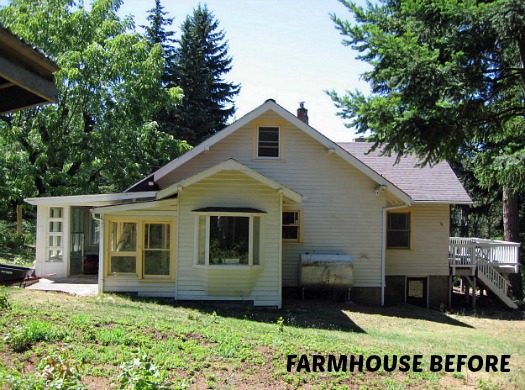 She explains, "It was built in 1923. It's a simple one and a half story farmhouse that endured a little neglect, some quirky additions, and a very 1970's style 'remodel.'"
They wanted to give it a more classic farmhouse look. Here's how that side of the house looks now: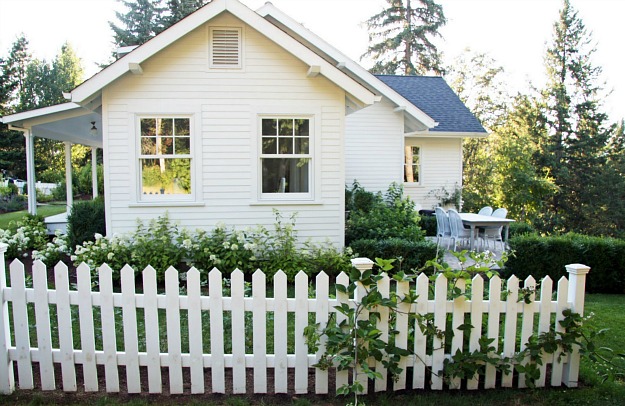 "The serene country setting offers everything we were looking for in a country home…privacy, peace and quiet, oodles of opportunities for long walks just outside our font door and spectacular views of rolling farmland with Mt. Adams as a backdrop."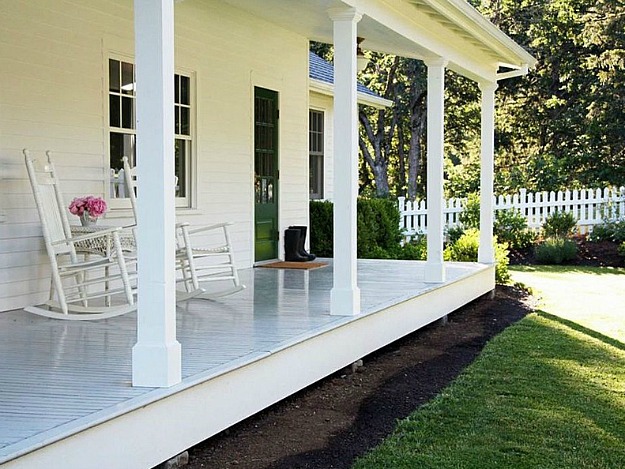 If it looks familiar, it may be because it's been featured in Country Living, and I wrote a post about how it was decorated for Christmas last year (A White Christmas in a Country Farmhouse).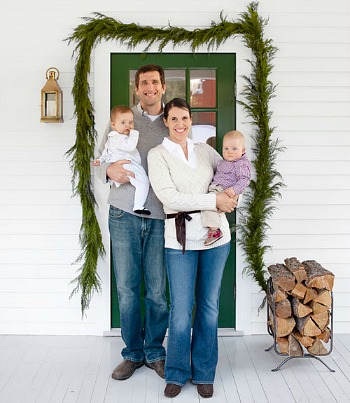 The previous owner was known for feeding any wildlife that came knocking at her door: "This included deer, skunk, raccoon, opossum and BEAR. That's right, she fed bear. Right off that back deck."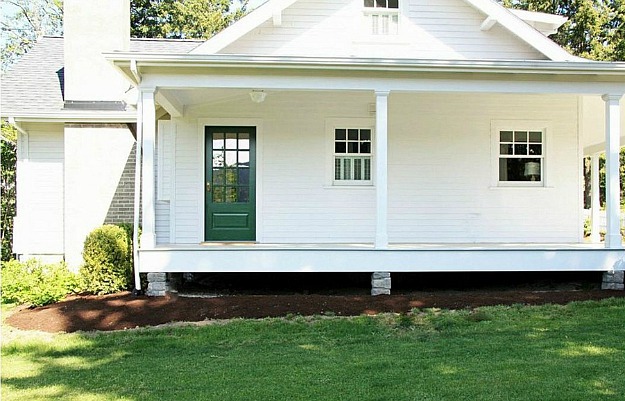 "Although we hadn't set out to necessarily buy a fixer upper, this house had so much potential and offered such a lovely spot in the country, that we decided that it was an opportunity we couldn't pass up. Upon taking ownership of the property in June of 2006, we immediately began working on our vision for the house."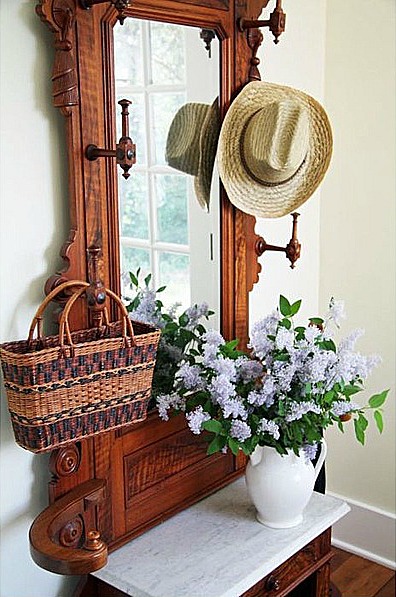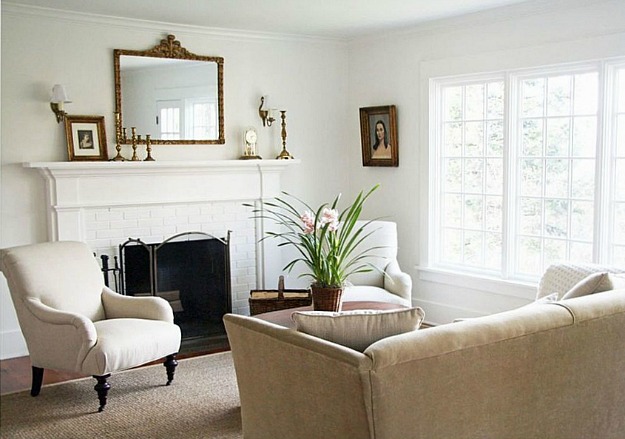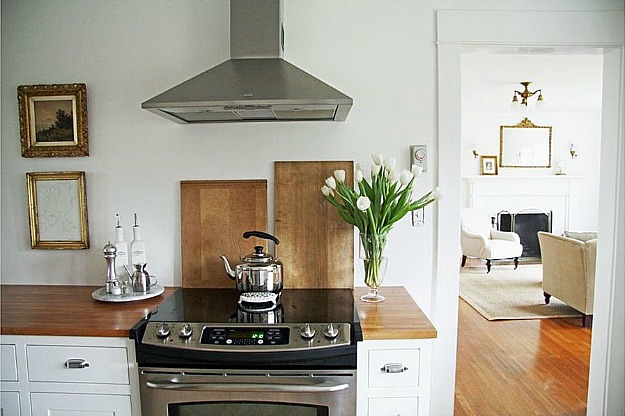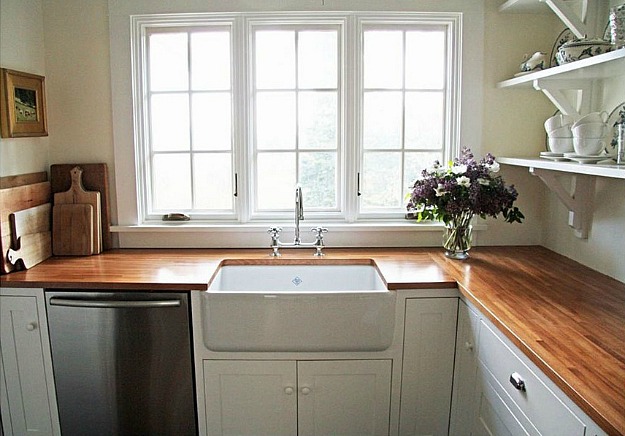 I've been wanting wood countertops in my kitchen ever since I saw them in hers.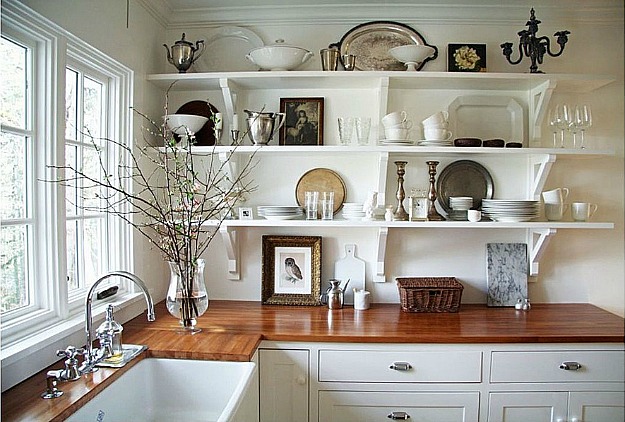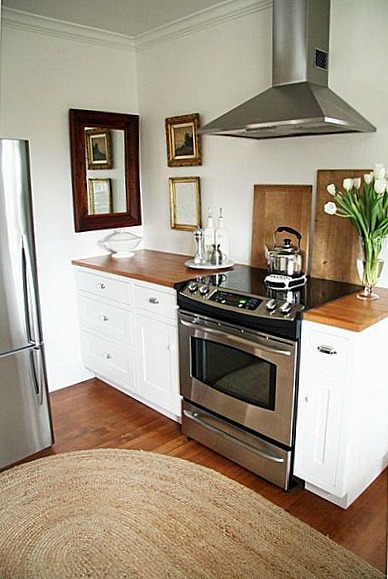 The house has 3 bedrooms and 2 baths: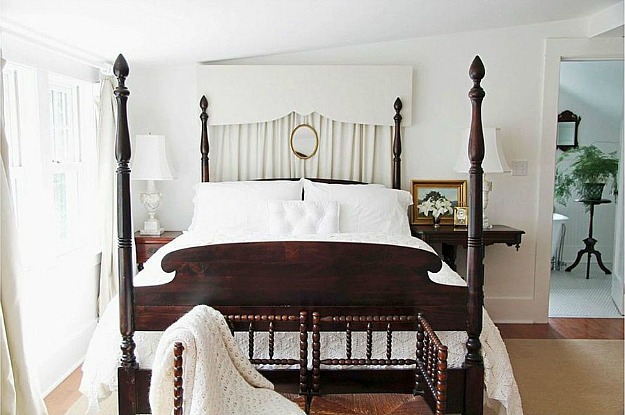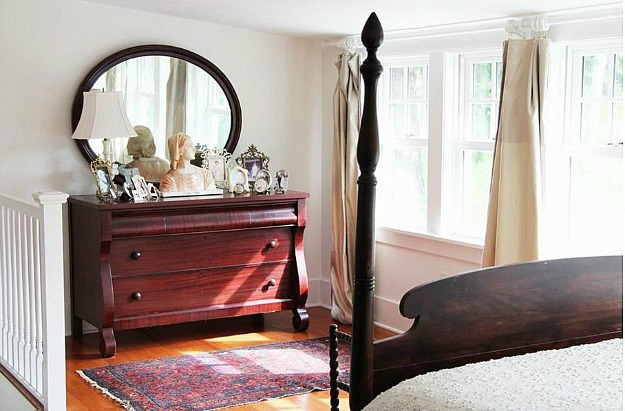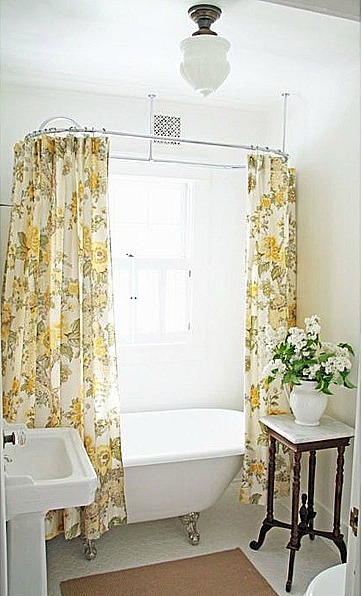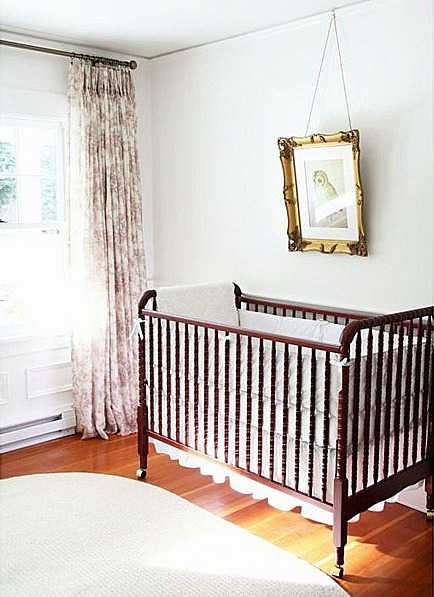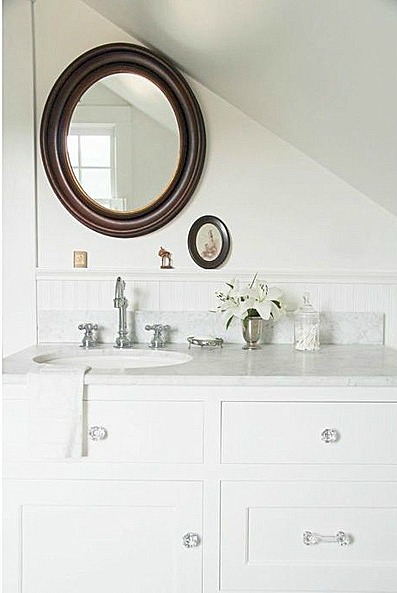 The dining room was a new addition: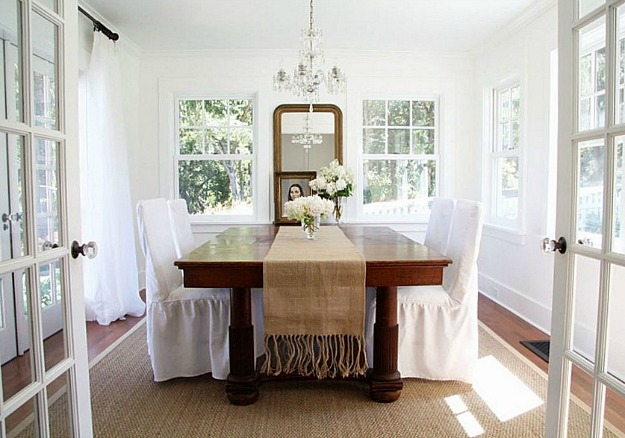 It leads to a stone patio outside: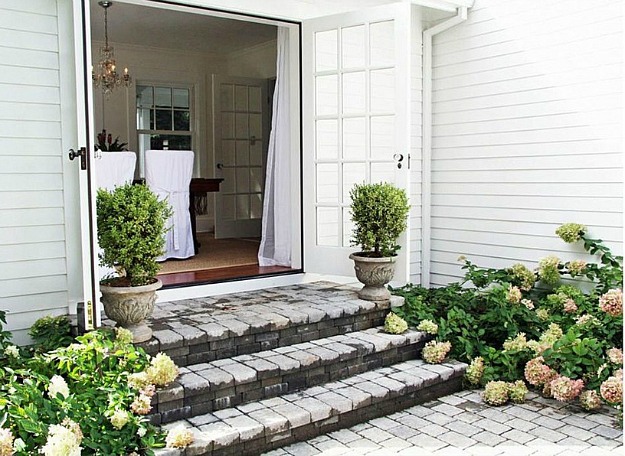 They have gorgeous panoramic views of Mt. Adams and the Hood River Valley: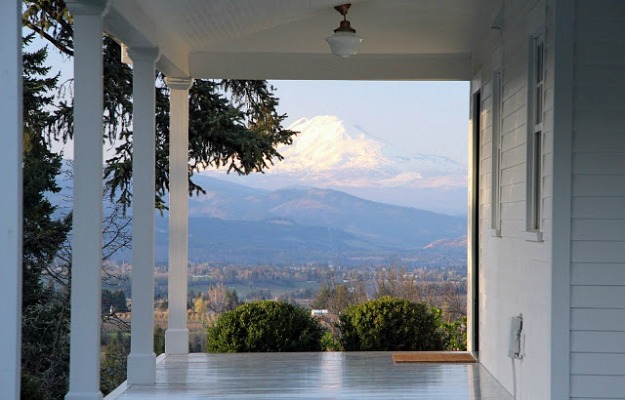 Country Living recently featured the guest house makeover: "Between them, Trina and Mike Burke claim six siblings, 12 nieces and nephews, and countless friends—aka a whole lot of houseguests. Good thing, then, that the couple's barn contains a 400-square-foot loft. Not so great? The space, last remodeled in the '70s, bore all the telltale signs of the era."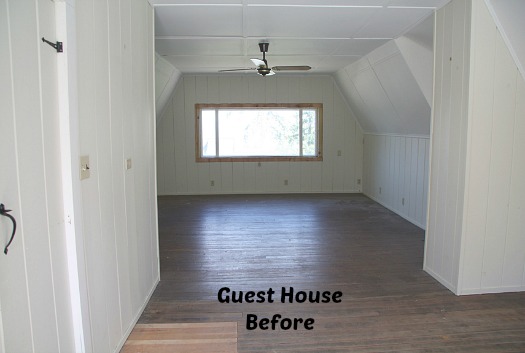 "The Burkes considered a gut renovation…until their contractor issued an $80,000 estimate. Instead, the two took matters into their own hands, hiding the fiberboard ceiling beneath inexpensive beadboard panels and giving the dated kitchenette a fast facelift with new hardware and butcher-block counters."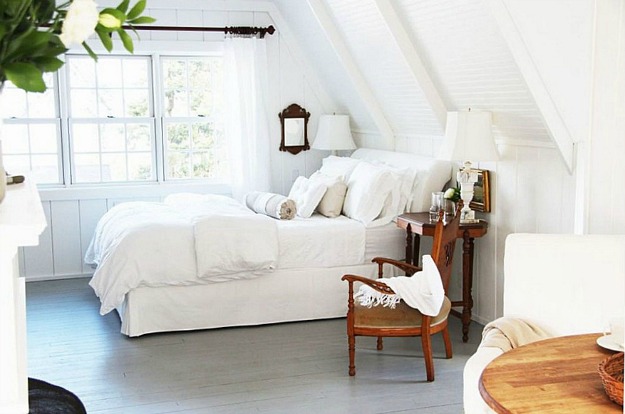 Cost for the DIY guest house makeover? Fifteen grand. Trina told the mag, "Now the loft is so cozy, Mike and I like to escape there ourselves!"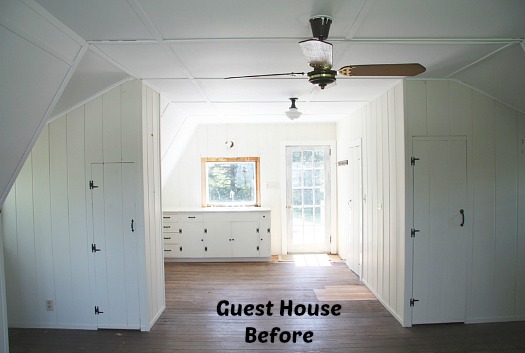 In the Country Living feature, they gave some source info, which is why there are blue dots all over it in the photo below. You can read the article here.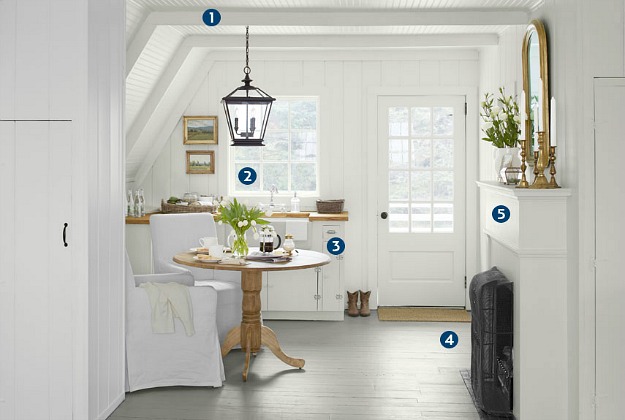 Country Living photos were taken by James Baigrie and styled by Heather Bullard, who wrote about the experience on her blog.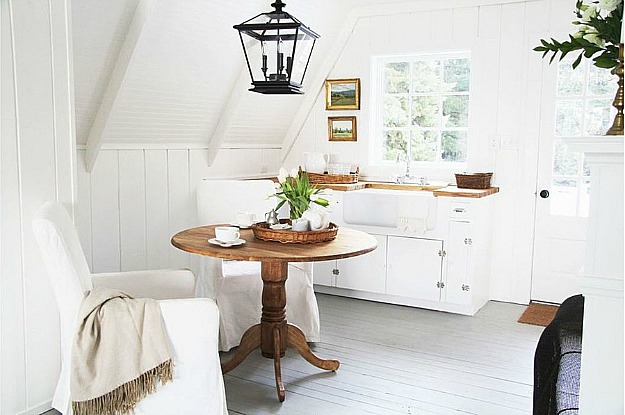 You can read more about the guest house remodel here.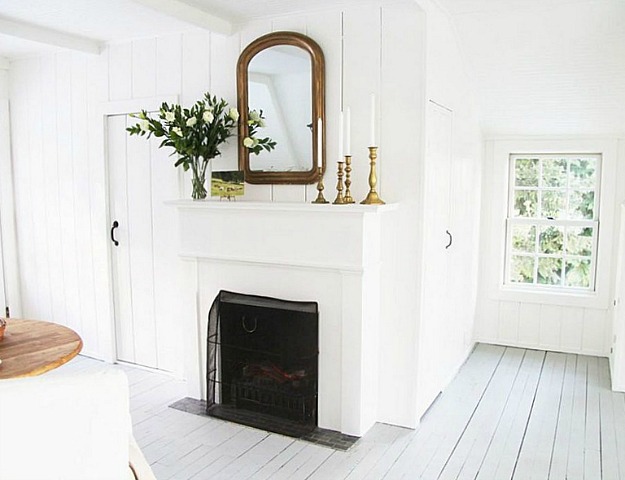 It's on the market for $739,000. For more photos and information, check the listing by Tim Donahue of Windermere and Trina's blog A Country Farmhouse. (You can see how it looked at Christmas in the post I wrote last year.)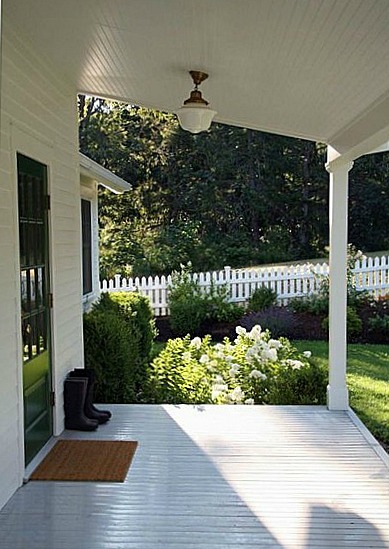 Wishing them all the best as they move on from their country farmhouse. I can't wait to see what they do next!

 P.S. If You're Hooked on Farmhouse Style:
(Visited 66 times, 2 visits today)