Remember I told you we were getting hardwoods installed in our family room this week? I thought you'd like to see how they turned out! First, here's how it looked after we took down all Christmas decorations. Pretty blah. Normally I'd start adding color to it to brighten things up, but we had to empty it out to do the floors…
These photos really show what the room looks like when I don't have it staged with pretty, colorful stuff. It's a fairly small space and mostly neutral without the accessories.
I typically add bright colors to it for Spring and Summer. Orange and gold for Fall. Red for Christmas (you can see how it looks decorated for the various seasons here). I don't think I've ever shown it in its "natural state" before! (And I've got to tell you I'm cringing a little here. Ha.)
To take you back even farther, I dug up this old (pre-digital, pre-blogging) photo of how the room looked when we first moved in. No trim around the windows or mantel yet, and no crown molding, either. We had an old boxy TV inside a big boxy cabinet.
I hadn't started adding color to the room yet, and I apparently hadn't learned not to use a flash when photographing your house…
Fast-forward to 2014 and the carpet was beat. We've been saving $$ to replace it for years but other house projects always took precedence. Finally, it's this room's turn to get some love!
Usually I lighten the photos I take in this room, but here's an unedited, unstaged shot from last weekend that shows how dark it really is — even with the lights on in the middle of a sunny day!
I've always liked this warm color on the walls (it's Pecan from Eddie Bauer), but after they delivered the hardwoods last week and I put a few planks of it in there I realized I was going to end up with a family room that looked like a big brown box. Brown on the walls and brown on the floors. I was afraid of how much darker it would be.
Dave said, "If we're going to repaint, we should do it now before they redo the floors so we don't have to worry about messing them up." He said if I picked a paint color by noon that day he'd get to work on them.
I hadn't intended to repaint, but he was right. Now was my chance to try something different after 10 years of living with Pecan.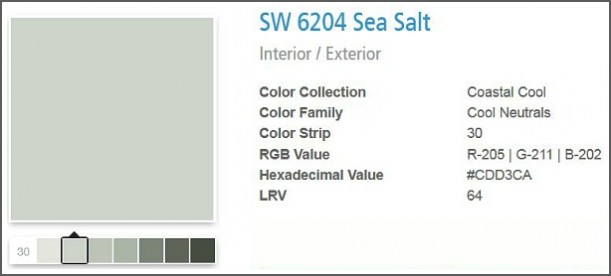 I looked through paint colors I liked in other peoples' houses and saw Sherwin-Williams Sea Salt mentioned several times, so I decided to give it a try. It's kind of a soft blue-green. Someone described it to be as a "sea glass" kind of color that changes in the light.
A few hours later, the room looked like this:
It was a little more blue than I expected, and I had a moment of panic.
But when my daughter Lily saw it, she squealed and said, "It makes the room look so much friendlier than it did before." I loved that description. I want my rooms to look friendly! So I decided to go with it.
Dave spent the next afternoon trimming out the big picture window to give it a little more oomph and better frame our view:
While he did that, I started gathering colorful items from around my house to see which ones would play best with the new paint color. The walls look a little more blue-green in real life than they do in these photos. Still experimenting in here, but here's a pic I snapped of some of the colors I tried with it by lining things up on the mantel: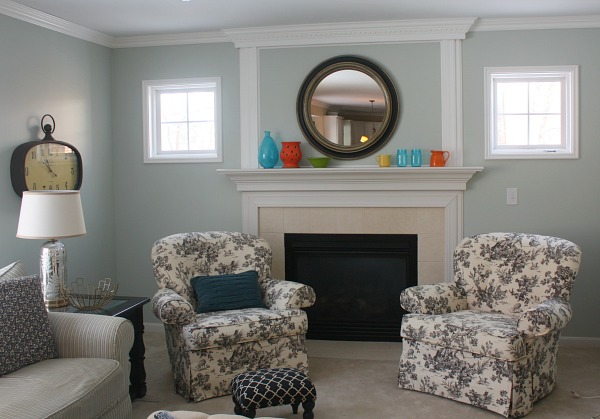 Then we had to empty the room again because the flooring guys were coming to rip out the old, stained, seen-better days carpet:
They had the flooring done in a day. And what a difference that one day made. Lily says, "It feels like we just moved into a new house!"
I love that the floors stand out with the new paint color and warms things up. The whole room feels a lot "lighter" with the Sea Salt. Now we've got to put the room back together again and start figuring out how to decorate it without spending much (if any) money since we already wrote a big check for the floors. Wish me luck and stay tuned to see how it turns out!
P.S. Click here to see the rest of my house, including…
(Visited 3 times, 1 visits today)