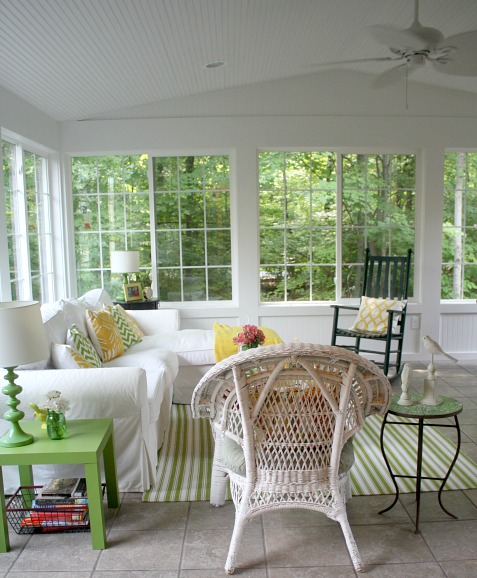 Welcome to my sunroom! I get a lot of questions about it from readers wanting to know everything from how big it is to how well my Ektorp sofa is holding up.
It's been 2 years since I shared any summer photos of it, so I thought it was time to invite you back in and answer some of your FAQs while I'm at it…
We had a screened porch at our last house and I missed it a lot when we moved here. I also missed having a big family room (ours is on the small side). So we built this 17′ x 18′ addition onto the back of our house at the end of 2010 to give us a little more indoor-outdoor space to hang out in.
Take a look!

Inside My Sunroom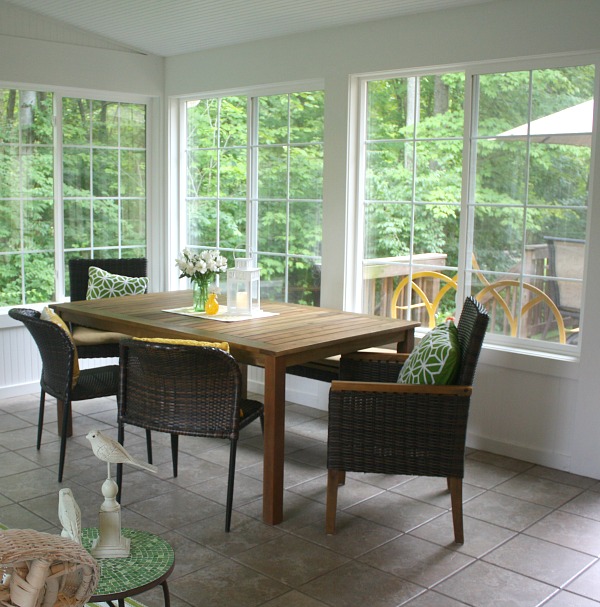 into a full-blown additional room that we can use year-round.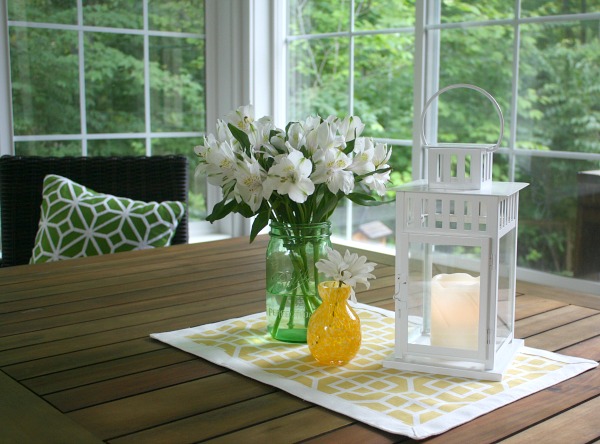 We spent the extra money to insulate it and add a heating and cooling unit similar to what you'd find in a hotel room. It's behind the sofa where you can't see it unless you look over the back of it.
We only use it when absolutely necessary, though. I'd rather open the windows and turn on the ceiling fan most days.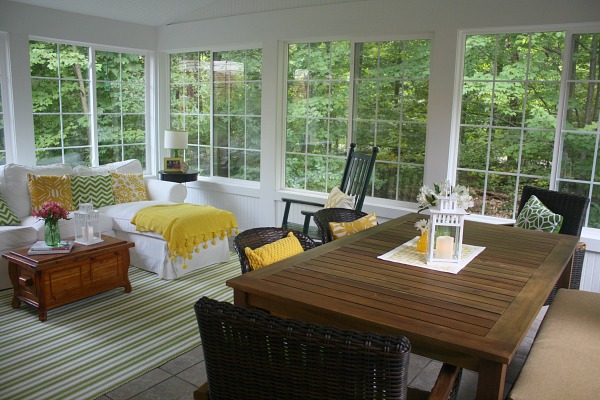 It's fun to entertain out here, that's for sure.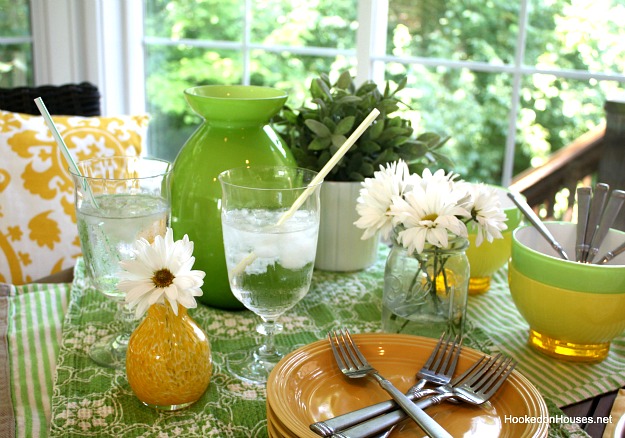 But I also eat lunch out here every day in the summer and love
spending time alone with a good book on the porch whenever I get a chance…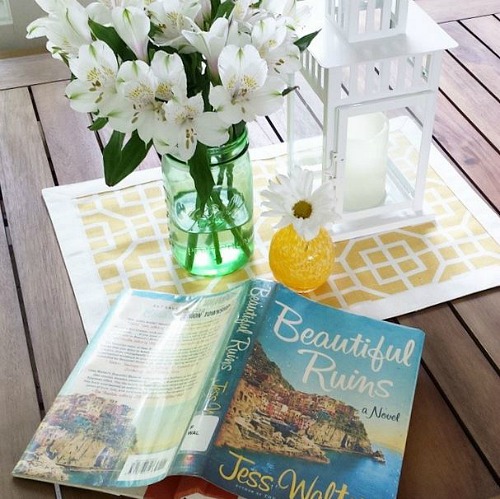 I'm always mixing things up out here.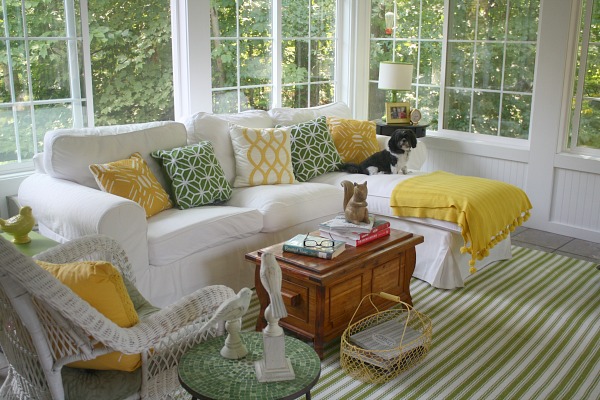 Sometimes I use a couple of green storage ottomans out here instead of the cedar chest: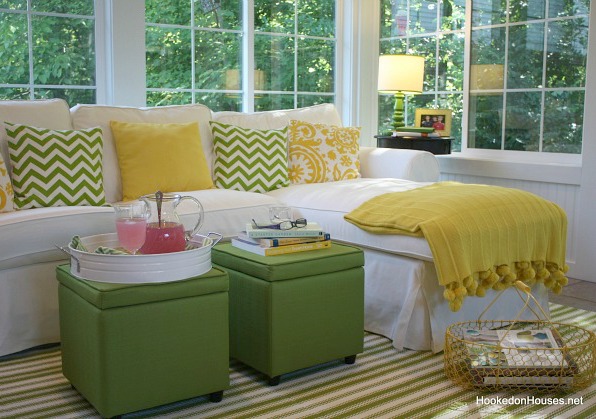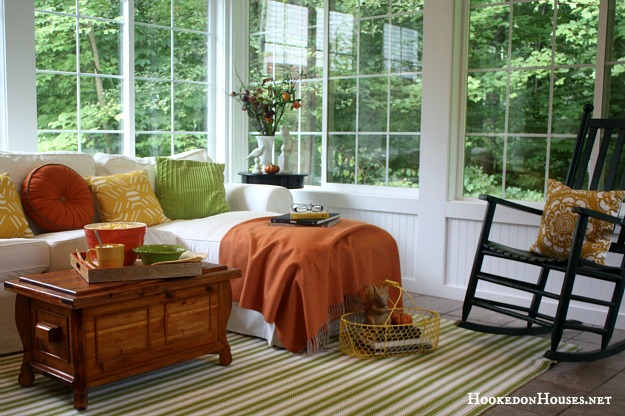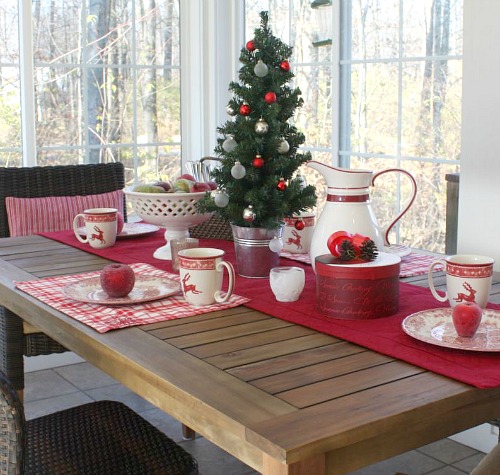 But let's not think about that now.
Right now I'm pretending that summer's going to last forever…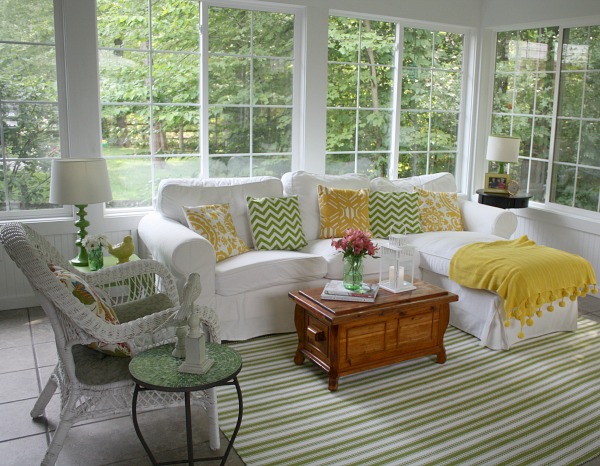 I get emails all the time from readers asking about my Ektorp sofa from IKEA. They want to know if I still like it and how I keep it looking white when I have kids and a dog.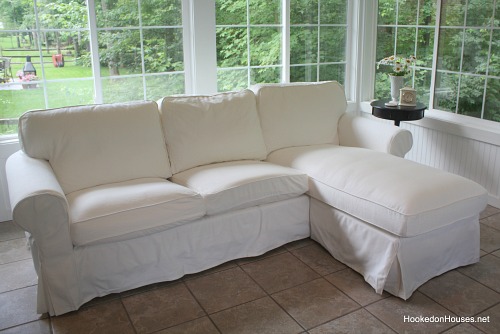 You can see my post about our decision to buy this sofa and putting it together here.
Is it perfect? No. But it's great for a casual space like this where perfection isn't as important as practicality and comfort. And it's holding up well for a couch that gets a lot of use and cost us less than $1,000. I've taken many a nap on it over the past few years since we bought it and give it two thumbs up. 🙂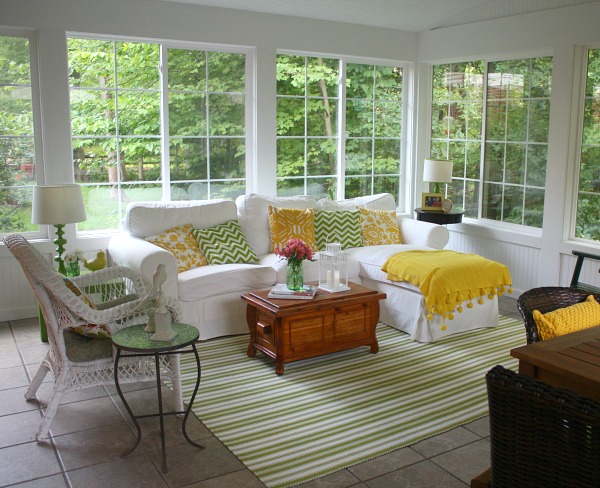 I've heard other people complain about what a pain it is to wash the slipcovers all the time, and I'm like, all the time? One blogger said she pulls them all off and washes them once a week. All I can say is that their standards are a lot higher than mine! Ha.
I probably only wash mine about once a year. One thing I learned was to ditch the sticky lint brush that I used to use on it (it left sticky residue that was attracting more dirt and dog hair) and now I just go over it with a hand-vac now and then.
I spot clean in between washings, and when that doesn't work, I flip the cushions over. (Don't tell!)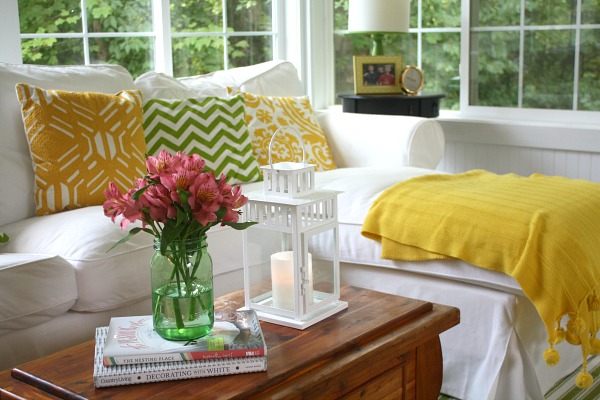 When I do wash them, I spray any stains with stain remover first and then run the washer with hot water. I dry them a little in the dryer and then put them back on while they're still damp. It's pretty easy and they come out looking bright and white again each time (no bleach necessary).
I bought a backup set of slipcovers at IKEA since they're so inexpensive but haven't had to use them yet!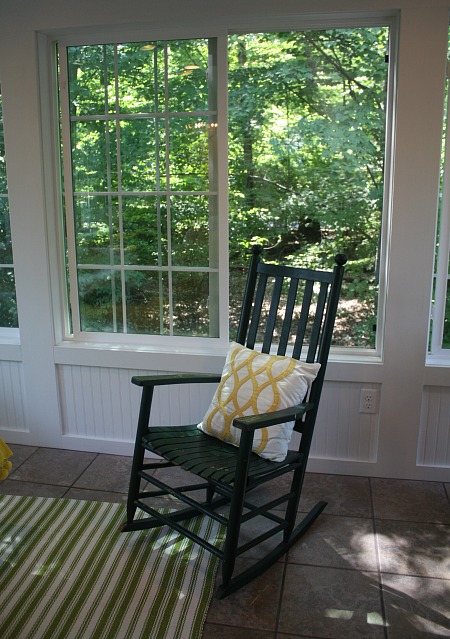 On my wish list for this room are a couple of new, comfy chairs to replace the old green rocker and the white wicker. We spend so much time out here that we need seating you can really settle into for long periods of time…
Another question I get a lot: "Why don't you paint your brick wall white?" Apparently it really bothers some people, but I like the red brick. I think it adds some warmth and texture to the room. So it's staying.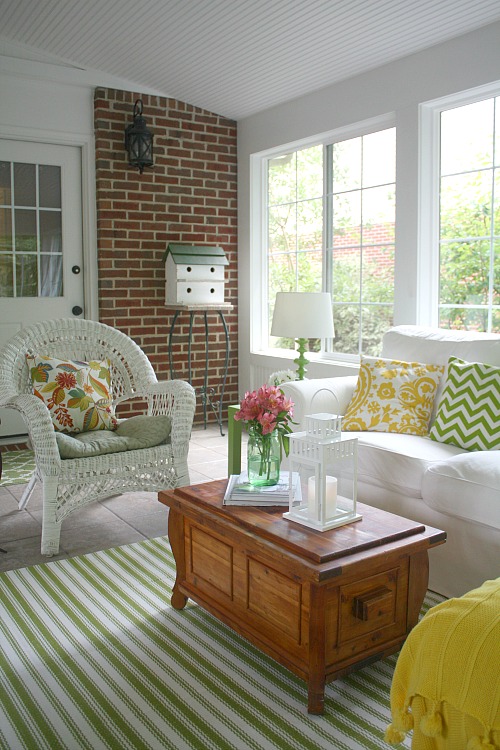 I hear from a lot of readers who are planning to build their own sunroom, and a common question from them is whether I would've done anything differently.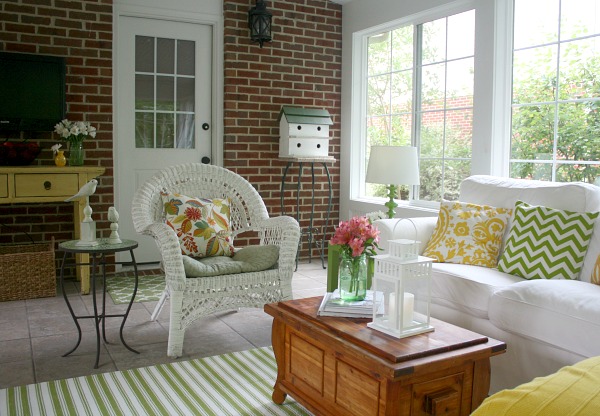 The short answer: yes. I wish we could've gotten different flooring, for one thing. It was the final big expense and we had very little left in the budget, so we went with this basic gray tile.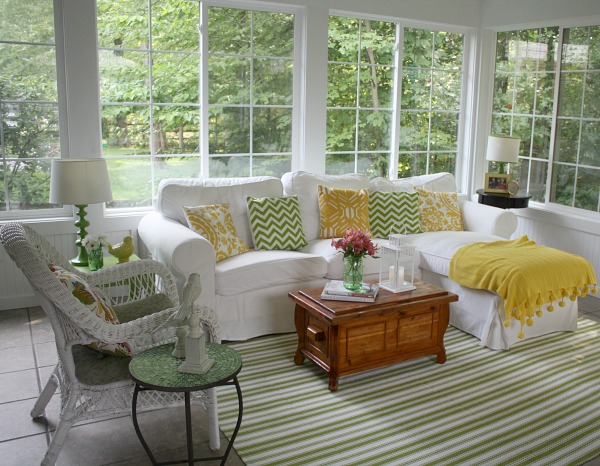 And if I ever get a chance to build another sunroom in my lifetime, I'd make it a little bigger so we could fit an outdoor kitchen and stone fireplace. Maybe someday. But for now I'm pretty content to hang out in this one.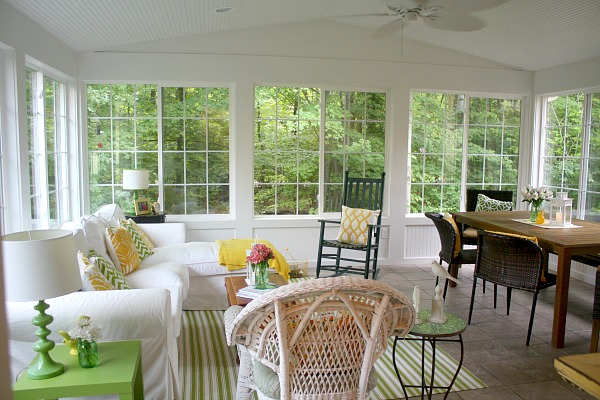 Update: To answer another question I've been getting from several of you who are building your own sunroom, the windows are 58″x 58″.
Thanks for stopping by! Do you have a room in your house that makes you happy? Where's your favorite place to spend time with your family — or a good book?