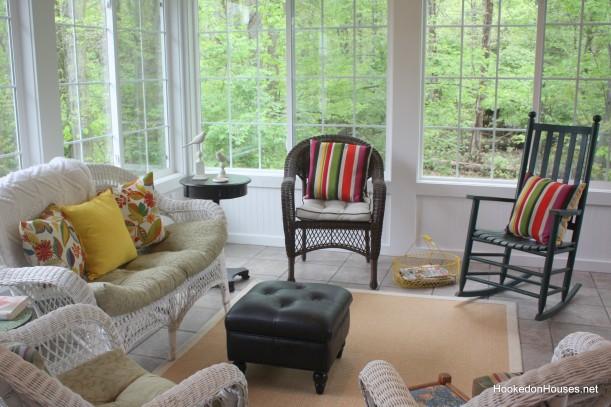 Time for another sunroom update! Last time I invited you in, it looked like this. A lot of people thought I should just keep the wicker. But it's pretty old–we used it on our screened porch at our last house, and it's in pretty bad shape. White paint flaking everywhere. Regardless, the consensus among friends and fam seemed to be, "Just repaint it!"
The problem was that you can't sink into wicker and get really comfy when you want to. And maybe "some people" might want to stretch out and take a little nap from time to time, you know? So some people prefer a real sofa.
We looked at a lot of sofas. A. Lot. We saw showrooms filled with dark, serious, and formal furniture. But I am not a dark, serious, formal kind of girl, and my sunroom isn't, either. Even when I'd finally spot something that might work, the price tag was way out of our budget. (I'm looking at you, Crate & Barrel!)
So we turned to IKEA, which has worked for us in the past when money was tight. We found this Ektorp loveseat with chaise on their website: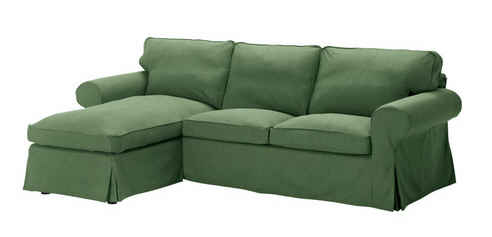 I thought the "Svanby Green" slipcover would be very practical and would work in the room since we have a lot of green in there already (not to mention all of the green in our leafy view!). And the price was definitely right–about $700. So we went forth to IKEA to buy it.
But when I got there and saw it in person, I wasn't so sure about the green. Instead, I was really digging…the white. Which isn't very practical when you have two kids and a dog and the whole family is going to be using it every day and some people want to take naps. My "I love white" self was at war with my "you'd better get something that hides stains better" self.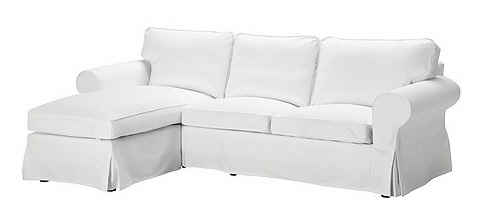 In the end, I went with my impulse and bought the "Blekinge White." I know, I know! It's a little crazy. But it was also $200 less than the green slipcover, bringing the entire thing to only $500. Plus, the slipcover can be washed. And at only $99, I could always go back and buy a new slipcover if I really needed to down the road, right?
So we strapped the two giant boxes into the back and to the top of our car and brought the sofa (pieces) home. Then the fun began–opening the boxes, pulling out the 5 million parts, and putting them together. It was a little overwhelming at first: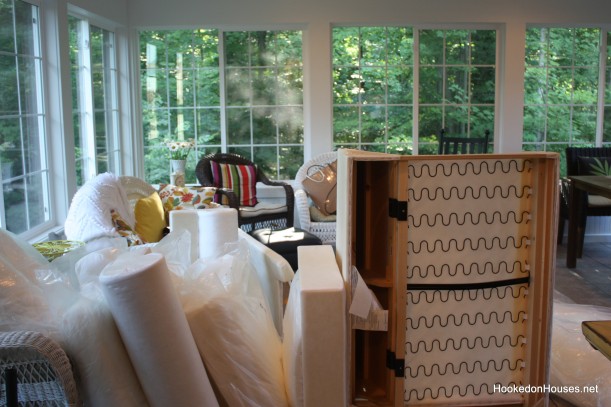 Doesn't look too promising yet. And if you've ever had to follow IKEA's wordless directions, you know it's not always easy to interpret what their little caveman drawings are telling you to do next.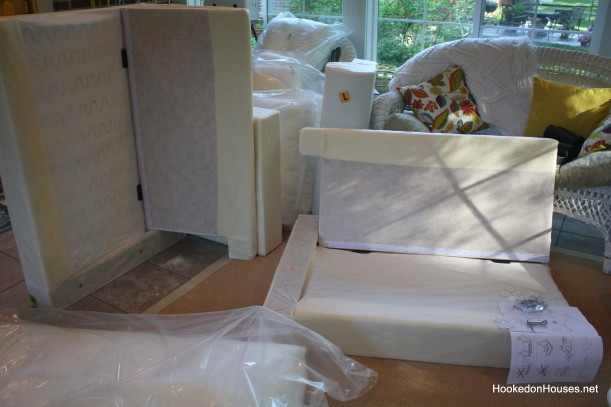 We figured it out, though. Slowly but surely.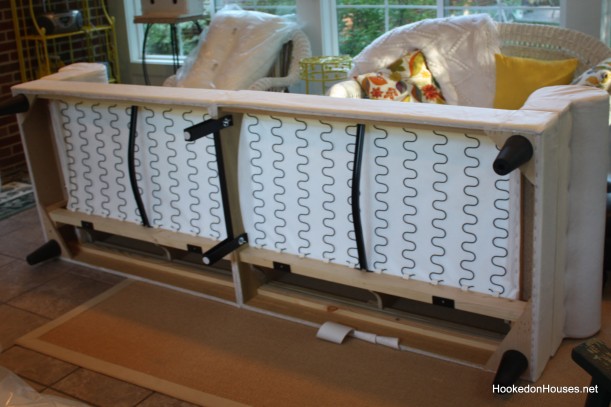 Finally got it put together, and then it was time to get the slipcover on. Let's just say it doesn't coming out of the package looking crisp and neat. There is a lot of ironing involved just to make it look slightly rumpled…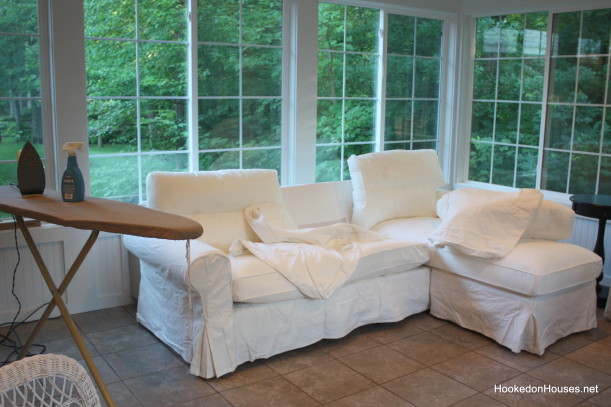 And Downy Wrinkle Release is an absolute MUST HAVE if you go the slipcover route.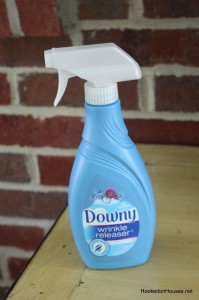 Makes it a lot easier. I sprayed it right on the skirt and just pulled it down with my hands in spots where it was hard to get an iron. But it was still a time-consuming process, that's for sure.
But finally, it was all put together–hooray!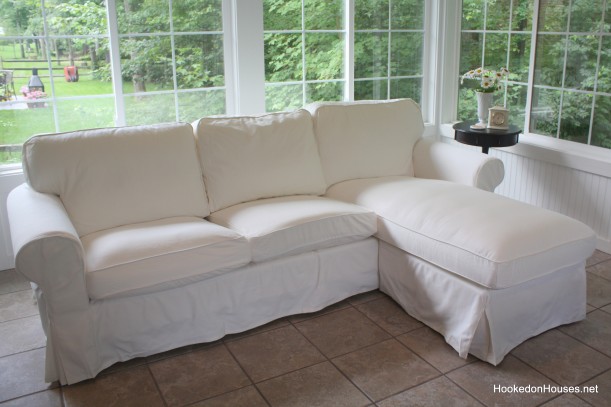 Despite how impractical the white is, I love it. It looks like it belongs in a sunroom. And I've accepted the fact that it's going to get messed up a lot, but that's okay. I can live with that. (I think.)
We already had a "chocolate incident" that kind of broke it in. I found chocolate smeared all over one of the cushions. I looked over at my daughter and she shrugged. "I was eating pudding, okay?!" *Sigh.* That's life with kids. Thank goodness I was able to take the slipcover off and wash it!
Besides the washability, the best thing is how comfy it is. It's perfect for stretching out on when the breeze is coming through the open windows and the ceiling fan is whirring overhead…ahhh…
*UPDATE*
Want to see how the room looks now that it's all pulled together? Click here!