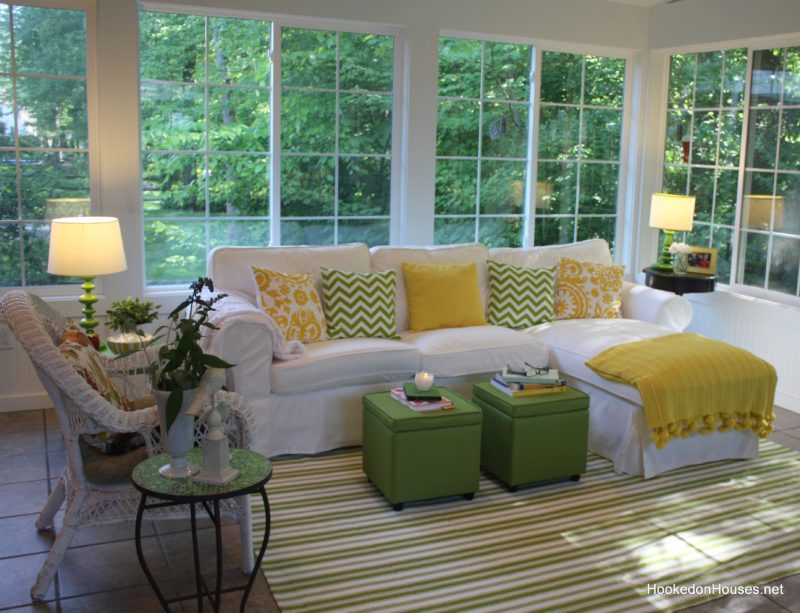 Lately I've been getting a lot of questions about my sunroom, and I realized I haven't posted any photos since it was decorated for Christmas. Time flies! It looks a lot different in the summer when everything outside the windows is green.
When I'm not working out here on my laptop or reading a book with my pup Maizie curled up next to me, it's a great spot for entertaining.
Come on in!

Summer in My Sunroom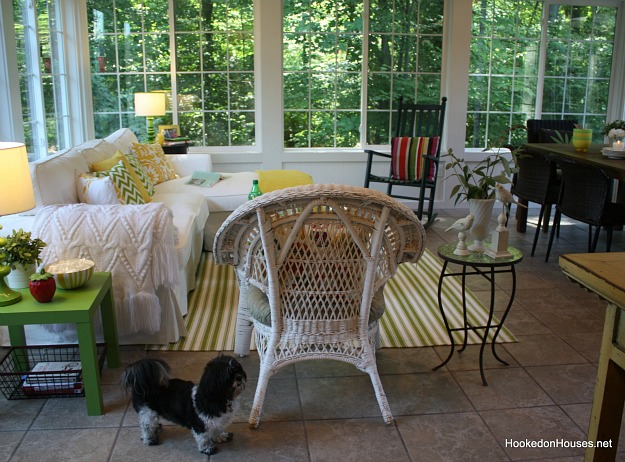 It's fun to gather things from all over the house for a party. I search out anything in yellow, green, and white, and play around with it to see what I can use.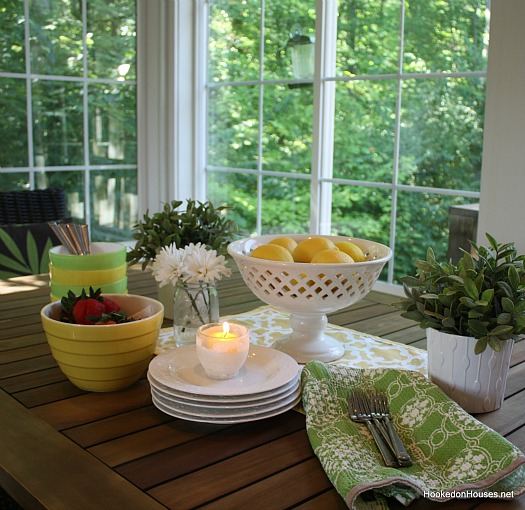 Daisies are my favorite flowers. I grow them in the yard and like to have them in as many rooms of my house as possible. They just make me happy!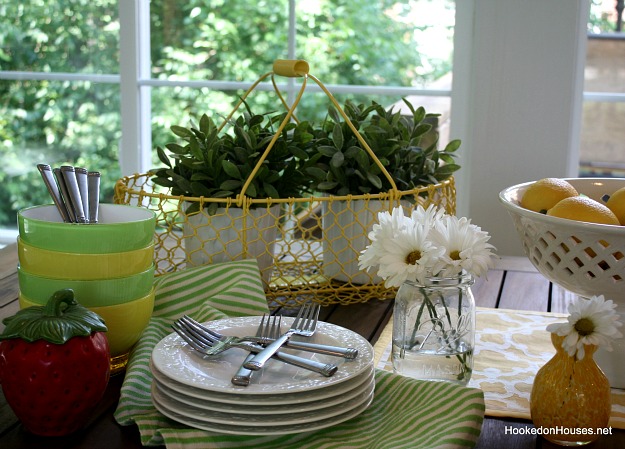 We love strawberries around here. And strawberry shortcake (we put chocolate chips in ours, yum).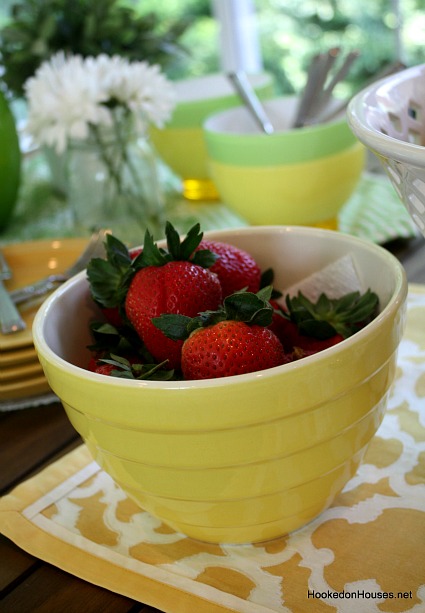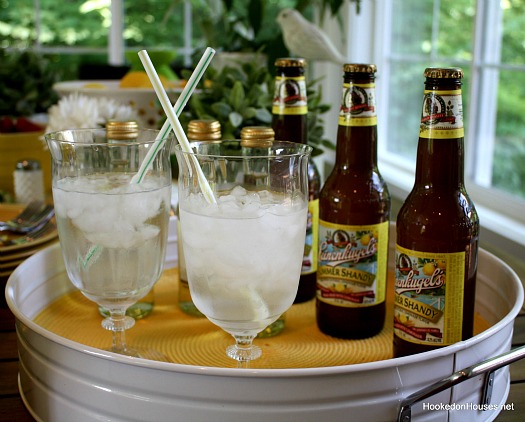 I spotted this sweet little strawberry in an antiques store and couldn't resist it: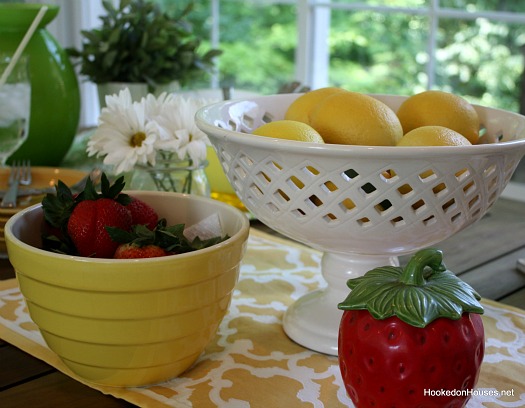 Glad I got a photo of it because it got knocked off the table soon after and the sweet little leaf lid got chipped. Sadness.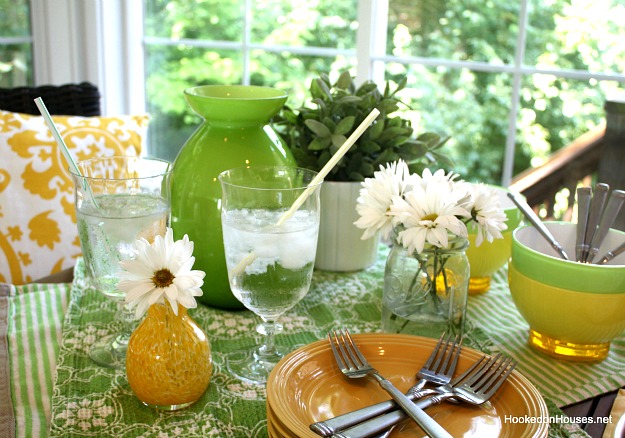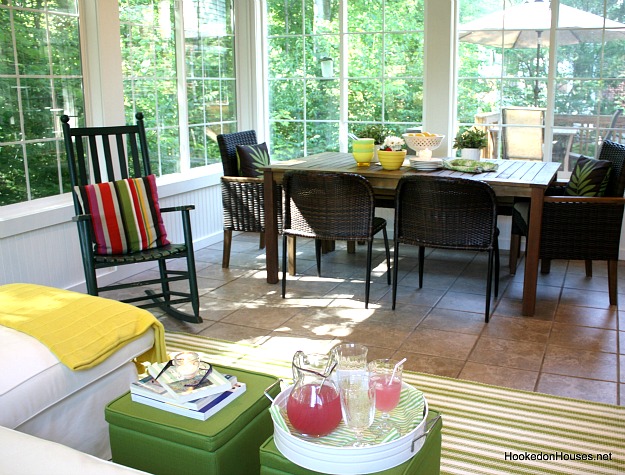 I recently heard from a major design website that they wanted to feature my sunroom. I was pretty excited about it until they sent me the link to the post and I realized they had used THE BEFORE PHOTOS of how it looked right after it was built.
You know, when we were still using the odds and ends from our basement to furnish it.
And they asked their readers to rate my decorating style. I was so embarrassed. I mean, I was still using metal folding chairs…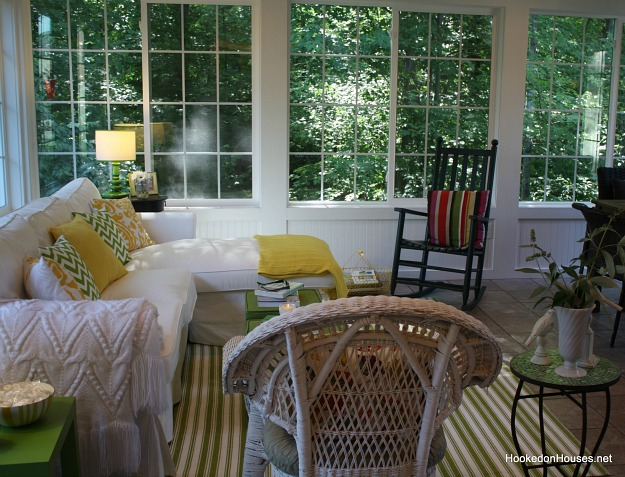 I clipped some branches from the butterfly bush in our side yard for my milk glass vase: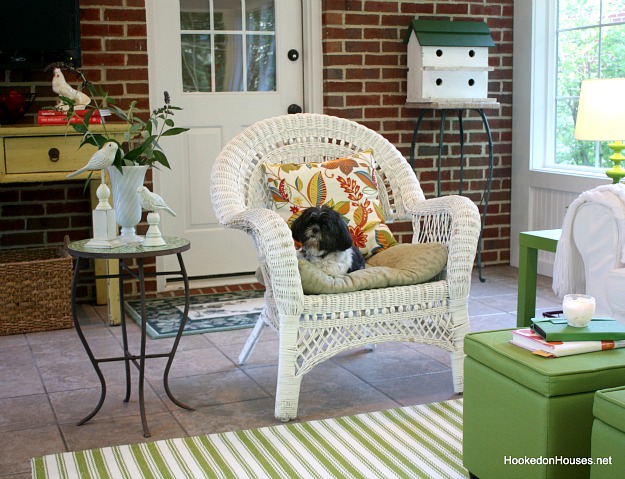 Almost the minute I bought the green zig-zaggy pillows for my IKEA sofa, I started hearing that chevron is "out." But that happy pattern still makes me smile when I see it out here. I've never been good at keeping up with trends anyway.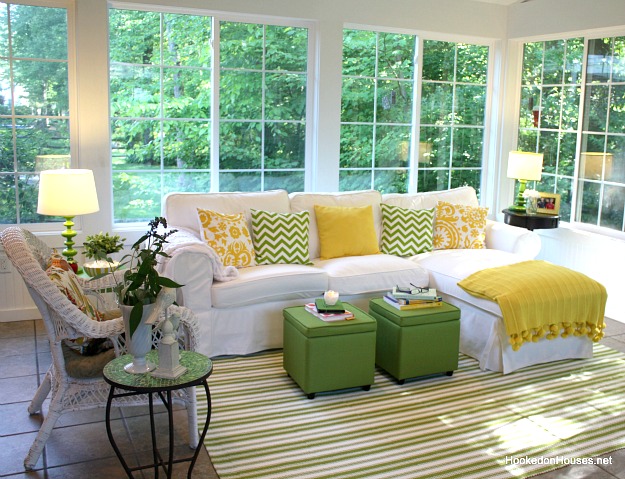 Thirsty?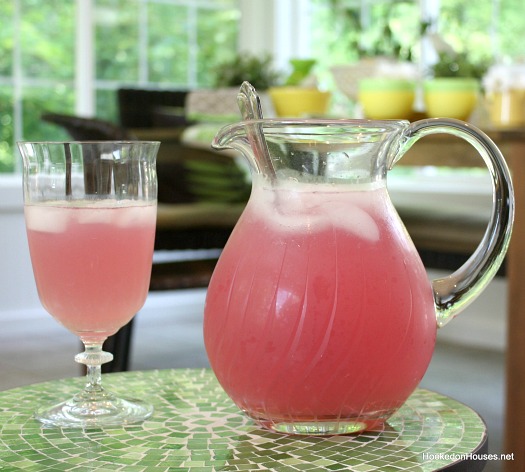 I love lemonade in the summer — especially when it's pink.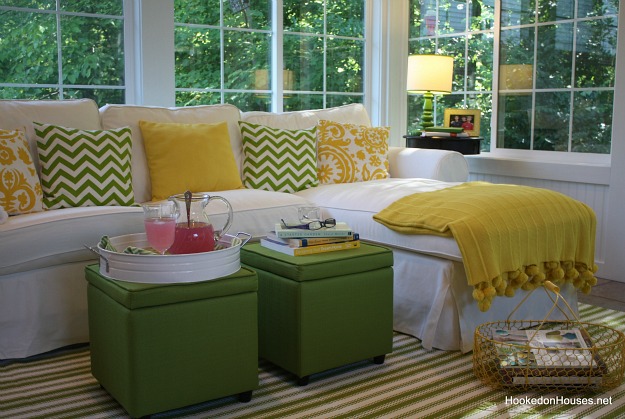 I get a lot of questions about my Ektorp sofa from people wondering how it's holding up after the first year. The white slipcovers aren't low maintenance, I'll say that, but not because of stains (I've only had to wash them once).
It's because it attracts lint and dog hair like a magnet. I go over it with a sticky roller brush every couple of weeks. But heaven help you if you, say, have a Christmas party and everyone sits on the couch in their fuzzy sweaters! They'll leave half of them on the couch.
It's still very comfortable, but I've heard from some readers who have one and said their cushions are rock hard. I did buy the matching chairs for my bedroom and they're not nearly as soft as the sofa.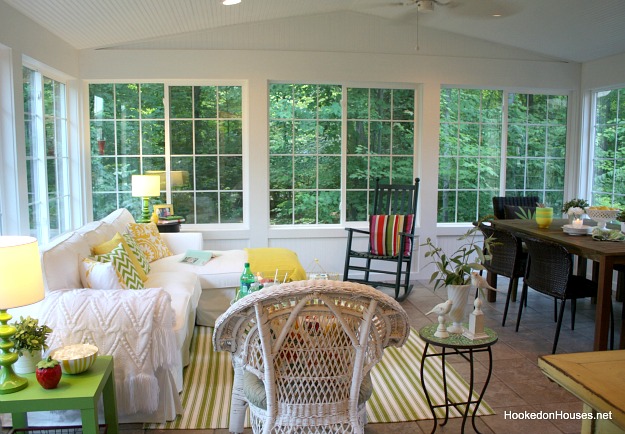 This is the most relaxed room of the house. The perfect napping spot. I have a hard time sitting on the sofa for more than 10 minutes without nodding off. I can't seem to finish a novel in here to save my life.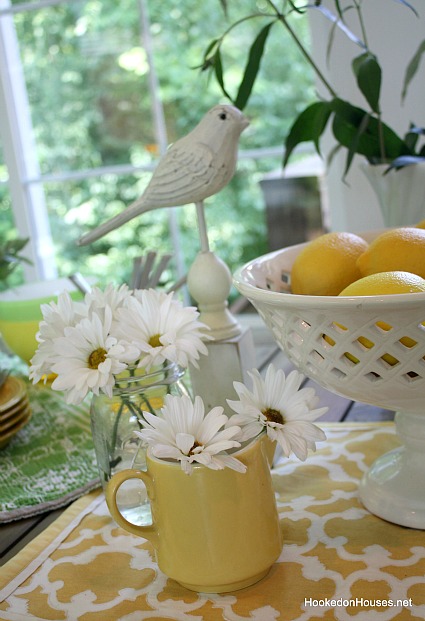 Thanks for stopping by and sitting a spell in my sunroom! Visit "My House" to see more.