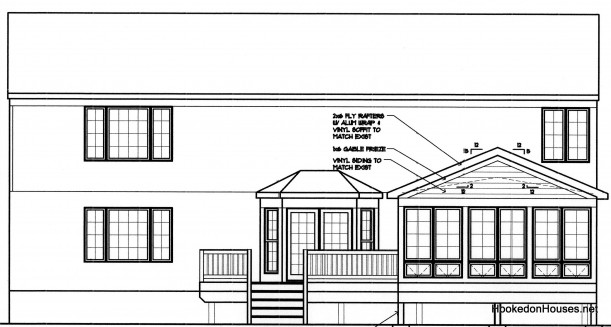 Remember when I showed you our plans for a sunroom back at the beginning of November? Well, after a couple of months of hard work on the new addition, which was frequently delayed by torrential rains, snowstorms, and long holiday weekends, it is finally, finally finished. (Well, if you don't count the exterior paint, which has to wait for better weather–right now it's under a blanket of snow).
The back of our house has gone from looking like this: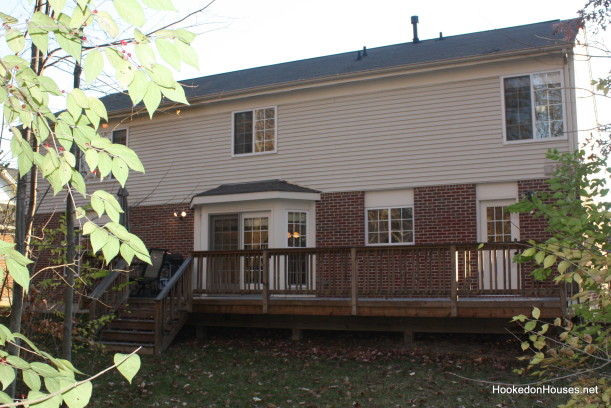 To this:
We had them match the siding, roof, windows, and paint colors to the rest of the exterior so that it looks like it belongs to the house.
Our next big goal for the back is to extend the deck to the edge of the sunroom. It's now too small to even fit a small table with four chairs around it. We'll get to that eventually…
In this shot of the French doors leading into the sunroom you can tell that the exterior has been primed but not painted, so it still looks a little rough: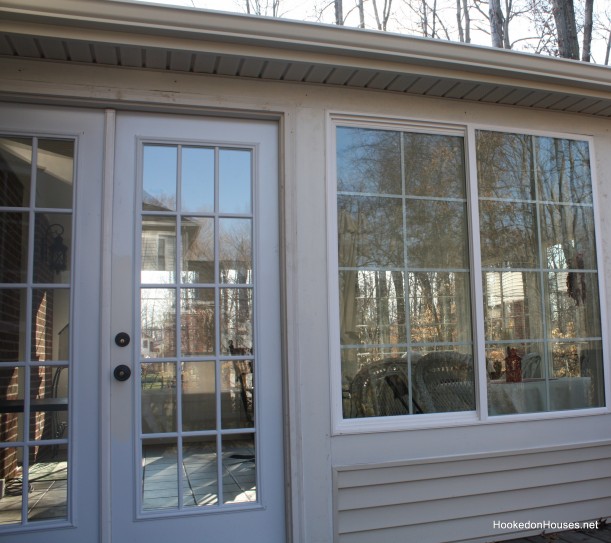 The sunroom was finished only one day before my family was coming to celebrate Christmas with us. I was starting to panic that it wouldn't be done in time. That only gave us 24 hours to find furniture and some holiday decor for it.
Here's how it looked the day before everyone arrived (read about our tile and lighting choices here):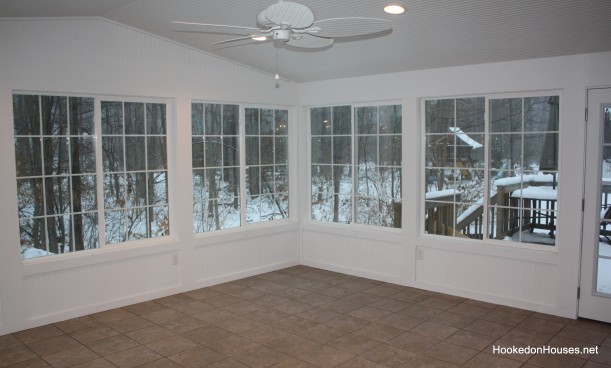 No time (or money) to shop for furniture, so we dragged out every piece of furniture we could find from the basement. We had this wicker on the screened porch at our last house, back in the late '90s. That's how old (and filthy) it was. But we cleaned it up and made it work:
We brought in an old white resin table that we use for painting projects and threw a tablecloth over it, along with a rug, a small ottoman, and a couple of tables from the house.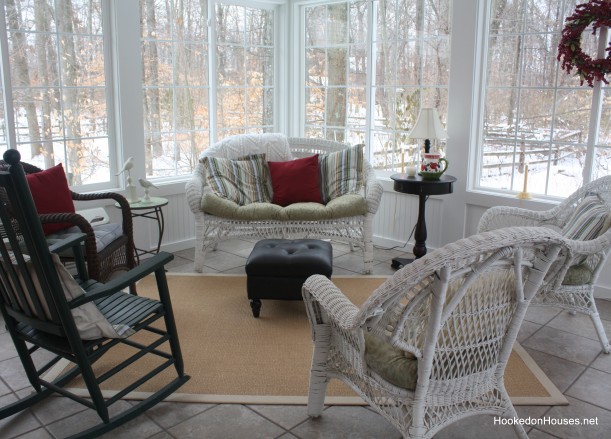 To make it look a little more like Christmas, we bought a couple of red pillows and a poinsettia. Dave hung the red wreath, which he found in my "Giveaway Pile" in the basement, on the window with one of those removable hooks. He put some candles in the windows, too, which made it look cozy at night.
I also found this old plant stand and birdhouse in storage. I think it looks kind of fun by the door for now, until I can figure out how I want to use that area:
(Info on the lighting choices here.)
Even though it wasn't perfect, everything worked! It was so wonderful celebrating Christmas with our extended family in the new sunroom with the snow falling outside.
At the end of the day, Lily looked at me and said, "I forgot we were at our house! It was like we were on vacation!" Which is the whole point of having a sunroom, if you ask me. It's my vacation room behind the house… 🙂
What began as a $15,000 screened-porch project back when we started planning this in April evolved into a $30,000 room addition by the time everything was said and done. Gulp. It's scary how fast the costs add up when you start dreaming big. But we're so happy with the way it turned out that I can't complain too much about the money we spent!
The problem now is that there's no $$ left for furniture, so we'll be making do for awhile. But that's okay. It'll give me time to figure out what I really want out there. I can repaint a chair or two, but I plan to buy everything else new. Any suggestions for colors? Furniture styles?
P.S. Visit "My House" to see more of it!
(Visited 14 times, 1 visits today)