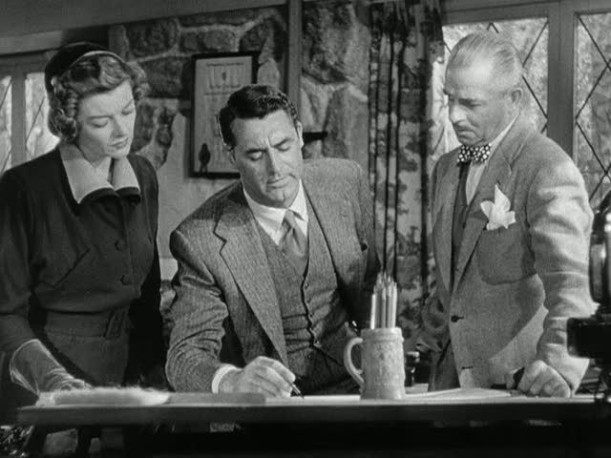 Mr. & Mrs. Blandings "improve on" the architect's plans for their dream house.
I haven't mentioned this before because I was afraid I might jinx it if I talked about it, but over the past few months we've been working on plans to build a sunroom. I am so excited about this. I have always wanted a three-season room and can hardly believe I'm finally going to have one.
You may recall what happened to our deck furniture in April. At the time I mentioned that it might be a sign it was time to build a screened porch back there.
I even showed you some of the pictures I had on my "Want-It-So-Badly-It-Hurts" Inspiration Board: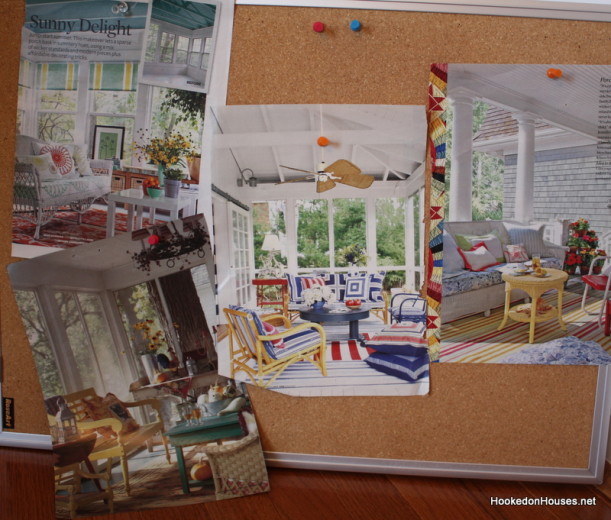 Since then, we've hired a builder and had an architect draw up some plans.
Several plans, actually. When we started this project, we turned into Mr. and Mrs. Blandings, dreaming about all the things we'd like to add to the porch.
Before we knew it, we had tripled and size and cost of it. Oops.
Our simple screened porch had somehow evolved into a full-blown sunroom.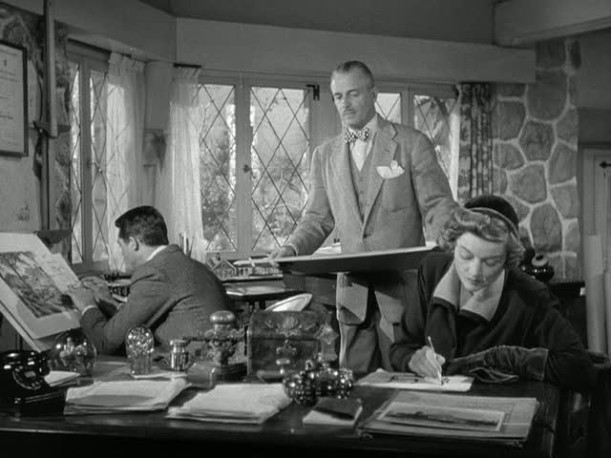 In my fantasy world, Dave & I look Cary Grant & Myrna Loy.

We are justifying the expense because our family room is small, and we turned our living room into a home office for Dave. We can definitely use some extra hang-out space.
The sunroom will be 17′ x 18′ with a vaulted ceiling.
One door will open onto the deck and another connects to our mudroom.
We'll have a heating and A/C unit installed so we can use the space as much as possible.
Here's the architect's drawing of how it'll look on the back of the house: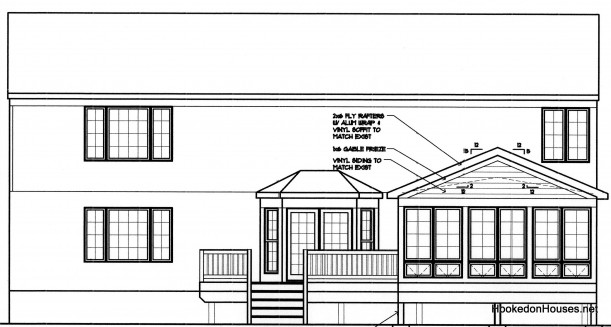 I still need to choose the flooring, and I'm considering some kind of slate tile. But I don't know.
Bottom line is the flooring has to be fairly inexpensive, which rules out hardwoods.
The site survey has been done, we got the HOA's approval to move forward, and the building permits just came through. In the next few weeks, we'll finally break ground. Can't wait!
I'll keep you posted as things move along. Cross your fingers that the building process will go more smoothly for us than it did for the Blandings!