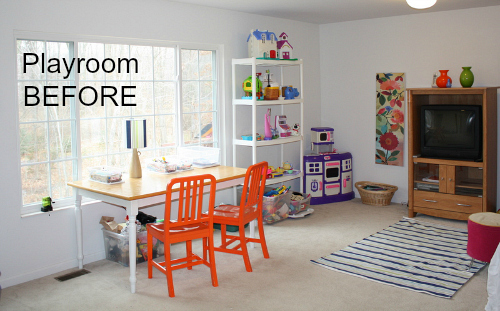 This is how my kids' playroom looked when we moved in. Very "builder white" and boring.
We finally got around to decorating the playroom this summer, and I thought you might like to see how it turned out.
First of all, we knew we wanted some kind of wood trim on the walls, but it had to be more casual and playful than the crown molding we hung in the rest of the house.
We decided to try board and batten. Here's how we did it!

Our Playroom Makeover
We started by taping off the walls where we thought we wanted it to go. We had to play around with it for awhile to get it exactly the way we wanted. We spaced them out 14″ apart so that we could get a paint roller between each board.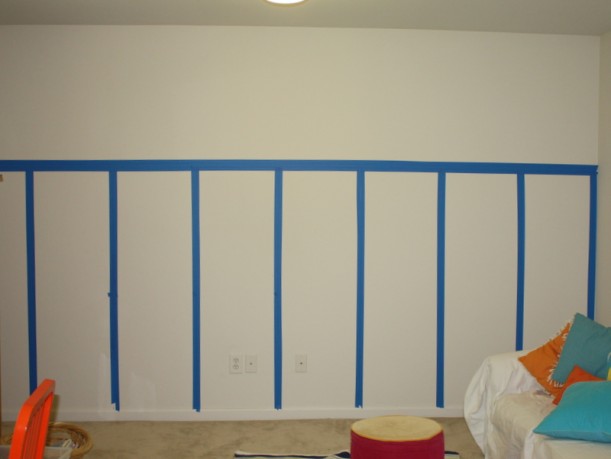 I knew I wanted to use an apple-green color above the woodwork, so I narrowed it down to ones I liked and let my daughter Lily choose her favorite.
We painted the wall below the horizontal tape line a glossy white and Valspar's "Limeade" above.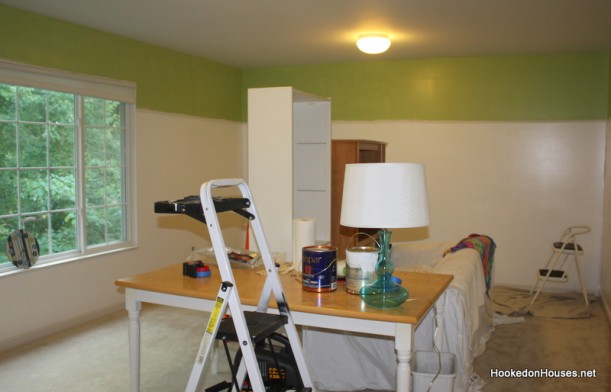 We paid Lowe's a little extra to cut the MDF boards into strips for us, which saved a lot of work and mess on our end.
(They only charged 25 cents per cut, which was a lot cheaper than renting or buying a table saw!)
It was still time consuming to give each one a coat of primer and white paint. They had to be painted again after we hung them. It was a multiple-weekend process, but not too difficult.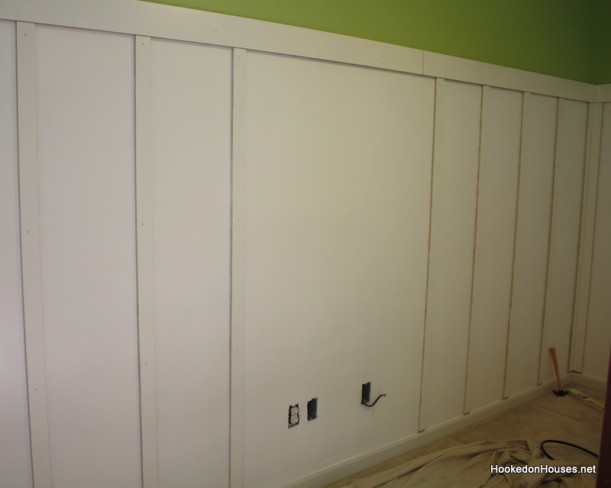 We used 3/4″ thick boards for the horizontal strips and 1/2″ for the verticals.
The horizontal pieces were 4″ wide and the verticals were 2″. In other words, the top boards are thicker and wider. (It only cost about $90 for all the MDF we used, including the cutting charge.)
We left an open spot (no boards) in the center of focal wall because I wanted to decorate it without trying to work around the boards: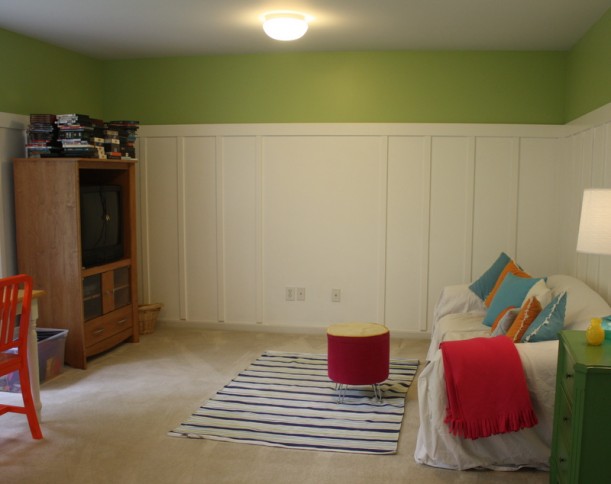 After we got all the wood hung and painted, it was time to start decorating.
We're reusing most of the same furniture that was in there before for now but bought some new shelves for hidden storage, and a new green dresser.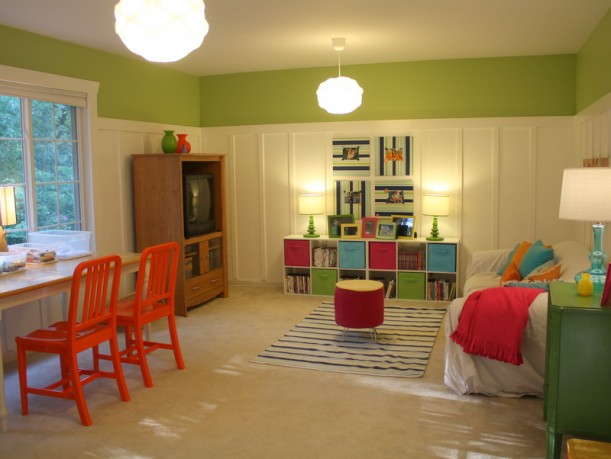 We wanted some fun new light fixtures–it's a playroom, after all!–but I didn't have much in the budget for them. I found these Fillsta pendants at IKEA for $29. Can't beat that!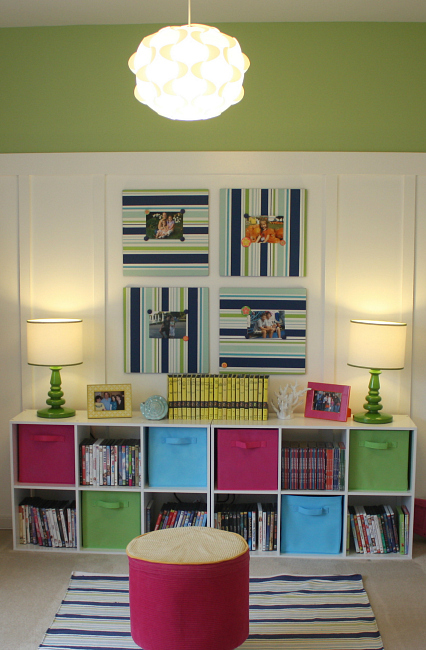 I hung four colorful foam bulletin boards I found at Target years ago and had some family photos enlarged to pin to them. (That's the wall where we left the space in the wood trim.)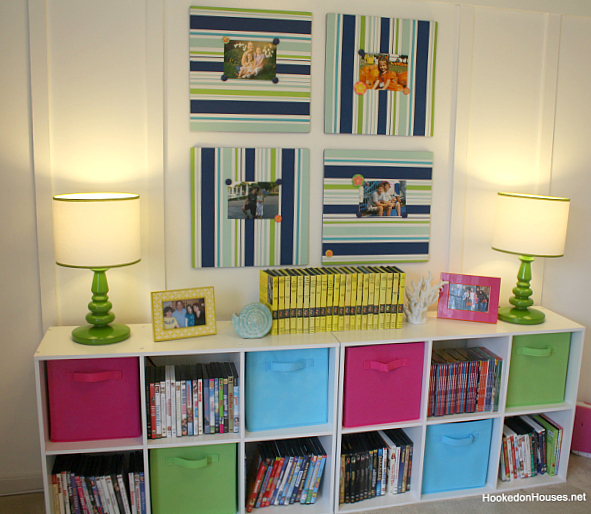 I loved Nancy Drew when I was a girl. Maybe because so many of her mysteries involved houses (The Bungalow Mystery, the Moss-Covered Mansion, Shadow Ranch, Red Gate Farm, Lilac Inn–what great titles for a budding young house-lover!):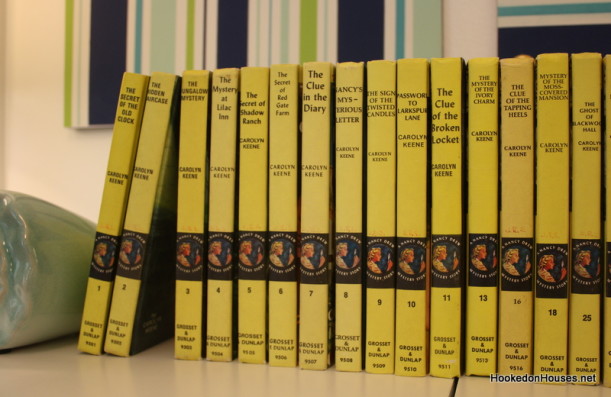 I should add that this room doubles as a guest room, so I had to keep that in mind when we were decorating it, too. The sofa opens up, but our guests are frequently young nieces and nephews who would prefer to sleep on air mattresses on the floor.
There's a beat-up old sofa under that white denim slipcover. It seemed easier to cover it than to get it back downstairs and out the front door!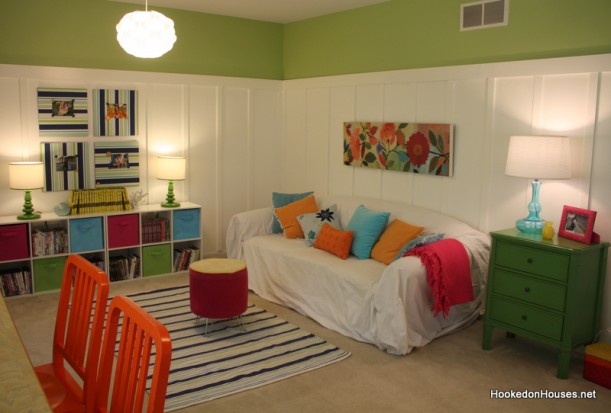 The little green dresser came from Home Goods for $99. It's great for storing coloring books, paint brushes, notebooks, etc. The lamps are all from Target: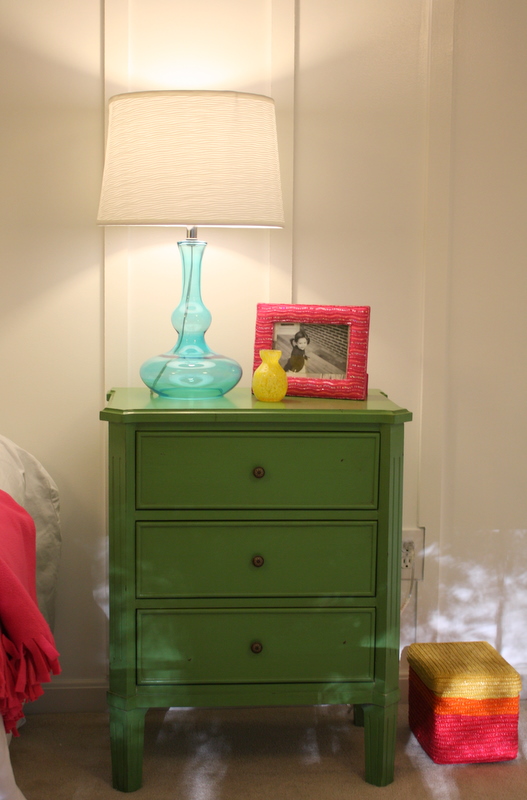 We found this kitchen table on clearance for next-to-nothing and thought it would be perfect as an "arts and crafts table" for the kids.
They've spent hours sitting here over the years. I don't know what we'd do without it: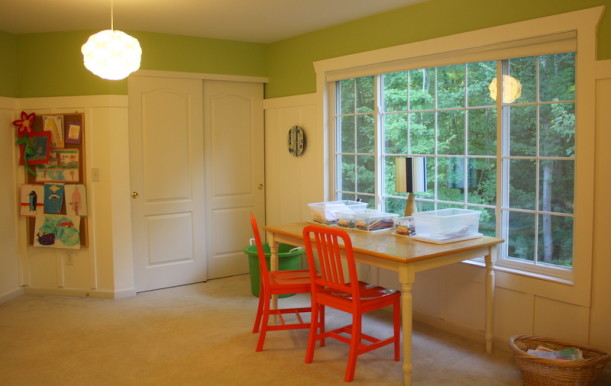 We installed pleated pull-down accordion shades on the window so they mostly disappear when they're pushed up during the day (no cords).
I didn't want anything to block the view of the woods behind our house.
I had found some curtains I loved for the room, but after Dave trimmed out the window, I thought it looked so good that I didn't want to hide it.
I gave the kids boxes to keep their craft supplies organized on the table and Lily labeled them: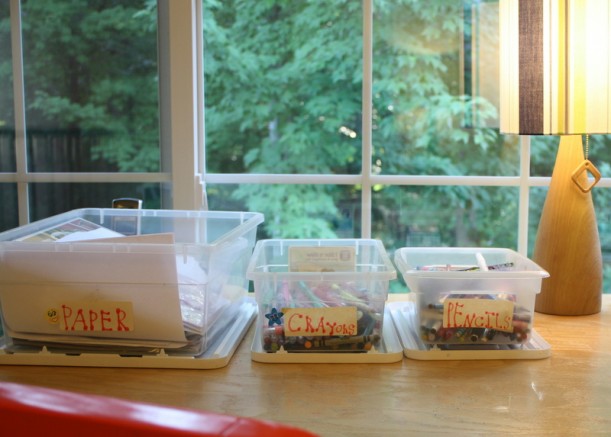 I also hung a big bulletin board on the wall where they can display their artwork: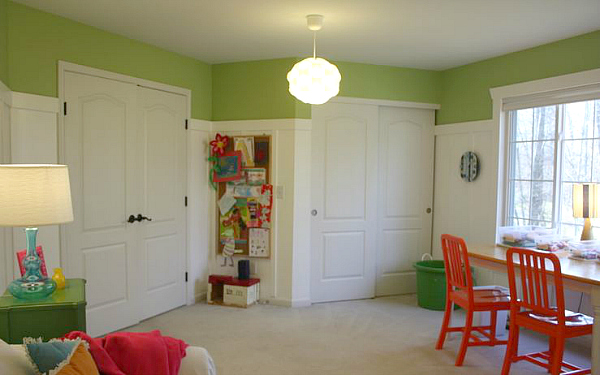 Most of the houses in our neighborhood have two-story family rooms.
We asked the builder to create a playroom above our family room instead. A soaring family room would have looked much more dramatic and impressive, but I'm a practical person at heart who hates wasted space.
To sum up, the playroom went from this: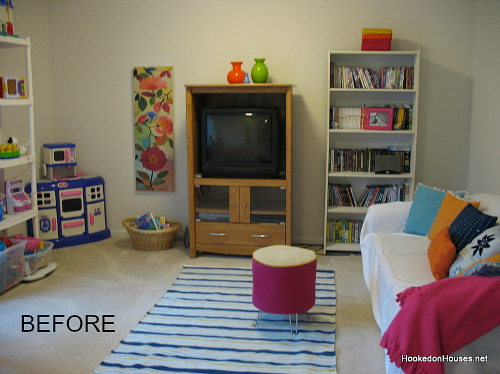 To this: