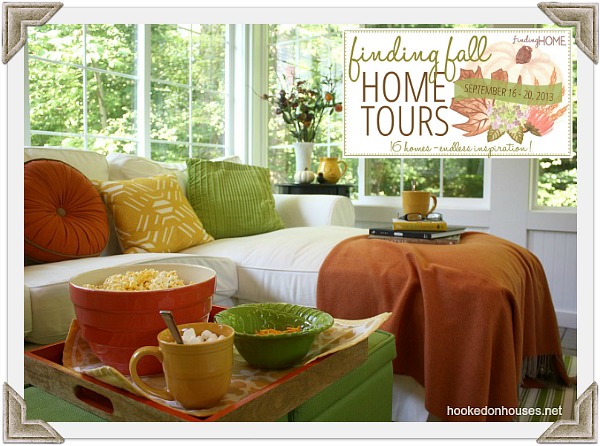 Hi there! I'm excited to be one of the 16 bloggers participating in the Finding Fall Home Tours. A little nervous, too — have you seen their houses? So much gorgeousness and inspiration, it's crazy. If you came from Laura's, Jeanne's, or Sarah's blogs that kicked the week off, then you know what I mean. Now come on in and see how I've been decorating for the season…
For those of you who are here for the first time, let me introduce myself. I'm Julia and I live in Ohio with my husband Dave, our kids Jake and Lily, and our sweet dog Maizie.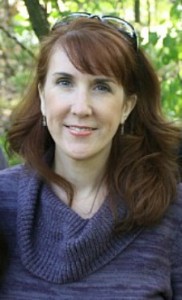 Unlike most of the bloggers on this tour, I'm not a decorator and I have no DIY skills to speak of. I'm just a writer who loves looking at houses. I started this blog in 2008 as a place to talk about them with kindred spirits. (You can take this quiz to see if you're hooked on houses, too!)
My house isn't usually the focus of my blog. My Most Popular Posts feature…
In the summer my family room is filled with turquoise and green. I replace most of it with orange for fall, but one lone turquoise lamp remains…
I have a painting of our former home framed on the wall, along with some of my son's artwork and old family photos:
The Dining Room:
I love old books, and each of these on my buffet has some sentimental meaning to me…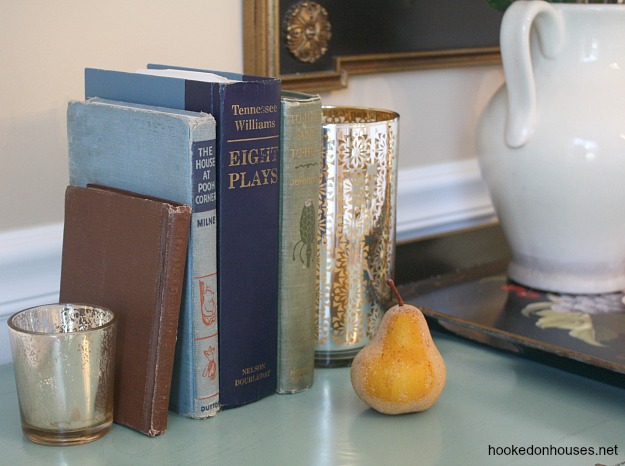 This room started as a sitting room at the front of the house. My husband (who, unlike me, is great at DIY) turned it into a dining room with hardwood floors, crown molding, a chair rail, etc.
Maizie follows me everywhere and loves to photobomb my pics. She's a Shih Tzu who had a pretty rough life before we adopted her from an animal rescue group two years ago. After some surgeries and lots of TLC, though, she's doing great. Love that pup!
One of my favorite projects was the sunroom we built onto the back of our house a couple of years ago. It used to just be one big deck out there, but now we can enjoy the beauty of our wooded yard year-round.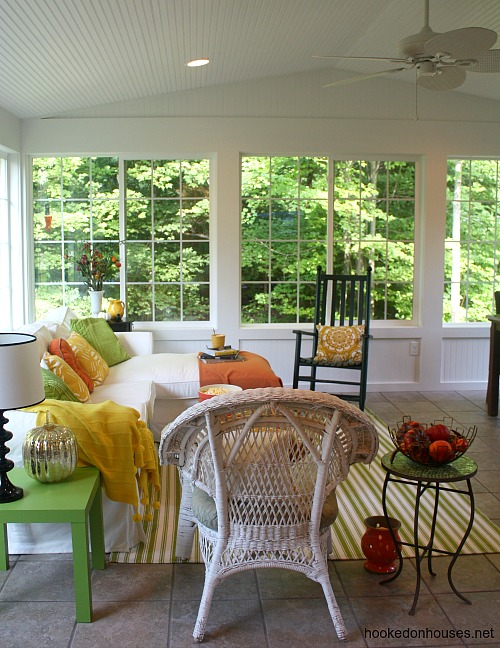 In July we went on vacation, and when we got home I had and email from a rep at a popular decor and furniture store who said she'd seen a photo of my sunroom decorated for summer and loved it. She asked me to send a similar shot of it decorated for fall for them to use on their website and newsletter.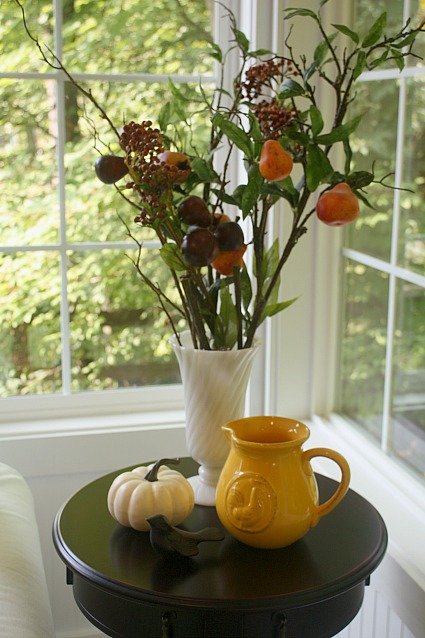 Cool, right?
Trouble was, we haven't had the sunroom that long and I couldn't find a single photo I had taken of it decorated for fall last year. And she wanted me to email it to her within 24 hours. D'oh!
So instead of unpacking from our trip and falling into bed, I stayed up all night dragging boxes of fall decorations up from the basement and staging the sunroom so I could take the photos first thing in the morning.
(Wish you could have seen my family's faces when they woke up the next day and saw fall all over the house. Ha.)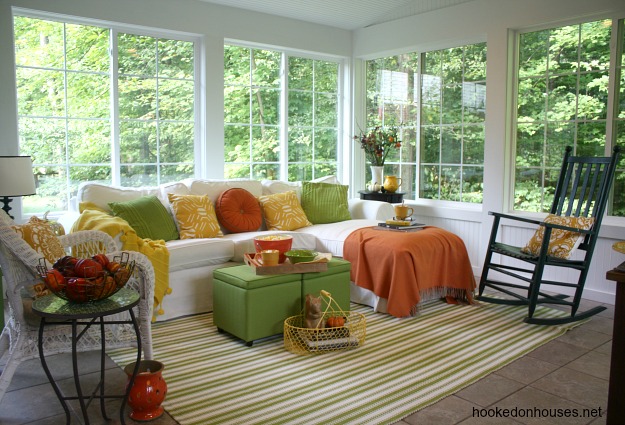 So, bleary-eyed and half awake, I took the photos and edited them that morning.
Just as I was about to mail them off to make her 24-hour deadline, another email popped in from her: "Never mind. I extended the offer to several bloggers and went with the first one who sent her photos in. Looking forward to working with you in the future, though!"
Womp-womp.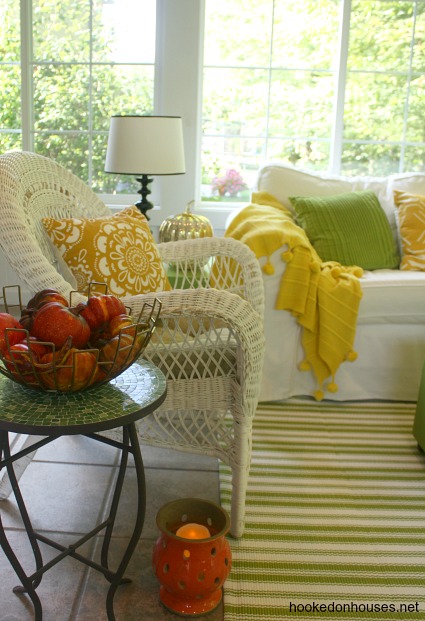 All of that is to say that these photos were actually taken in July. And I have just not been motivated to decorate it again yet.
So in the spirit of full disclosure, I have to admit to you that it's still "summer" in my sunroom right now and looks more like this…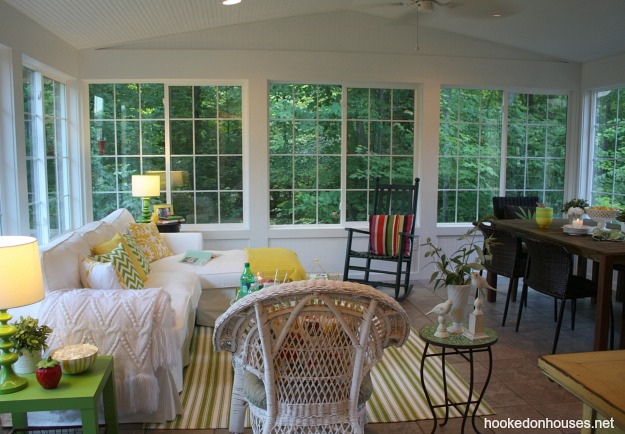 When I was decorating it for fall, I kept wishing I had some wood furniture to warm it up more. The green ottomans were kinda bugging me. They looked too summery.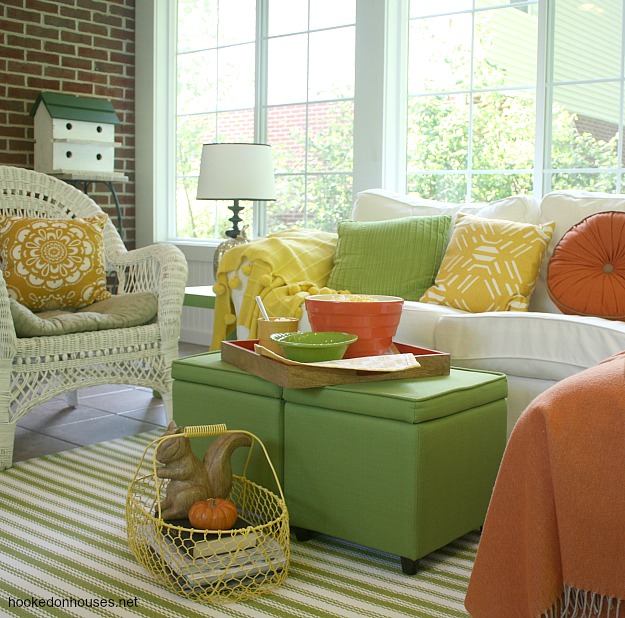 Then I had an epiphany. The small cedar chest in my bedroom would work! You can see it in front of my chairs in the corner in this photo: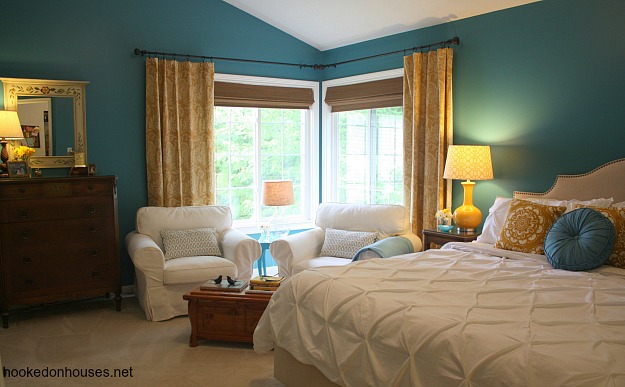 So I lugged it down to the sunroom to try it out: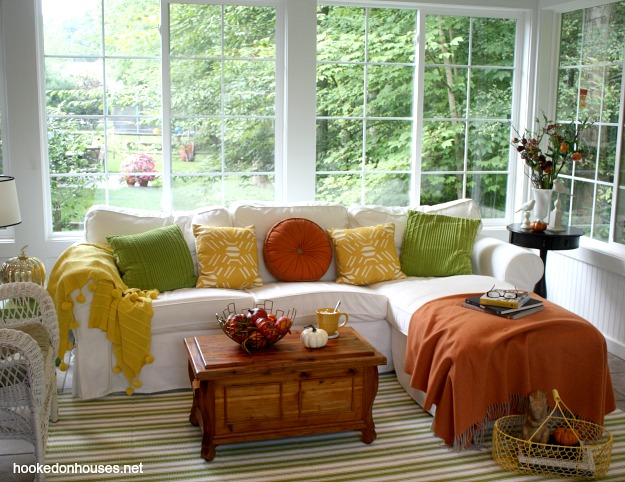 Much better! The wood just looks more fall. I liked it so much that even after I returned all the rest of the decorations to storage, I kept the chest out here.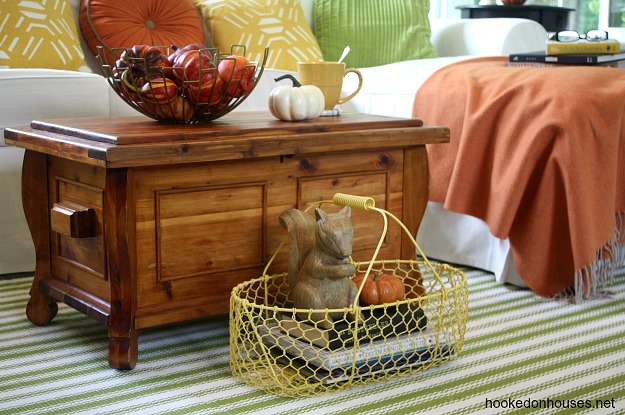 Of course that left a hole in my bedroom. So I replaced it with a round ottoman I found at Target: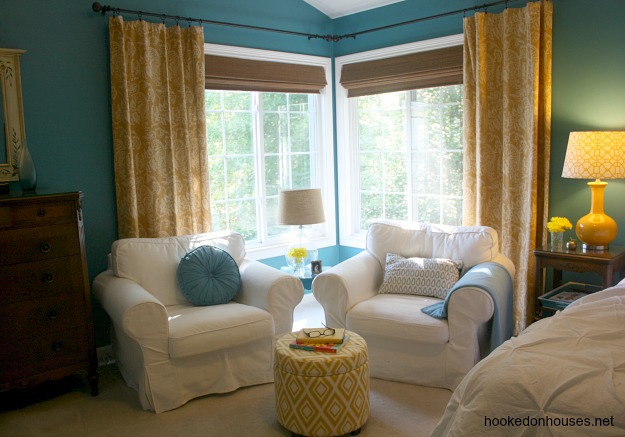 And now everybody's happy.
So that's the state of things here at my place right now. Thanks for stopping by! It's nice to see some new faces — hope you'll come back and be a part of our community of house lovers here at HoH.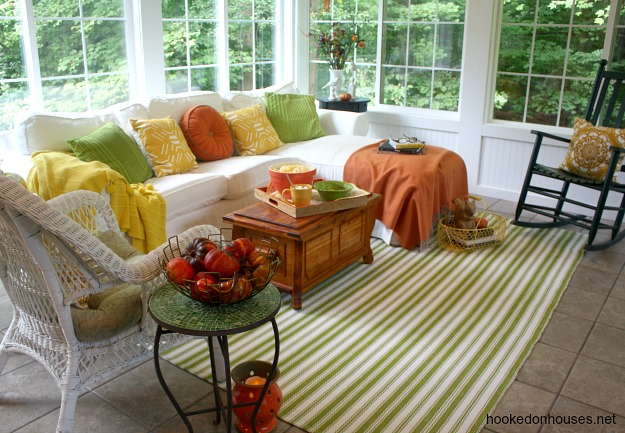 Next up on the Finding Fall Home Tour….
KariAnne at Thistlewood Farms!

I love her house. I featured it last fall and can't wait to see what she's up to this year.
To follow along with the ongoing tour this week, visit Finding Home. (And big thanks to Laura for organizing it!) Better Homes & Gardens set up a board for our home tour pics on their Pinterest page, so check that out, too!

 P.S. You can visit "MY HOUSE" to see more of it:

I send out a newsletter at the end of each week recapping all the houses we've been talking about. Click here to subscribe if you don't want to miss anything! 🙂
(Visited 2 times, 1 visits today)