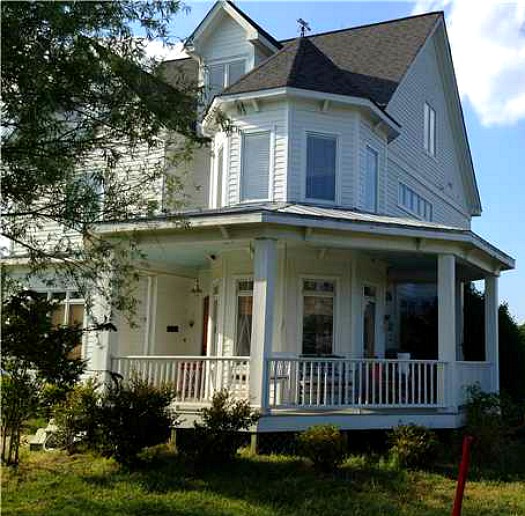 Never take good blogs for granted. That's one thing I've learned from seeing so many come and go over the years.
It was always inspiring to follow Rie's projects at Home & Harmony as she and her husband worked on their new Victorian-style farmhouse.
She stopped blogging last year, so I was excited to hear from her this week.
When she told me they're selling it, I knew we had to take a look!

Rie's New Victorian-Style House in North Carolina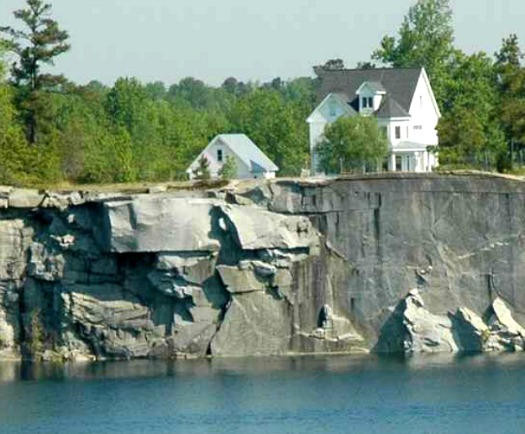 The house is in Rolesville, North Carolina, near Raleigh.
The listing describes it as a, "Stylish Victorian home overlooking Fantasy Lake. Country living on 4 acres with wraparound porch."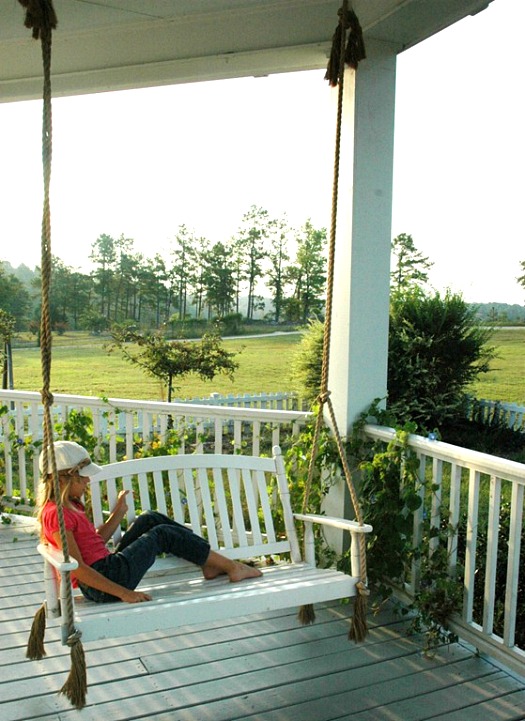 It may look like an older home, but it was actually built in 2000.
When Rie and her family moved into it, it had a modern vibe with IKEA light fixtures and vaulted ceilings.
Let's take a look at how she gave her house a more vintage, new-Victorian feel.
Here's a mirror from an old Barber's shop that she repurposed for her front entry: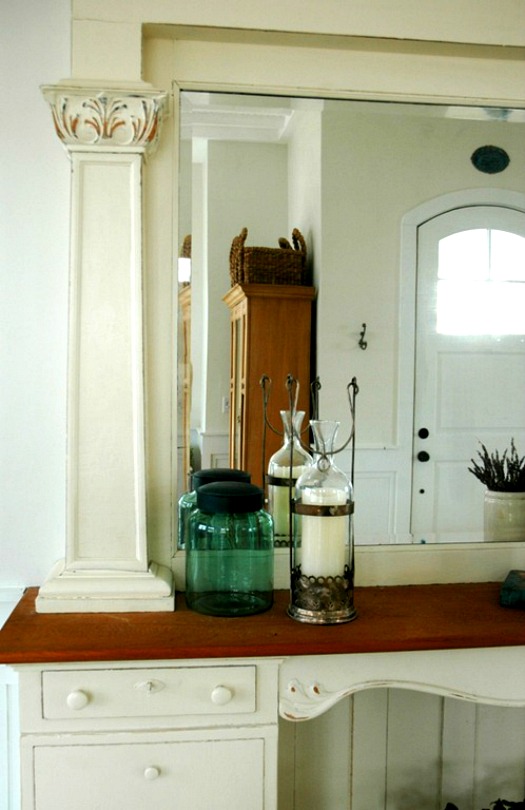 Rie says, "When we moved in, the living room was vaulted about 25 feet up. Not only was it an absolute waste of space, it made the room feel cold and unwelcoming. In addition, the acoustics of the room with so many people sharing the space were almost unbearable."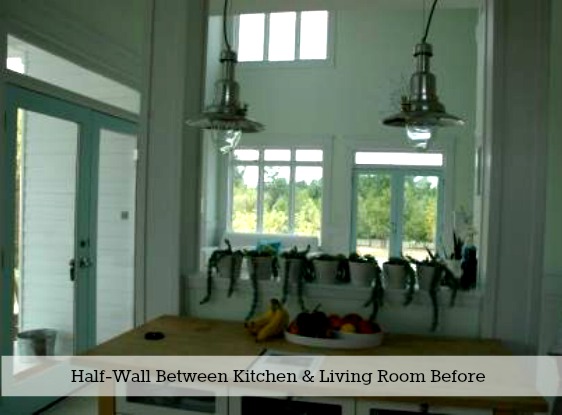 "We decided to floor it in, and as an added benefit, we now have another big bedroom above our living room." Here's how it looks with the ceiling lowered, the half-wall removed and a new kitchen island put in its place: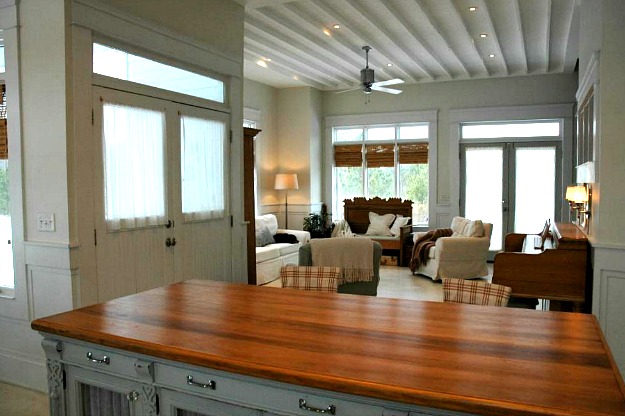 They even altered the look of the double-glass doors to make them look less contemporary by adding paneling to the bottom halves. Genius. Here's how the living room looked before they moved in:
After: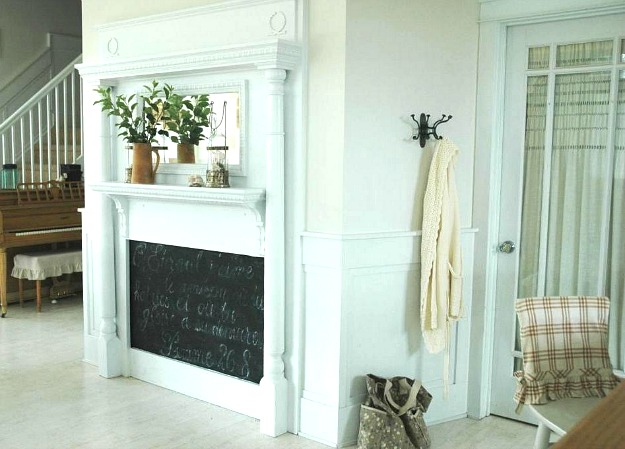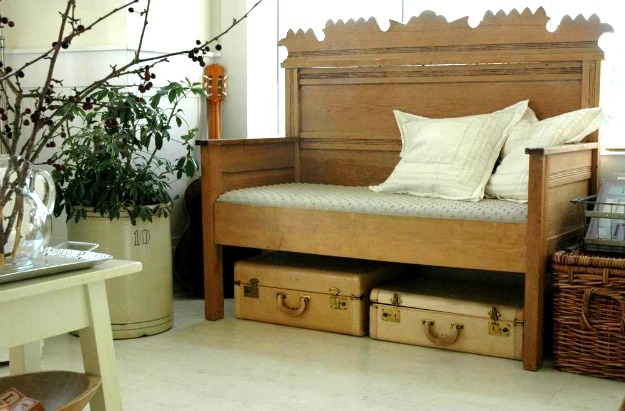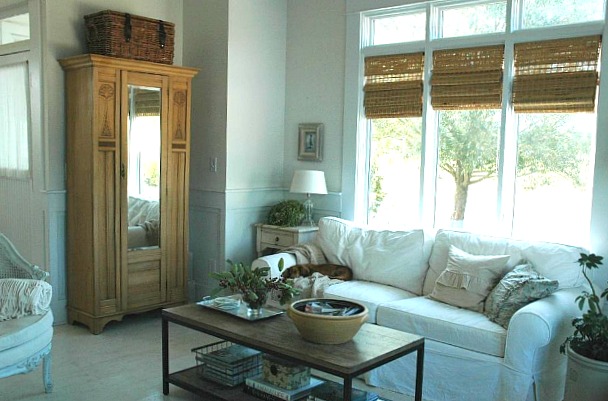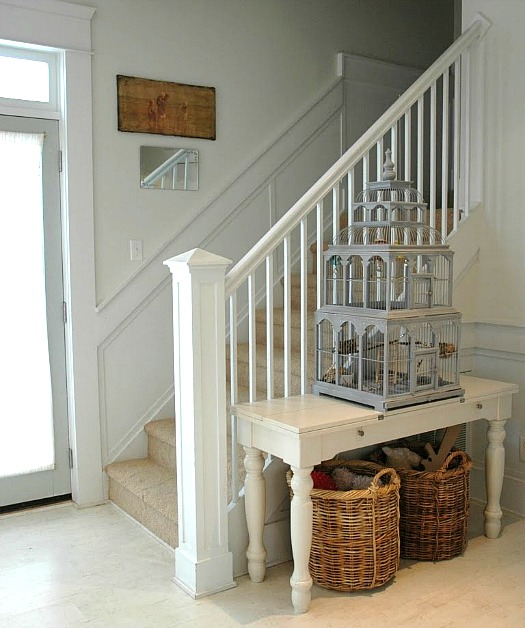 Rie and her husband have 6 kids, so it definitely made sense
to create an extra bedroom above the living room for their boys: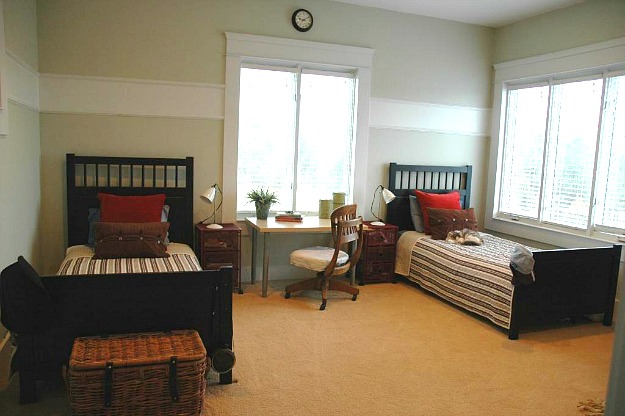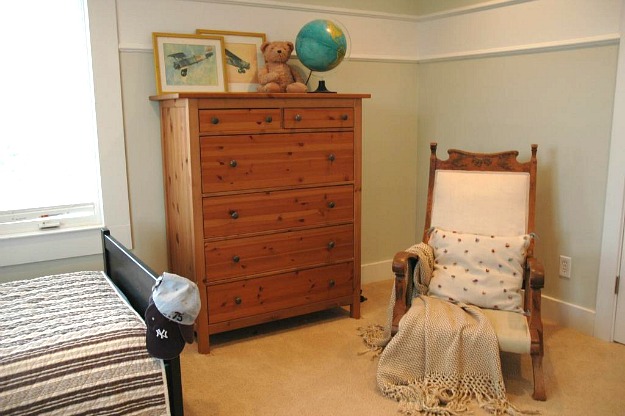 A sweet bedroom for their girls: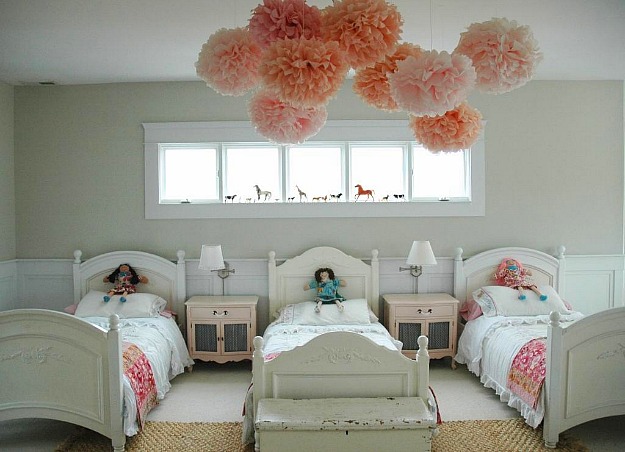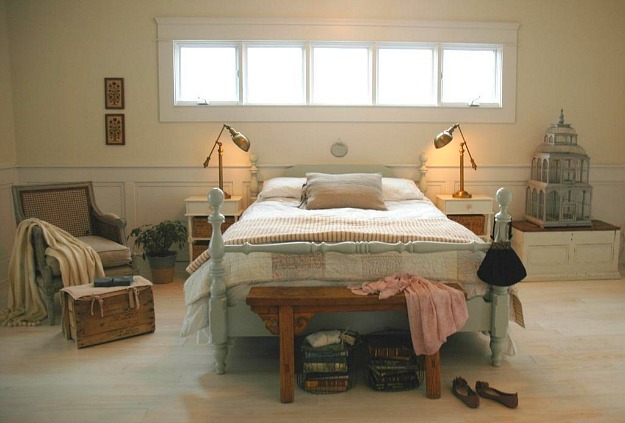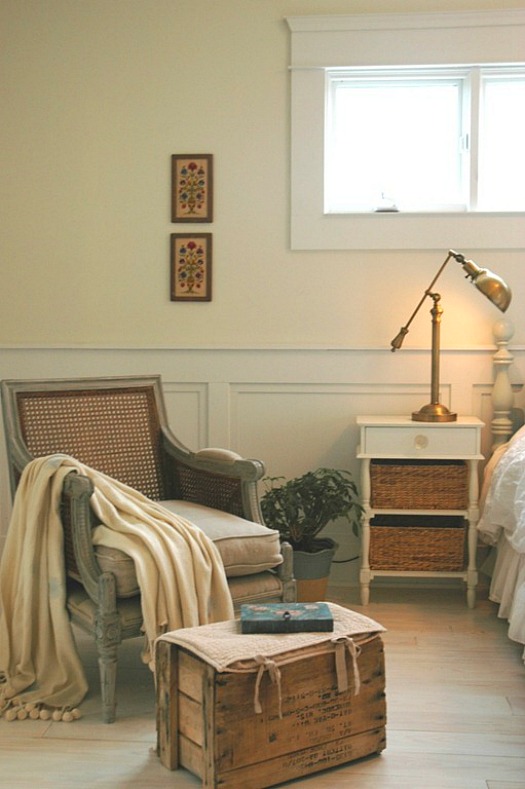 I wouldn't mind doing laundry in this room: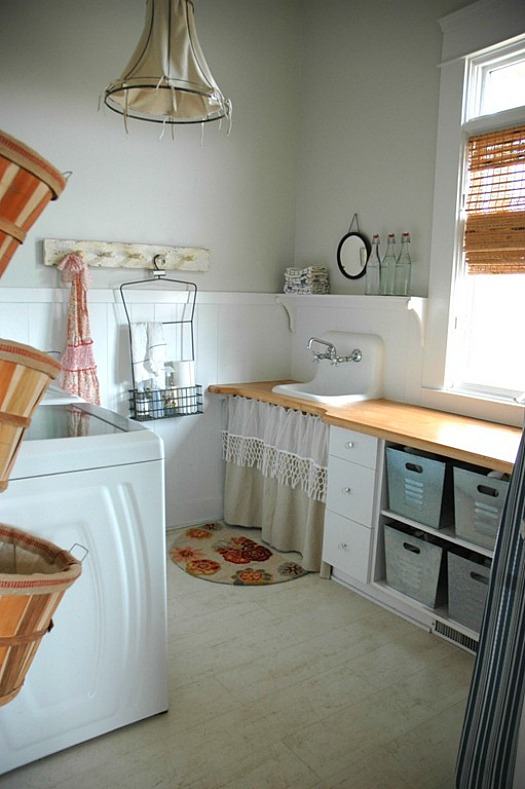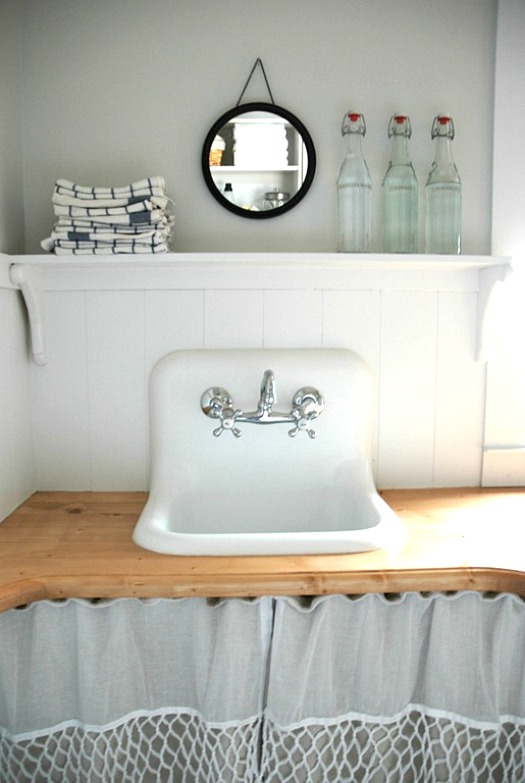 One of my favorite spaces is the little "Writing Nook" Rie created for her daughter Charlotte, who is visually impaired.
Those are Braille flashcards hanging over the desk (below).
Unable to find any that had a vintage look to them, she made them herself.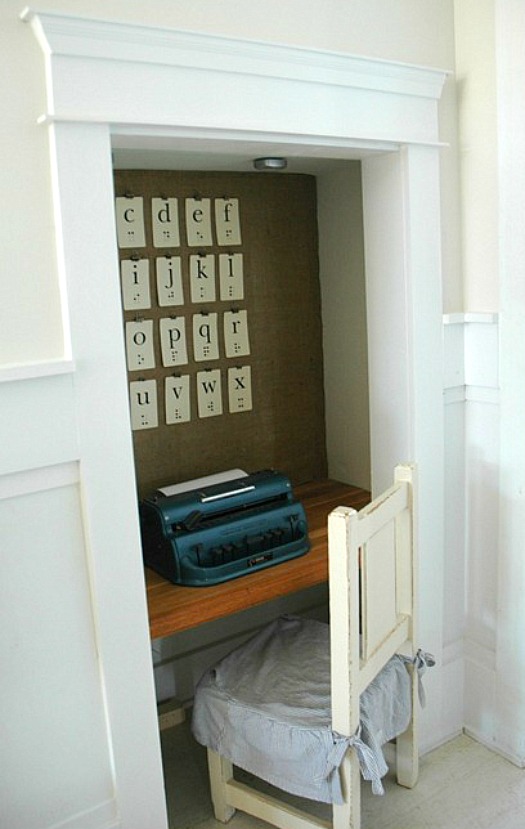 The kitchen went through quite a transformation.
It looked like this when they moved in: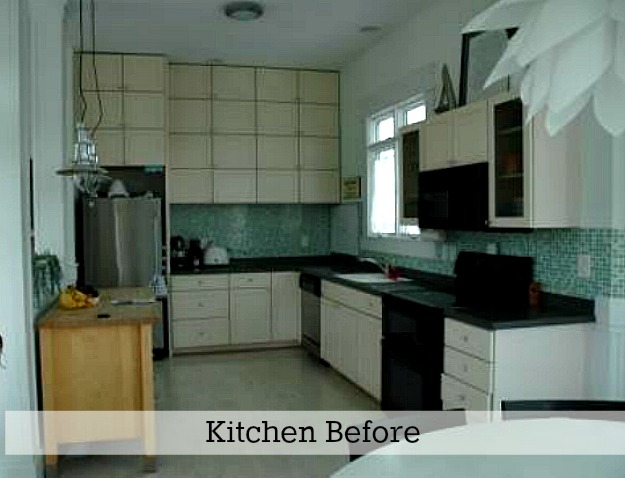 After busting down that half wall, adding an island, removing some of the odd upper cabinets that she wasn't crazy about and installing a sleek hood over the range, it looks like this: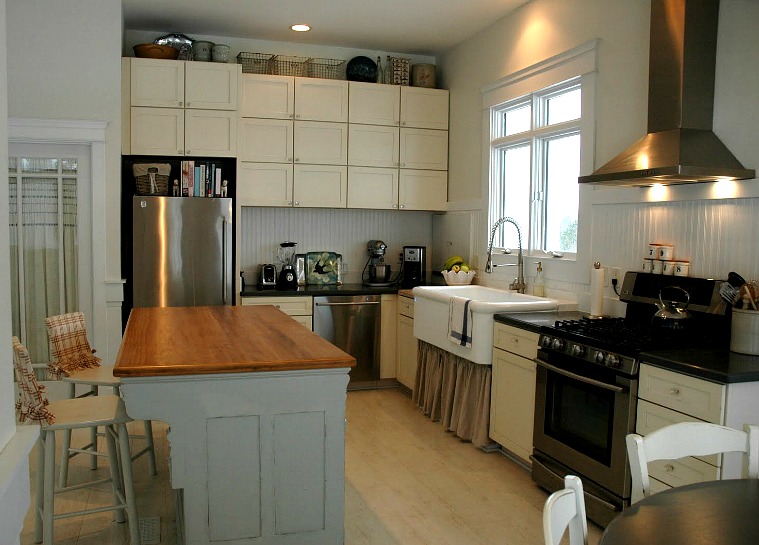 They created the island from an old wood buffet they found on Craigslist: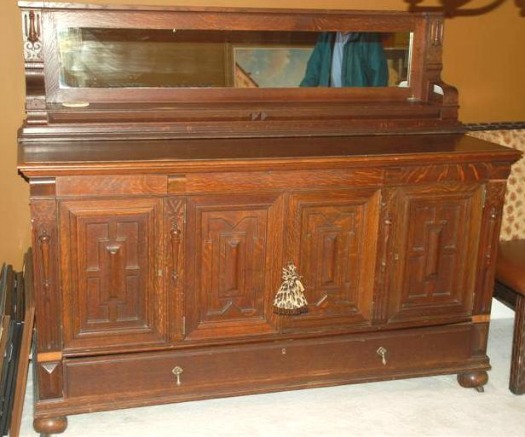 She says, "The frame holding the mirror made the perfect brackets, so we took the mirror out, flipped the brackets upside down and attached them to the back for the overhang. We cut out the panels on the front doors, and replaced them with wire sheeting and backed them with gathered linen fabric. Then we painted the whole thing a bluish-green and replaced the hardware."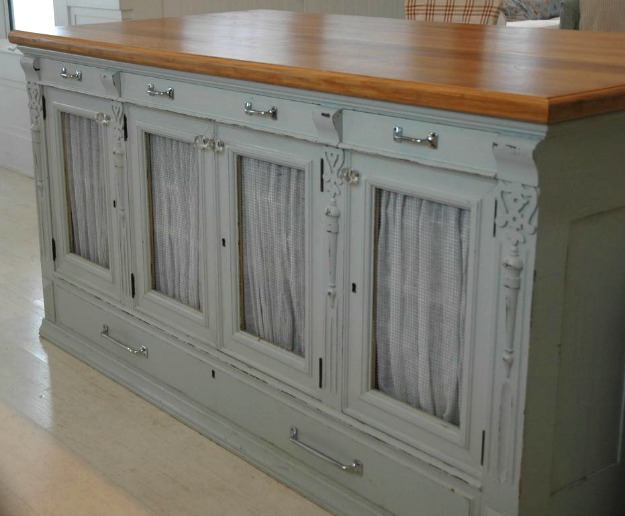 "My handy husband made the top with furniture-grade pine. We mixed two colors of stain until we got the perfect color. We love the result! The whole thing probably cost us $350.00."
Their house has been featured in magazines like Cottages & Bungalows, Romantic Homes, and Flea Market Style. When it appeared in Kitchens magazine, the article focused on Rie's creative organization ideas: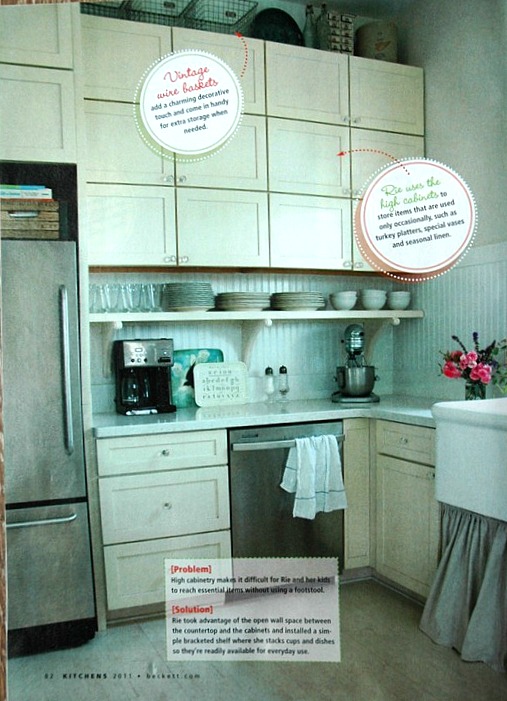 "We snatched up 4 ft. old surgeon's sink for $100 on Craigslist. It was taken from a local hospital. It had a very awesome crackle finish glaze, but there was so much discoloration that we couldn't keep it as it was. We had it refinished for $300. So, for $400, we got a truly unique piece for our kitchen! (Have you seen the prices of farmhouse sinks? This was a good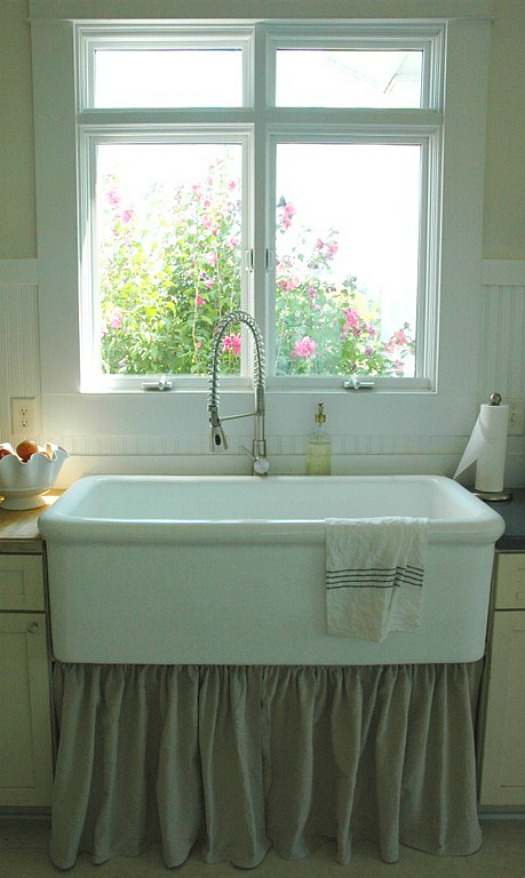 buy!)"
"We got it because we loved it aesthetically, but it's actually extremely practical, especially for our large family of 8! Do you know how many dishes and giant pots we can hide in there? There are dirty dishes in this picture in fact!"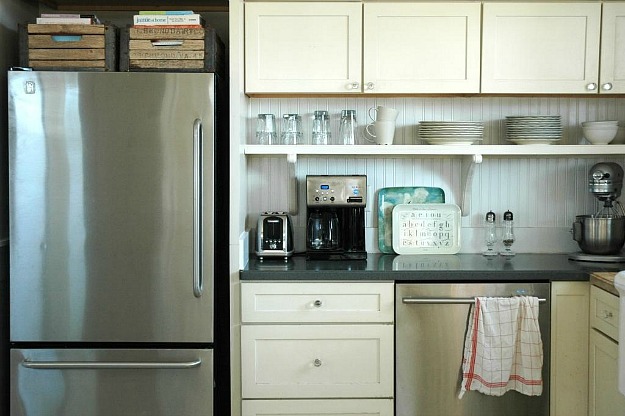 Here's a wider shot of the kitchen before they moved in that shows the dining area: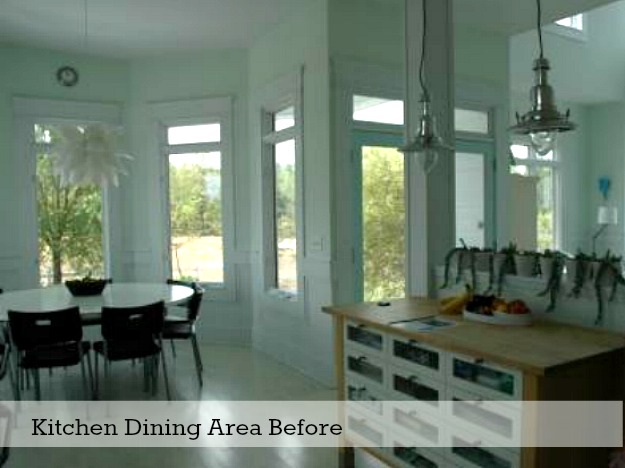 After: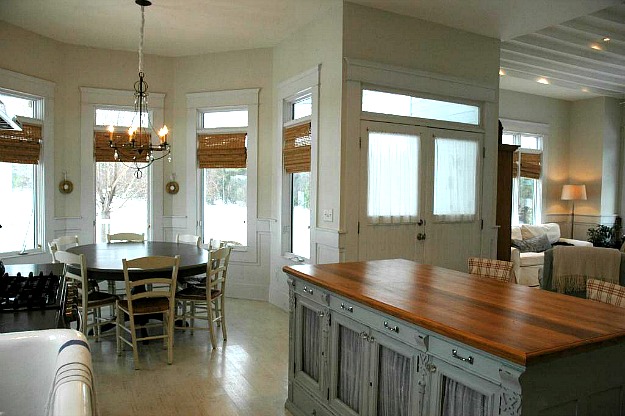 Here's how that loving kitchen nook looks now with new chairs, including a bench seat: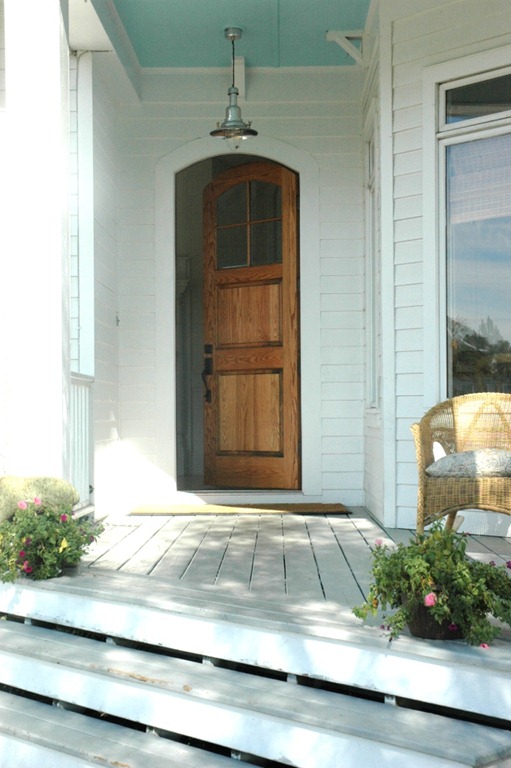 They just moved to an old country farmhouse built in 1930 that needs a lot of work. Hope we get to see how it turns out, too!
Check the listing for more photos and information.