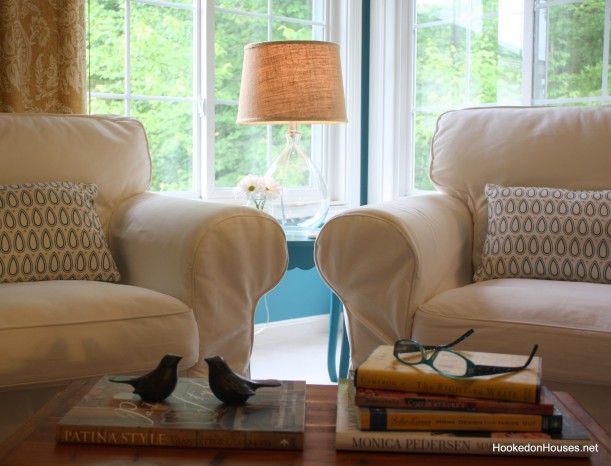 Yawn. My bedroom has been a major bore for years.
It was a Plain Jane, boring beige space that I couldn't figure out what to do with.
I was inspired by this photo in the Ballard Designs Spring catalog to go bold with the color on the walls: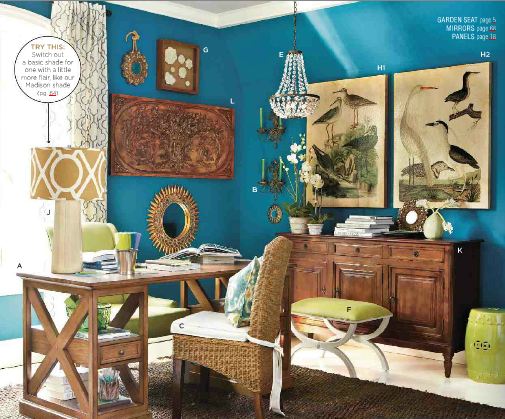 It was scary, though, because we have vaulted ceilings, so if I didn't like the color, there would be a lot of it to dislike.
I chose something similar to the color in the Ballard's catalog, but softer — Valspar's Ocean Voyage — and painted one wall to try it out.
We liked it, so we kept going. And then the new color inspired us to buy a new bed and some new lamps.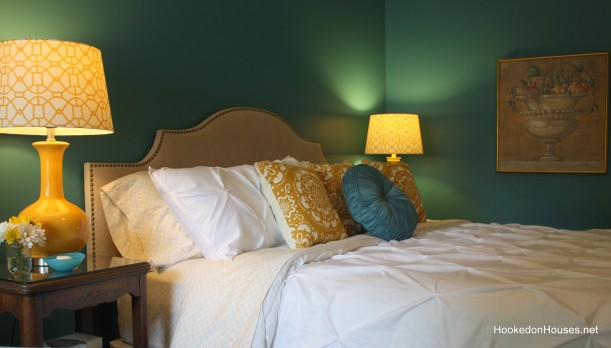 We still haven't gotten new nightstands, though–poor Dave is using an old telephone table that was supposed to be temporary in that spot when we set it there years ago…funny how that happens! But if I wait until the room is 100% finished before I show it to you, you might not ever see it.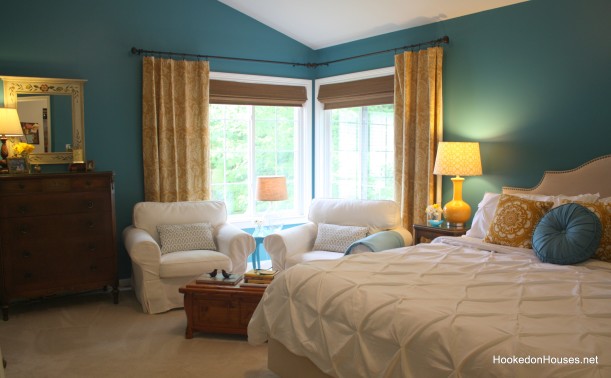 I really thought I'd have to replace the old dresser, mirror, and cedar chest, too, but once the new wall color went up, I didn't mind them so much. And since we're out of money for this project for the time being, we'll make them work a little longer.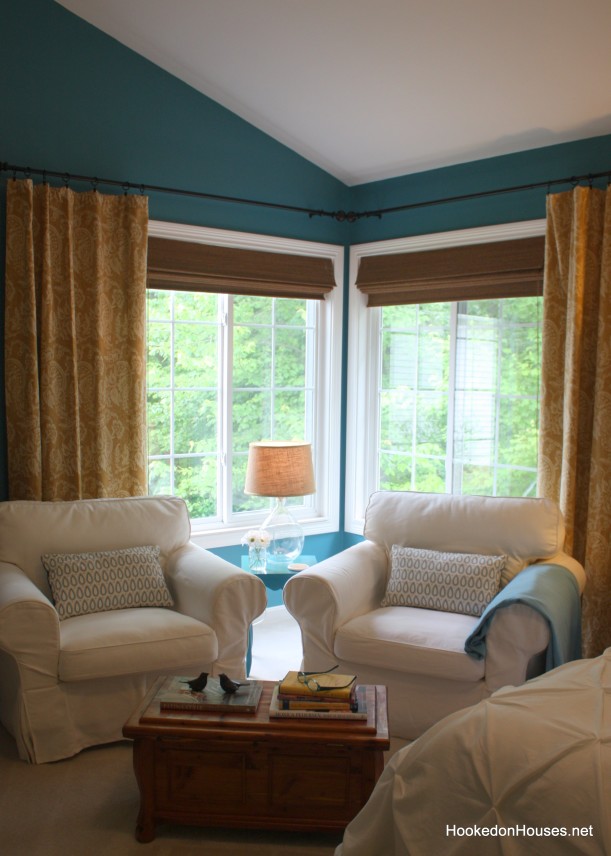 The ceilings in the bedroom are vaulted and open into the master bath, so we had to paint that room, too. I'll show you how that turned out when we finish it!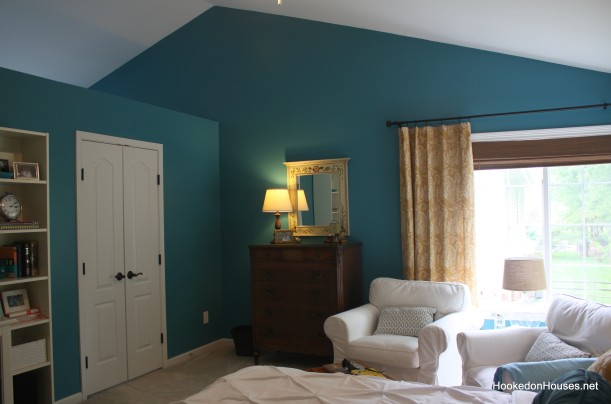 We hung the curtains far enough to either side of the windows that they wouldn't block any of the light coming in (when your yard is wooded like ours, you value every bit of sunshine you can get):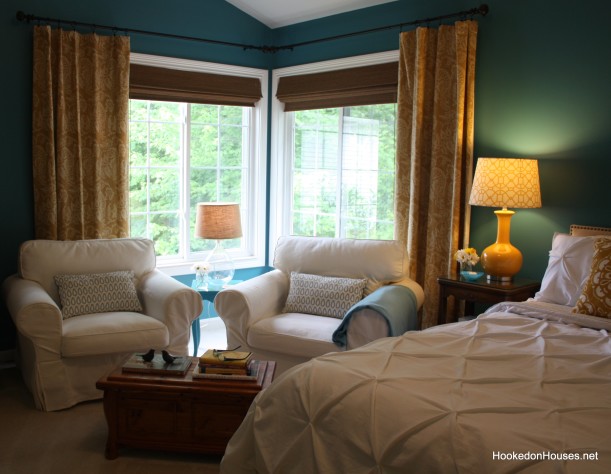 Target has lots of gold and teal decorative stuff this season,
so I found most of my pillows there.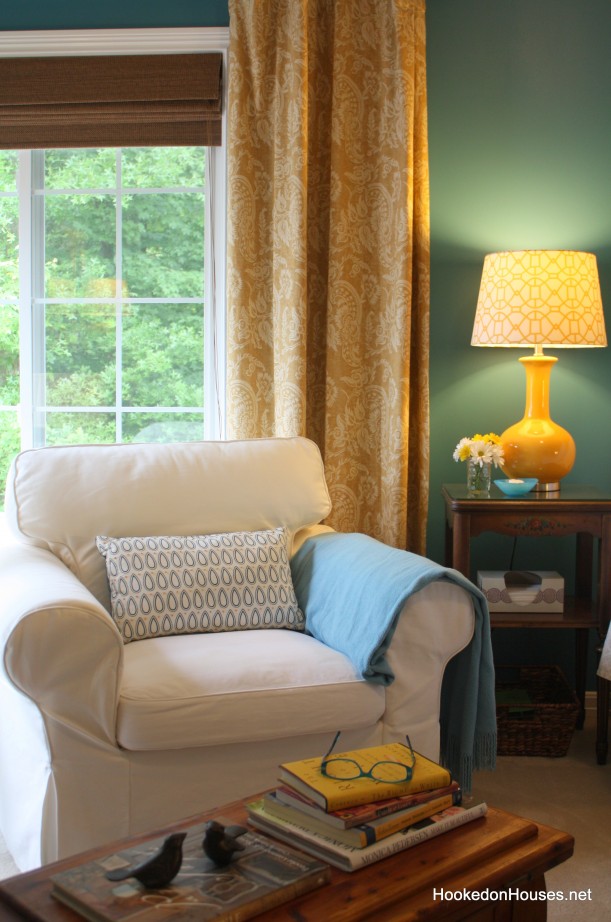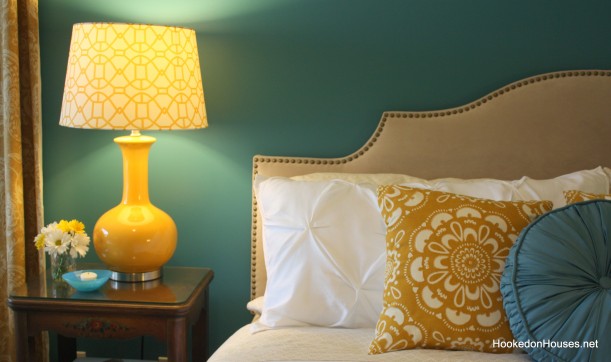 We still need a few things like an area rug and more artwork. Then, when we get this room done-done, it'll be the bathroom's turn!