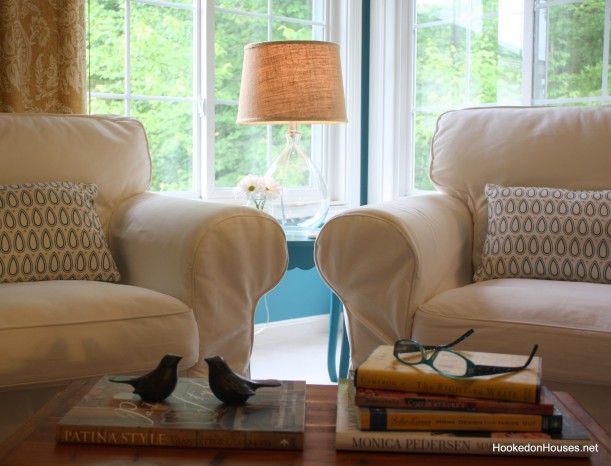 Yawn. My bedroom has been a major bore for years. Last week I 'fessed up and showed you the pitiful state of things in this room. It was a Plain Jane space that I couldn't figure out what to do with. Well, I told you my plans for perking things up in here, and now I've got most of it pulled together.
Last we talked, I left you with this peek at my new reading corner (above). But let's start at the beginning–here's how the room looked before: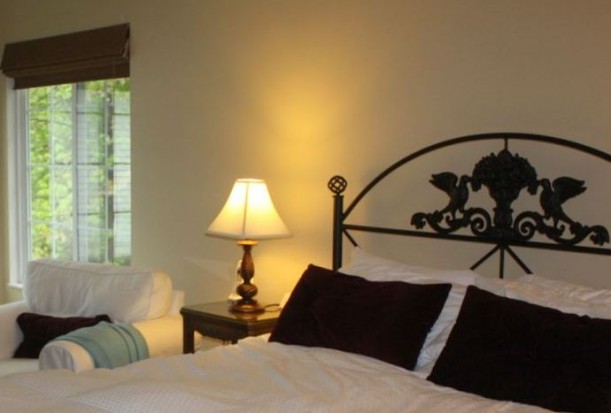 It was a boring beige washout. I was inspired by this photo in the Ballard Designs Spring catalog to go bold with the color on the walls: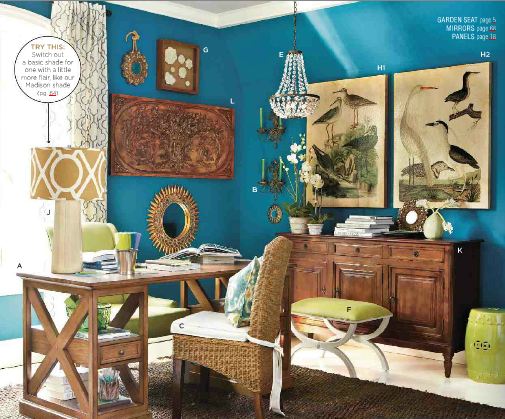 It was scary, though, because we have vaulted ceilings, so if I didn't like the color, there would be a lot of it to dislike. On the other hand, when your room looks like this, you don't have a lot to lose: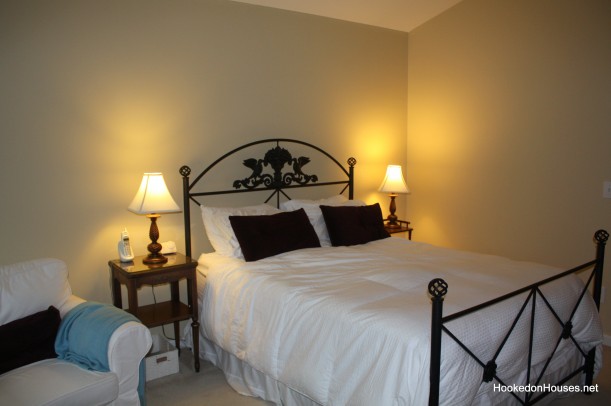 I chose something similar to the color in the Ballard's catalog, but softer–Valspar's Ocean Voyage–and painted one wall. We liked it, so we kept going. And then the new color inspired us to buy a new bed and some new lamps from Target and here's how it looks today: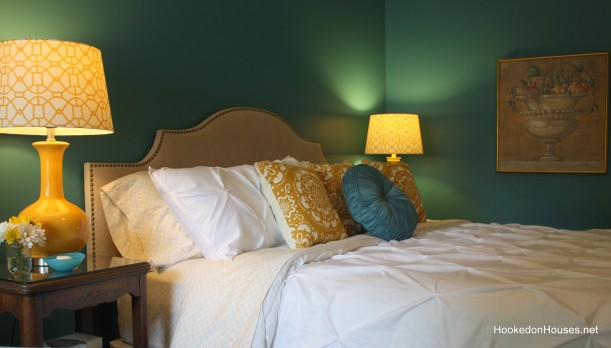 I'm loving the new bed, too.
We still haven't gotten new nightstands, though–poor Dave is using an old telephone table that was supposed to be temporary in that spot when we set it there years ago…funny how that happens! But if I wait until the room is 100% finished before I show it to you, you might not ever see it.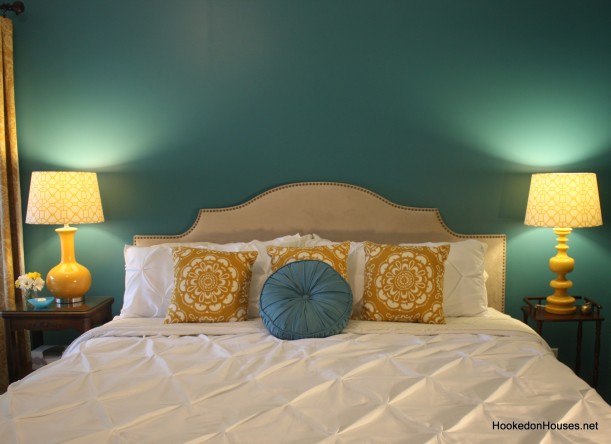 I kinda hate to do this to your eyeballs, but here's another before that shows the sitting area on the other side of the room:
Ug. Lee. But things are looking better now!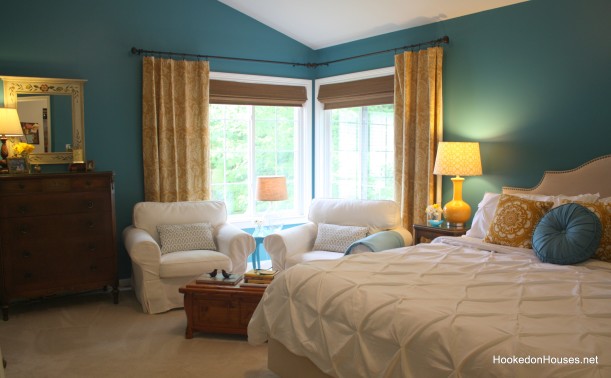 I really thought I'd have to replace the old dresser, mirror, and cedar chest, too, but once the new wall color went up, I didn't mind them so much. And since we're out of money for this project for the time being, we'll make them work a little longer.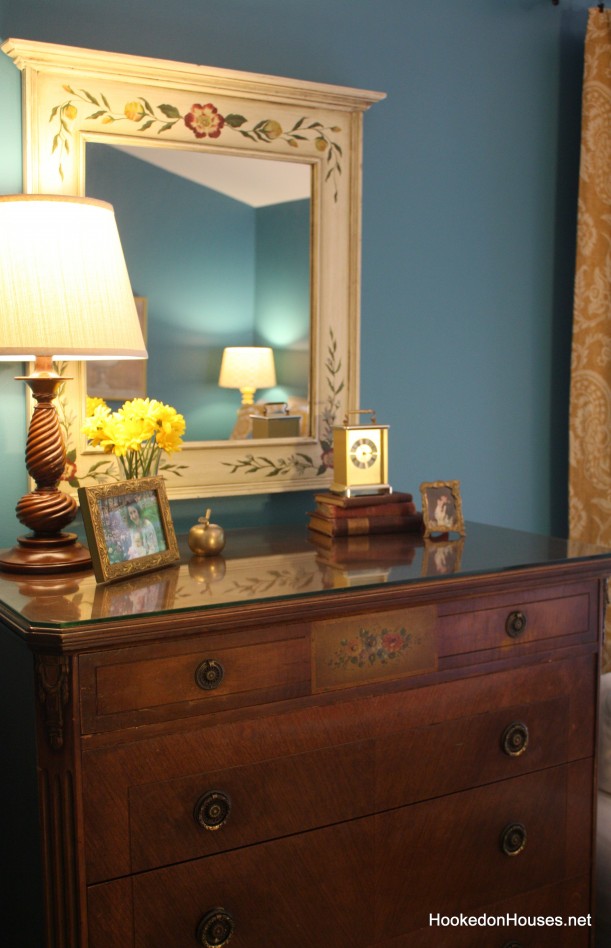 I didn't want the table and lamp in the corner to take up a lot of "visual space" and block the windows, so I found a small teal table at Target (that matched our paint color pretty perfectly–I put the paint swatch on top and took a pic of it with my iPhone at the store to be sure) and a glass lamp to put on it: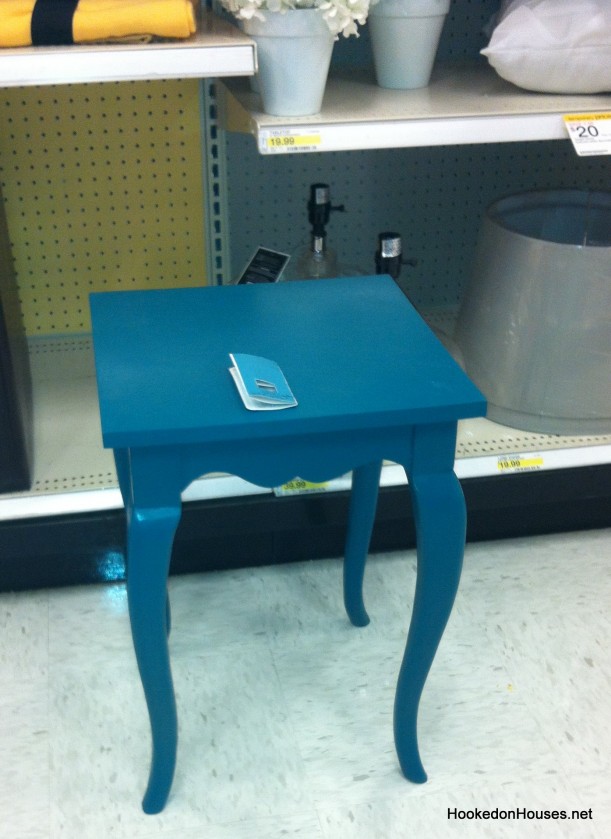 Here it is between the white Ektorp slipcovered chairs I bought at IKEA: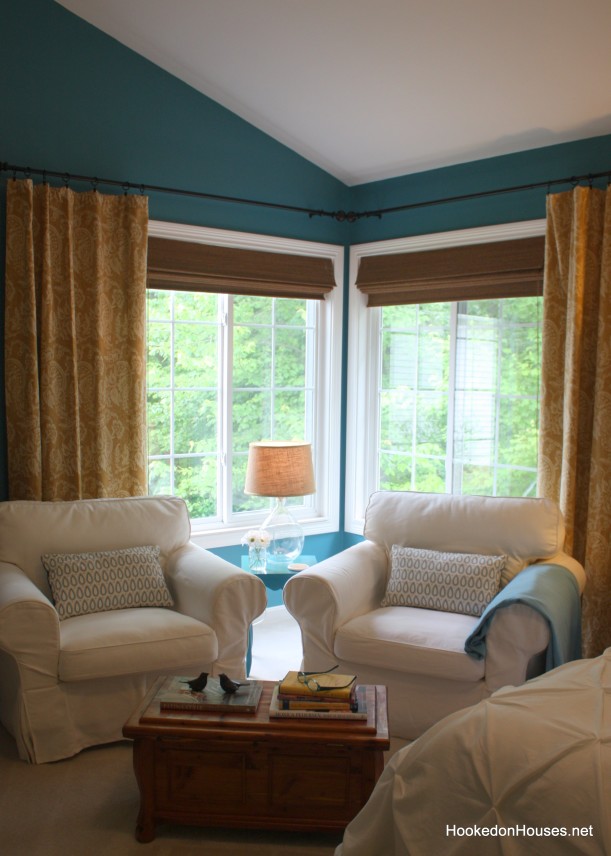 The ceilings in the bedroom are vaulted and open into the master bath, so we had to paint that room, too. I'll show you how that turned out when we finish it! (I mean, it's painted, but there's a lot more to do in there.)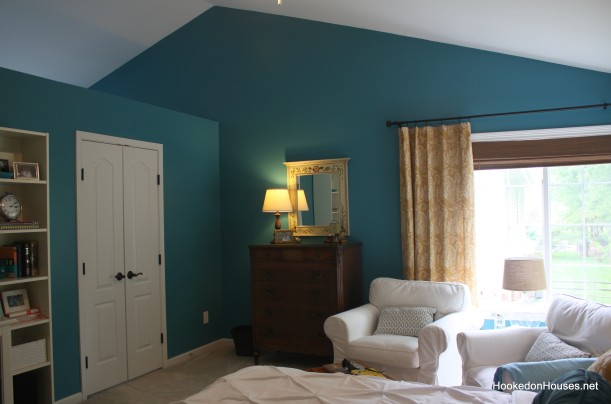 I hesitate to share this part with you because I know it's kind of controversial to have a TV in the bedroom…but I couldn't live without mine. There. I said it. I love watching TV in bed or from the armchairs in the corner.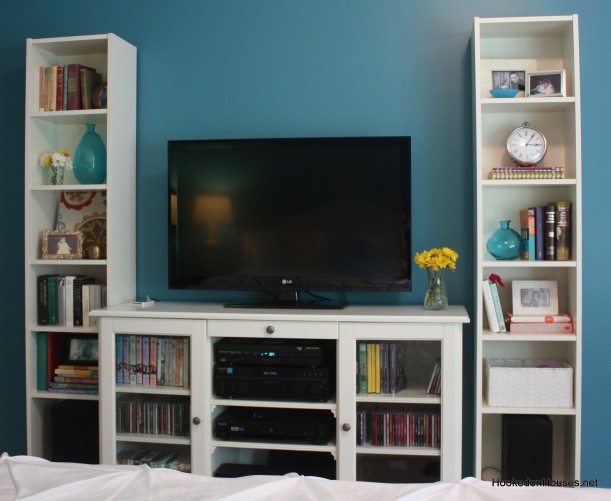 The wall isn't really what you could call pretty with the TV, DVD player, cable box, and speakers. And we got the white media console and shelves at IKEA so, you know, it's not high end or anything. But it works for us and didn't cost an arm and a leg.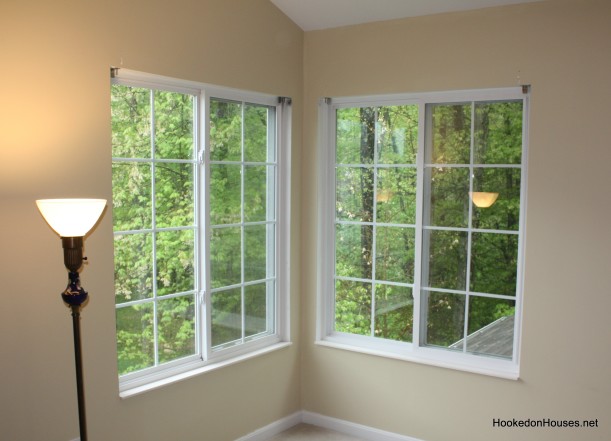 These are the only windows in the room, and they're not that big, so we beefed them up a little by adding trim around them. Here's how they looked before we added the curtains: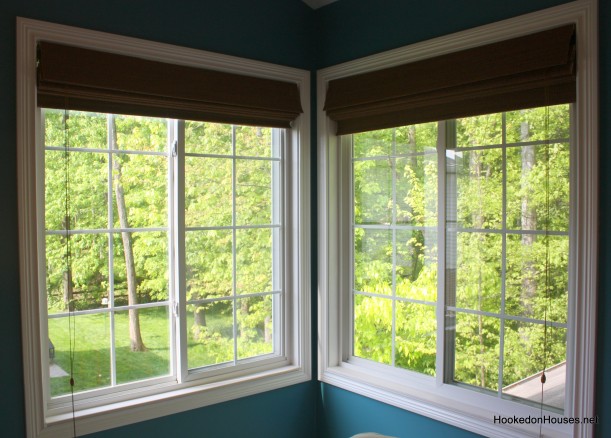 I think trim always works wonders in a room!
We hung the curtains far enough to either side of the windows that they wouldn't block any of the light coming in (when your yard is wooded like ours, you value every bit of sunshine you can get):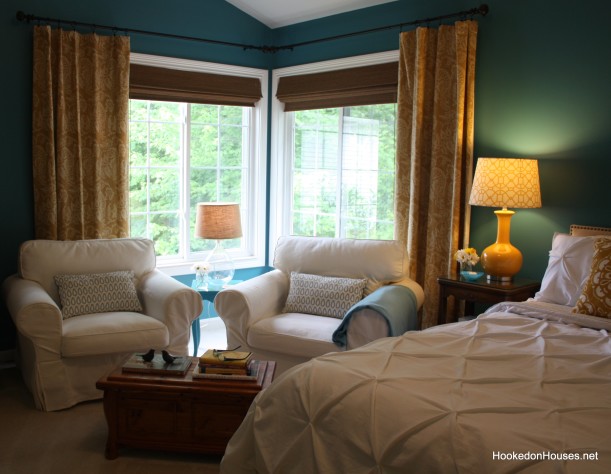 Target has lots of gold and teal decorative stuff this season, so I found most of my pillows there.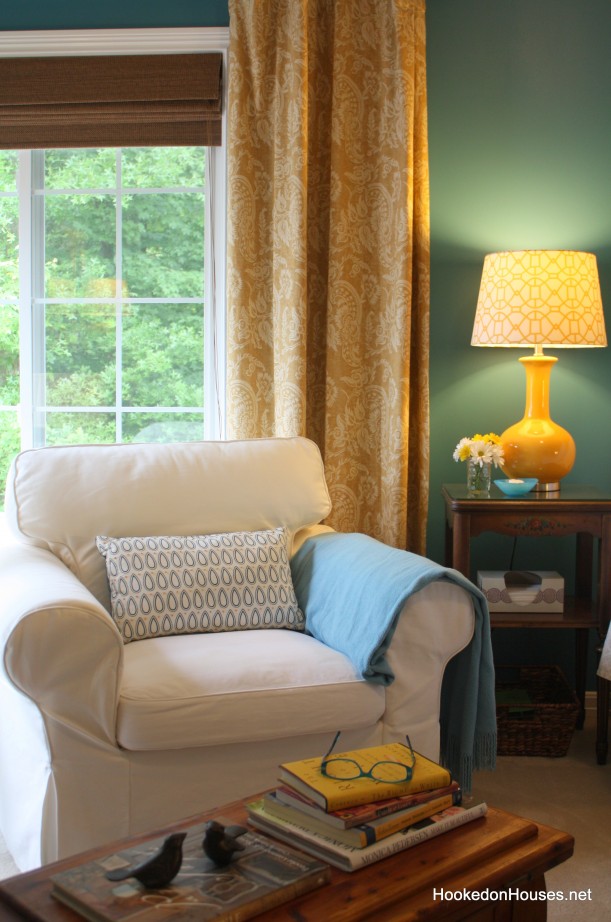 For more source info on the stuff we bought for this room, check my original post about redecorating the bedroom.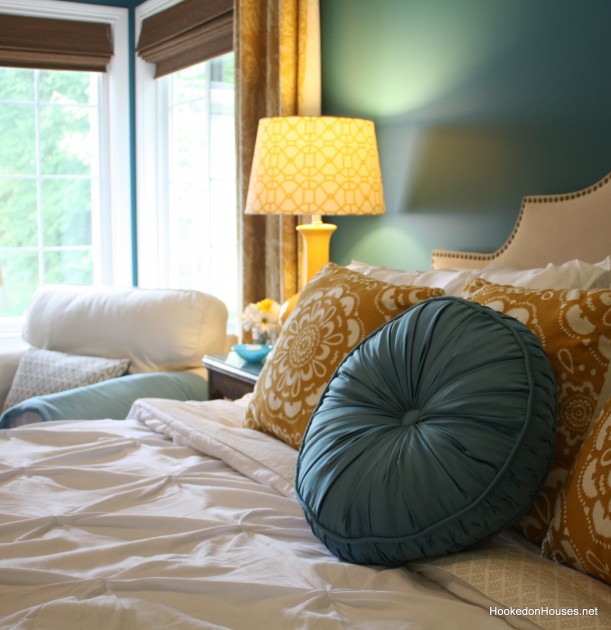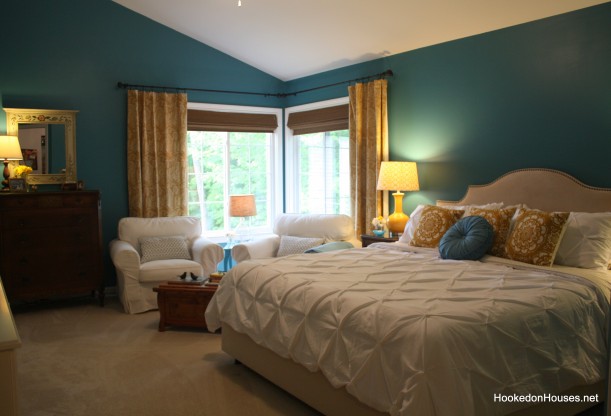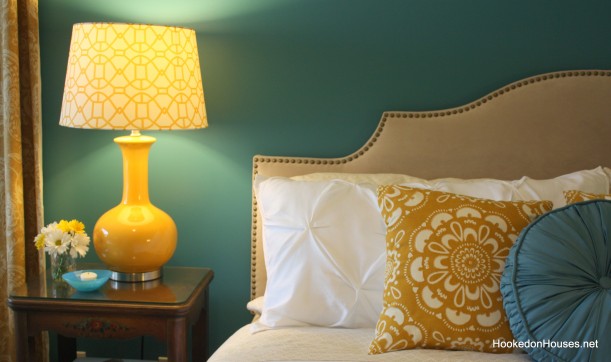 We still need a few things like an area rug and more artwork, etc. Then, when we get this room done-done, it'll be the bathroom's turn. You think this room looked bad to begin with? Wait 'til you see that one! 

P.S. Visit "My House" to see more, including…

(Visited 6 times, 1 visits today)