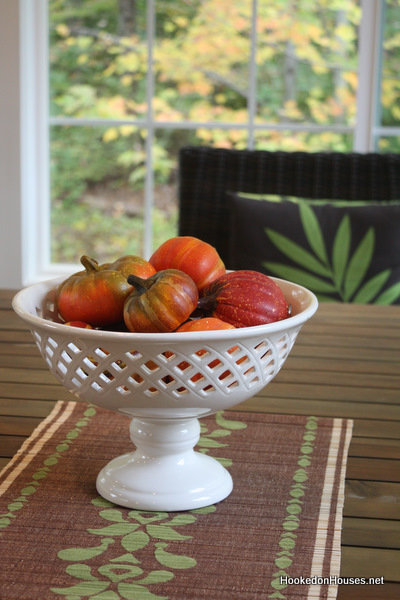 It's been a few months since I invited you into my sunroom, so I thought you might like to see what it looks like now that fall has arrived. We built it as an addition onto the back of our house last winter and have been slowly furnishing and decorating it all year.
I haven't done a lot of fall decorating out here–these little pumpkins and gourds are about it–but I've made some changes since I showed you last. Come on in and I'll show you around!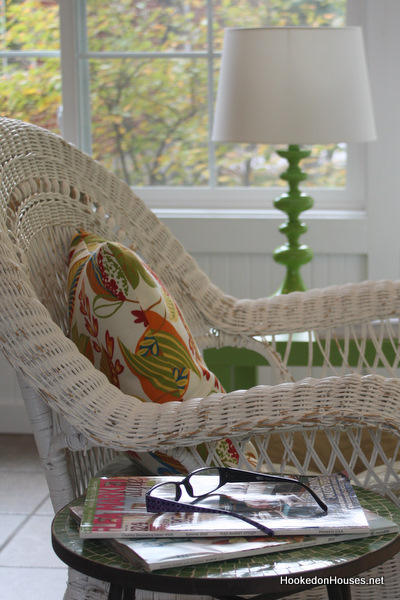 Back in August I told you what was still on my shopping list for the sunroom. Something I really needed was a new end table and lamp to put next to the sofa. As a reminder, here's how it looked this summer, before we got the lamps, rug, etc: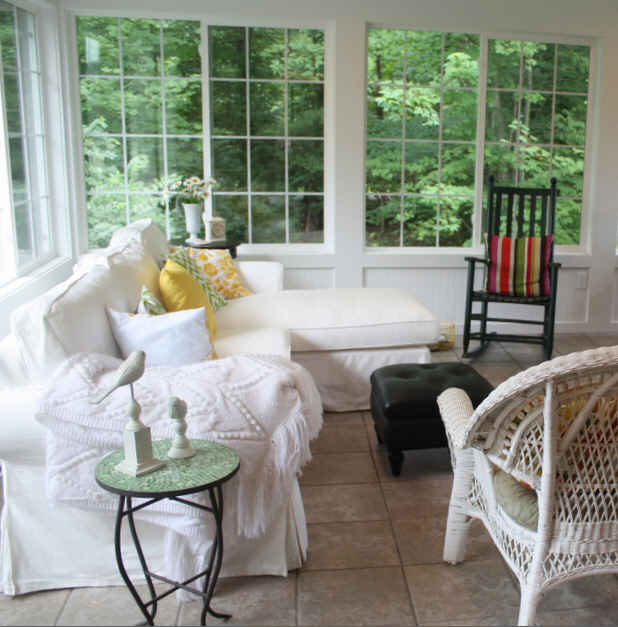 Since then, I found a green table and lamp at Target that really go perfectly with my striped Dash & Albert rug. Now we can stay out here a lot longer after the sun goes down without having to rely on the overhead lights.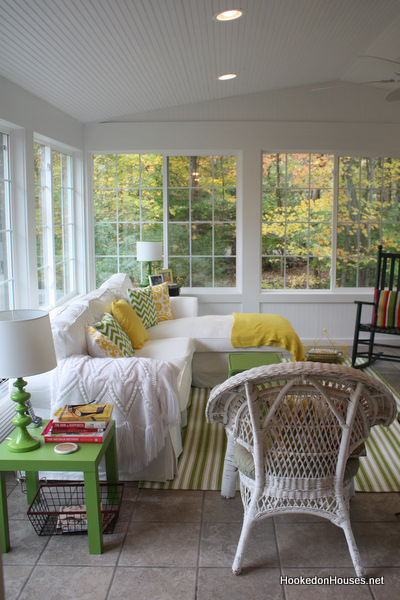 The other things on the list that I really wanted were 1) a new ottoman to replace the black leather one we had swiped from the family room and 2) a throw to put on the end of the chaise. Check and check!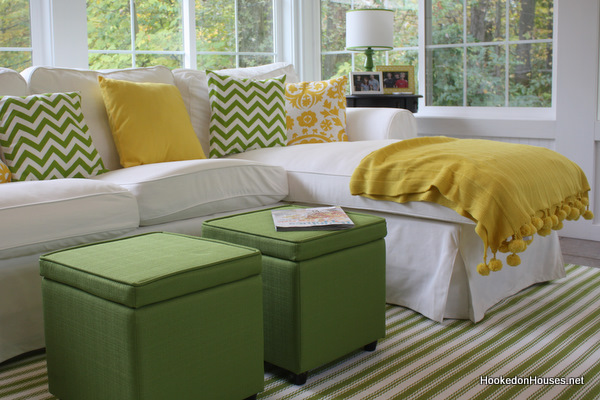 The two green storage ottomans were something I found at Target for about $25/apiece. Can't beat that! Especially since I'm decorating the sunroom on a tight budget.
A neighbor spotted this yellow throw with pom-pom fringe on a clearance shelf at Meijer for $7 bucks that she thought would be perfect for my Ektorp sofa's chaise, so I ran right over to the store and snatched it up. (Thanks, Carrie!)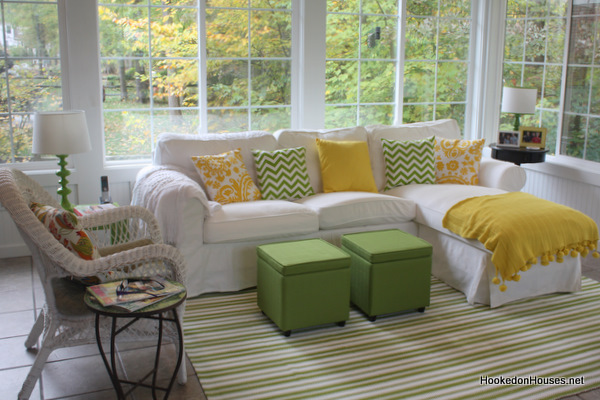 The white afghan on the other end of the sofa was knitted for me by my great-aunt Christine. She loved to decorate, write, and take photos. If she had been born a few decades later, I'm convinced she would have been a blogger!
I picked up the sunroom before taking these photos (of course!). The kids really like it out here, so you'll usually find my son's homework spread across the table next to his backpack, and one of my daughter's Barbie doll parties in progress:
I work out here a lot on my laptop, too, and Maizie supervises: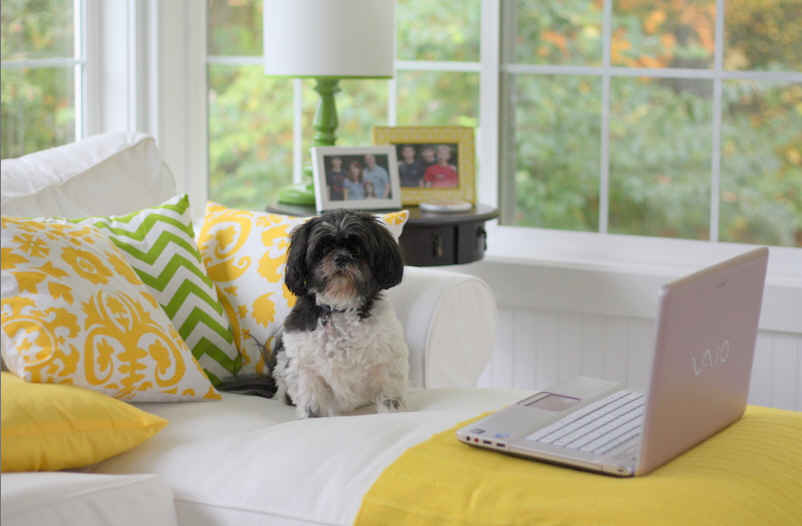 The view out the window is changing as the leaves turn yellow and orange. It's a lot brighter in here now, too, without all the leaves overhead.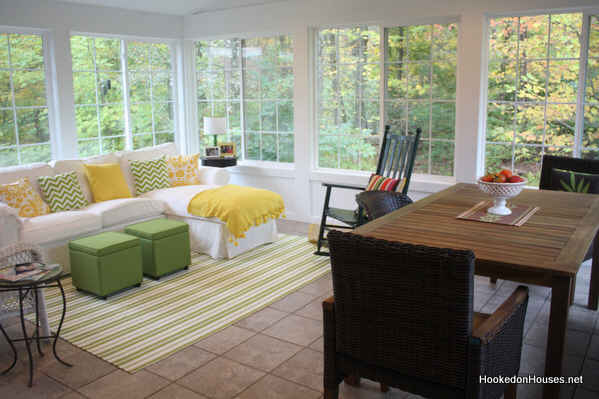 So the main thing that's left on our shopping list for this room are blinds. Maybe some white roman shades? I hate to cover even an inch of these windows, but I can already tell it's going to be necessary unless we want to wear sunglasses all winter. We'll have to save our money for those, though, so it may be a while!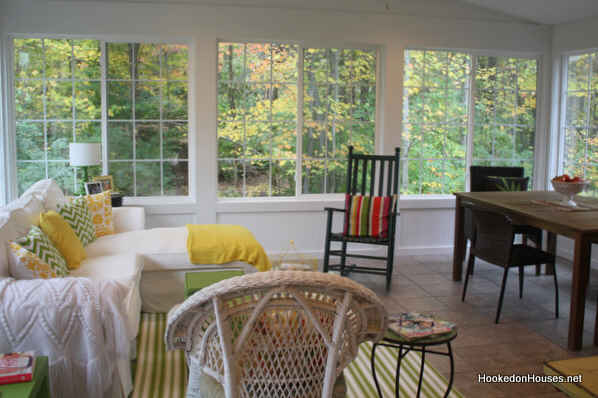 I forgot to take photos of the red brick wall (oops!), but it hasn't really changed much. You can see it here, along with photos of how the sunroom looked last summer and more details about it in general. Some people have suggested that I need to paint the brick white, but I like it just the way it is. 🙂
P.S. If you like the cheery colors in my sunroom, check out Lily's Playroom!
Come on in! I've been slowly taking down all of the "summer stuff" in my house and redecorating for fall. Every year I do a…
Happy Thanksgiving! This is one of my favorite holidays because it's all about getting together with the people we love, focusing on what we have…