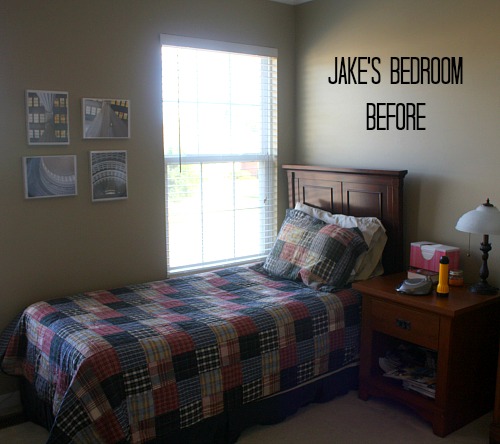 It's been a couple of weeks since I showed you how our son's bedroom makeover was coming along.
We'd already hung (fake) shiplap paneling on the walls and installed new hardwood floors, but we still needed furniture and everything else. Well, we finally got it all put together, so I thought you'd like to see how it turned out!
Here's how his room looked after we hung the wood paneling on the walls and got the new floors installed: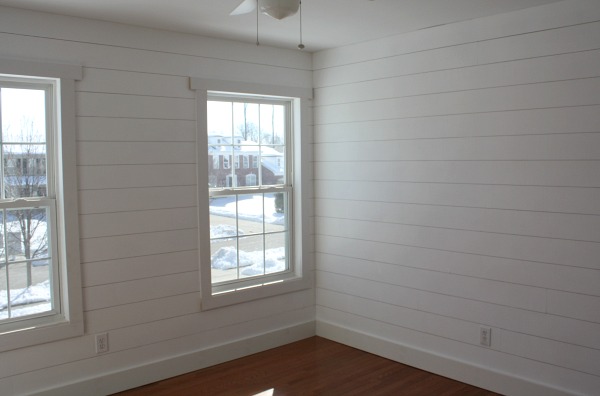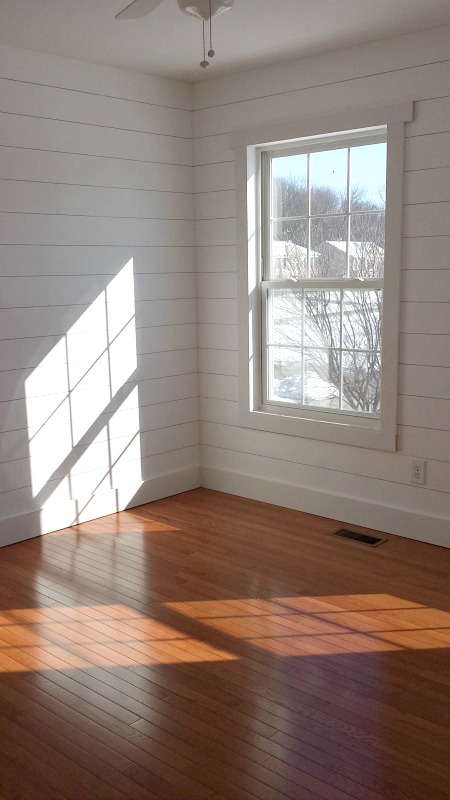 Now that he's in college, we need this to double as a guest room when he's not home, so a bigger bed was in order.
We used to have a Queen-size iron headboard in our bedroom that's been sitting in the basement, so instead of buying a new one, we brought it upstairs and bought a new mattress for it.
It was dark green originally, and we spray-painted it black.
I think the bed looks much better in his room than it ever did in ours!
Because the room is so small (about 11′ x 12′), we left the footboard off the end of the bed.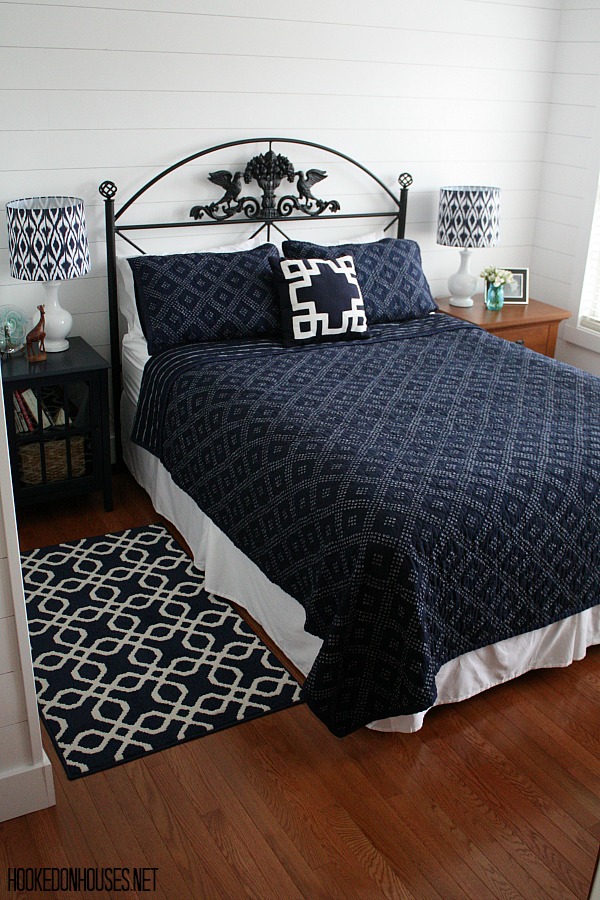 I found this navy blue nightstand and the lamps at Target and love 'em. The giraffe and glass plate have special meaning to Jake, so I wanted to find a place to display them.
His favorite books are inside the cabinet, and I bought a small basket that he can use as a "drawer" to stash odds and ends: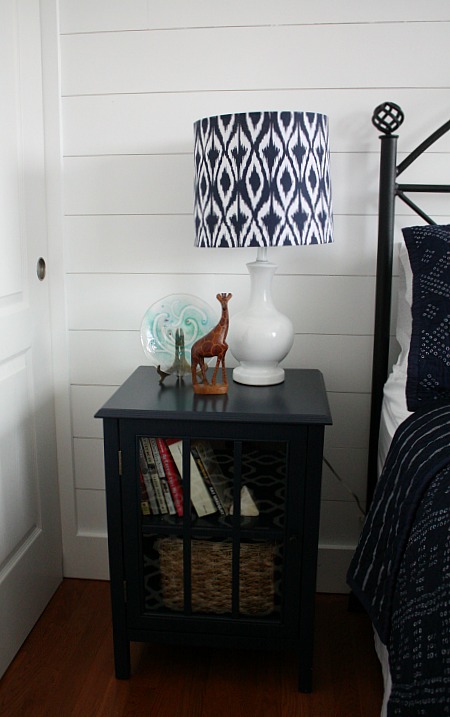 I pretty much found all the new navy and white things I needed for the room at Target, bedding included, so it didn't cost a lot.
The sheets have tiny navy dots all over them, and the quilt is reversible with stripes on the other side, which is fun.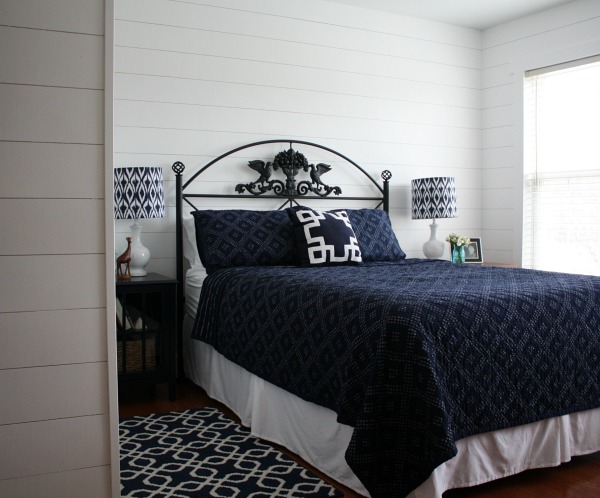 You can't see it, but I put another navy and white rug on the other side of the bed. I didn't want to cover up too much of the new floor with a big rug (and didn't have the budget to buy one anyway).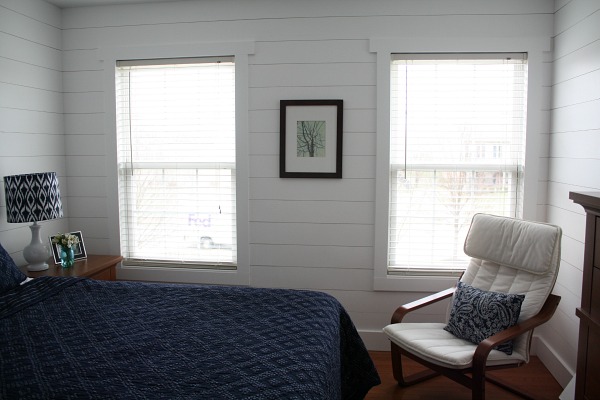 I'm still shopping for a small table and lamp to put beside this chair in the corner.
This is where he likes to work on his laptop, so he'll need somewhere to set it: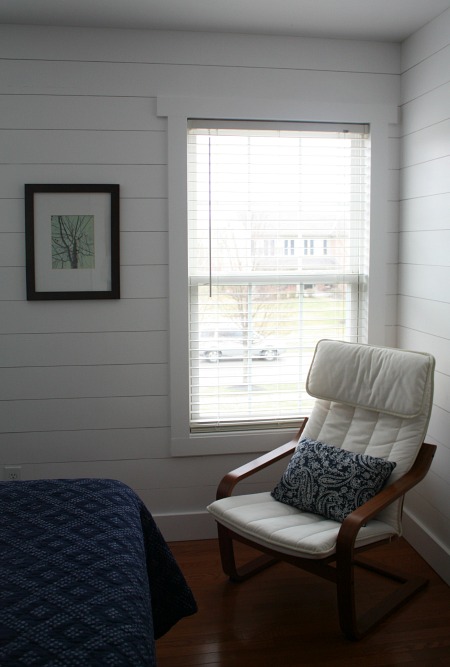 Jake took that photo of a tall tree in our backyard.
I had it framed and matted for the room: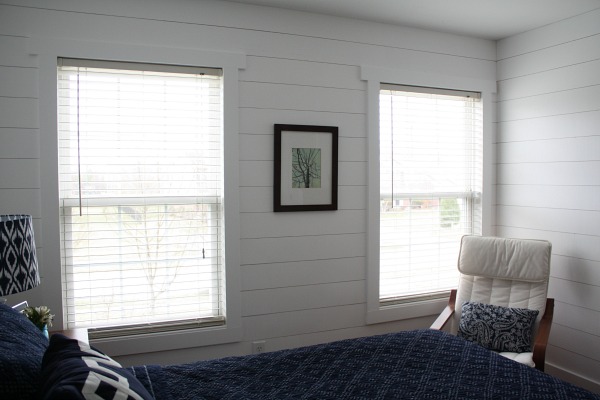 I bought curtains but ended up loving the new Craftsman-style trim that Dave hung around the windows so much that I couldn't bring myself to cover it up!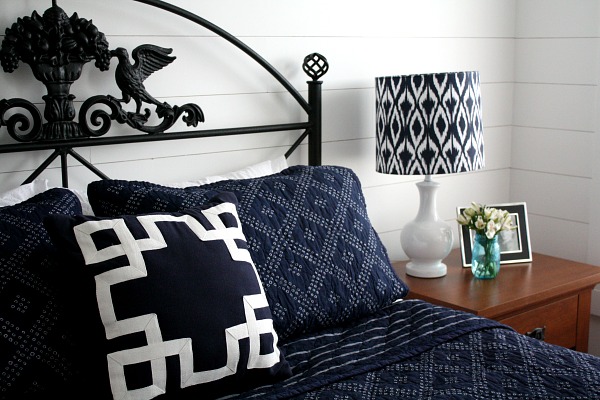 I took these photos on a gloomy, rainy day, without a flash,
and the room still looks pretty sunny and cheerful!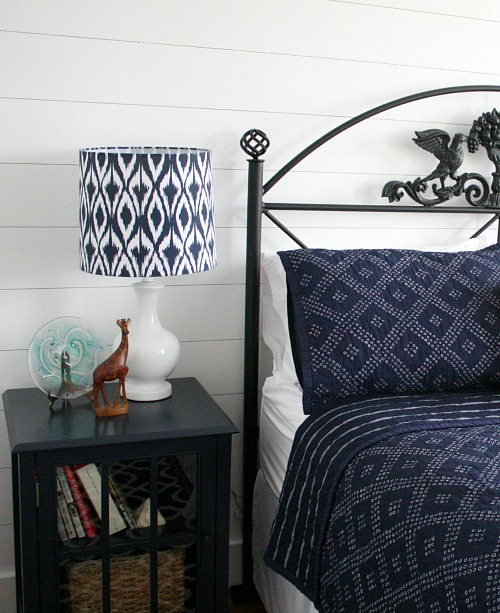 When Jake came home for Spring Break and saw the room for the first time, he was so surprised.
He had no idea we were doing this much to it and couldn't get over how much better it looks now.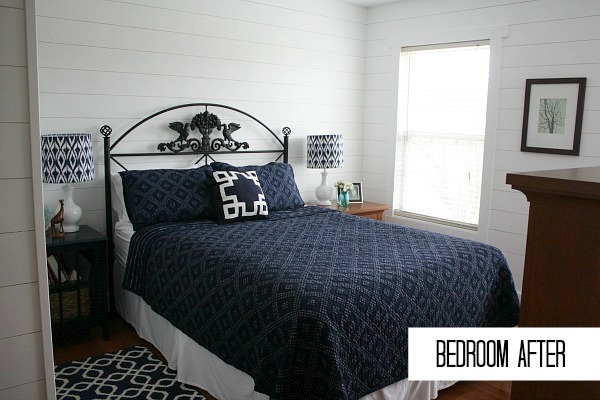 It seemed to make him happy, which of course made me happy.
Totally worth all the work just to see the smile on his face!