For those of you who have asked how our new sunroom is coming along, I thought I'd give you an update. I took this photo a couple of weeks ago when I found someone enjoying it already!
Since then, things turned bitterly cold and snowy, and we realized we really needed to insulate. We had gone back and forth over it because we're already WAY over budget (remember, this started as a screened-porch project!), but we bit the bullet and ponied up the extra $900 to insulate the floor, walls, and ceiling.
Here's how it looked after the insulation was added and the beadboard ceiling was installed: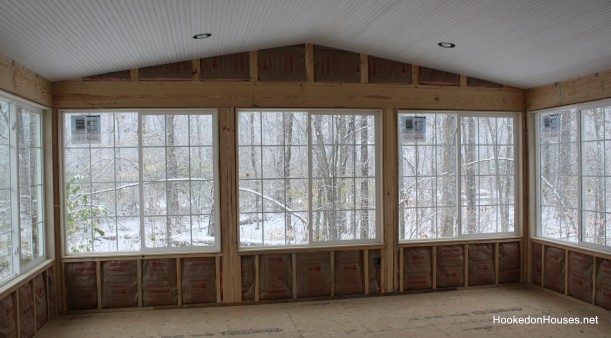 Next came the beadboard and trim on the walls: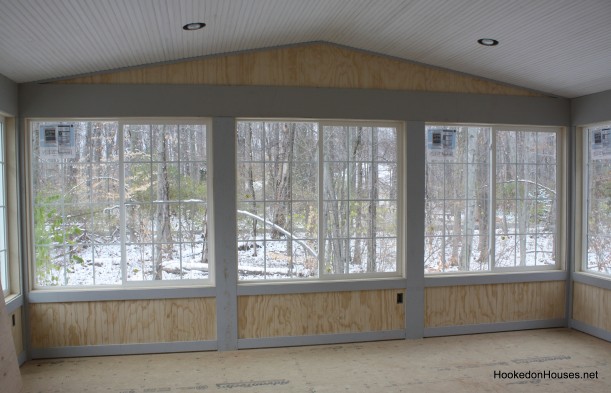 It's now getting painted white, so it's looking really bright and cheerful, and the electricians were just here to install the ceiling fan, can lights, and heating/AC unit. Here's the ceiling fan we went with (Harbor Breeze Tilghman):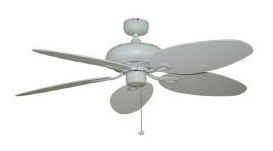 And the light fixture that will go by the back door, on the brick wall, to replace the security lights that were there: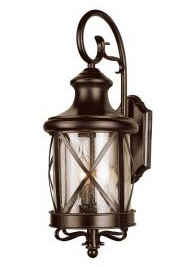 Today the tile is supposed to be installed, and the flooring guys should get here any minute. Yay! We chose Castle de Verre in "Grey Stone:"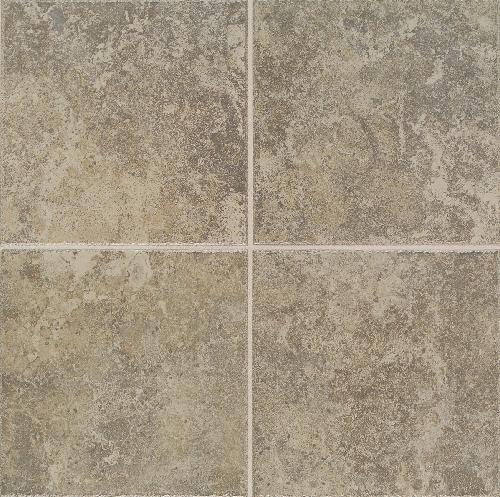 It has been so beautiful out there with the snow falling all around that we can hardly wait to use the new room. I'll let you know when it's finally done.
*1/11 UPDATE: It's finished! You can see how it turned out here.
You can read more about the Sunroom here if you want to see how the back of our house looked before we started!

Welcome to the third and final Hooked on Holiday House Tours party of the year! Last week I showed you the white Christmas tree in…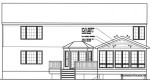 Remember when I showed you our plans for a sunroom back at the beginning of November? Well, after a couple of months of hard work…