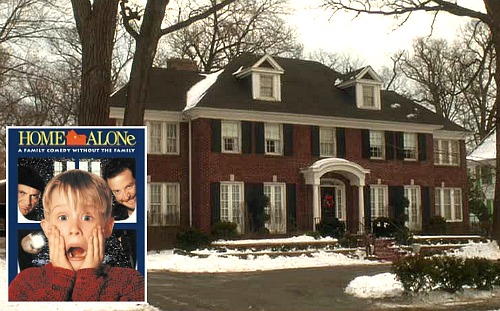 The 1990 John Hughes movie Home Alone made both Macaulay Culkin and the red-brick Georgian-style Colonial his character Kevin lived in famous. It remains one of the most popular and beloved movie houses ever, and it's on the market in Winnetka, Illinois for $2.4 million. Let's see how the real house looks now compared to the sets that replicated it on a soundstage for the movie 20+ years ago.

The "Home Alone" Staircase: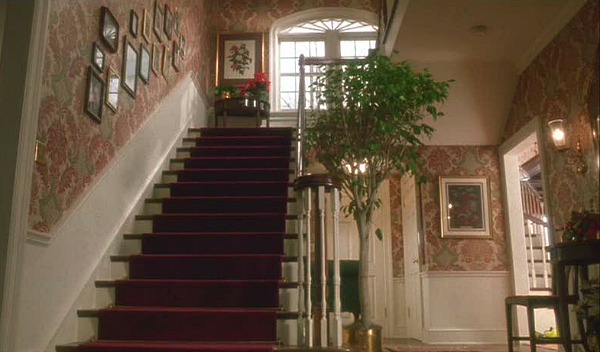 The real staircase shown in the listing: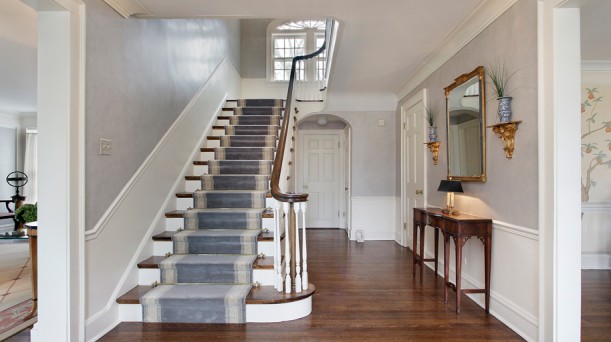 A couple of years ago I posted photos of the house that were taken in 2004, when the runner on these stairs was still red like it was in the movie. (You can see those photos here: Inside the Real Home Alone House.)
Despite the close resemblance between the actual rooms and the ones in the films, only a few of the interior scenes were shot inside the real house. Director Christopher Columbus talks in the DVD commentary about carefully recreating the interiors on a sound stage in a high school gymnasium, which made it easier for them to perform all those crazy stunts without, you know, burning the house down or anything. (More info here.)
French doors led to the home office in the movie: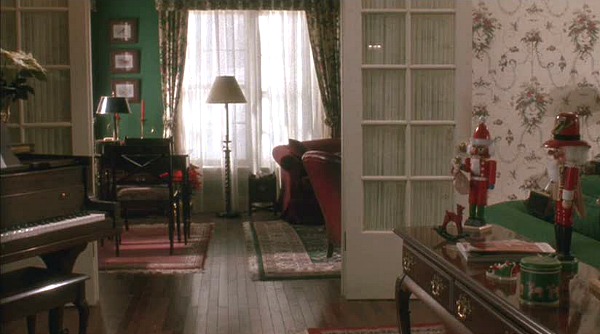 In the listing: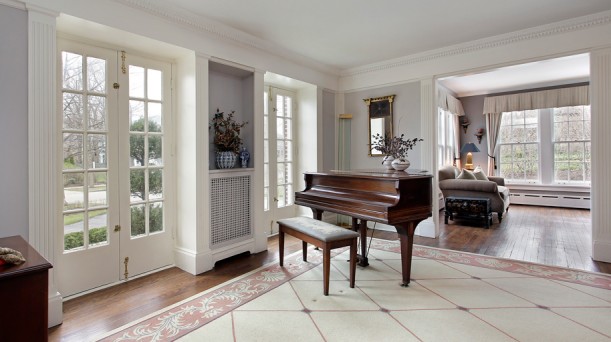 It's amazing how different it looks without the red and green and the patterned wallpapers it used to have. The gray makes it look understated and elegant, and the great bones of the house are what stand out now. It no longer looks like a warm and cozy "Christmas house."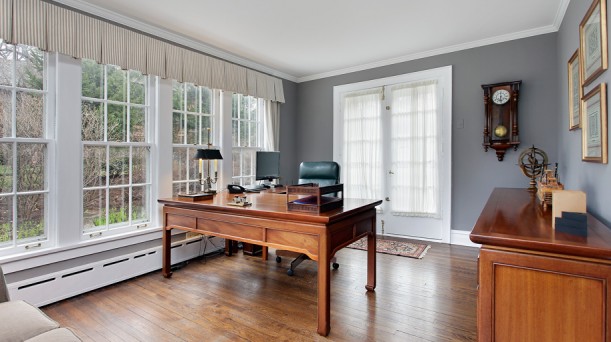 The red & green kitchen in the movie: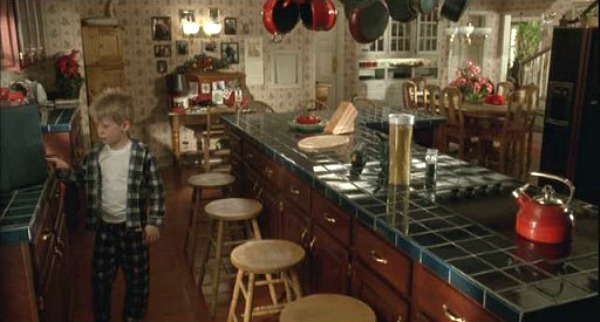 The kitchen may be the the room that looks the most different. In Home Alone it had green tile countertops, dark wood cabinets, and wallpaper on the walls.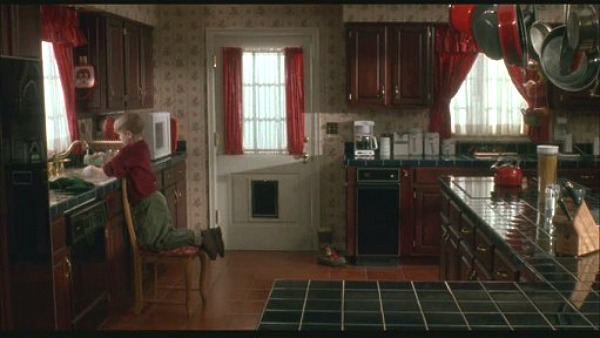 The real kitchen is nothing like the movie version: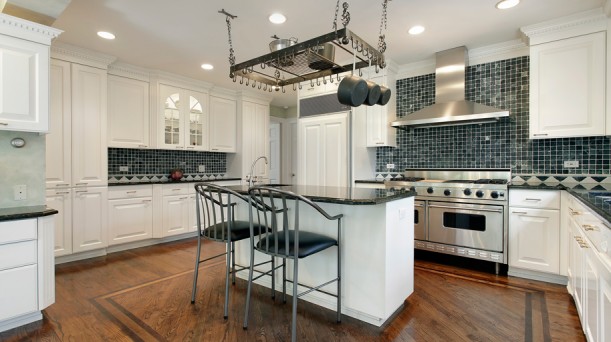 The kitchen eating area in the movie was one of my favorite rooms of the house, chiefly because of that wonderful back staircase: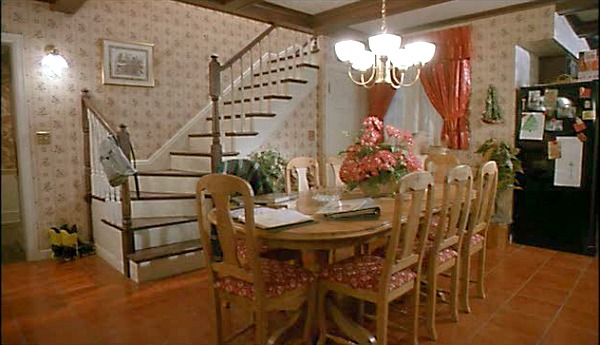 But according to the floor plan provided in the listing, it looks like there's only a staircase behind a door off the kitchen going down to the basement. Bummer.
The Real "Home Alone" House Floor Plan:
The eating area in the listing shows doors that lead to a screened porch: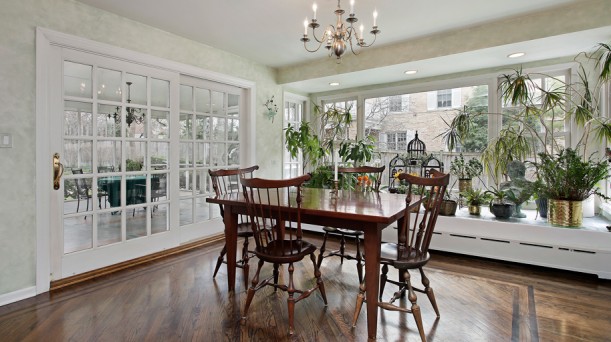 The house has 3 stories and 5 bedrooms.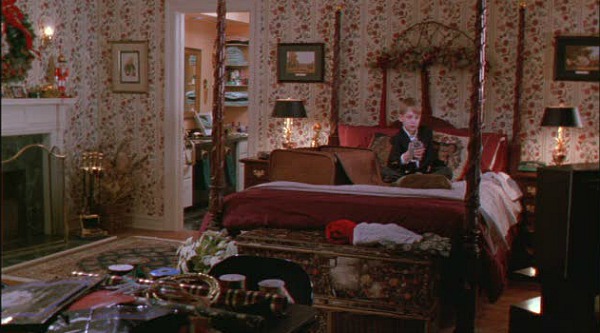 The real master bedroom in the listing: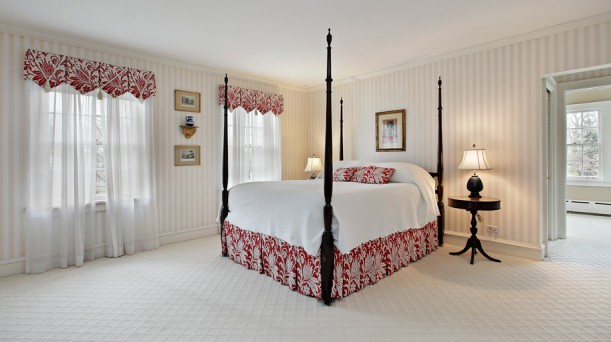 In this shot from the movie, you can see all the different wallpaper patterns they used: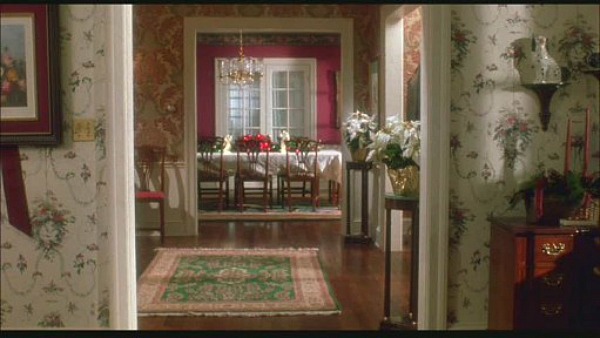 The dining room walls were hand-painted by artist Sydney Barton in the real house: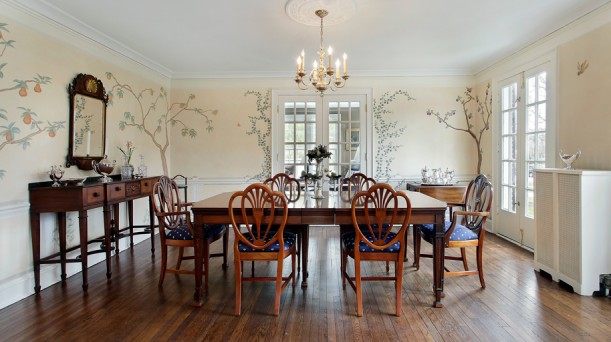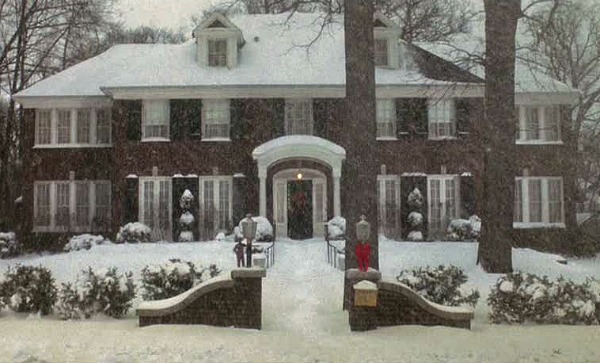 Listing agent Marissa Hopkins of Coldwell Banker says, "The $2.4 million isn't just because of its cinematic history. It really is a residential masterpiece." More photos: Inside the Real Home Alone House. (UPDATE: It has since sold.)

P.S. Visit Houses Onscreen to see more, including…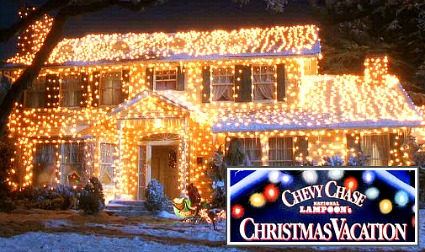 (Visited 67 times, 1 visits today)