Designer Bunny Williams decorated the Southern Living Idea House near Charlottesville this year, described as "A modern interpretation of a classic Virginia farmhouse." Sounds good to me! When I saw this stone and clapboard exterior, I couldn't wait to get a look inside.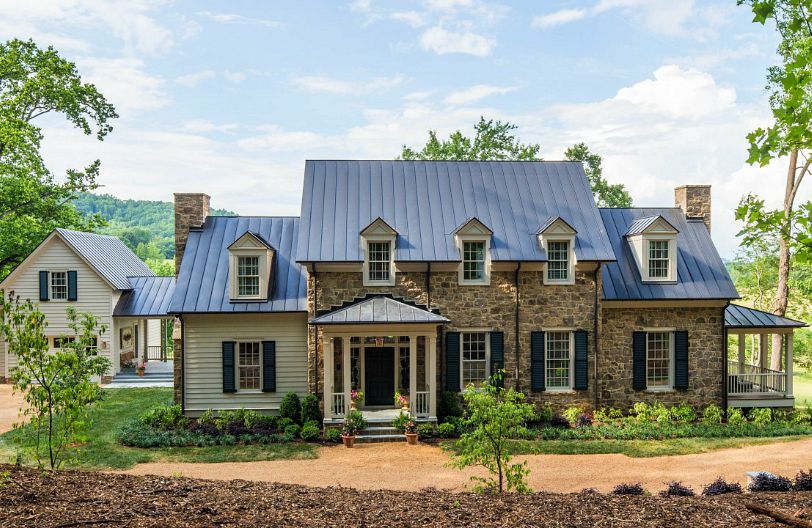 The showhouse was designed by Rosney Co. Architects in the 2,300-acre conservation community of Bundoran Farm.
Columned Portico:
Foyer: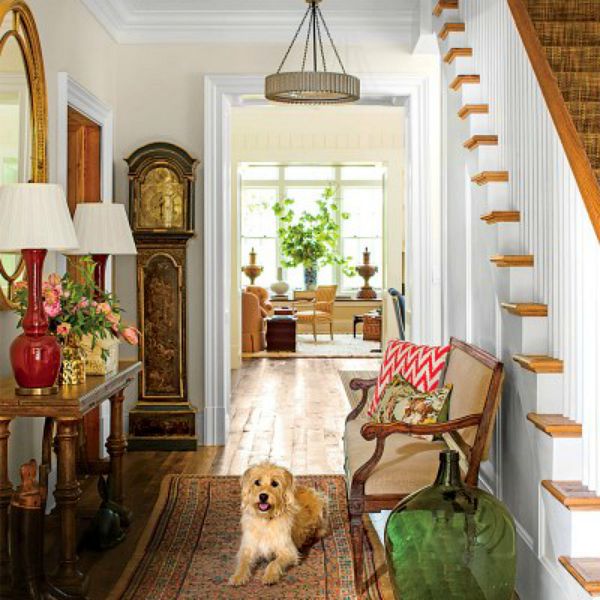 Bunny says her mother always had a red Oriental rug like the one she put in the entry hall here: "She'd say, 'Look at the color of your soil, and get a rug with that background.' " Made me laugh. I guess I need to stock up on a lot of brown rugs, then!
Living Room:
They used the extra-deep window seat as a decorative surface, but I'd want to sit in it!
The Library:
Why does having a dog in house photos always make a room look better? I saw similar shots of this room without him in it and it just wasn't the same. 🙂
Bunny calls this "the elegant man-cave" with heart-pine paneling like you'd find in a lot of old farmhouses in Virginia.
The Master Suite:
This is the only room with window treatments in it: "In most rooms, I didn't want to detract from the view, but in bedrooms you need to be able to control the light."
The photos posted on Southern Living were sooo small. I enlarged theirs as much as possible and tracked down some bigger ones on other sites like Small & Chic, which had this nice shot of the bedroom fireplace wall:
The bathroom walls were painted Sherwin Williams "Hinting Blue:"
"Pajama Lounge:"
Bunk Room:
Casual Dining Room:
Shirley at Housepitality Designs toured the house in person and got this shot that shows the other side of the room with a flat-screen on the wall:
The Kitchen: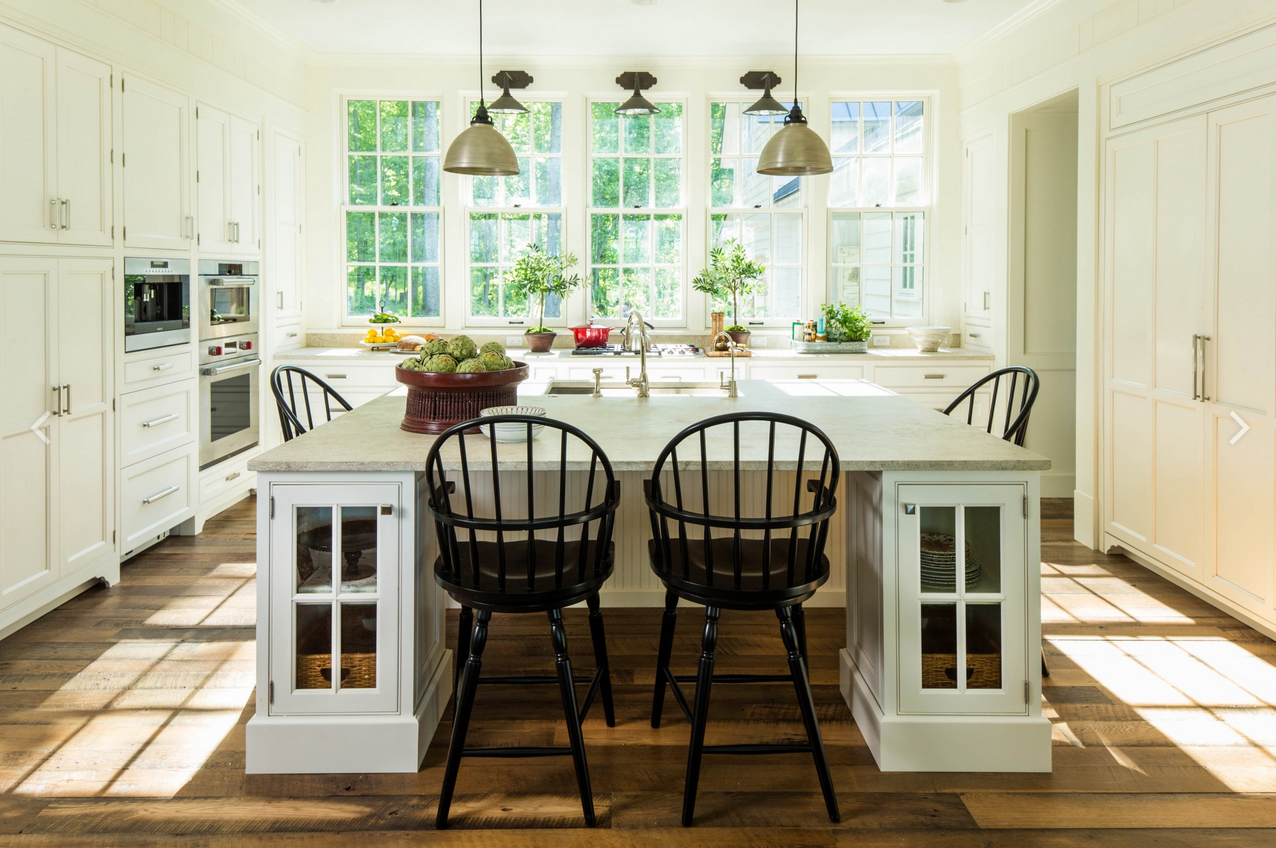 Bunny opted for a white kitchen with wood floors and limestone counters to "infuse the kitchen's modern design with a casual farmhouse feeling," according to the architect.
Pantry:
The pantry has dramatic navy cabinets and a ceramic graphite backsplash.
Floor Plan:
Don't you love seeing floor plans? It helps me visualize how everything's laid out. Here's how the first floor looks (via Small & Chic, which also has the second floor and more photos she took of the house):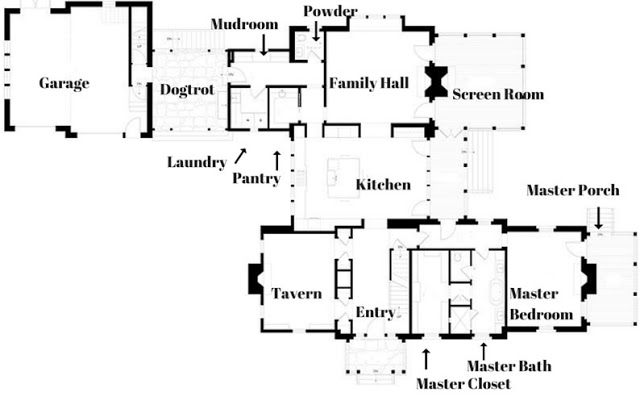 The Mudroom:
Outdoor Spaces:
"We wanted to take full advantage of all the outdoor spaces in this house, and this open-air room really does that," the architect says.
There's a large oversize soapstone sink designed by the architect in the "dogtrot" space between the garage and back door:
"It's a great place to arrange flowers or to wash up before going inside," says Rosney Co. (I want one!)
The 2015 Southern Living Idea House is near Charlottesville in North Garden, Virginia. It's open for public tours until December 27th. If you have a chance to go, let us know what you thought about it. I wish I could make the drive over there to see it myself!
Bunny Williams says "Your home should be the most comfortable place you can imagine." It's nice to see a showhouse that looks as relaxed and "pull-up-a-chair" as this one does. For more photos and information: Southern Living, Housepitality, and Small & Chic. (Official photography by Laurey W. Glenn.)
Thanks for all of your kind words about the new site design this week. We're still getting the kinks out, but it's getting there. I'm insanely excited about some of the changes, like the fact that I can post bigger pics now. I'm also loving little details Cathi added like the "roof icons" in the comments. So fun.

P.S. Visit Stone Houses to see more I've featured, including…
[soliloquy id="72971″]
(Visited 398 times, 1 visits today)