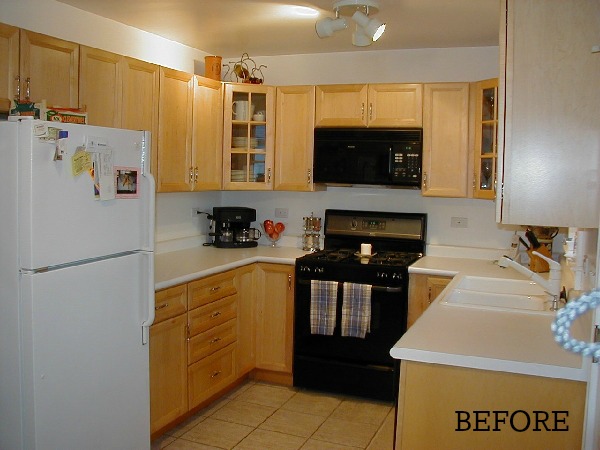 When Maribeth submitted her kitchen for my contest, she called it "Our Million-Dollar Dream Kitchen on an IKEA Budget." Her family of 5 lives in a 1949 Cape Cod in a suburb of Chicago, and she says they were "bursting at the seams in our cozy cottage. Our goal was to add a small amount of space that would give us a ton of functionality. We expanded our kitchen by ten feet and it made a world of difference!"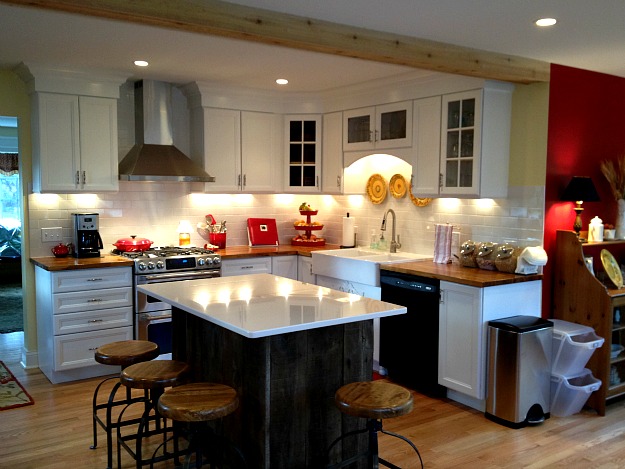 She writes, "As is the case with many construction projects, the bids came back much higher than our budget. We knew the place we could cut out the most cost was in our cabinetry and counters. We reused our existing cabinets and reconfigured them in the new space, adding just a couple of extras from Home Depot to make it complete.
"IKEA played a large role in our budget remodel. For the perimeter we used IKEA's oak counters. Our enormous farmhouse sink is also from IKEA, as well as our microwave cart."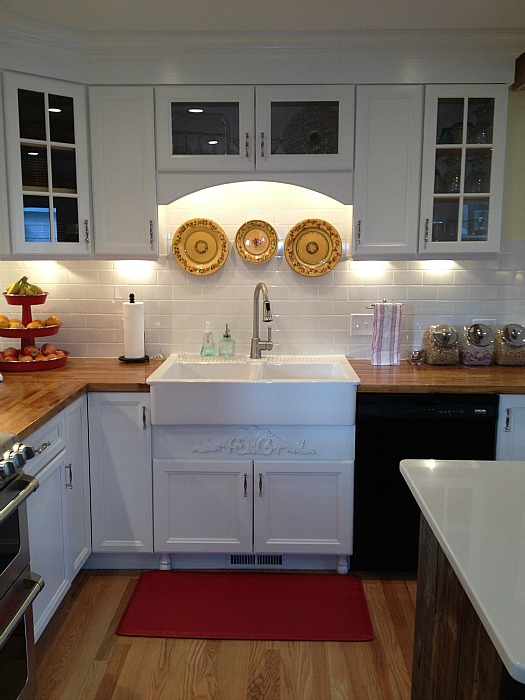 "To give the illusion of cabinets that went all the way to the ceiling, we installed our existing ones 7 inches higher and added crown molding, then painted everything white. Another way we saved money was by using a furniture piece as our pantry."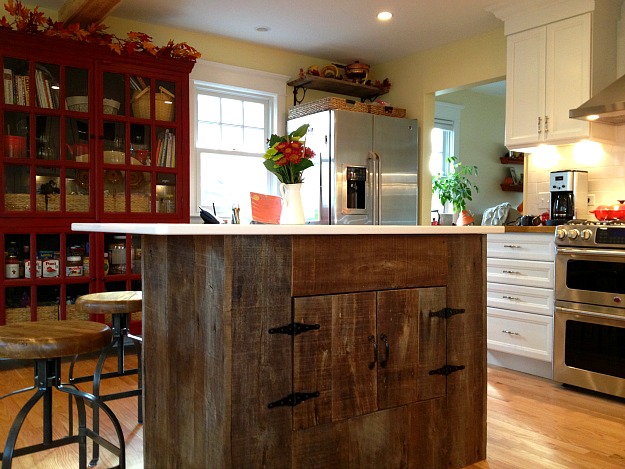 "One of my favorite things in the new kitchen is our island. We used a decades-old wooden workbench that was in our basement when we bought the house. Our carpenter wrapped it with old barn wood from my husband's family farm to add more stability.
"We love that we were able to incorporate some family history into our new and improved space (and the unique piece cost us less than $200)!"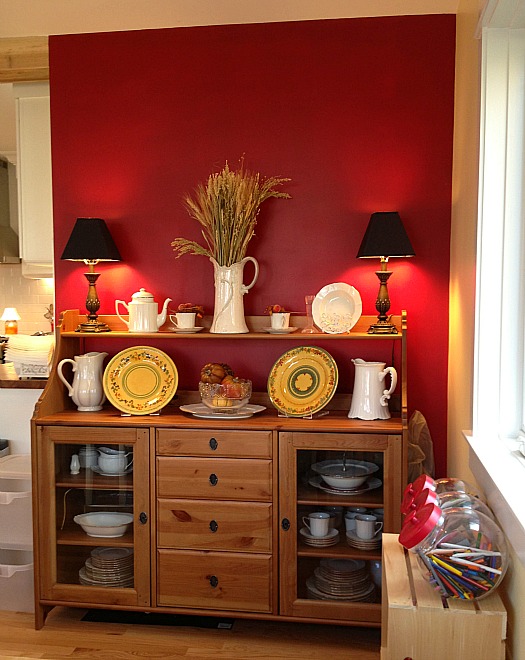 Here's another "before" photo from a different angle that shows how truly tiny the room was: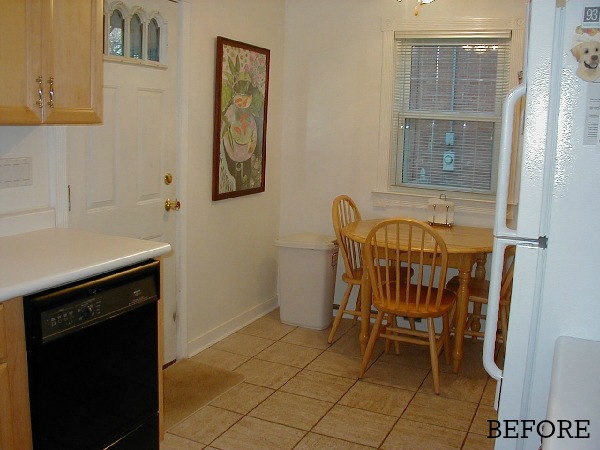 For the new seating area, "We even used IKEA cabinets to make our banquette bench."
Before we leave Maribeth's kitchen, I just had to include this photo of the pretty-but-practical space they created by the door, too: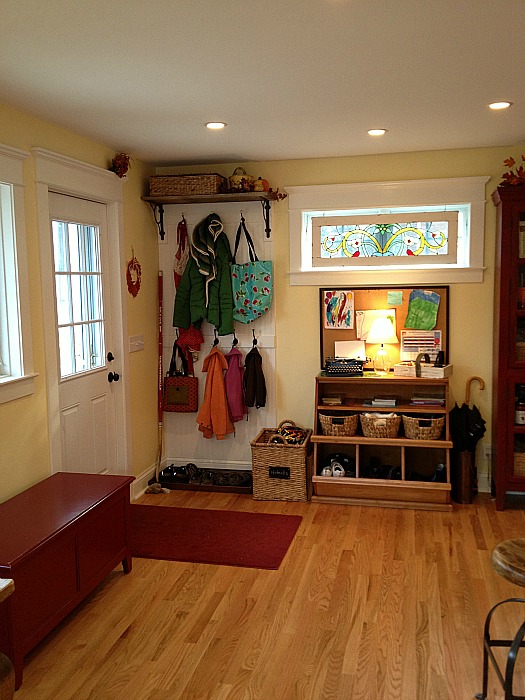 Maribeth says, "Our new kitchen truly has changed the way our family lives. By using our creativity and looking for bargains, we created a space that is a genuine representation of who we are and the style we love."
Thanks to Maribeth and all my other readers who shared their kitchens with us for my contest. All week I'll be showing as many of the entries as possible, so stay tuned!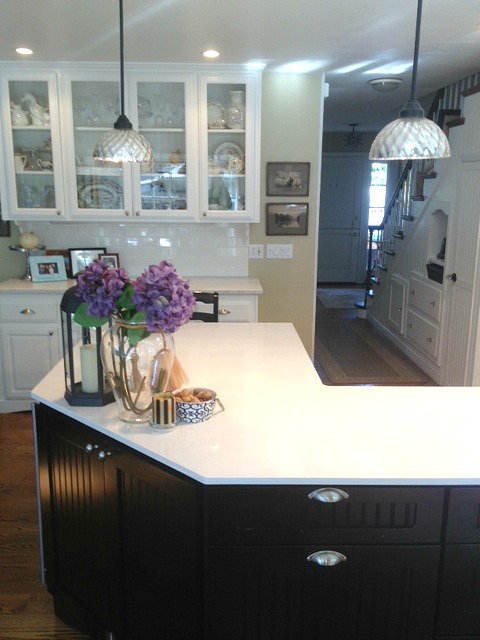 Welcome to Day 2 of Kitchen Week at Hooked on Houses! This is Martha's kitchen in Danville, California. When she submitted it for my contest…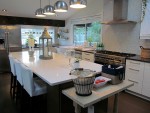 When a reader named Julia submitted these photos for my Hooked on Your Kitchens Contest, she explained that they did it all on a limited…