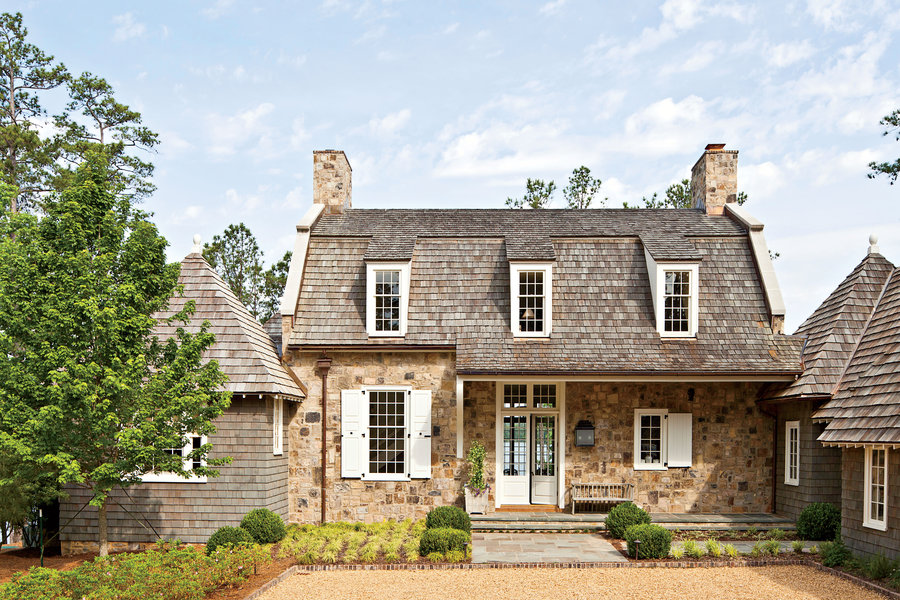 Birmingham architect Bill Ingram designed this charming stone and cedar shingle lake house on Lake Martin with enough traditional details that it looks like it could have been there for decades. Southern Living magazine dubbed it the "Best New Home" of the year — take a look!

Southern Living Named This Lake House "Best New Home"
The cottage-style windows totally charmed me. The Southern Living article by Zoë Gowen says they "have a top sash that's shorter than the bottom—making them appear taller. Paneled shutters are outfitted with operable iron hardware."
For the exterior they used Alabama natural stone and cedar shingles.
Inside they incorporated some minimalist elements like the open staircase in the entry hall that allows the stone wall behind it to be a focal point.
"I always design floor plans to pull visitors toward the daylight," Ingram says. The entry hall was elevated to provide a view of the lake when you walk through the front door.
In the kitchen, they used Benjamin Moore's Galapagos Green paint in high-gloss oil on the ceiling that adds a little drama:
I wanted to see more of the kitchen. After a little digging, I found this wider shot of it from Lake Magazine taken by Kenneth Boone:
It's amazing the difference lighting makes in a photo, isn't it?
The lake house's traditional look with bookending chimneys was inspired by Early American Colonial architecture. SL Executive Editor Jessica Thuston says, "It looks like a historic country house, yet it's new!"
The back of the house has plenty of large windows to take advantage of the water views. Even the storage shed in the back is beautifully designed:
Here's another view of the front of the house from Ingram's portfolio:
I found this photo of the back of the house on his Facebook page, taken from the lake:
Visit Southern Living for all the photos by Laurey W. Glenn and to read the article by Zoë Gowen. For more information about the architect, visit Bill Ingram's website.

 P.S. Hooked on houses with water views? Check this one out on Lake Michigan:
(Visited 33 times, 1 visits today)