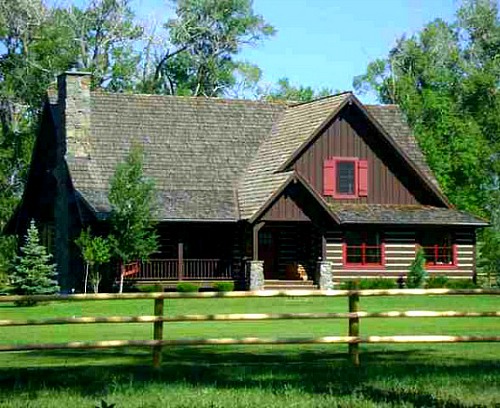 A reader named Alicia wrote me about the house in Montana she built on 180 acres near the small town of Ennis.
She says, "It's a pretty special place. Kind of rustic but with a bit of English country style. It's tucked in a forest of Cottonwood trees, but we have unobstructed mountain views of the Madison range from the front door."
She found my blog while searching for photos of the house from On Golden Pond: "We recently purchased a little cabin in the mountains out here in Montana and my decorating plan for it is similar to the home in the movie, only with a bit more Adirondack-rustic thrown in."
That means selling this one first, though. Take a look!

A House in Montana with Rustic English-Country Style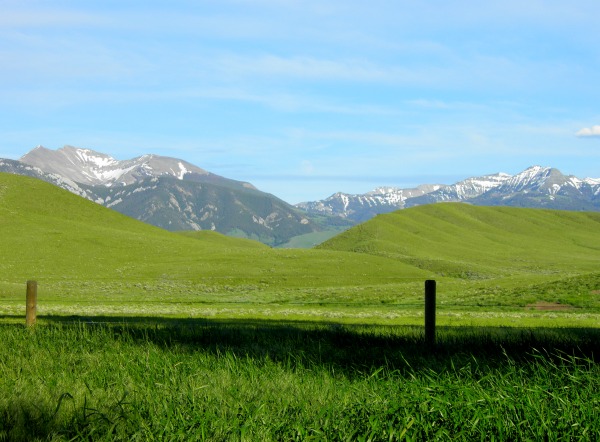 "Jack Creek flows just steps away (full of brook trout!), and there's a private pond nearby."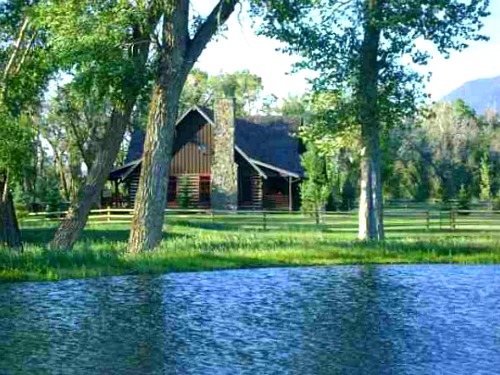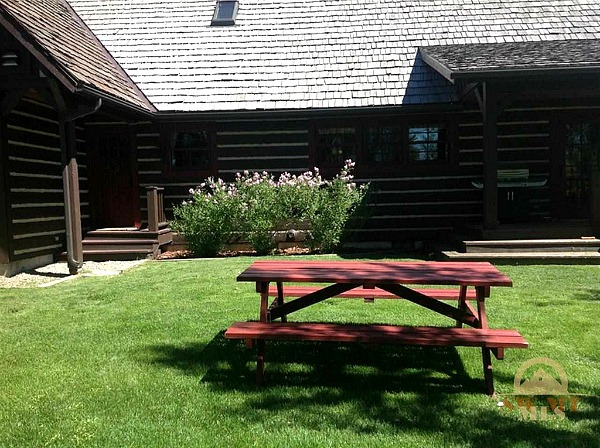 The house has 3 bedrooms, 3 baths, and 3,100 square feet.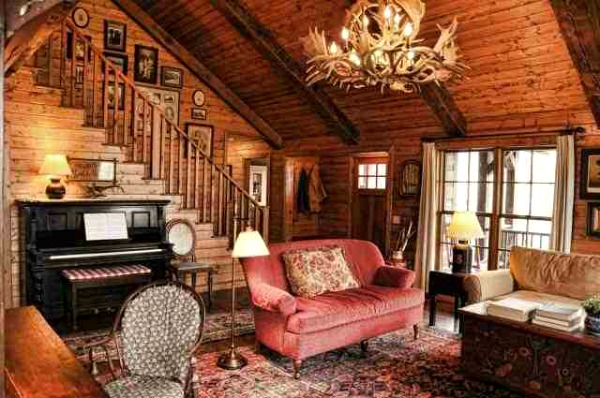 "The centerpiece of the living room is the rock fireplace. It is wood burning, and we use it as the main source of heat in the winter (and occasionally in the summer too…this is Montana, after all!)."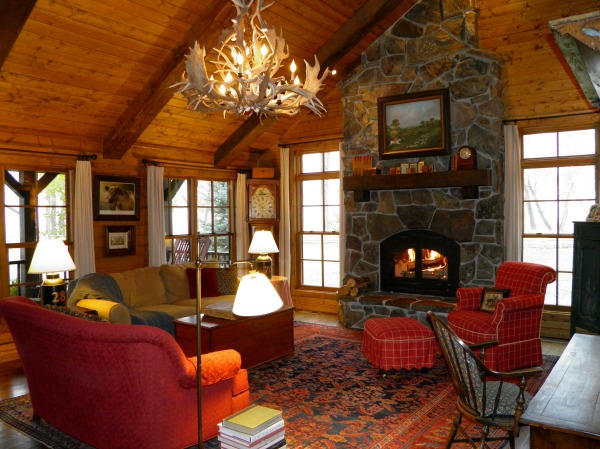 "All the fixtures in the main areas of the house are created from antlers. They are shed naturally every winter by deer and elk. A company based right here in Ennis creates these magnificent chandeliers."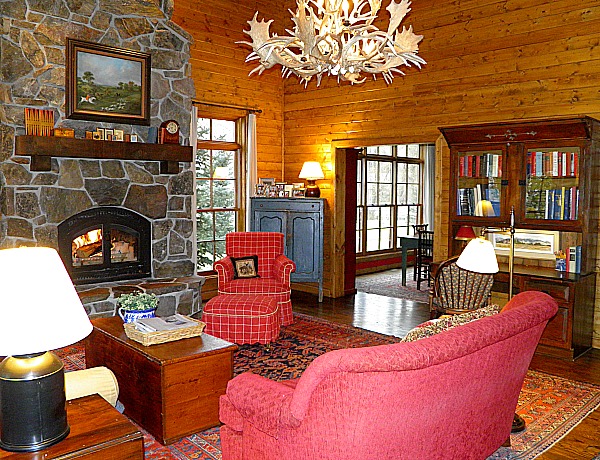 She says, "I love a library-dining room, so I lined the walls with overstuffed bookcases. I found the awesome stove at auction….it is not hooked up, but hopefully a future owner will take the time to do so, as it would be such fun to enjoy a dinner on a snowy evening with the stove blazing!"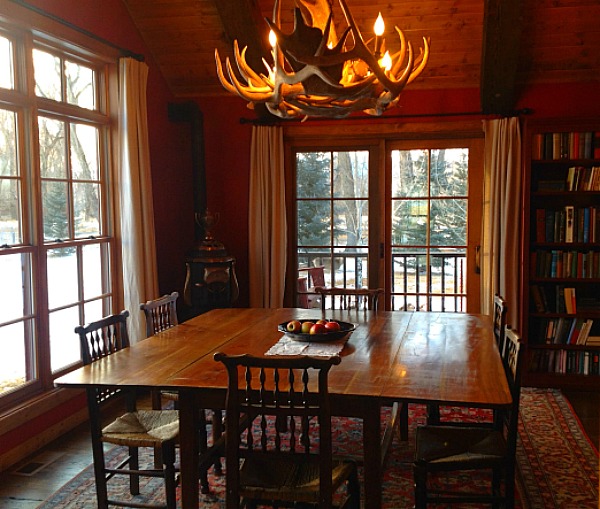 "The windows showcase the view of the pond, and all the animals that visit it…most often, moose and deer."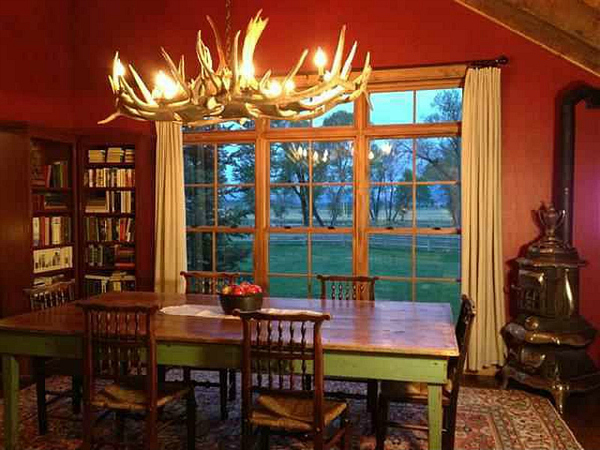 I love her kitchen, which she says is her favorite room in the house: "It functions beautifully, and believe me, we put it through its paces every day! The farm sink is a true antique."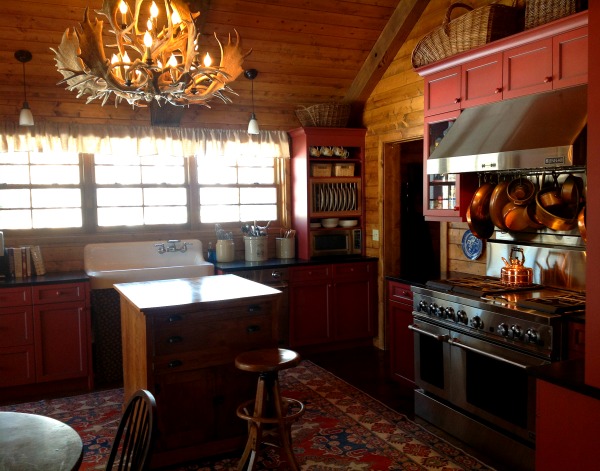 "My mother was an avid collector of Blue Willow, and I love being able to display a small portion of her collection."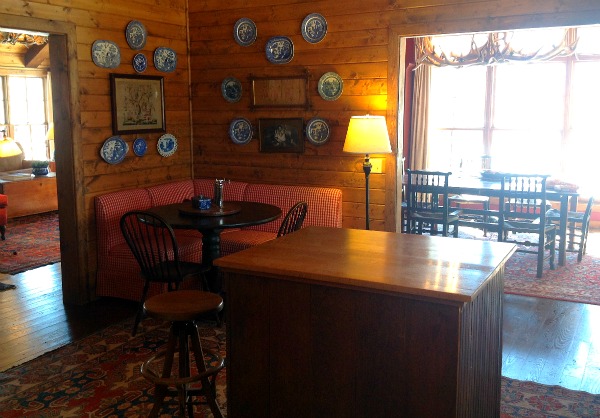 "The contrast of the rough and rustic next to things that are more fragile and refined is interesting to me. I also feel a need for color, warmth and softness when there is so much wood throughout the house."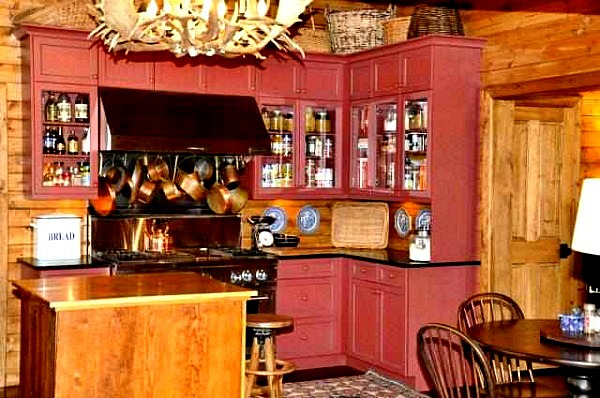 "I ADORE dark walls….they just disappear! I can put anything with it and it always looks beautiful. The budget didn't allow for wood paneling in the bedrooms, so I had to settle for drywall. But it gave me a place to play with more color."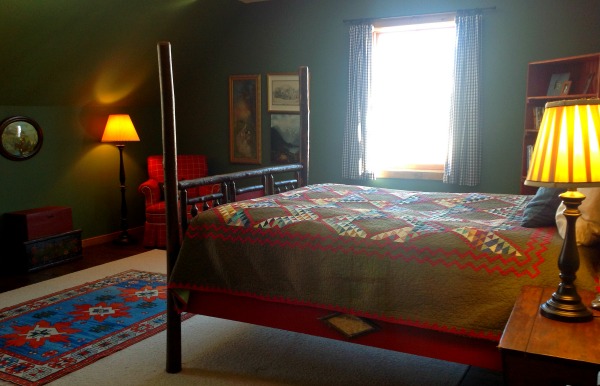 She had fun decorating the bathrooms: "I found this great old window with its original advertising painted on it. It makes a great mirror, although it can be hard to see a good reflection of yourself. Fortunately, my son is 13, so he doesn't care how he looks! The old dentist's chair is fun to sit in and recline."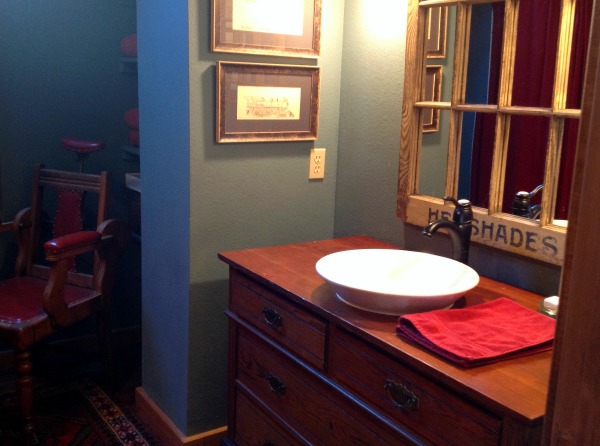 "I love to use antiques," Alicia says. "They add so much character, and the scratches and dents
from our active family only add to their patina!"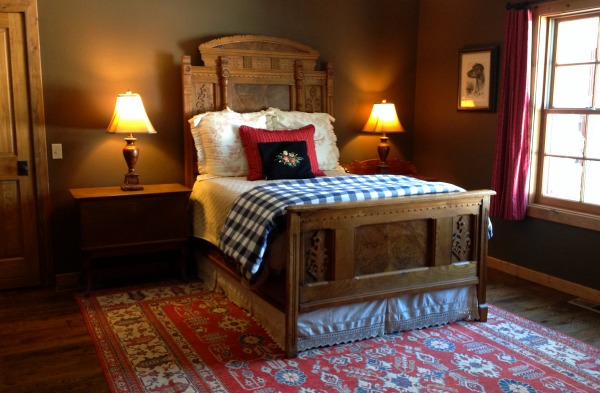 "I never like a bathroom to look all white and sterile….I want it to look like a REAL room! I had fun with the master bath creating a library feel. The oriental rug, bookcase and wood vanity really make it fun to be in there."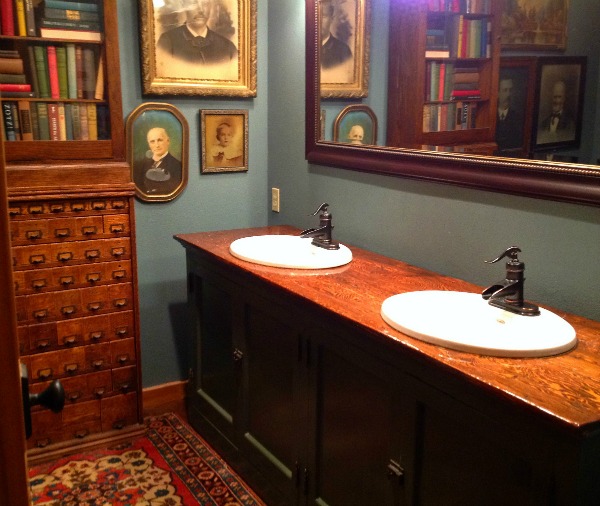 "The game room (a.k.a. the man cave) is a fun place for all of us to hang out with friends.
The couch folds out for guests and there is stove in the corner for cozy heat."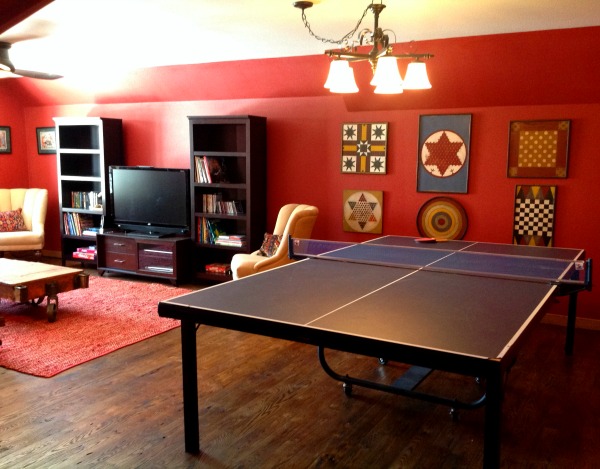 The Laundry Room: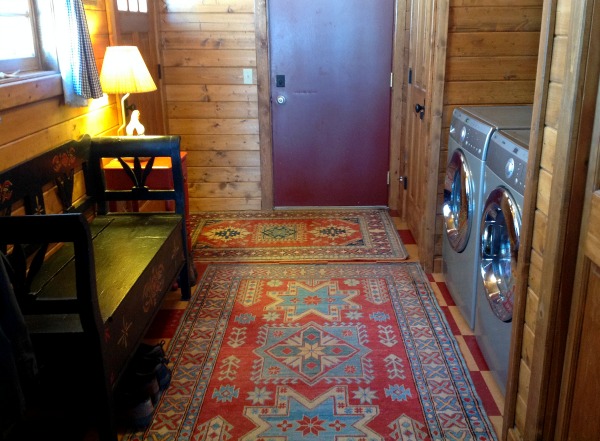 "Thanks to our special location, we see abundant wildlife including moose, dear, elk, bear, bobcats, antelope, river otters….the list goes on and on.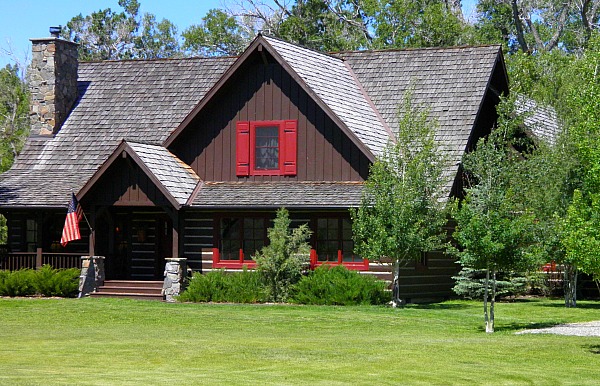 "A barn, chicken coop, and tree house complete the homestead. Our home is about 60 miles from Yellowstone and just 15 from Big Sky Ski Resort."
"Our land, as well as all the surrounding Ranchlands, are protected in a conservation easement that guarantees no future development will take place. This paradise will remain intact for all future generations."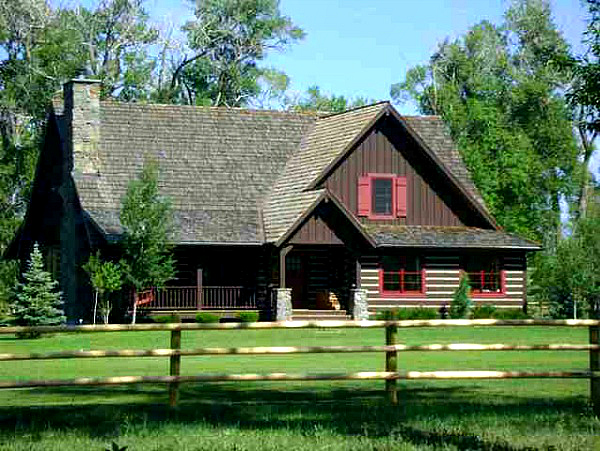 I love it when readers share their house stories with us. Thanks to Alicia for sharing her house in Montana with us!