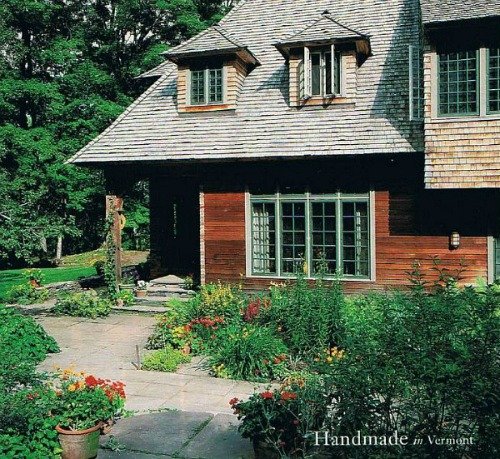 Shortly after I got married, my mother-in-law gave me a gift subscription to Better Homes and Gardens, and she's been renewing it for me every year since (thanks, Norma!).
That means that when the September 1998 issue came out, I probably saw (and loved) the feature about the artist and furniture maker Lark Upson's "Storybook Cottage" in Vermont.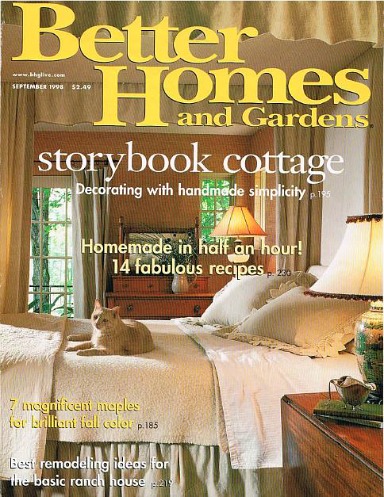 When Realtor Lisa Grady told me Lark is selling the cottage that she designed herself in Marshfield, I was excited to take a look at both the original article about it in BH&G and the house today.
Lark told Yankee Magazine, "The cottage was my 'poor man's tribute' to both Edwin Lutyens [Britain's premier Arts and Crafts architect] and his frequent collaborator, Gertrude Jekyll [the famous 19th- and early-20th-century garden designer]."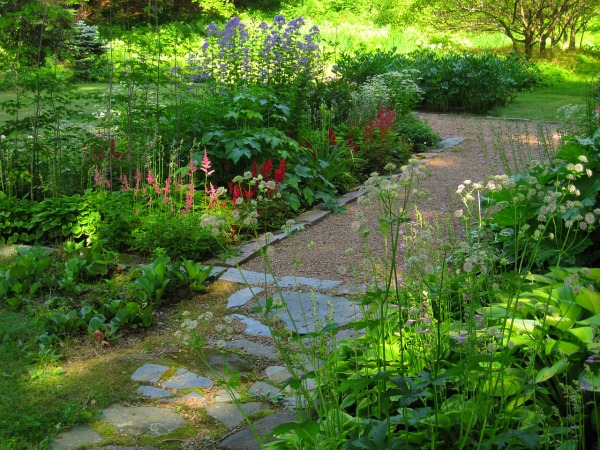 She and her husband Jack were married here at the house shortly after building it.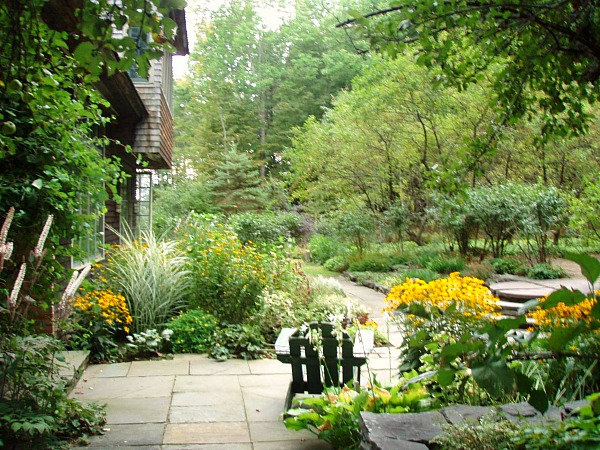 The listing says, "Tucked into 42+ acres with mountain views, buyers seeking a year-round retreat will delight to snowshoe or cross country ski on adjoining trails, walk along the scenic country road, or seek solace and creative inspiration in the surrounding beauty. Easily tended gardens of peonies, crabapples, perennials and flowering shrubs."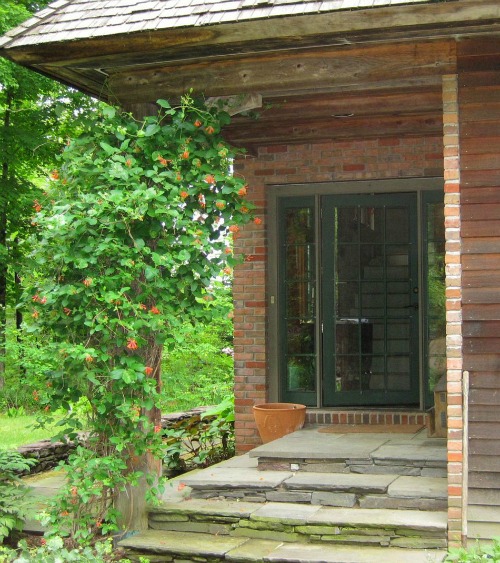 "Inspired by English Arts & Crafts design and featured in national decorating and lifestyle magazines, this home is a delightful combination of soaring spaces, cozy nooks, grace and architectural impact."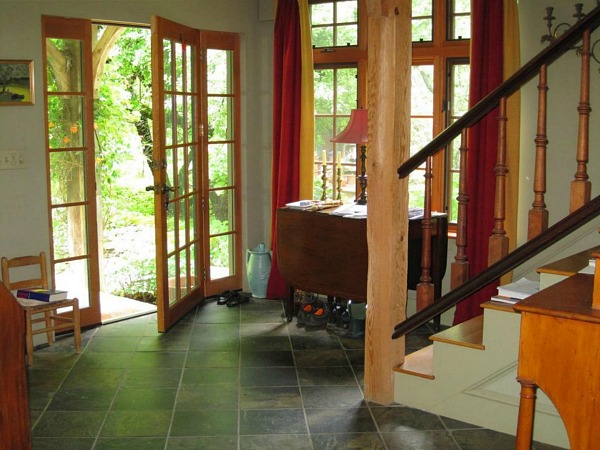 Here's a scan from the 
Better Homes and Gardens 
feature, with the headline "Handmade in Vermont."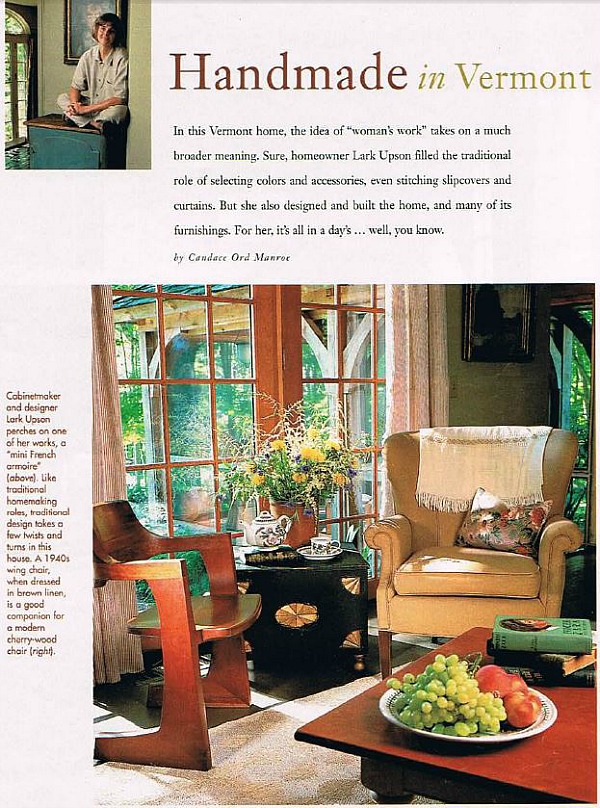 The living room looks warm and cozy with the brick fireplace and natural wood.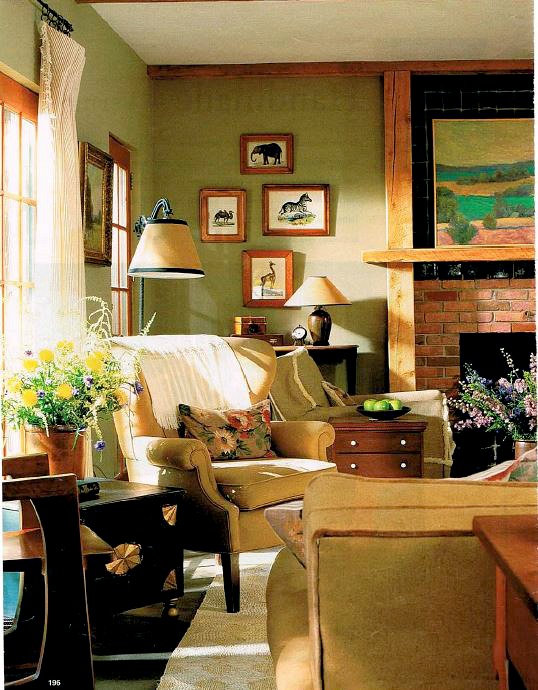 Lark learned about art and design from her mother, who was a painter and sculptor,
and her father, who was a custom home builder.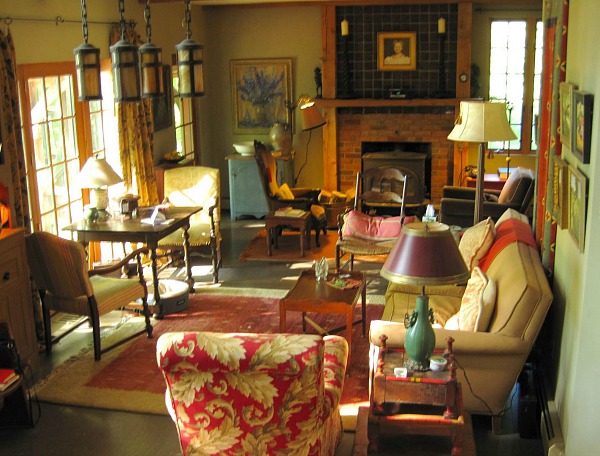 According to BH&G, "A couple of boring desk jobs helped her focus on a career in cabinetmaking and construction. One result has been this home, where her design and building skills culminate under one roof."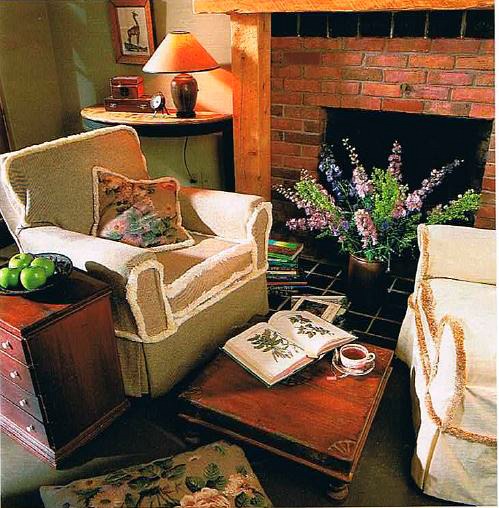 Going down several steps, you come to the dining room, featuring a mix of old and new, from a birch chest that dates to the 1700s to the contemporary light fixtures: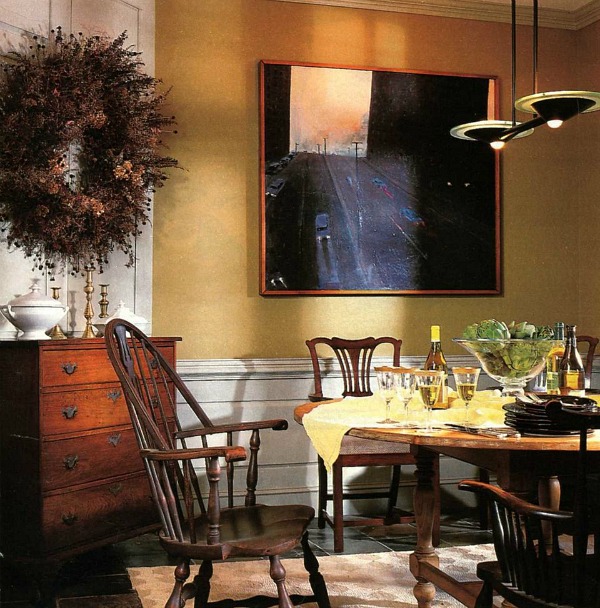 Lark crafted the cherry bed in the guest room shown in the BH&G article herself and handpainted the border around the room, which was inspired by a Minton china pattern.
The Japanese tea chest at the foot of the bed is an antique:
The house has 2 bedrooms and a little less than 2,000 square feet.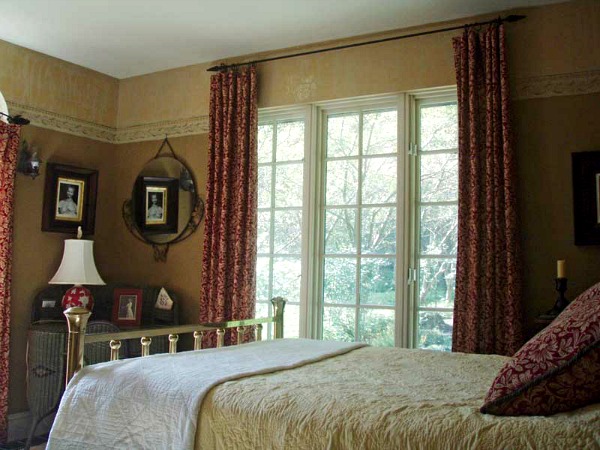 The BH&G photos were taken by Jessie Walker, who died a few years ago at the age of 88. She was known for taking beautiful photos for many of the major shelter mags, including Architectural Digest and Country Living.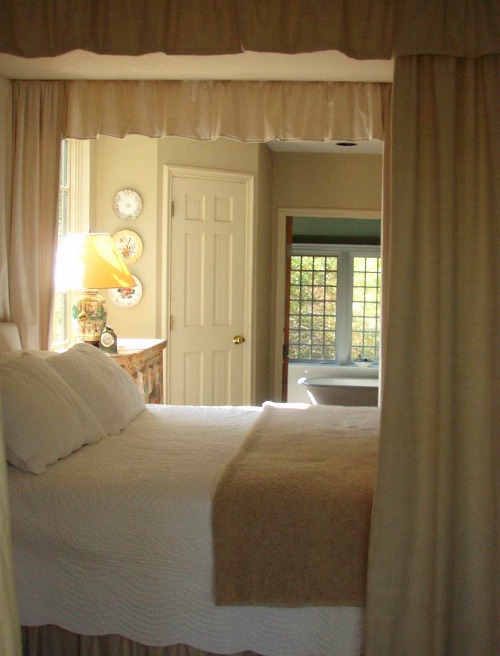 Lark calls the open space upstairs "The Situation Room" because "it's where stuff gets done." During construction, she liked the cathedral-like lines of the framing timbers so much that she couldn't bring herself to cover them up with a normal, flat ceiling.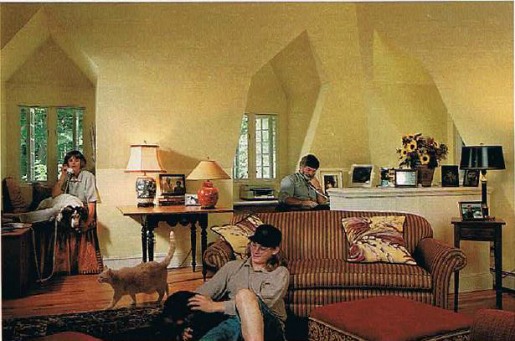 On the other side of the "situation room" you can see the top half of the two-story oriel window that defines the kitchen below.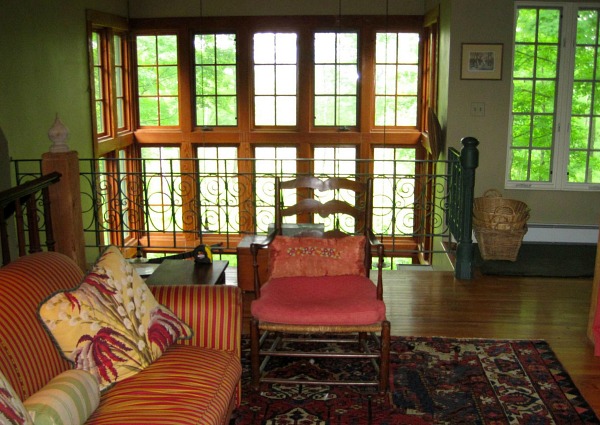 If you look down over that railing, you can see the sunny kitchen: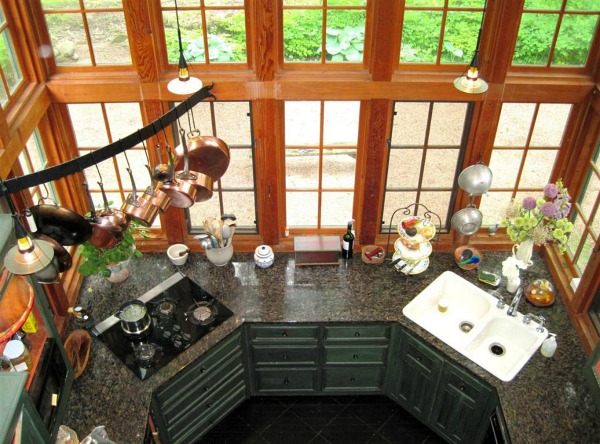 The clay and tile backsplashes (with antique tiles depicting nursery rhymes that she had saved for 15 years, waiting for the right place to use them) and handbuilt cabinets give the two-story kitchen with dramatic oriel window English-cottage character.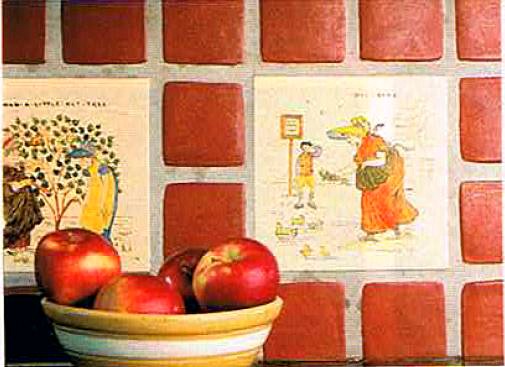 In the magazine, the cabinets were a rusty red color. In the listing photos, they're a soft shade of green.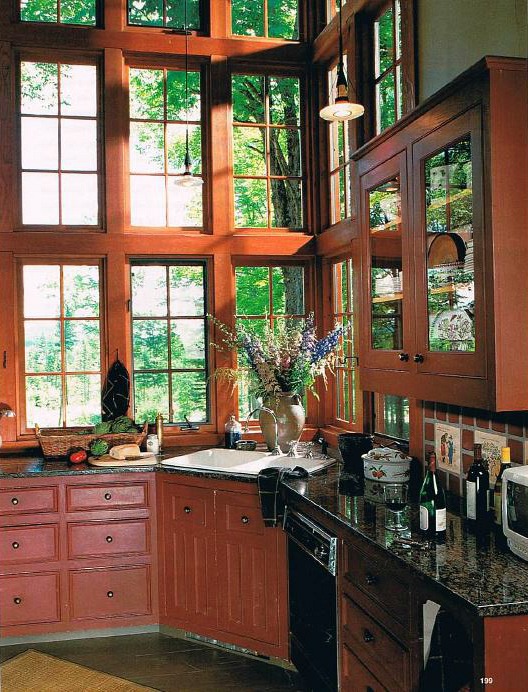 Outside, a gazebo-like screened porch is connected to the living room by a screened walkway: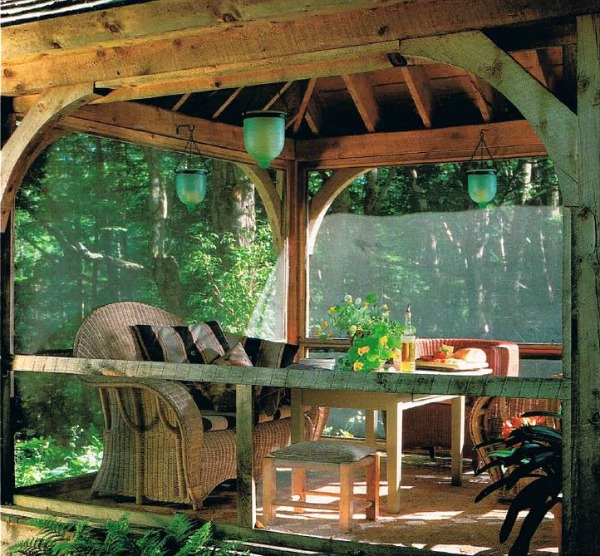 The BH&G article said: "The slate-shouldered chimney was based on designs by Edwin Lutyens, a British Arts and Crafts architect."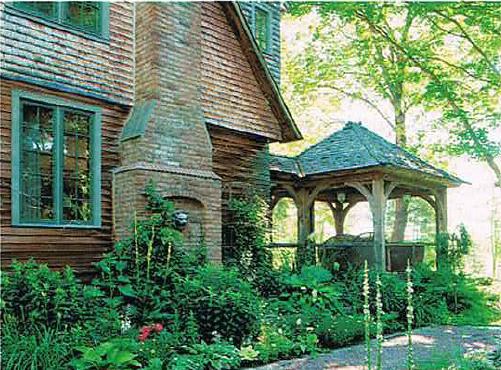 She built the house in 1989, but she isn't just talented when it comes to design, construction, and furniture making. The Seven Days website reviewed an exhibition of her oil paintings:
About six years ago, she gave up her business, Lark Upson Design, for two reasons: the tanking economy and the arthritis in her hands. She turned to painting. These days Upson says she's hooked on portraits: "I do it all day, every day."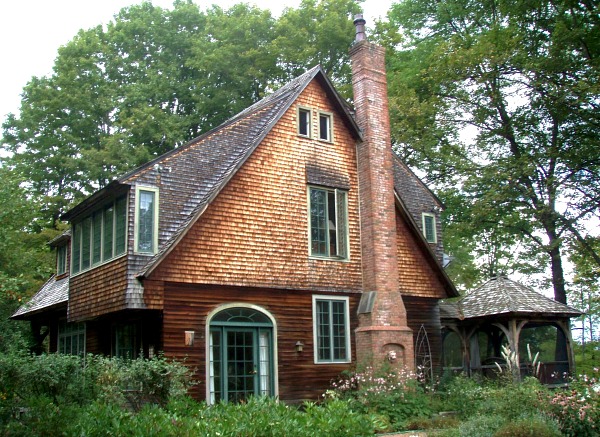 Thanks to both Lisa and Lark for sharing the story of this unique property with us!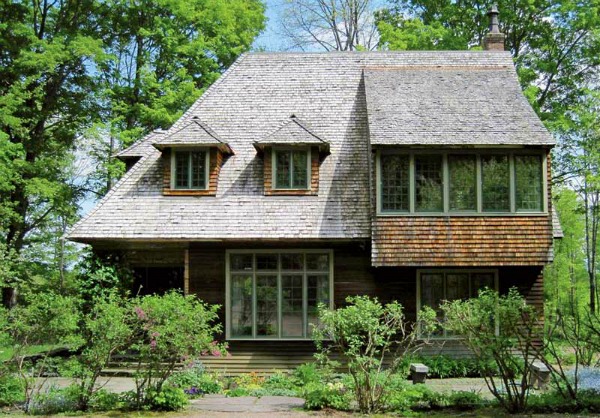 and Yankee Magazine. The 1998 article was written by Candace Ord Manroe for

Better Homes and Gardens (wish they'd put some of those older articles online!).