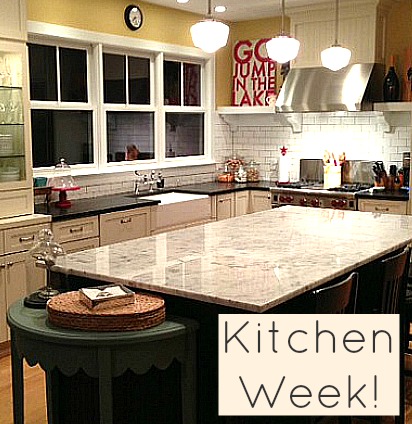 One of the best things about this Kitchen Contest I'm hosting has been hearing readers' stories about what they love about theirs. I'm hereby declaring this "Kitchen Week" at Hooked on Houses and will be featuring as many of your entries as possible. Today I'm kicking it off with 10 of them–take a look!
1. Elisicia's Kitchen: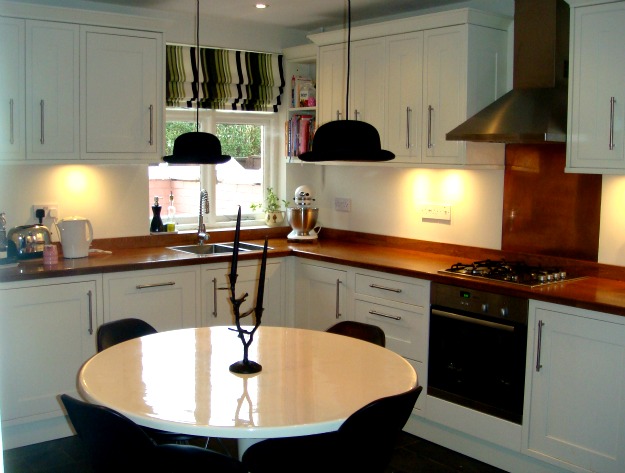 Elisicia writes, "We bought our house under repossession, needing total renovation. However, we saw past the filth and dated fixtures and started renovations anyway.
"We tore down a wall that separated the kitchen from the living space and we made it into one large room. We tried to stay within a reasonable budget and renovated the kitchen for approximately £12k.
"The Jeeves and Wooster pendant lights are from Innermost. We have yet to install the Wooster but it's in the box just biding its time!"
"We love the warmth that the work tops, brass backsplash and under-cabinet lighting offers and have had many a night gathered under our Bowler hats with friends, food and wine aplenty!"

2. Marta's Kitchen: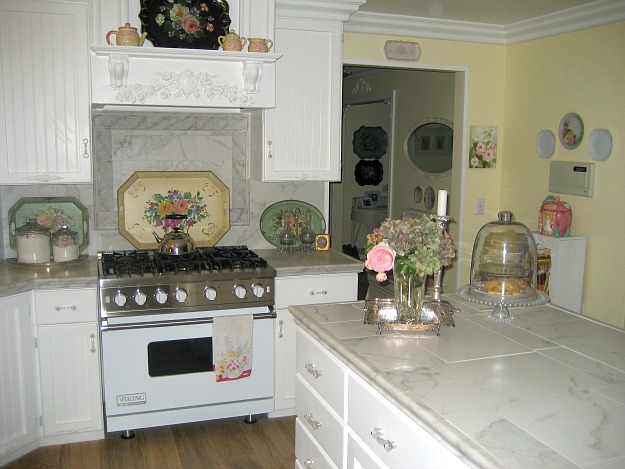 Marta writes, "I love my very feminine kitchen. It's so different from the industrial look that's popular right now. My husband actually did all the work, gutting the old kitchen and starting fresh with all new cupboards, flooring, counters and appliances. We're happy having one that's more up-to-date now!"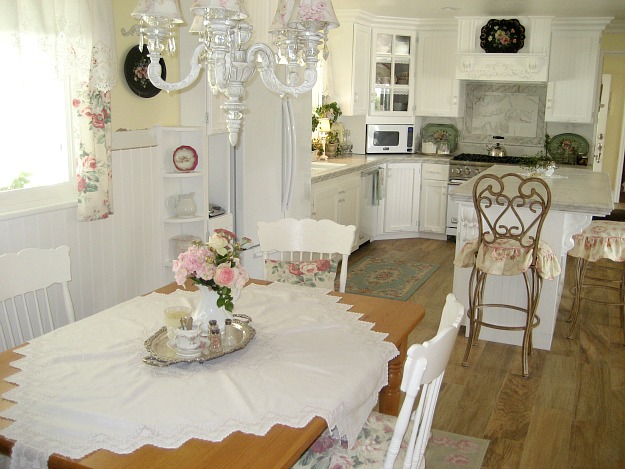 3. Amber's Kitchen: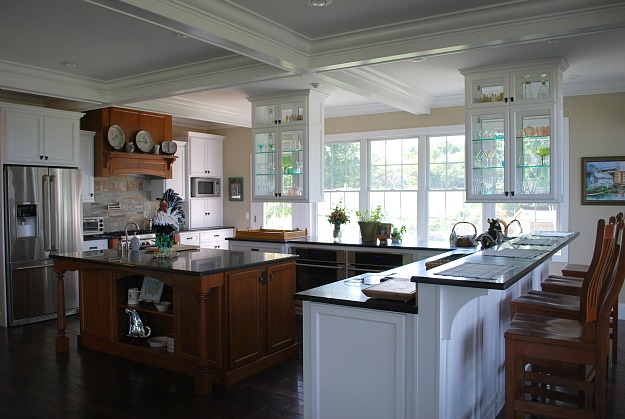 Amber writes, "I love my kitchen because it turned better than I had even dreamed! I wanted a space large enough for our whole family to feel comfortable and I didn't want to put the kids at the dreaded 'kids table.' We set up a buffet on the island, put all of the leaves in the dining room table, add a bench for more seating, and everyone helps themselves."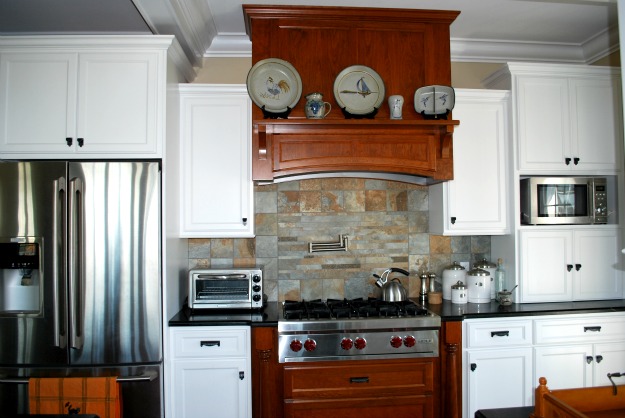 "My husband and I, our designer/builder team and a local Mennonite builder designed and built the custom kitchen. We are extremely lucky to have such master carpenters in our area of upstate New York."

4. Barbara Ann's Kitchen: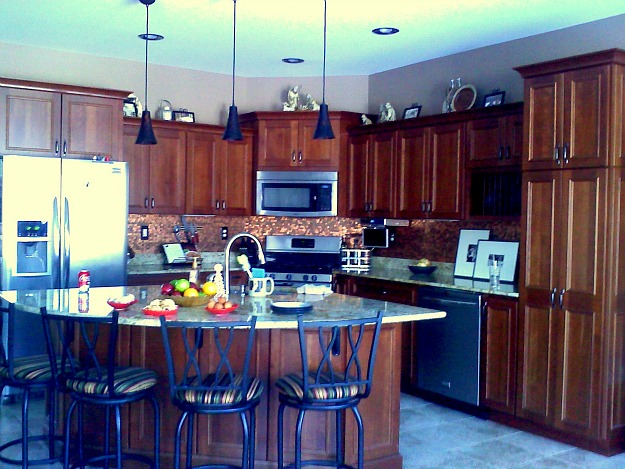 Barbara Ann writes, "I love our kitchen because it tells our story–from art we love, to our baseball diamond-shaped island, to our penny-backsplash. Each component has a story that adds warmth & character to our space."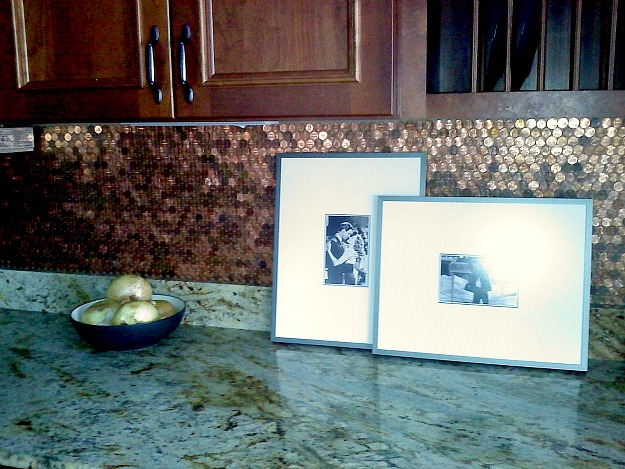 For more photos and information about her kitchen, visit her blog.

5. Jacqueline's Kitchen: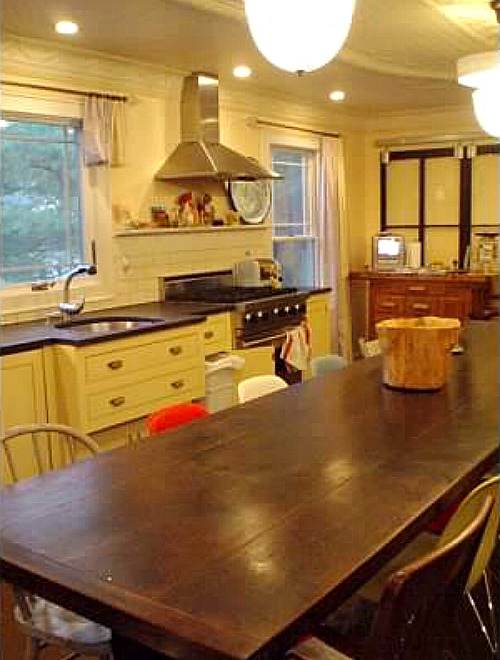 Jac writes, "I love my kitchen because I got rid of the dining room and made one big kitchen that is constantly in use. Our table is always in demand. Feeding the Cross Country team or crafting for Halloween."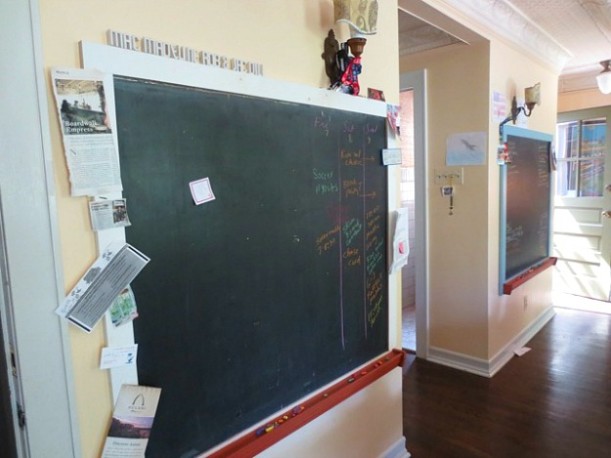 "I love the chalkboards I picked up with my hubby in Utica, NY. Only my husband would go along for a ride to pick up vintage slate chalkboards 3 hours from our house."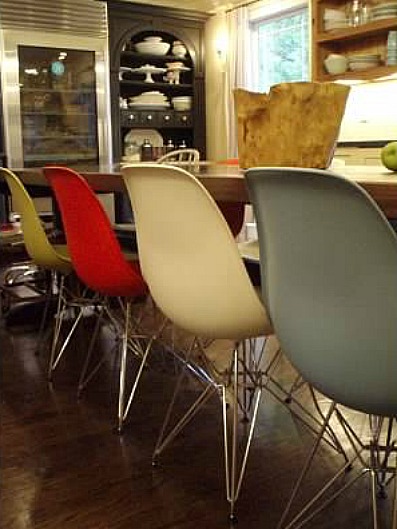 "I love our kitchen because it's real."

6. Annette's Kitchen: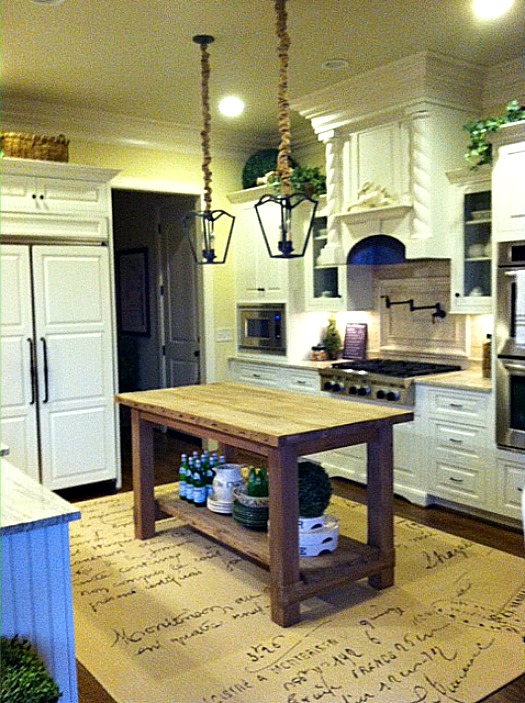 "I love my kitchen because of my range hood!"

7. Tanja's Kitchen: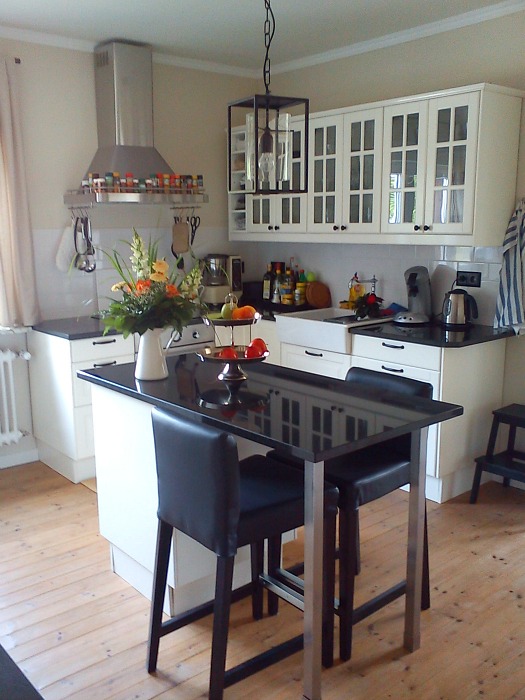 Tanja writes, "My hometown is Landstuhl, a small city in Germany close to the airbase in Ramstein. I'm also hooked on houses, especially New England or Hamptons houses and interiors. That's the reason why our interior was originally built in the States and shipped to Germany. Only the kitchen is made by IKEA but it looks a little bit like Diane Keaton's kitchen in Something's Gotta Give."

8. Jacqui's Kitchen: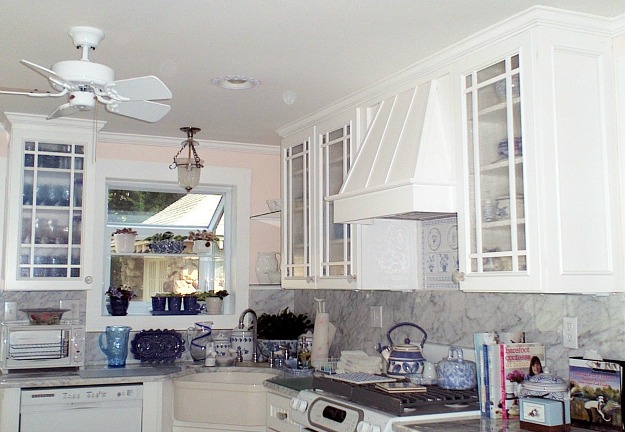 Jacqui writes, "My kitchen presented a special design challenge. The space has 5 doorways and a chimney that juts out. Not only that, but it was really dark. We added a greenhouse window, new French doors, a pea stone patio that extends from the kitchen, tall pantry cabinets, rain-glass doors, white paint on the floors, and a kiss of pink on the walls to bring lots of light into the room."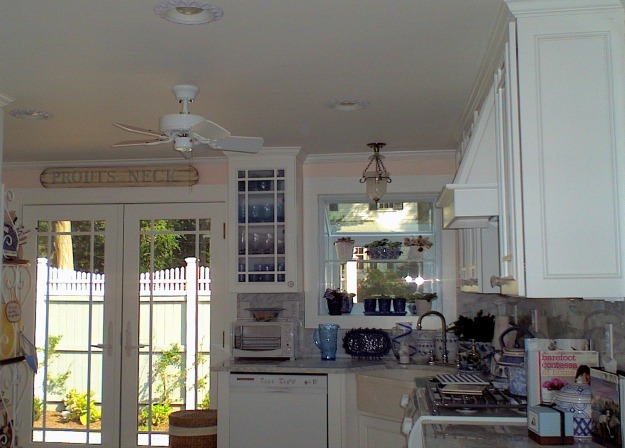 "Every time I walk into my kitchen a piece of me smiles at what a happy space it now is!"

9. Lisa's Kitchen: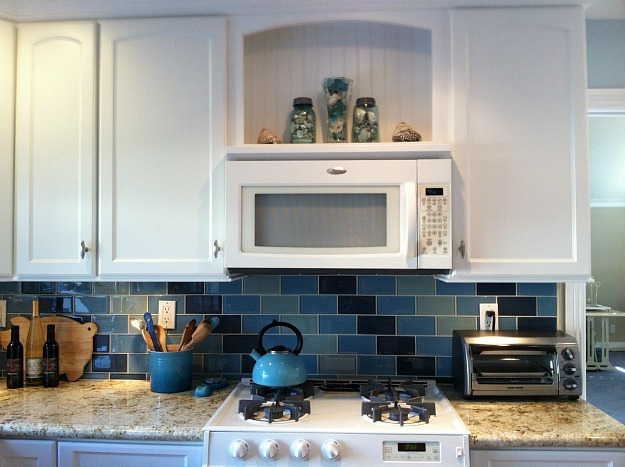 Lisa writes, "I live in California. About 2 years ago we were finally able to convert our 1979 original kitchen into the kitchen of my dreams. I really love my new kitchen. I wanted to be able to sit on the sofa in the family room and envision the sand, the sea, and the sky, and now I can."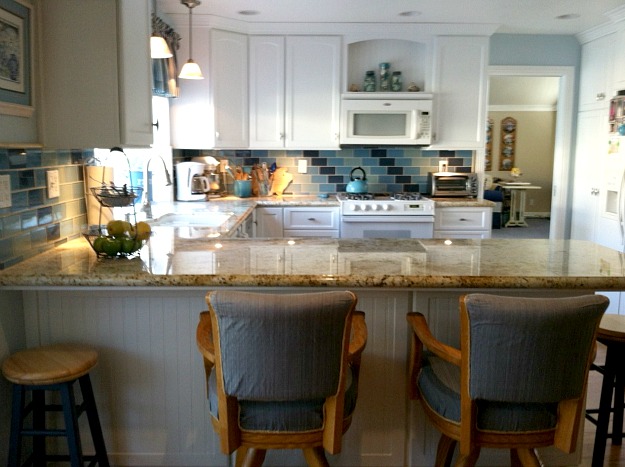 10. Kelly's Kitchen:
Kelly writes, "My husband and built our dream home ten years ago and designed every inch! We live across the street from Lake Michigan and wanted a home that reflects a comfortable lakeside style, a home that you can actually LIVE in. I love it because it's so comfortable and the heart of our home."
Thanks to all of the readers who sent me their photos and shared their kitchen stories with us! And thanks, as always, for keeping the comments about them positive and polite. I'll be showing as many as possible of them this week, so stay tuned. 🙂

(Visited 17 times, 5 visits today)