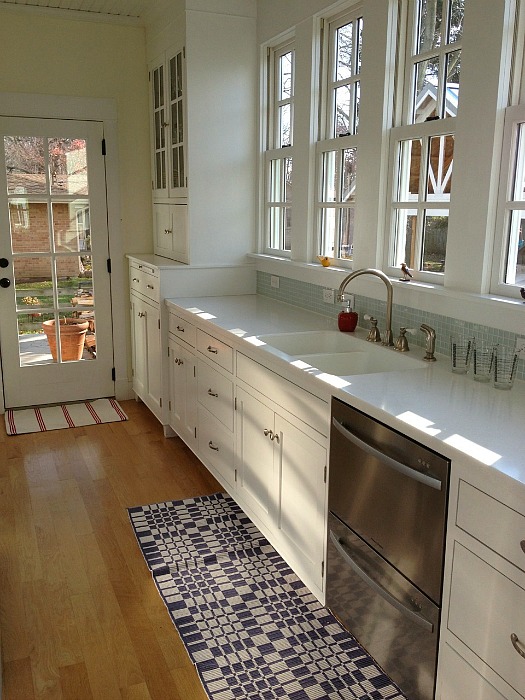 Let's face it, Not all of us have enough space in our houses for big gourmet kitchens with giant islands floating in the center of them. So I enjoyed seeing how these readers made their smaller, more normal-sized spaces work. Take a look at these 8 kitchens that were submitted for my contest:
*Note: "Small" is a relative term. If yours is smaller, some of these may look big to you! 🙂

8 Small Kitchens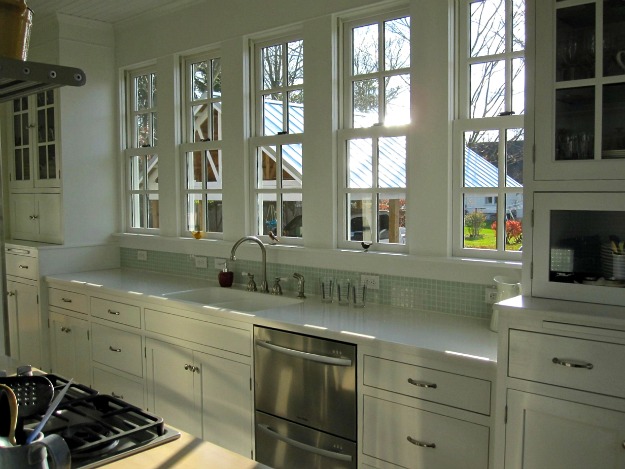 1. Kathleen's Kitchen
"I have a very bright and efficient kitchen that is a great place to cook! There are two pantry cabinets that provide additional storage. I don't usually have much placed on the counters (except when cooking) so it is easy to keep clean."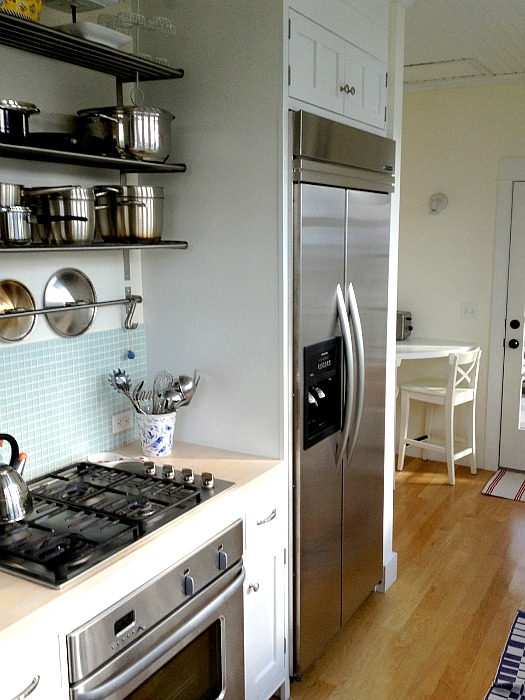 2. Julie's Kitchen: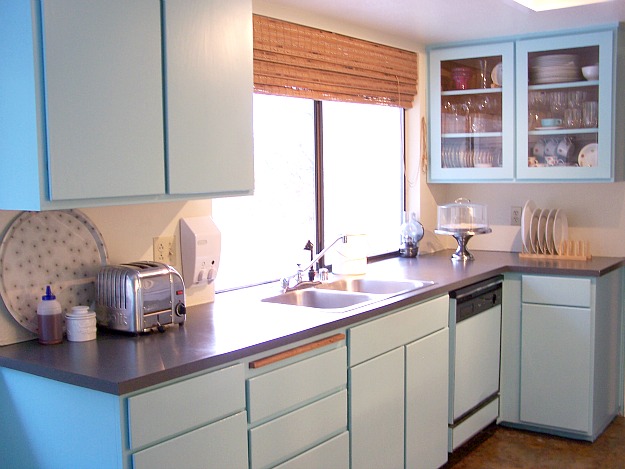 "My husband and I put a lot of elbow grease into fixing up our kitchen. We built the storage wall and breakfast nook at the end of the kitchen ourselves, and filled all the cupboards in the kitchen with slide-out drawers that we built strong enough to hold my collection of cast iron."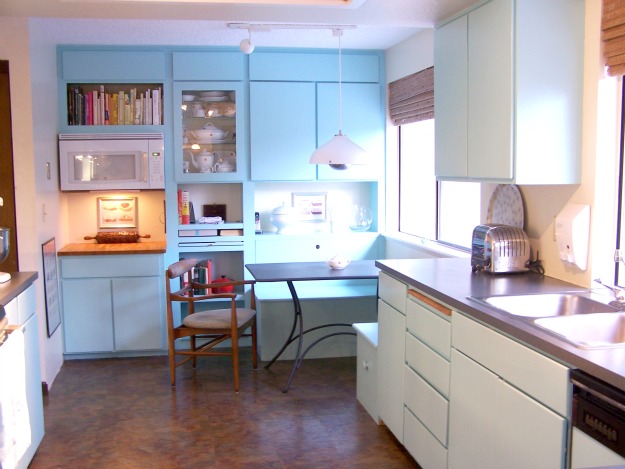 "It's still a work in progress; we have some things that we'll get to when we can. While I love all the storage, and how well it functions for me, the number one thing I love about my kitchen is the color. Three years after we painted it aqua, it still makes me smile everyday."
3. Lori's Kitchen: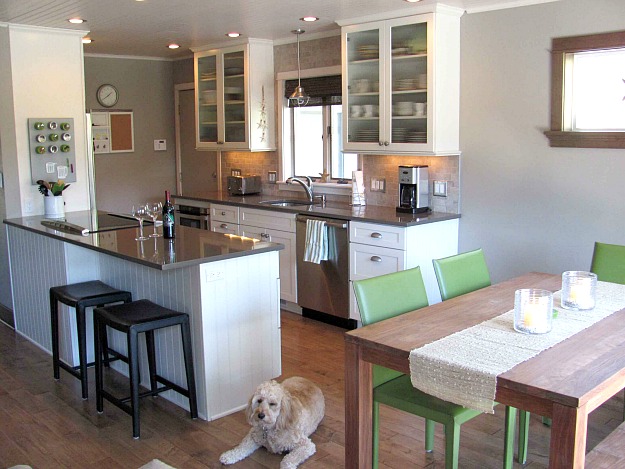 "This is our lake-house kitchen. It was done this last year as part of a whole house remodel. We did most of the work ourselves, with some sub-contract help where we needed (after lots of experience, we know our strengths and weaknesses!).
"I love it because it's compact, efficient, and open to the main room with easy access to the decks. I always envisioned white cabinetry here and finally got it when we did the kitchen as part of a whole house remodel. The challenge was to stay within the footprint of the house (not big at all) but still open up the space.
"P.S. Our mini-Goldendoodle snuck into the shot. Luckily, he's pretty photogenic."
4. Lynda's Kitchen: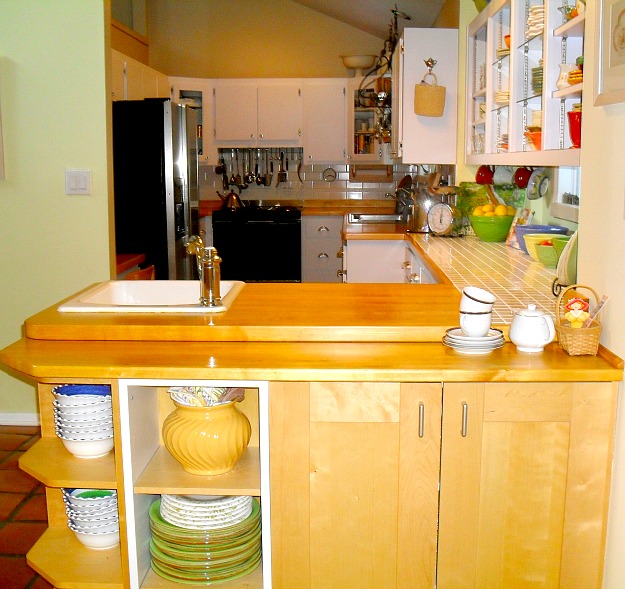 "Our kitchen is original to our 1977 home and we designed it. We have tweaked it a bit over the years, but we still have the same cabinets, floors, and counters. Lots of light and storage in our kitchen."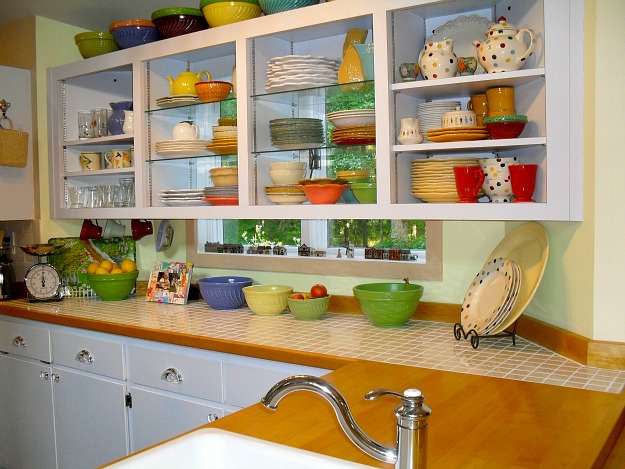 5. Robin's Kitchen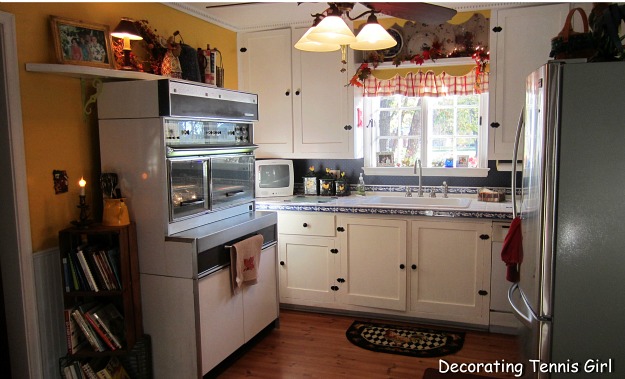 "I love my home. It was built in 1939 and in true Cape Cod style. The cabinetry is original and my stove is from 1965 and is a Frigidaire Flair like Samantha had on Bewitched in the 1960's. I love it, too! The Hoosier cabinet was my Granny's and I treasure its place in my kitchen."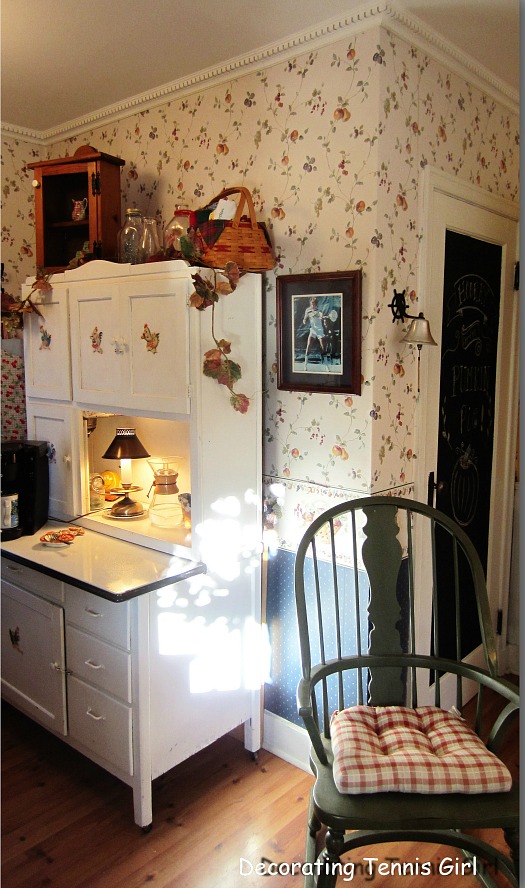 You can see more on Robin's blog Decorating Tennis Girl.
6. Rosie's Kitchen:
"I love my kitchen because this is our very-first-house and we worked so hard to make it our own style. The kitchen was very dated, with pink laminate countertops!"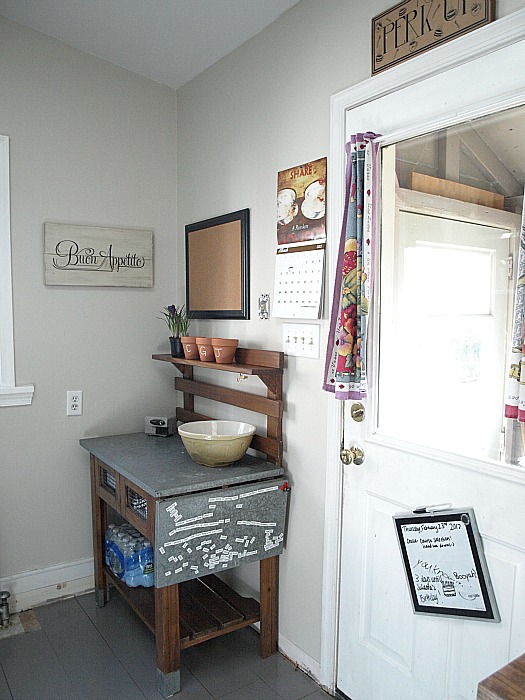 "We remodeled it on a very small budget, coming in at just under $1,300 for everything we've done including lighting, flooring, countertops, backsplash tiles and accessories! The most expensive thing in our whole remodel was our farmhouse sink which we got for $300 from IKEA. Other than that, it's all thrifted, Habitat ReStores, and good old ingenuity that helped us get the kitchen of our dreams for such a low investment."
7. Stacy's Kitchen: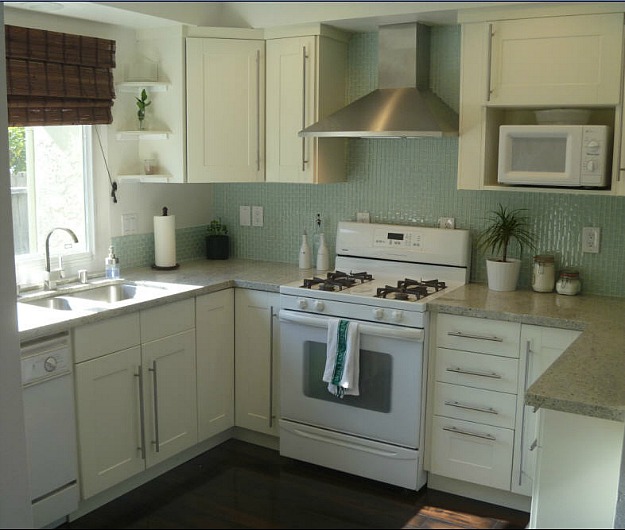 "I remodeled my kitchen last year. I love my kitchen now because it's so much more functional that it was before. There is a ton more working space and smart storage."
Here's what Stacy's kitchen looked before the remodel: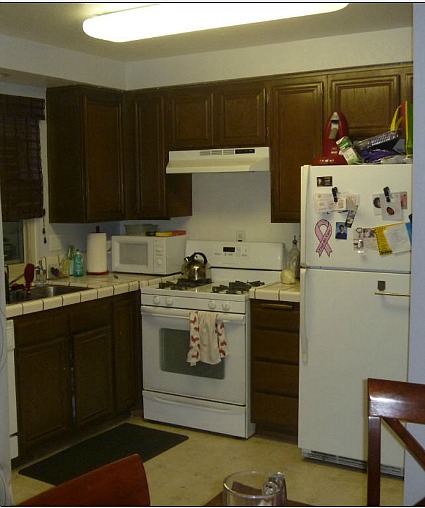 "I like how much bigger and airier it feels now. The colors are very soothing."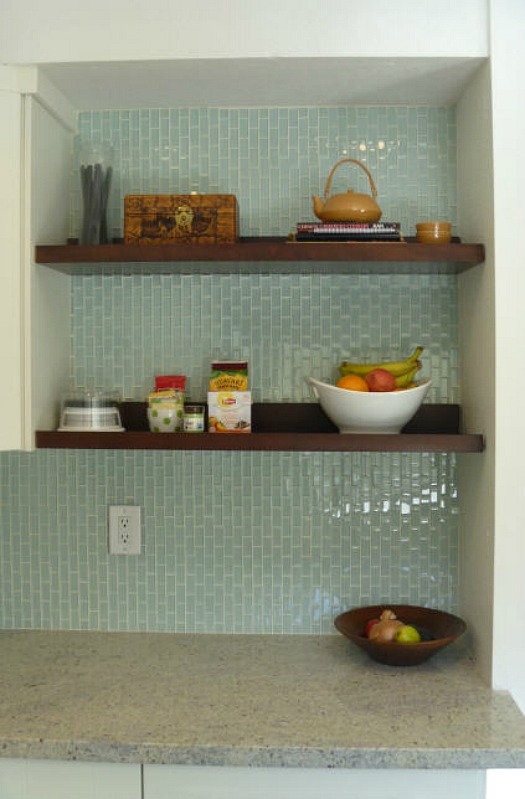 8. Janette's Kitchen: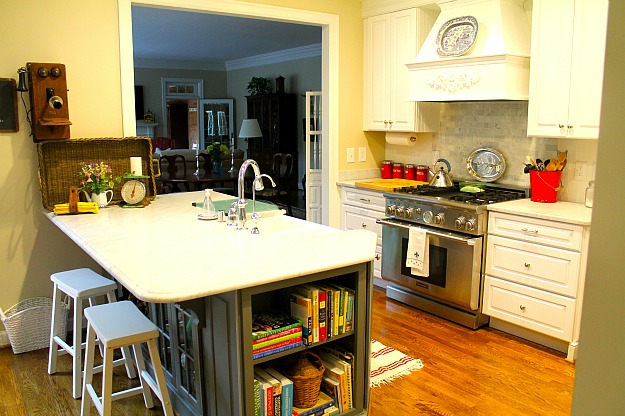 "Last year we down-sized from the suburbs to downtown when we bought a nice and bright townhouse. The peninsula holds a farmer's sink, dishwasher, wine cabinet, and glassed-in cabinets for extra dishes.
"The cow in the oil painting is Lulubelle. She keeps tabs on everything that goes on in our kitchen and keeps us in line!""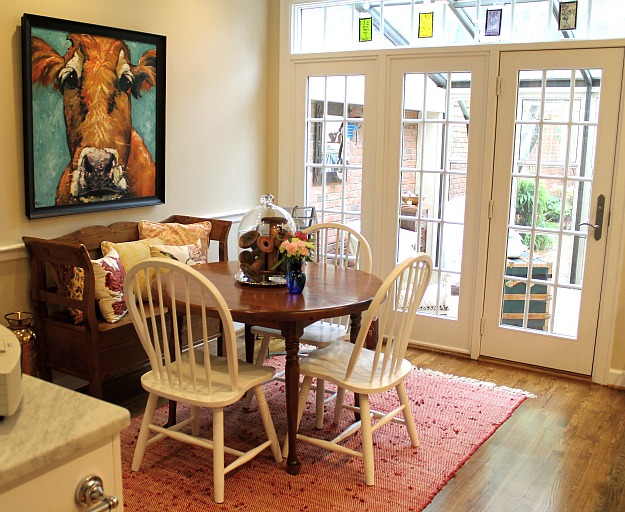 Thanks to the readers who submitted these photos.

It's great hearing what everyone loves about their kitchens!