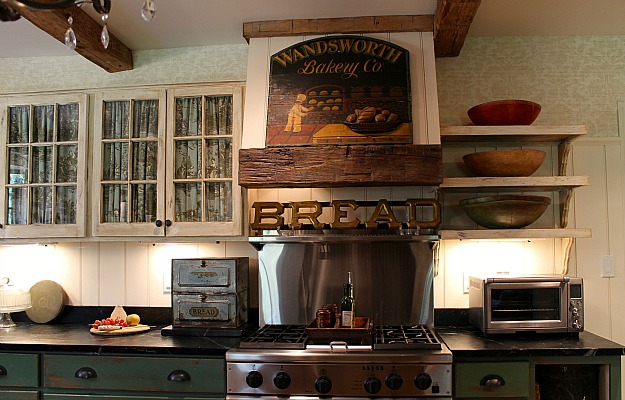 Renita is a self-professed "antiquing fantatic," and it shows in her kitchen.
She says she loves it because it's warm, inviting and makes her feel like she traveled back to a simpler time.
It has so much character and aged patina that it's hard to believe it's the result of a recent renovation, or that it used to look like this…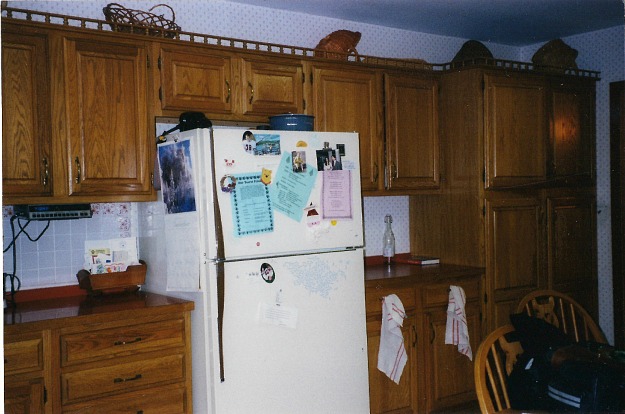 They gutted the old kitchen…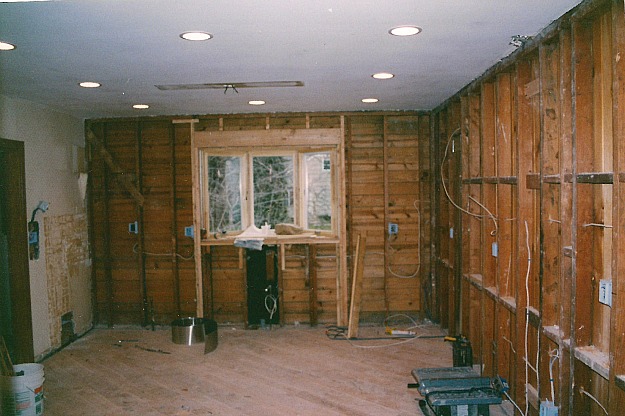 …and transformed it into this: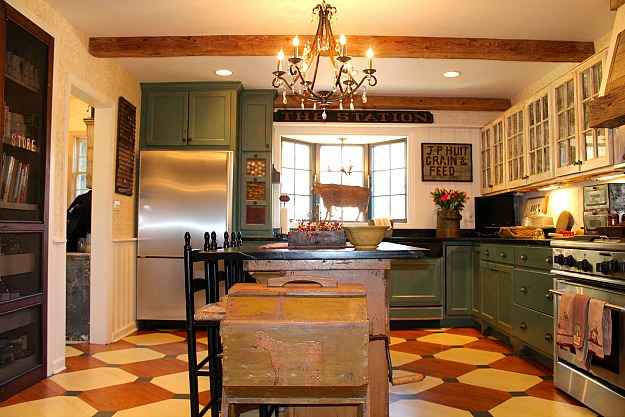 Renita says that although she wanted the room to make you feel like you stepped back in time, it still has all the modern conveniences: a commercial-style range, microwave (hidden behind the "General Store" pantry doors on the left), and a dishwasher hidden behind a green panel next to the sink.
She distressed the upper cabinets herself — which are actually old windows scored at a salvage place for $50.00.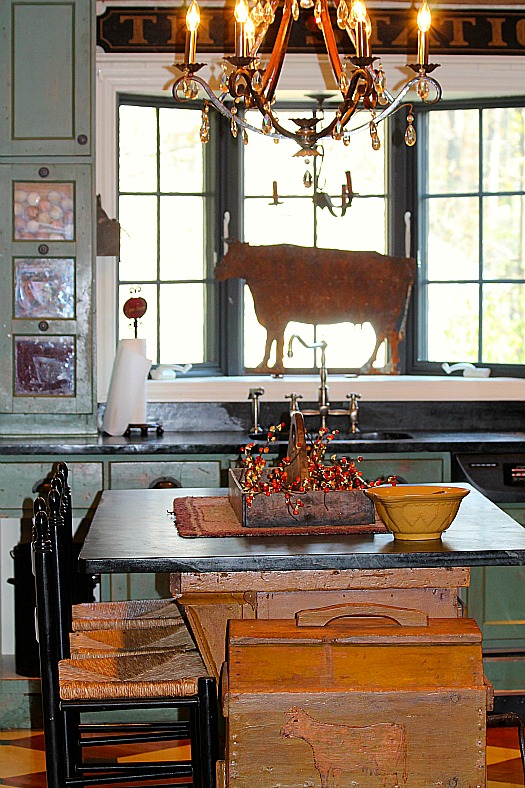 "I'm an antiquing fanatic. We used an old general store counter for our island, topped with soapstone (which I also used on the countertops)."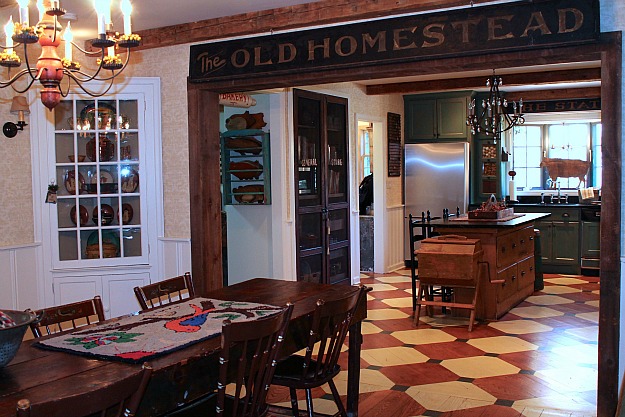 "I found the General Store doors, which I use as pantry doors, in Nashville at an antiques show. I love the sound they make when they close since it sounds like an old general store door banging closed."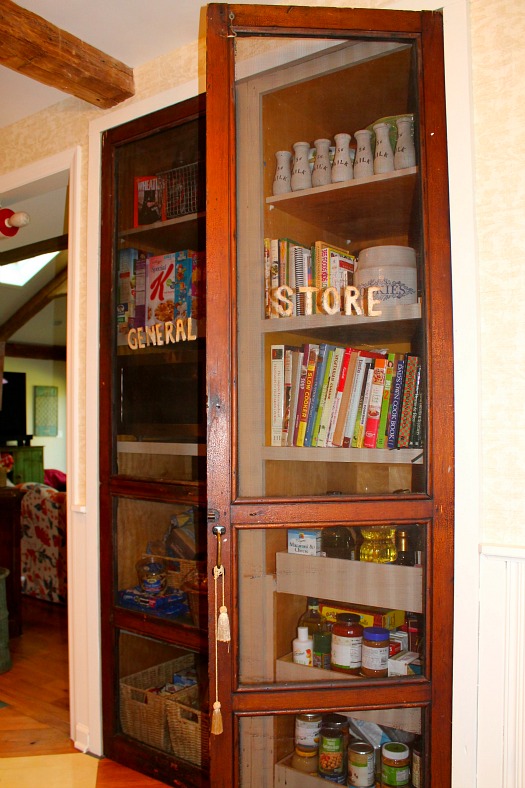 They broke through the old dining room to create one large, long space. Reclaimed beams were used for the ceiling and to frame the opening between the rooms.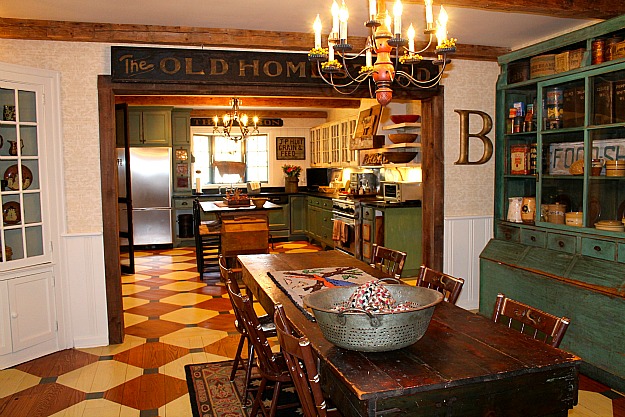 "One of my favorite parts is the floor, which originally was two different types of hardwood. Once we broke through the two rooms, I needed to 'marry' the floors to make them work, so we painted them a bold pattern to tie the spaces together."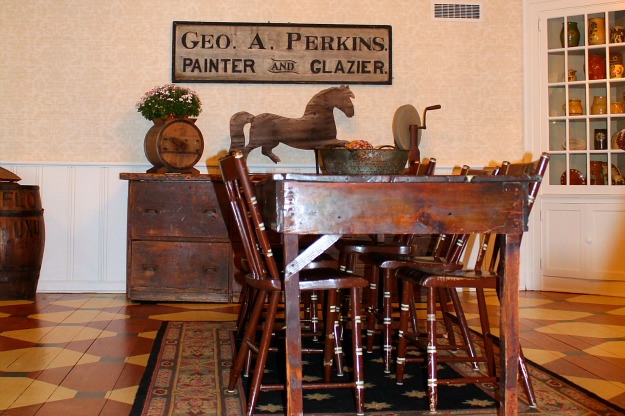 She adds that "Being the mother of a 17-year old boy, I love the kitchen because his friends (girls) that come over to the house absolutely love it, and he then appreciates me for the next few minutes!" Ha.
*UPDATE*

Renita's kitchen was the winner of my kitchen contest. Congratulations!

You can see the rest of her lovely home here.