1. Chelsea's Kitchen:
"We live in a 120-year old Victorian in downtown Saratoga Springs, NY. The counters are a marbled soapstone (as well as the HUGE farm-style sink) and the island is a stained cherry. We paneled the wall above the sink and painted it in Benjamin Moore's Palladian Blue. The cabinets and shelves were all done by a local craftsman.
"I love the look of our open shelving, but we are finding that a pantry is going to be necessary, as the sippy cups and Cheerios just don't look so cute all stacked where the world can see them!"
(Chelsea blogs at The Carriage House Chronicles.)

2. Michelle's Kitchen: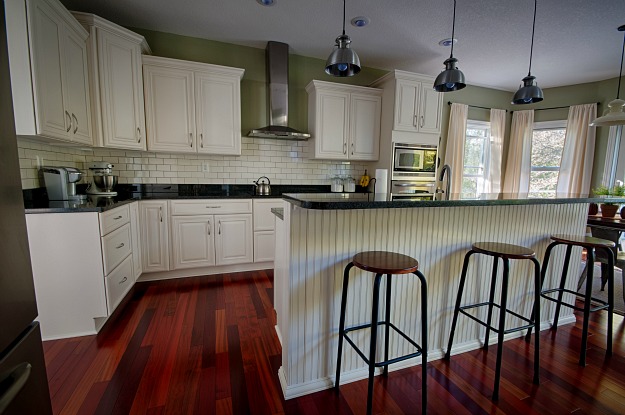 "We built our home almost 4 years ago. We were on a tight budget but wanted to make sure that our kitchen was something that could stand the test of time. We went with simple ivory cabinets and black granite counters. We recently added an ivory subway tile backsplash with contrasting grout.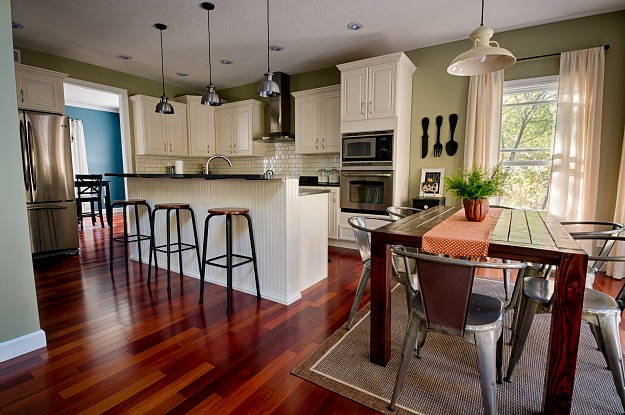 "Our kitchen is the place where all of our friends and family end up when they visit. Our breakfast nook and island offer a lot of seating. The kitchen is also open to the living room and dining room so no one feels left out while cooking."
(Michelle blogs at Decor and the Dog.)

3. Frederique's Kitchen: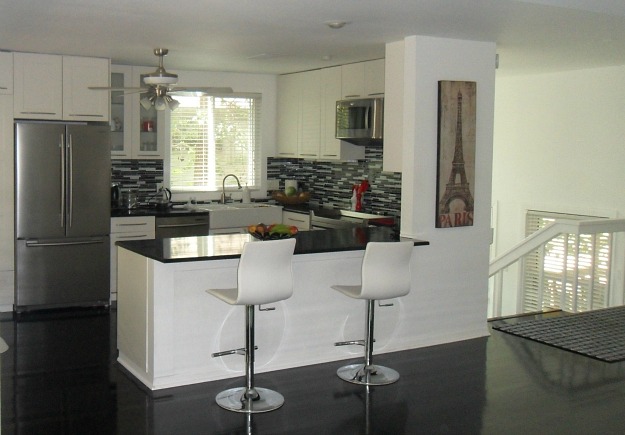 "I love my kitchen because, except for the floor and backsplash, we did it ourselves on a very tight budget: IKEA cabs, sink, and even an IKEA wood countertop painted black (this is a now three-year old temporary countertop–we're planning to replace it with honed black granite)."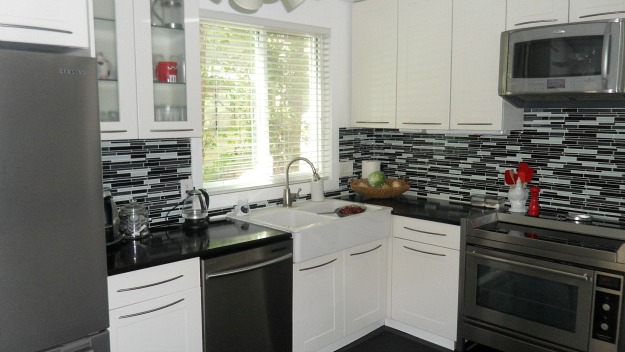 "I also love the size of my kitchen, not too big, not too small; just right! An added bonus is its location, on the second floor of the house with all the windows at tree level."

4. Kathleen's Kitchen: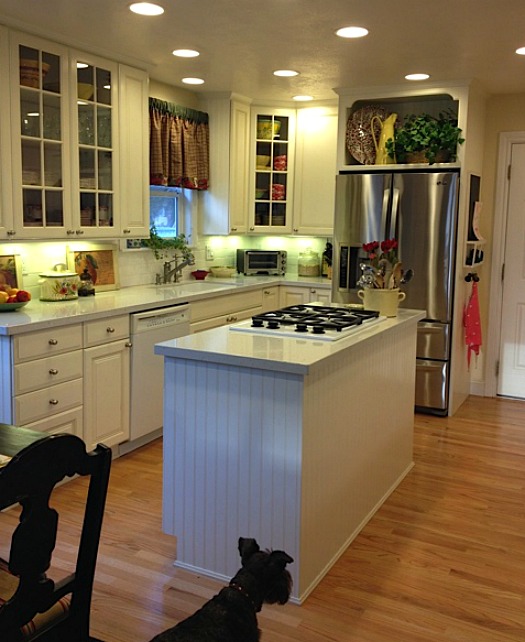 "I love my kitchen. I love the light and airy feel and the natural light. I love the glass-front doors and the neutral off-white. I love how it is open to the family room but separate. It's a cozy and happy space that our family and friends enjoy. It's us!"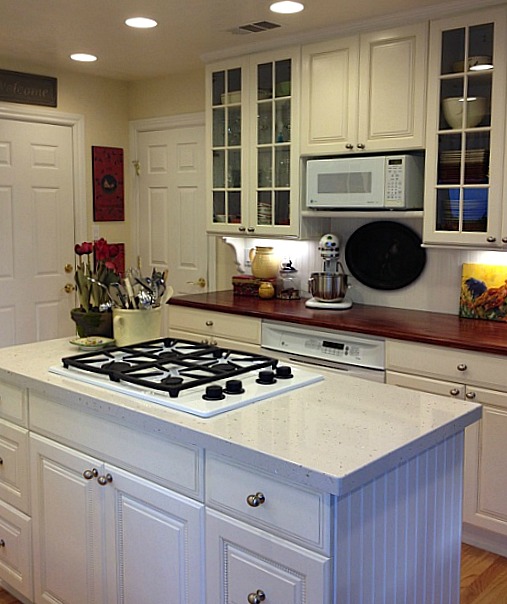 5. Lori's Kitchen: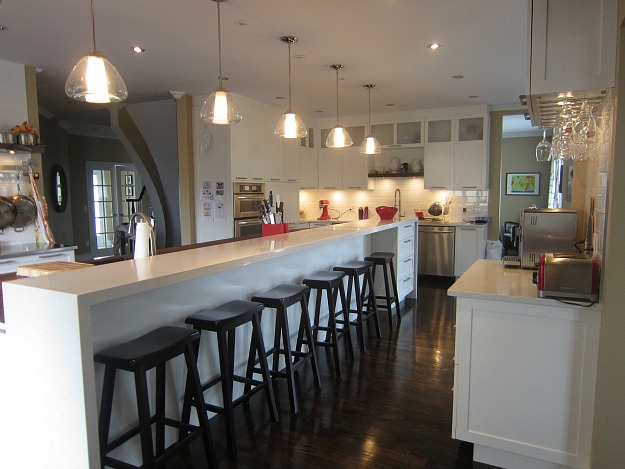 "We love our new kitchen remodel! My favourite items are the double dishwashers, double ovens, 15″ quartz bar and 15″ butcher block! We have plenty of storage and everything was planned out over an entire year. Construction took over 9 weeks."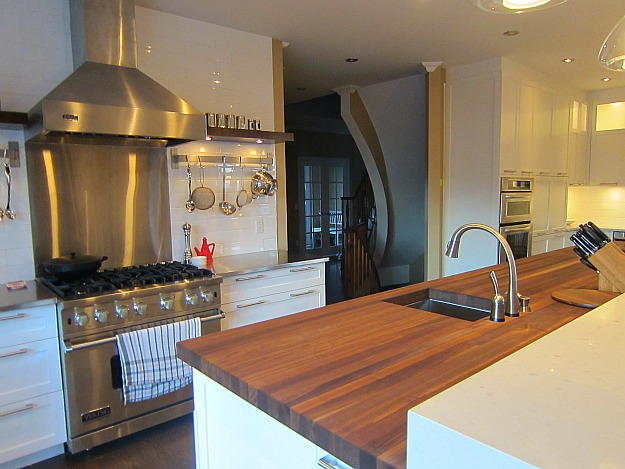 "The butcher block is fully food safe functional (we cut directly on it). It also has an integrated compost 'hole' for throwing away your scraps."

6. Mary Ann's Kitchen: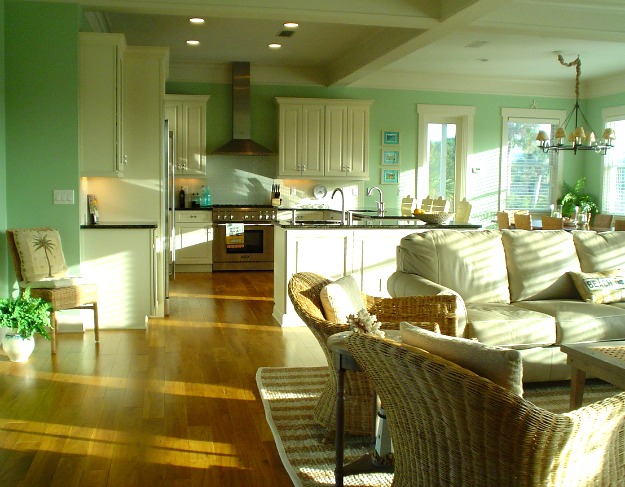 Mary Ann writes: "I love my beach house kitchen because of the light that floods in through the east windows in the morning, so that it's almost like being outside in the garden. I love the way more than one person can be in the kitchen at the same time (even if it's usually just me!), because of the 'zone' organization."
"I love the iridescent tiles over the cooktop, the huge refrigerator that actually holds a casserole dish, but mostly for the way my family can be together here."

7. Ainhoa's Kitchen: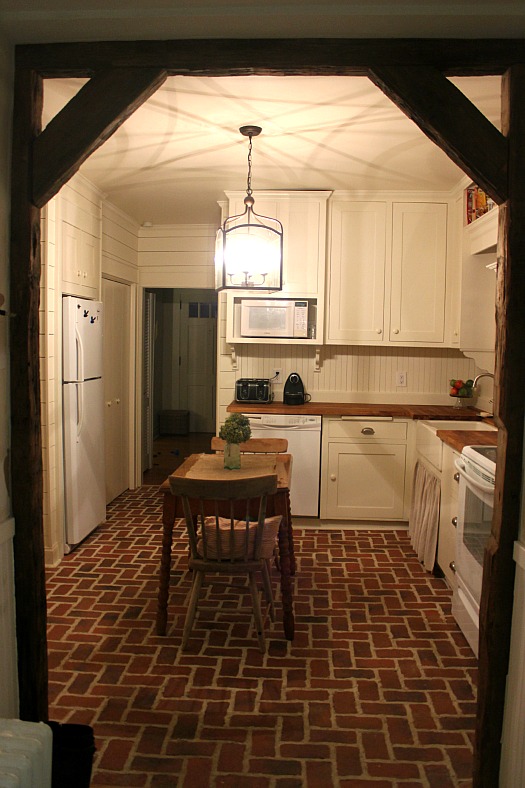 Ainhoa writes: "When we moved to our house two years ago, the wallpaper was peeling off the walls, the linoleum peeling off the floor, I did not like the cabinets or where the appliances were in the kitchen. My kitchen is small but if it wasn't I would have never been able to afford all the changes I wanted when we remodeled.
"I kept mostly the same cabinets, but we changed all the doors and hardware, we also took the doors off some cabinets and added some corbels. The beautiful apron Kohler (almost new) sink I found on Craigslist for $300, and the old wooden beams on the doorway I found at a farm last year, when we took the kids to a pumpkin patch, and also got them for an excellent price."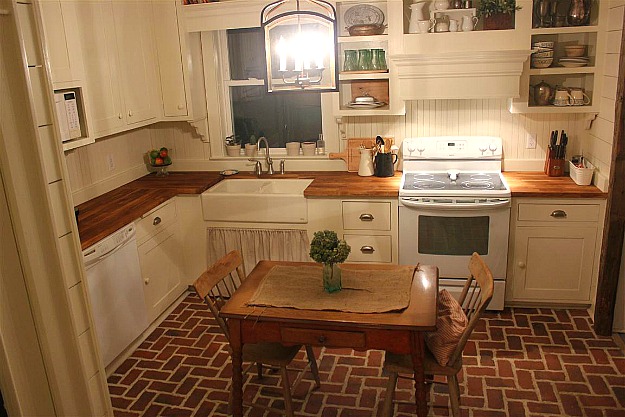 "But my favorite part of the kitchen is the floor… After doing months of research, we found an artist (about 2 hrs from us in PA) that made beautiful brick tiles that actually look REAL and old, but of course much thinner than real bricks."

8. Maya's Kitchen: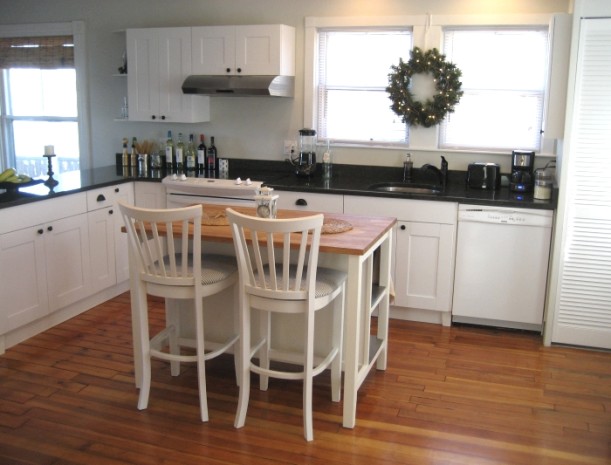 "I absolutely love my kitchen! My husband and I designed and installed it ourselves, except for the counter top, and it turned out exactly how I had envisioned it. We bought standard Home Depot cabinets that we spruced up with some corner detail on the bottom that look like feet. And the kitchen island is from IKEA."
(Maya blogs at Completely Coastal.)

9. Gayle's Kitchen: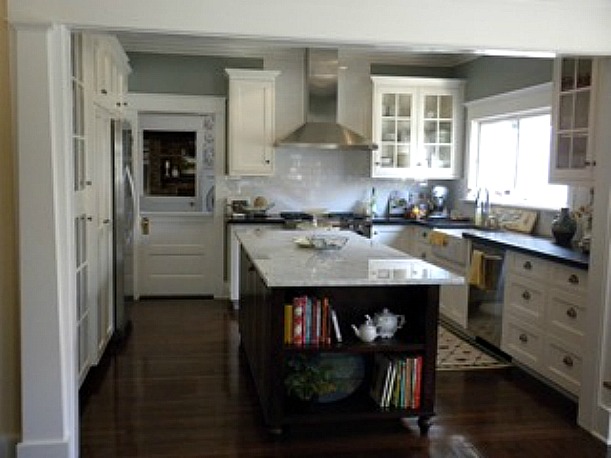 "I love my kitchen because it was a project we completed, as well as the whole house, while living in a travel trailer in the driveway! We purchased a 1914 Craftsman and renovated the whole house… the kitchen to the studs! I chose every material and placement and am so pleased with the beauty as well as the function!"

10. Katherine & Conan's Kitchen: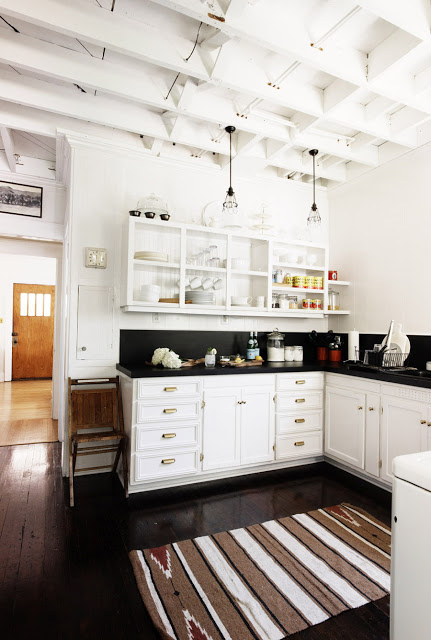 Katherine writes: "I LOVE MY KITCHEN! Why? Because it cost us less than $400 and because we worked with what we already had to make something truly unique to our tastes. My husband and I call it the Accidental Kitchen Remodel because it started as one little thing and quickly snowballed into a full blown, tear-your-floor-out, fixer upper."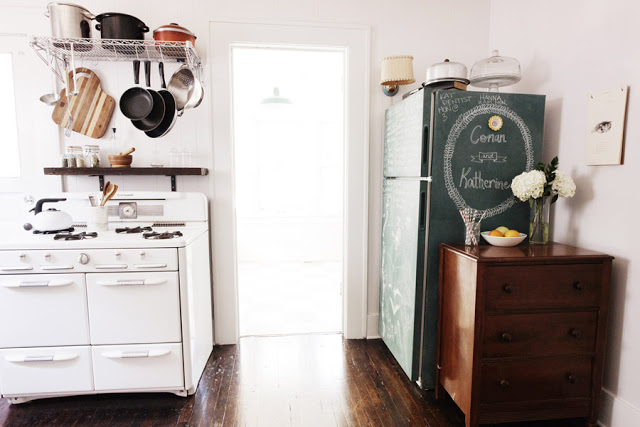 "What we were left with was actually the kitchen of my dreams. Sure, there aren't double ovens or recessed lights but it is a huge improvement on what it was before we started and the money we saved more than makes up for what it might lack."
Visit their blog for more photos and info.