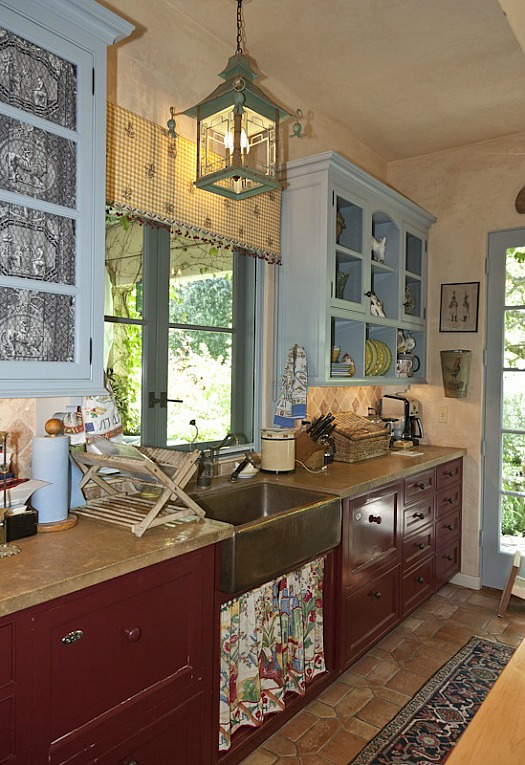 Welcome to Penelope Bianche's colorful kitchen in Montecito, which is full of character and stories (like its owner). I featured her "Provençal Farmhouse" when it was on the market last year.
She recently wrote to tell me that after it was named one of the "10 Most Romantic Houses in the World," she decided not to sell it after all!
When she heard about my "Hooked on Your Kitchens" contest, she sent me these photos of hers to share with you.
She writes, "I love, love, love our kitchen. I hope you do, too!"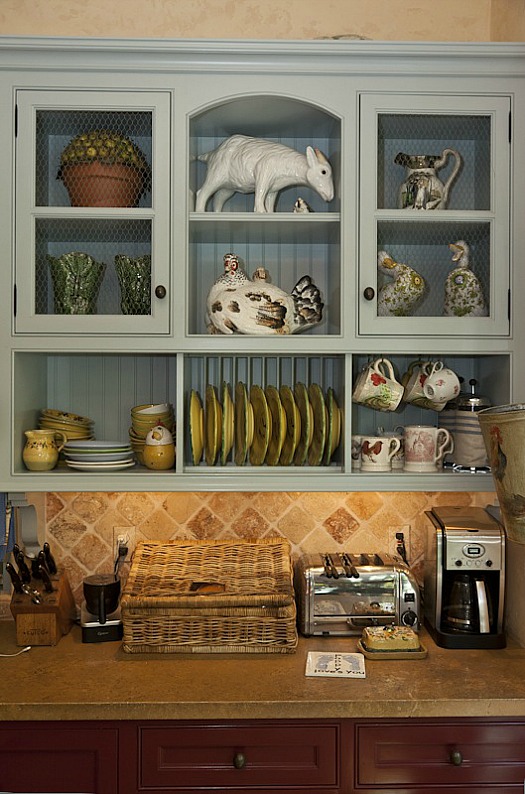 Penelope is a designer whose work has been featured in magazines like House Beautiful and Traditional Home.
She admits she has a weakness for old Fortuny fabrics, patina "on anything," and Venetian antiques, but she believes houses should be a reflection of the people who live there:
"It should feel personally collected, not decorated."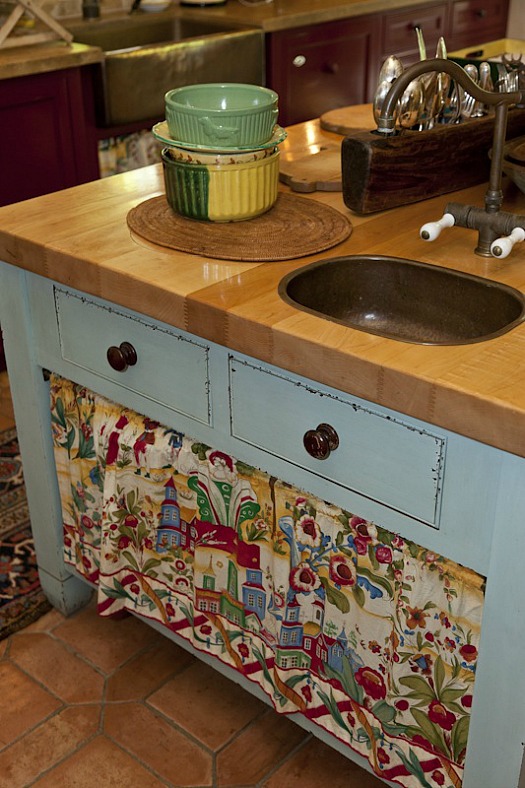 Regarding the cabinet colors, she says:
"The upper cupboards are the color of the trim in the whole house; the lower (including the two dishwasher drawers) are this dark red. The painters thought I was on 'hallucinogens.' The fabric on that skirt (above) ties it all together."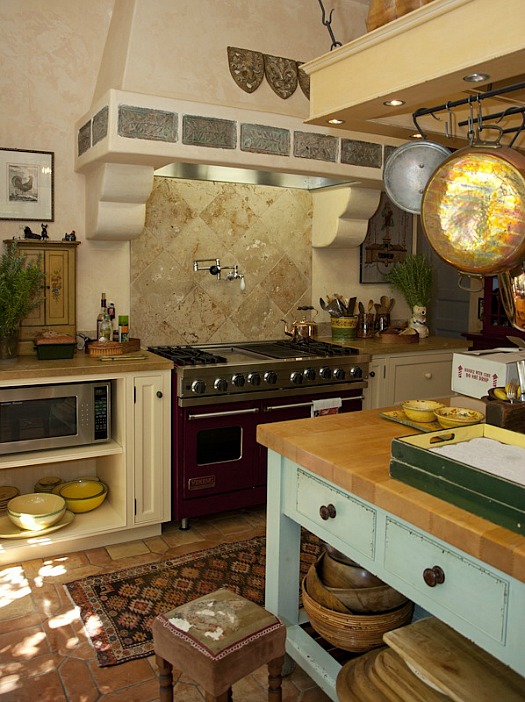 I did a double-take when I realized that this is her refrigerator (below).
She says, "My wonderful upholsterer made me these fabric boards to be velcroed on to my fridge and freezer…so I can put pictures, invitations, and inspirational quotes on there. I see those many times a day! No stainless steel to show fingerprints…and a constantly changing array of family photos and wonderful memories!!"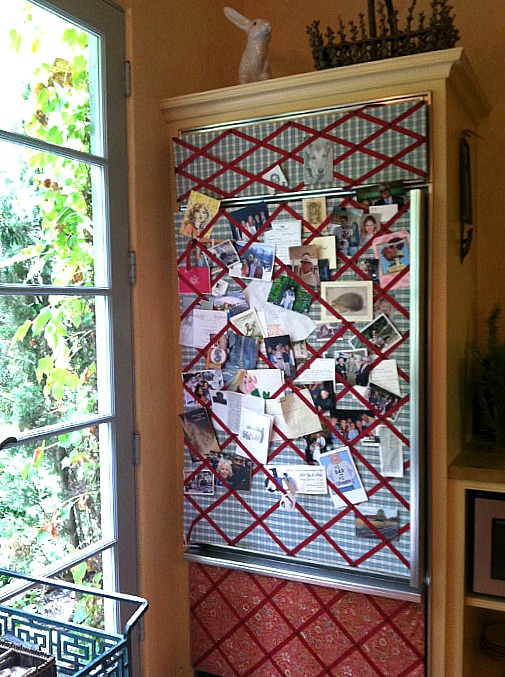 She has some great stories to tell.
Here's one of my favorites, about those chickens on top of her Welsh dresser: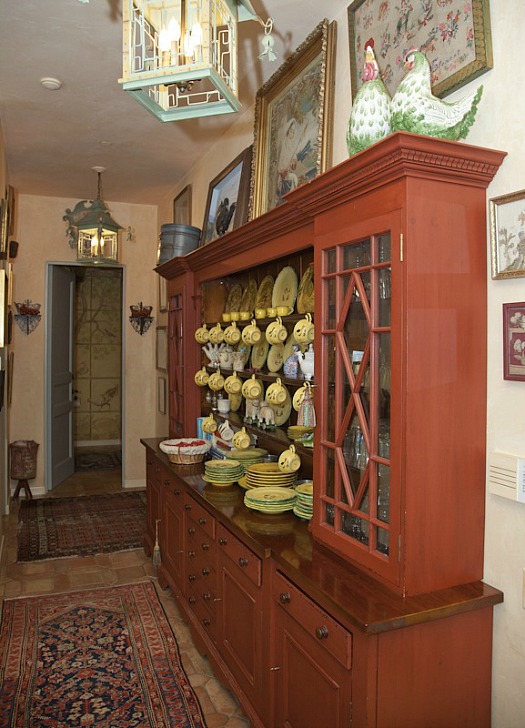 "Ten years ago, Oprah Winfrey bought the property next door! Can you imagine?
"One day I get this long message from her on my machine. She told me that a tabloid had reported that she did not like my chickens! And she was 'losing her beauty sleep.' She apologized…and two days later these gorgeous chickens from Italy arrived in the most beautifully wrapped boxes!
"The card said…Contrary to tabloid opinion, I LOVE chickens!"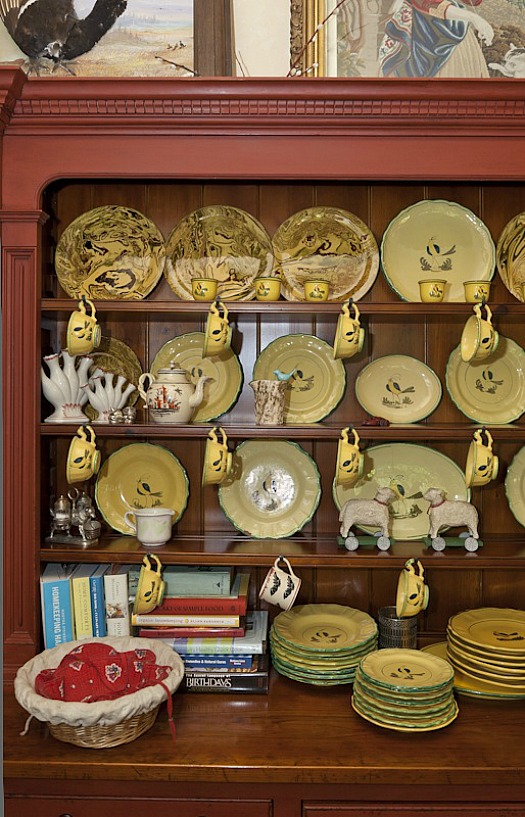 For more details about her kitchen, visit her blog.

(Photos by Mark Lohman.)