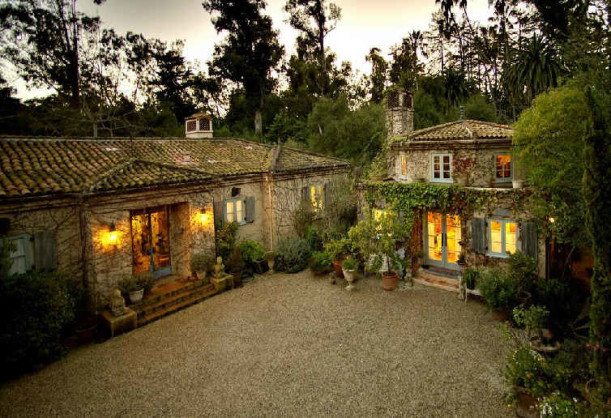 Designer Penelope Bianchi tells me she has listed her "Provençal farmhouse" in Santa Barbara for $5.95 million.
If it looks familiar, it may be because it was featured in the September 2010 issue of House Beautiful.
It's only about 15 years old but looks like it's been around for generations.
Bianchi told HB in the article about her house:
We bought the land and decided to build a rustic Provençal farm — everything about the site felt like Provence to me. Then we went to the real Provence to get inspired.
I probably took 200 photographs of doorknobs, chimneys, doorways, rooftops, shutters, and slipcovers.
In all the small hotels where we stayed, I kept asking about all the incredible walls and learned about lime-washing.
The title of the HB article was "Patina." Bianchi says patina is what moves her most:
"I'm crazy for antique toile. The one on our bed is an 18th-century toile that shows George Washington and two cheetahs being led to the Temple of Fame. It cost $140 and it's the best thing I ever found on eBay. A professor friend is horrified that I keep it on my bed. He thinks it should be in a museum."
You can read the interview with Penelope Bianchi in House Beautiful

 and see more photos at Velvet & Linen. Photo credit: Victoria Pearson.