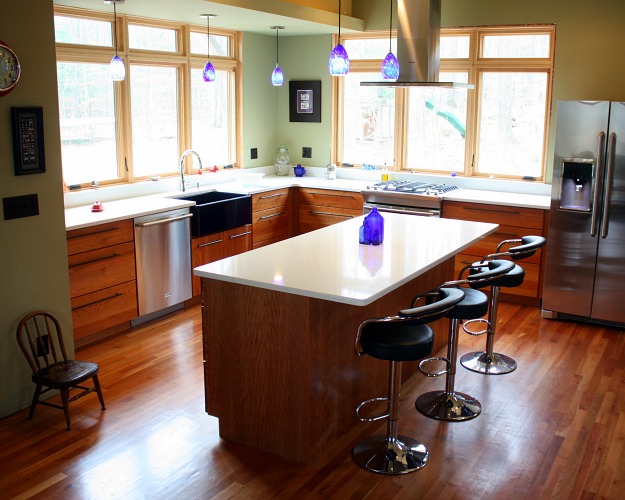 One thing that surprised me as all the entries poured in for my Hooked on Your Kitchens Contest was that most of them had white cabinets.
I showed you 10 of the white kitchens last week, but today I'm featuring 10 that bucked the trend and went with wood cabinets instead.
Take a look!

10 (Not-White) Kitchens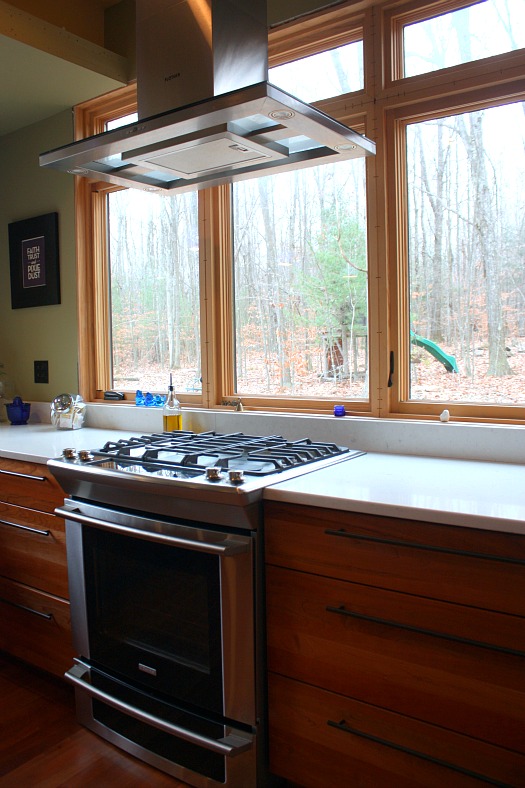 1. Laura's Kitchen
Laura says, "We built our version of Cottage Living Magazine's 2006 Idea House designed by Michaela Mahady. We made a few tweaks to the kitchen but her overall vision is perfect.
"Since we live on a private wooded lot, we opted to eliminate upper cabinets to take advantage of the view. I can watch my daughter playing from wherever I am in the kitchen. Since I'm only 5'1" tall and we have a nice pantry I don't miss the upper cabinets at all. We also went with a natural cherry finish instead of the white cabinets to go along with the woodsy location."

2. Jana's Kitchen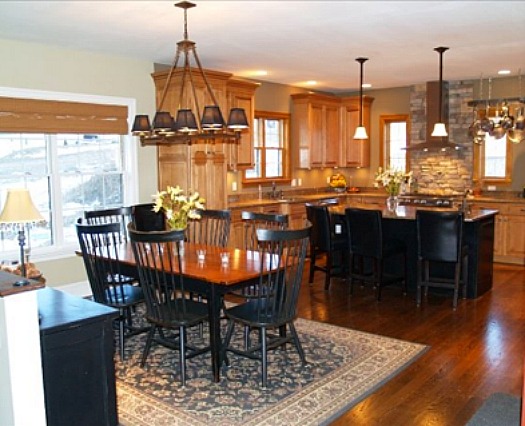 "We built our house in 2008. I wanted our kitchen to have a warm, rustic vibe to contrast with the stainless appliances. I had the stone wall done behind the cook top to match the stone on our fireplace. It is truly the center of our home. It is a great place to work and never feels crowded even when we are all (myself, my husband, 3 kids and 2 dogs) in it."

3. Karin's Kitchen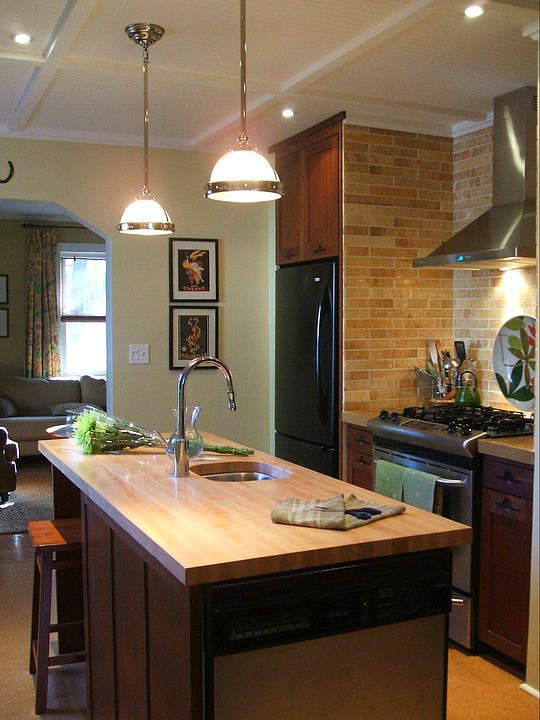 "Our kitchen is neither big nor fancy, but it was recently featured in This Old House magazine. My boyfriend and I did everything–and I mean everything–ourselves. I designed it, moving some things around so that we could add the former very small dining space (about 8′ x 8′) to the also very small kitchen space (about 7.5′ x 8′), and now that we have kitchen access to the (heated) sunroom we use that space for our dining room."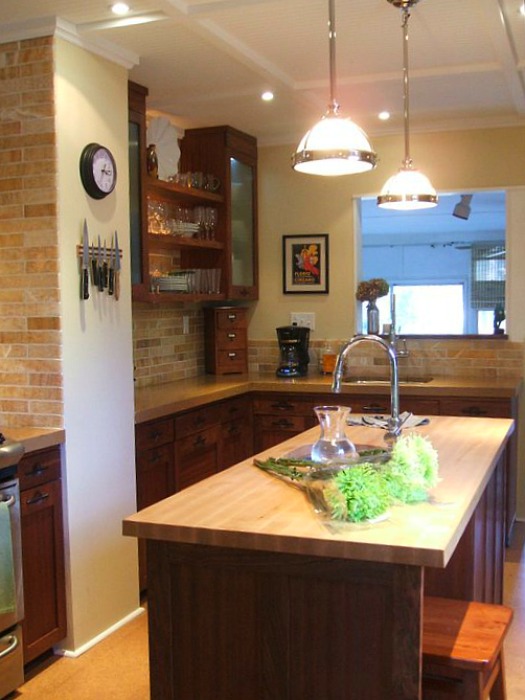 "After I designed what I wanted, my boyfriend started building the cabinets (included the ebony wood pulls!), redoing all the old electrical, adding new plumbing, opening up new doorways and a pass thru to the sunroom, closing up old doorways, and installing an entirely new ceiling (beadboard!), then together we installed new flooring, tiled the backsplashes with Honey Onyx marble subway tiles, and installed the concrete counter top that the boyfriend also made.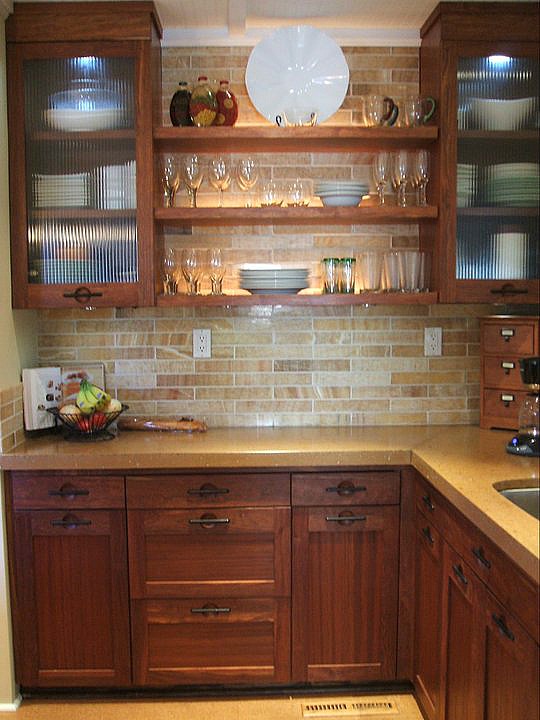 "Working nights and weekends it took close to a year, but now we have the kitchen of our dreams. It could be twice as big as it is, but it still wouldn't work any better for us and make us any happier."

4. Sarah's Kitchen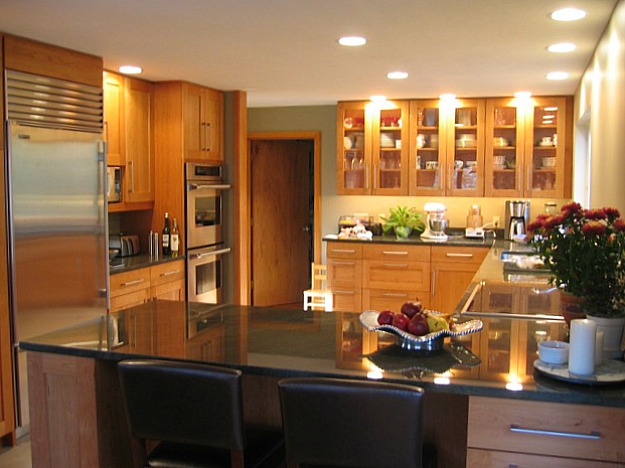 "I love my kitchen because it has lots of storage, deep countertops and warm lighting on dimmers so we can create blindingly bright workspace or romantic serving spaces."

5. Beverly's Kitchen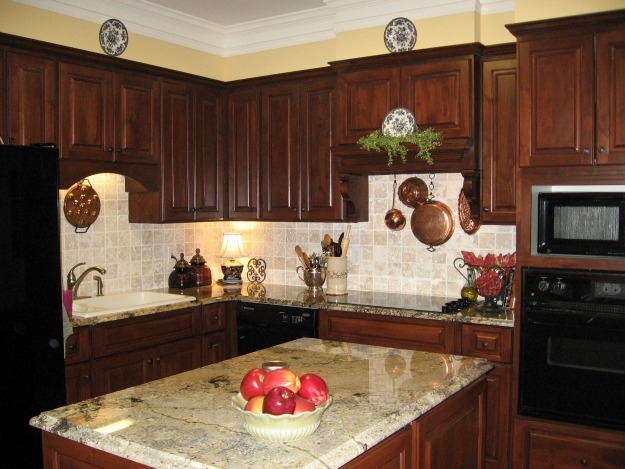 "I absolutely love my kitchen because we waited a long time to redo it. I love the cabinets, because they are alderwood, and they have knots! I love knots!! We were able to pick out the granite by hand; even got to pick our favorite part for the island. Everything looks a little rustic, which is what we wanted!!"

6. Kathy's Kitchen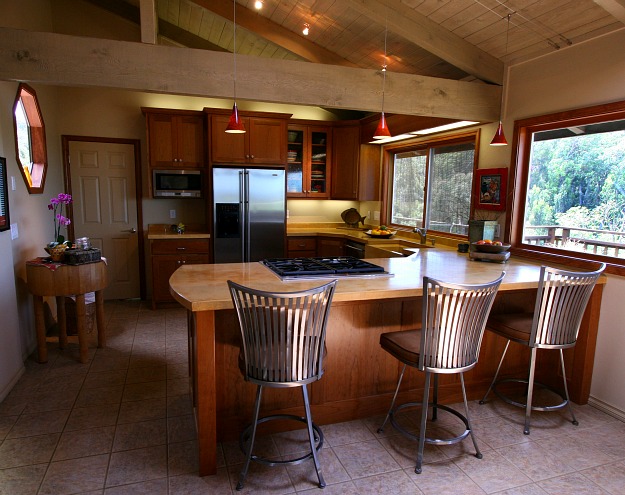 "My favorite place in the world is my kitchen! It's warm and inviting and just the right size. We have a great view and easy access onto the deck. People love to gather in my kitchen and visit with the cook. During festive occasions such as Thanksgiving or Christmas, the living room will be empty and the kitchen is the place everyone feels comfortable in."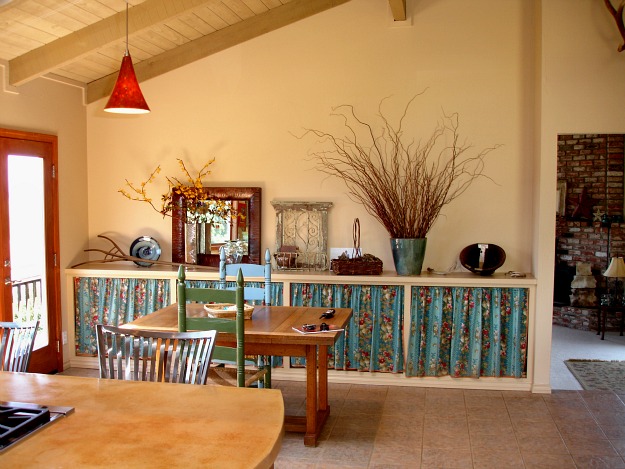 "The countertops are concrete and their color complements everything. I can easily change my dishes and linens with the seasons. I try to adhere to 'organic' accessories and keep the counters free of appliances."
7. Simon's Kitchen
"I live in Northern Ireland. A fan of American-style kitchens, I was often jealous when visiting the States at the size and quality of kitchens, particularly when my own 'galley' kitchen was so small. When we decided to move house, a big kitchen with living areas was top of the list.
"The minute I walked into this house, I automatically loved the space, and the views to the garden. It was important for me to use qood quality materials. Granite worktops, stainless steel, Travertine tiles and solid oak doors."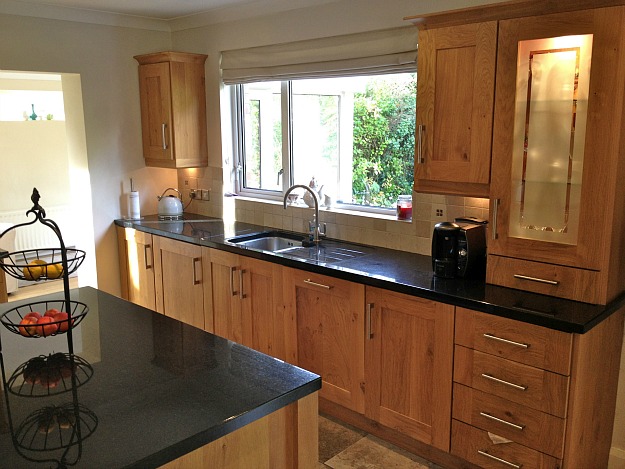 "The eating area is located at the end of the room, whilst a doorway connects to a morning room which is my favourite space to have my morning coffee. All spaces are open plan, so it's easy to talk when entertaining guests."
8.Karen's Kitchen
Karen's is a combination of dark and light, with a wood island and white cabinets.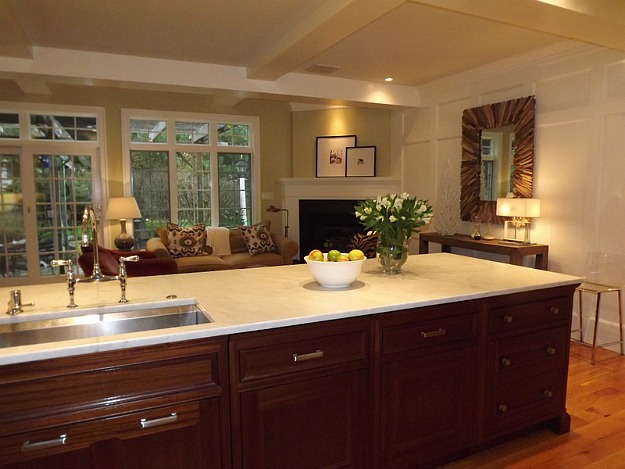 Mixing it up even more–her gray butler's pantry: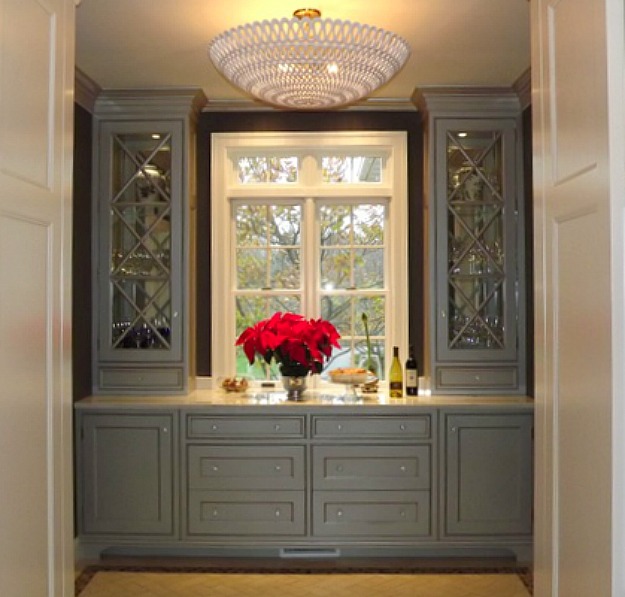 "Our kitchen is a true reflection of our family. It's a place that is truly the heart of our home. Family and friends gather to share great meals, and good times. This kitchen is where we reconnect after a long work and school week. It was important to me that it was beautiful but more importantly it had to be welcoming, comfortable, and a place that people would always feel that they wanted to come back to."
9. Kim's Kitchen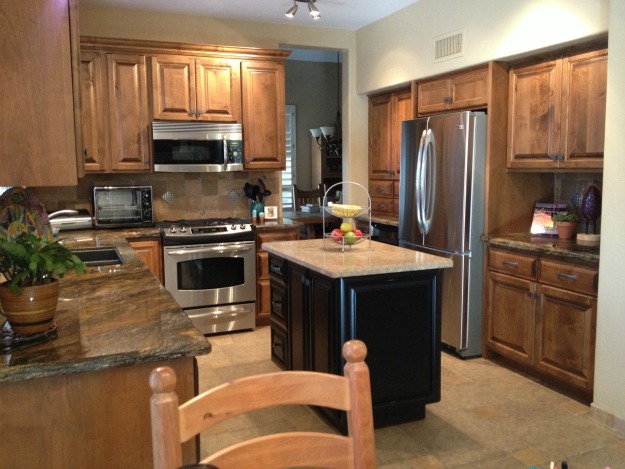 "I love my kitchen because it was a true labor of love to remodel it! It was the main part of a major home remodel before our daughter's wedding. It took 6 months to complete. No meals at home during that whole time. Boy, was I sick of restaurant food!
"And there were some major headaches along the way. See those beautiful custom alder cabinets? Well, I had to fire the cabinet maker before they were completed! Long story, but he basically used money for the cabinets for himself and wasn't paying the craftsmen and so I was left with a partially completed kitchen. I had to turn to my bathroom remodeler to help me finish. He did such a fantastic job and I love him for it!"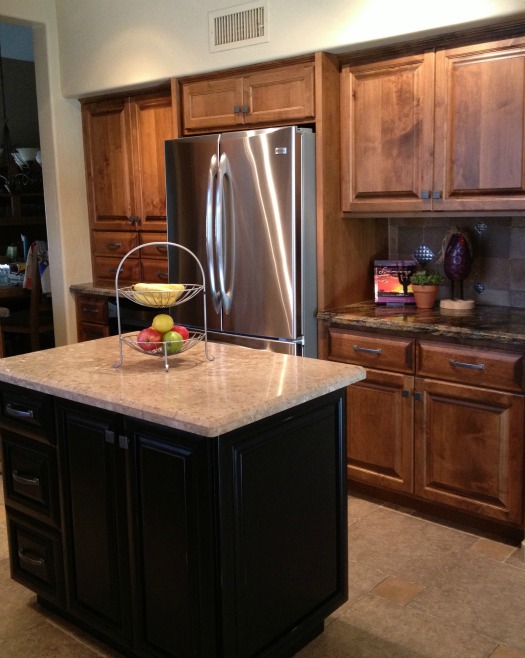 "We were down to the wire before our daughter's bridal shower and wedding. It is a good story now, but I didn't know if I would make it! But the vision that I had in my head for our kitchen became a reality. I enjoy it every day now and am so proud of the results!"

10. Chania's Kitchen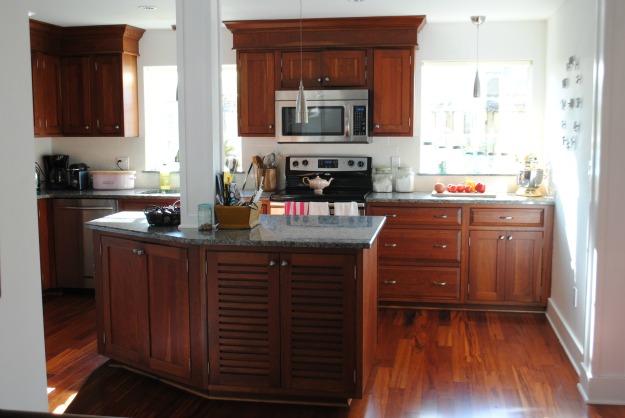 "This is my kitchen in Florida. It has the most remarkable light, and I can see palm trees through the windows while doing dishes. My favorite thing is the window sills, which are 8" wide and perfect for display. I lined up my turquoise jars to catch the light."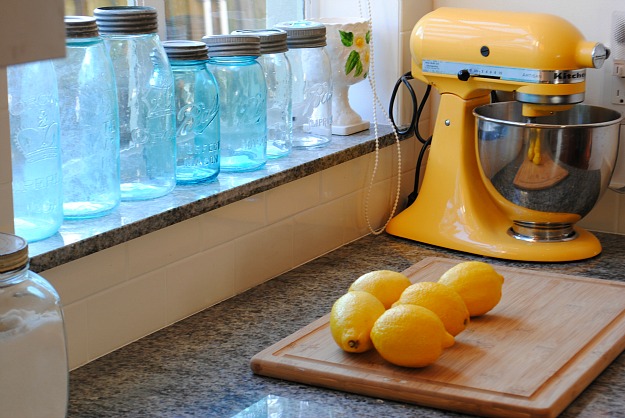 "We recently painted one wall with blackboard paint so we can leave messages and numbers for our friends that use the house. I hung my Roost Clock on this wall and also have a few rosary beads hanging, including one that belonged to a Father Mandalayan."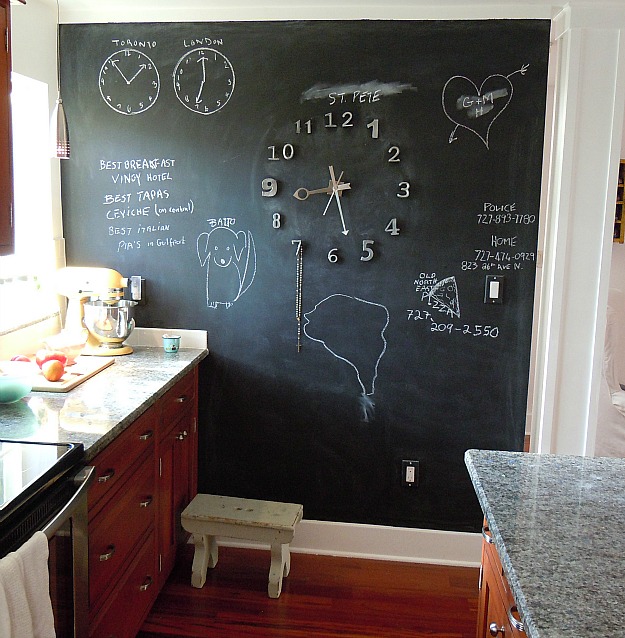 Many thanks to all the readers who shared their kitchens with us. Do you have a favorite?