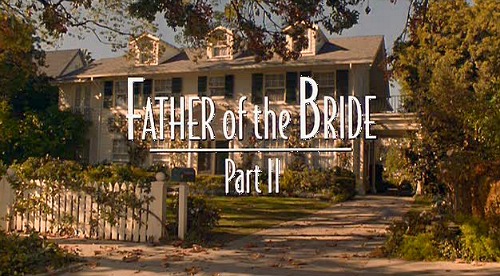 Last week I featured Steve Martin's traditional white house from Father of the Bride, so I thought it would be fun to take a look at how it looked in the sequel, Father of the Bride Part II. In this movie, the camera spent more time lavishing attention on the house and giving us a better look into some of the rooms, like the kitchen. Oh, and the baby's nursery was a wonderful addition–literally.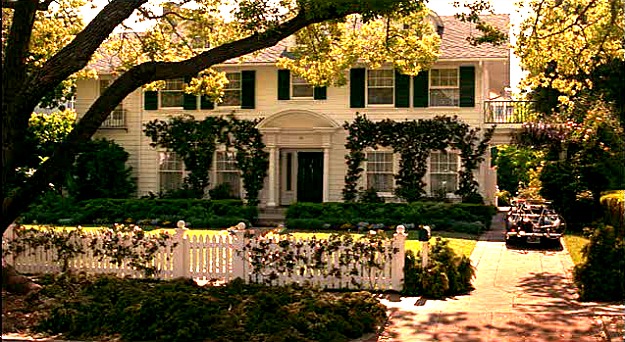 The Entry Hall: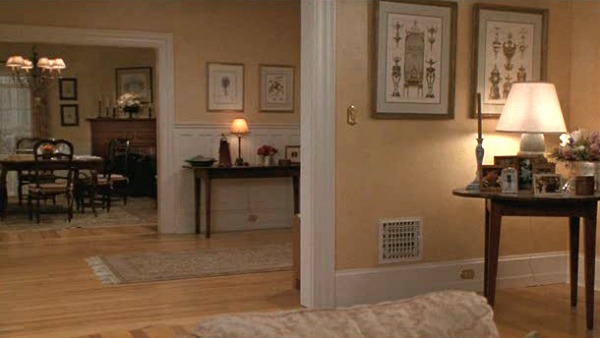 Annie and her mom are both hugely pregnant. In one scene they both looked like they had beach balls under their shirts and Steve Martin narrates that they were only in their second trimester. Yikes. Those are big babies!
Living Room: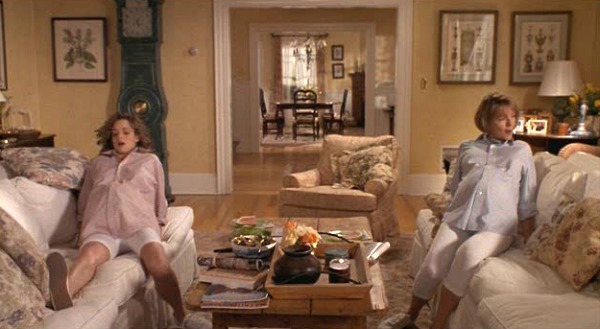 Nina's (Diane Keaton's) pregnancy was a little hard to believe. She was 50 at the time and reportedly refused to play pregnant after reading the screenplay. She thought it was a little too ridiculous. Nancy Meyers (who co-wrote the script with Charles Shyer) and Keaton's co-stars had to talk her into it.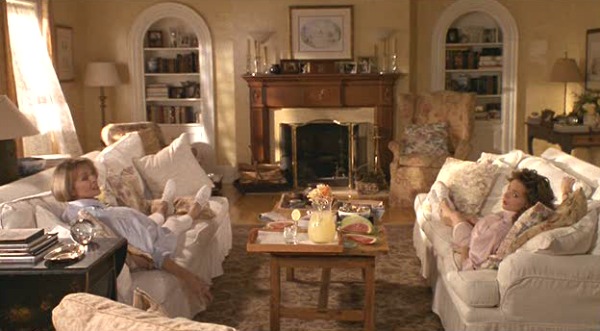 The Dining Room: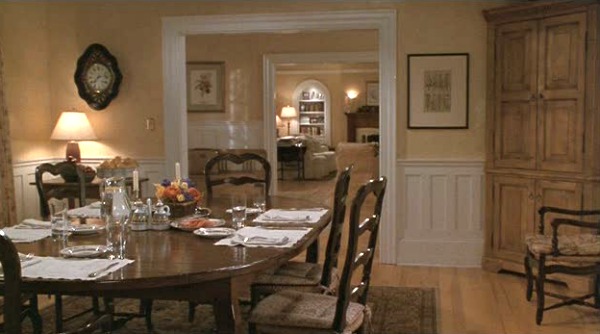 George & Nina's Bedroom: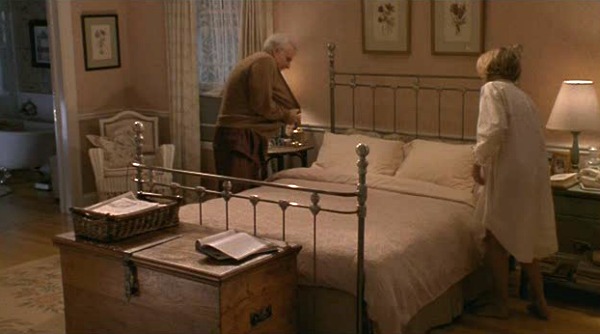 The Kitchen: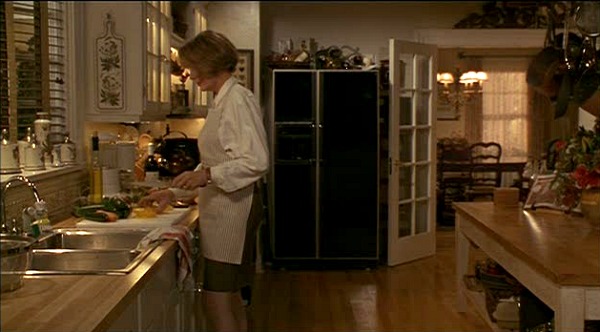 We didn't get to see nearly enough of the kitchen in the original film. More time was spent in it this time around, and I was able to get all sorts of angles. I noticed the main thing that changed from the last movie to this one is the tile backsplash. It's now neutral and beige. Remember how it looked before?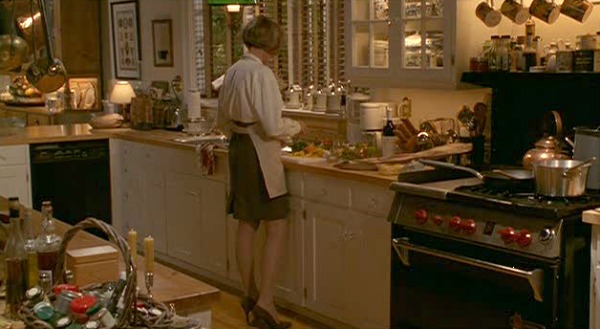 This is the only (blurry) shot I could get of the back stairs off the kitchen, but I was excited to catch a glimpse of it: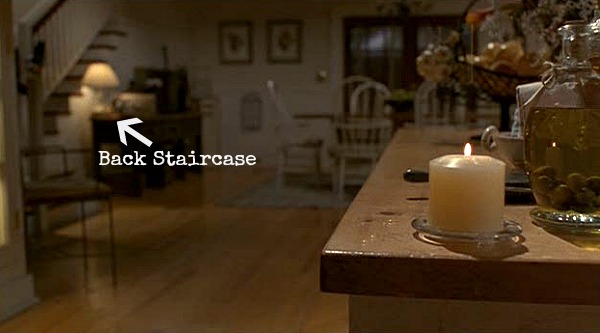 In this scene, we get a glimpse of what appears to be a wall of windows on the right. That's an interior wall, however. It's actually a wall of glass-fronted cabinets that are lit from inside. You may recall we got a glimpse of the green glass inside them in the last film: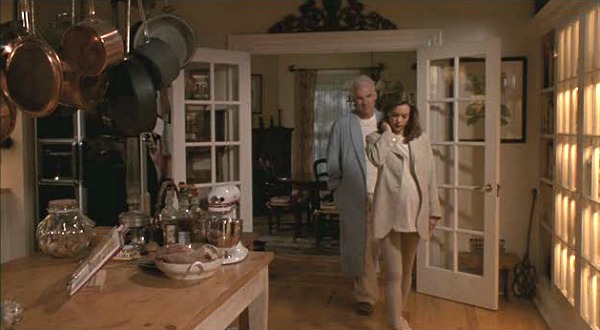 George says his house is the "Leave It to Beaver house that everybody wants." Ain't that the truth.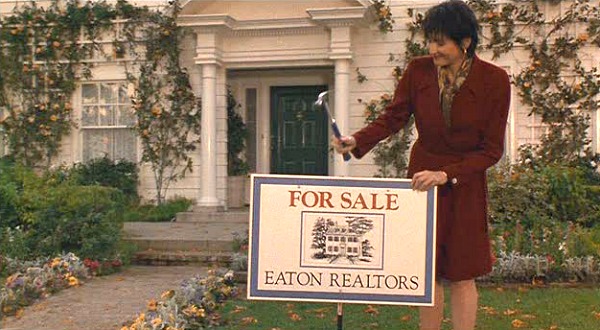 Here they are, saying a weepy farewell to "this run-down old shack," as George calls it. They pan up, the music soars, and the place looks as gorgeous as ever. There's even a rainbow!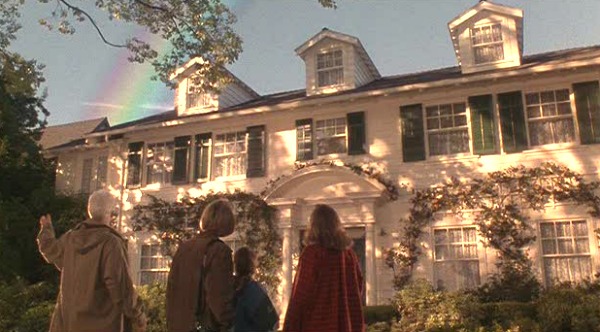 Then he walks back by it a few days later and sees this: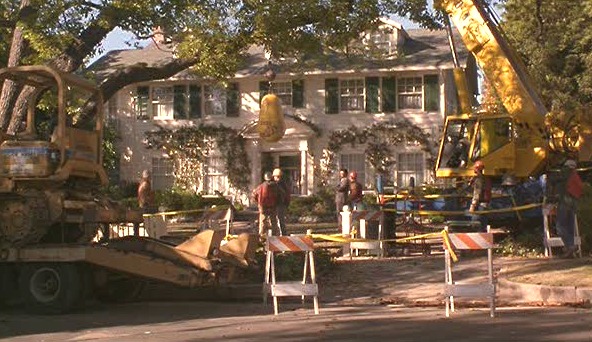 George stops the wrecking ball and pays to get his house back. They move back in and start building an addition for the baby's room.
The Baby's Nursery Addition:
I'm not sure why they were so short on space that they needed an entirely new wing for one little baby (couldn't they use Annie's old room?), but let's just go with it.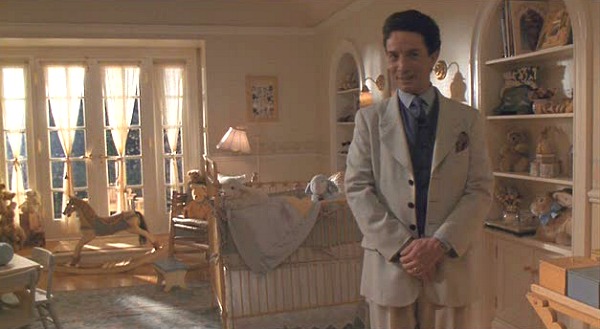 Franck (Martin Short) greets George when he walks in the door and says the nursery is ready for the Big Reveal: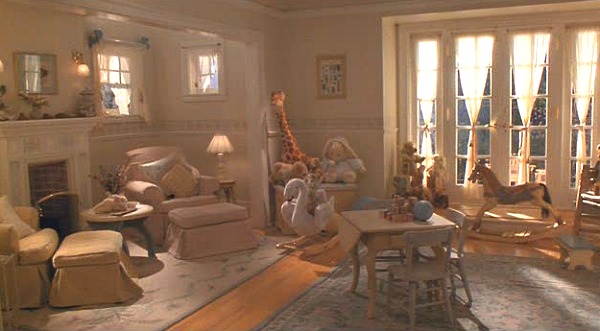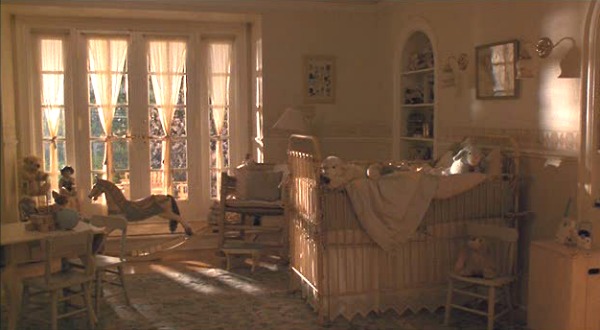 The set design on these two films is pretty impressive when you consider this was the early 1990s (the first movie premiered in 1991 and the second in 1995). If the world saw photos of the way I was decorating in 1995, I can just imagine all the snickers. 😉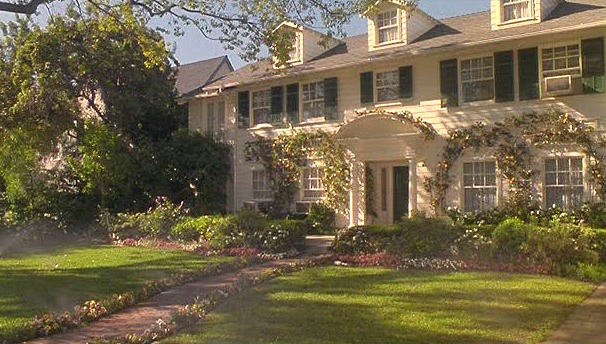 This has to be one of my favorite movie houses. You can see more photos of it and see how it looked in the first Father of the Bride movie. Two houses were used for filming in this movie, and one of them is for sale, so check that out, too!

P.S. Visit Houses Onscreen to see more, including…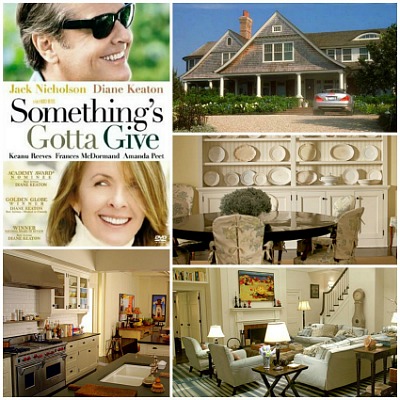 (Visited 563 times, 1 visits today)