When I wrote my first blog post on WordPress back in January of 2008, the default post title they gave me to use was "Hello, World!" After rebuilding my site from the ground up and launching the new design this week, it feels like time to say "Hello, World!" again.
It's not finished yet — we're still polishing things up and getting the kinks out — but it's already running a hundred times better than my old one was.
Blogging with the old site had gotten so frustrating, I decided I either had to do something drastic or give it up altogether.
Then I found Ryan and Cathi Murray, the talented designer/developer team at 3200 Creative, and they convinced me that rebuilding was totally doable. They helped me see the possibilities. They gave me hope that blogging could be fun again.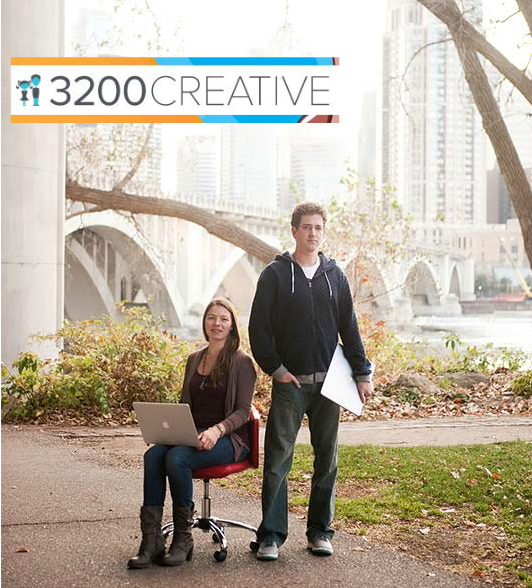 One of the first things Ryan said was, "Your blog has done amazingly well considering all the things you're doing wrong with it." Ha. That pretty much summed it up. So now I'm trying to learn how to do things right. 
It kind of feels like I went from driving an old, beat-up bus that kept breaking down on the side of the road to learning how to fly a 747 with lots of new controls, buttons, and operating instructions. It might take me a few weeks to get the hang of it, so I'll apologize in advance for any "turbulence" you may feel around here. 😉
They rebuilt my site on the Genesis framework, and lot of the improvements are behind the scenes, but some of my favorite changes on the "front end" include:
It's mobile friendly. Finally! So Google, you can stop sending me emails telling me to fix that now. Over half of you read my blog on your phones and tablets, and this should make it a little easier to navigate on smaller screens.
More posts showing on the front page. I hate scrolling, scrolling, scrolling through blogs, trying to get past one post to see what's next. With the new preview photos in grids on the front page (and no sidebar!), you can quickly scan the front page to see what's new and find the stories you're most interested in.
Portfolio pages for popular categories. The most popular categories are listed in the nav bar at the top of the blog, but you'll also see a fun "slider" on the front page with more favorites. So much easier to find the kinds of posts you're looking for now. Visit some of the pages like Beach Houses, Farmhouses, and Funny Real Estate, and you'll see what I mean:
Bigger font that's easier to read. One of my favorite changes, hands down. I hated having to squint to read my own words!
New way to contact me. Now there's a contact form to make it easier for you to submit real estate listings and other houses you'd like me to feature.
I also love the new logo they designed for me and many more features. Click around a bit and see what you think. I hope you like it as much as I do. It feels much more me.
This blog has changed a lot over the past 7.5 years. How many of these versions do you remember?
Hooked on Houses Through the Years: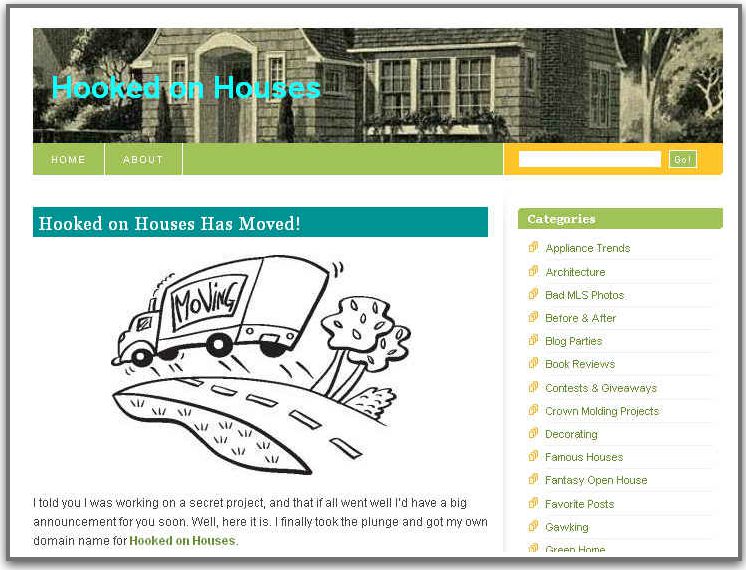 When I started blogging, I chose a WordPress.com theme that was green and yellow with teal headlines. Things were all so simple then! I changed the photo in the header from time to time, struggling to find one that fit and wasn't (too) blurry. By late 2008 I was using this vintage illustration of a Sears Kit house plan.
When I switched from hookedonhouses.wordpress.com to hookedonhouses.net (my own domain, hooray!) at the end of 2008, I chose a theme that was pink and orange:
Blog Design in Late 2008: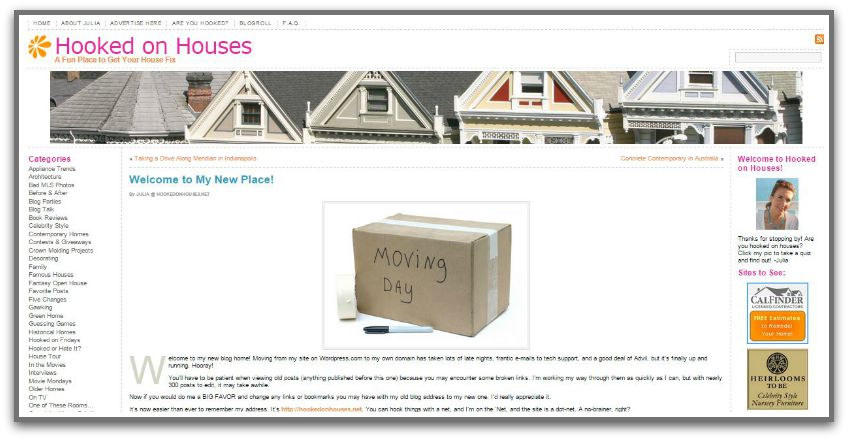 I still didn't have a logo. And because of the header, which was just a stock photo of houses in San Francisco, a lot of people assumed I lived there. Oops.
In 2009 I paid for the Thesis theme and installed it. For the life of me, I couldn't figure out how to use it. Which is why it was set to the black and white default look that it came with for a very long time.
Blog (Un)Design 2009: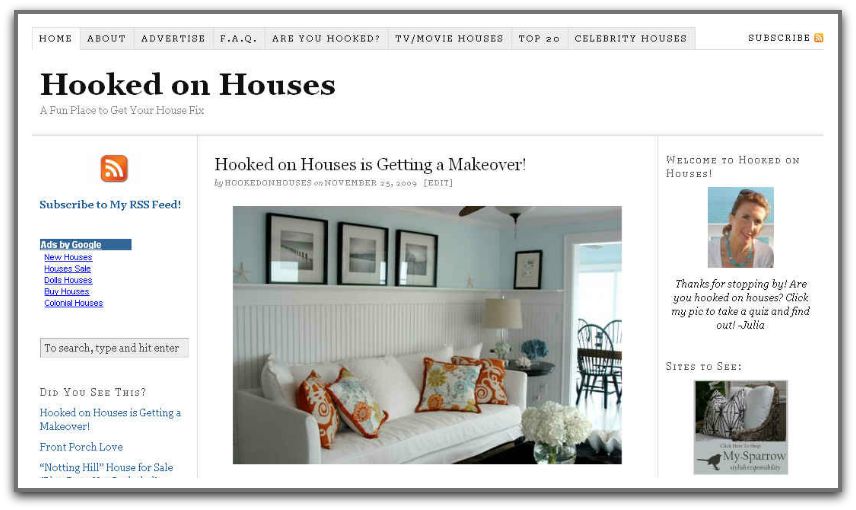 Finally, I found a blog designer, coughed up some real money (which seemed like a fortune to me to spend on my blog then, but seems like a bargain today!) and had her pretty things up for me. She created my first logo with the little yellow Craftsman house that I loved.
Blog Design 2010: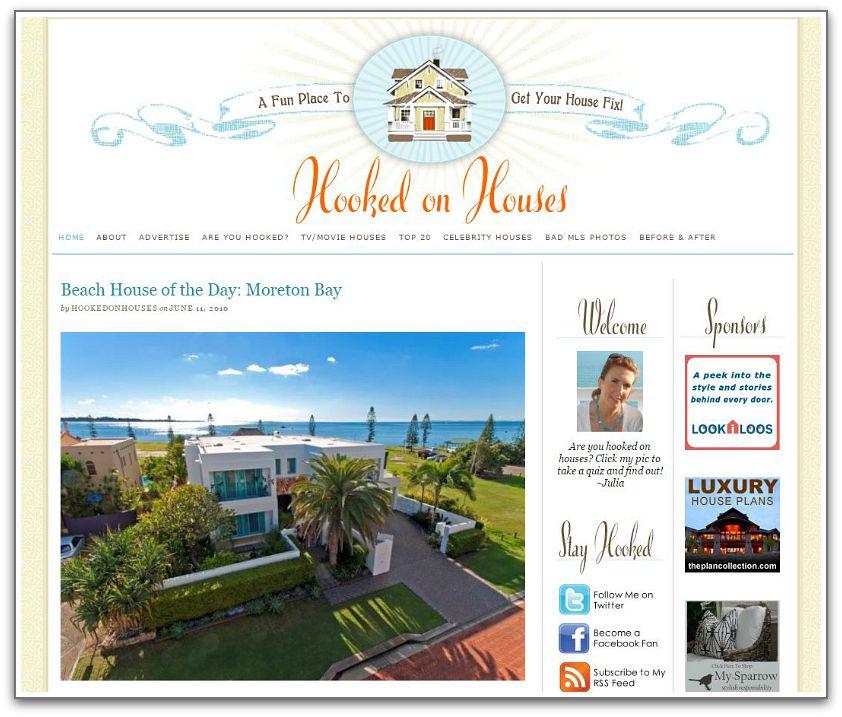 I liked it, but some readers told me, "I liked it better before!" As in, they preferred the default, black and white, generic, logo-less layout. That was a forehead-smacking moment for me. Ha.
That experience taught me two things, though: 1) some people will always prefer the "before" because it's what's familiar and they don't like change, and 2) you can't please everyone! 🙂
In 2012, I decided to lighten things up a bit and tried a new header, along with a cool new "tabber widget" that I paid a designer to create for me in the right sidebar. It had tabs where you could search for whatever you were looking for. I was so excited about that. At least until it caused all kinds of problems for my page, especially in Internet Explorer. Boy, am I glad it's gone now.
New Header 2012: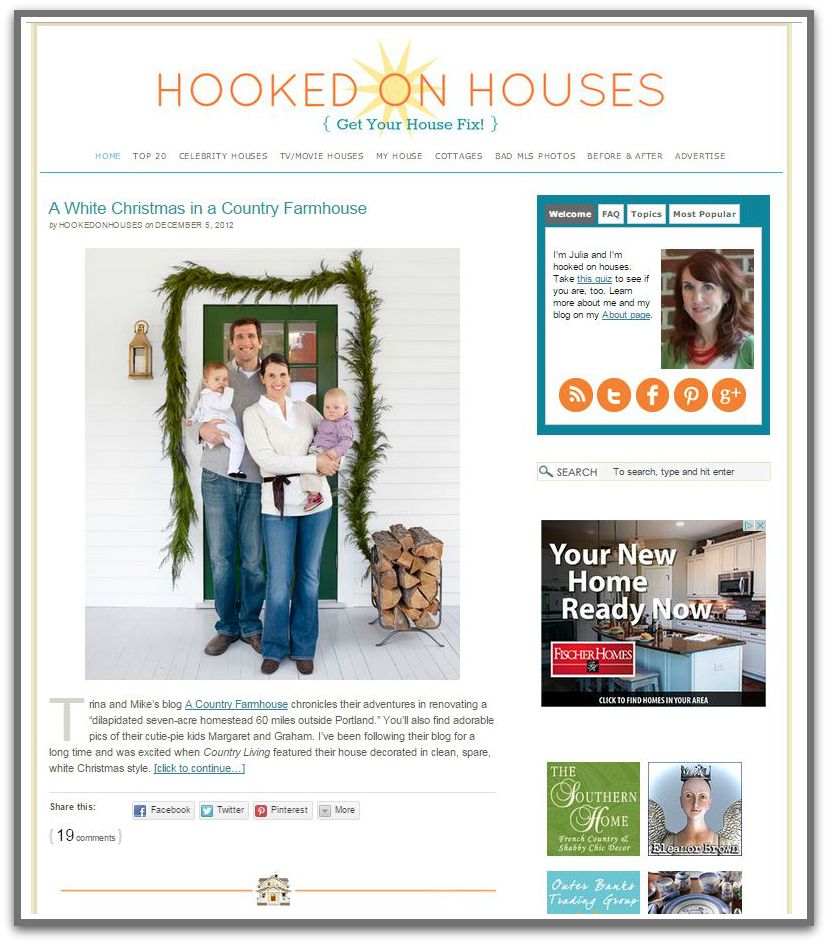 In 2013 I came up with a smaller logo so you wouldn't have to scroll down so far to see the content. Have I mentioned how much I hate scrolling?
I cobbled a logo together myself to use until I had a chance to find a professional designer. It was two more years before I got around to hiring 3200 Creative. No one can ever accuse me of making decisions too quickly. 😉
Blog Design 2013-2015: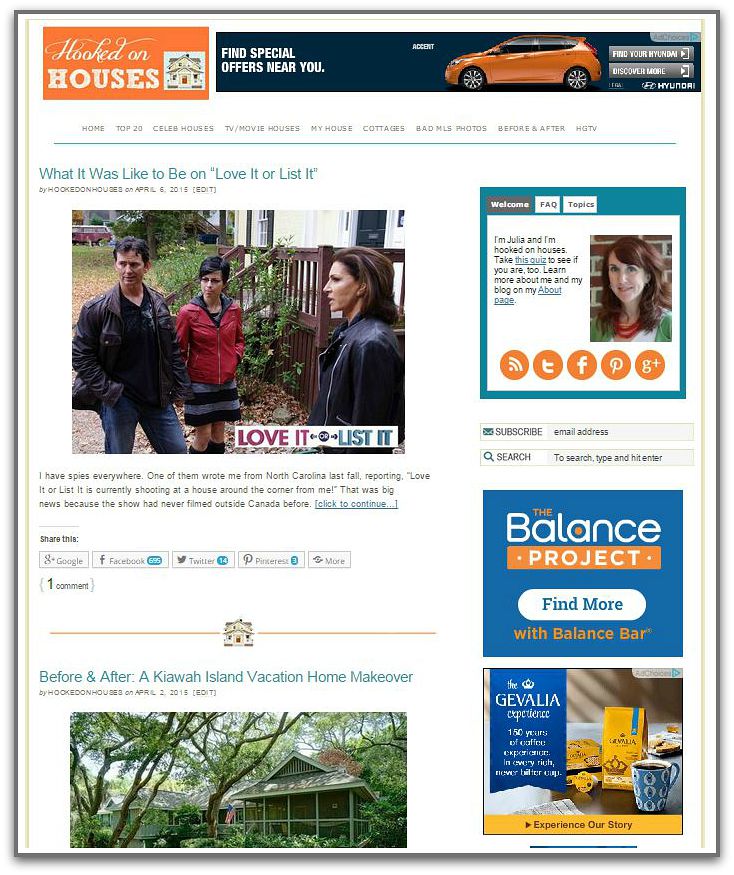 And that brings us to this week, and today, and the new design. Ryan and Cathi showed amazing patience with me and my need to get things "just right." They also taught me more about blogging in a few months than I think I learned in the last 7 years on my own. If you need help with your site, I can't recommend them enough. I mean, seriously, they rock. I couldn't have pulled this off without them.

Thanks to all of you who have stuck with me over the years, through good design and bad, and for taking this trip down Memory Lane with me today. It's fun to see how things have changed over the years. And with the new design, I'm much more excited about my blog's future! 🙂