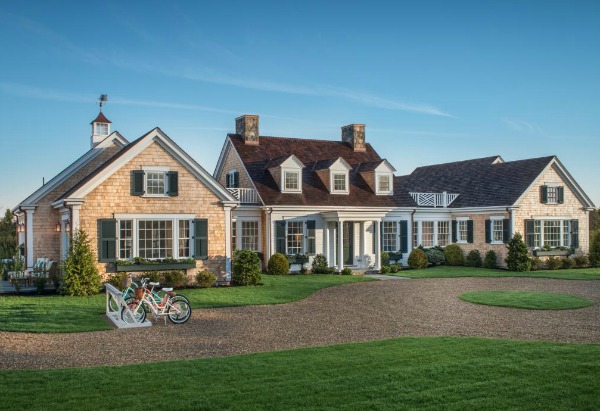 I haven't gotten too excited about any of the HGTV Dream Homes over the past few years, but this is one I'd love to win. When I learned it was designed by architect Patrick Ahearn, I realized that's probably why. I've admired his work for years.
Here's how they describe it: "Built in the style of Cape Cod architecture, this home offers an elegant twist on the traditional, coastal vacation house."
From the press release:
The HGTV Dream Home 2015 is designed by architect Patrick Ahearn in original Cape house style with cottage vernacular, taking ideas from historic structures of the area such as its white clapboard front and dark green shutters. The home also features two stove chimneys that replicate the Katama Plains "shacks" of the area and has six dormers, creating natural light throughout. The approximately 3,200-square-foot, three-bedroom, three-and-a-half bath home is intimate in scale, but open and airy.
The heart of the home is the central double-height great room and large gourmet kitchen with vintage solid beam trusses and large windows for generous views. In addition, three sets of French doors open to a blue stone terrace, with a spacious outdoor grilling area.
To enter and take the tour, visit HGTV.com.