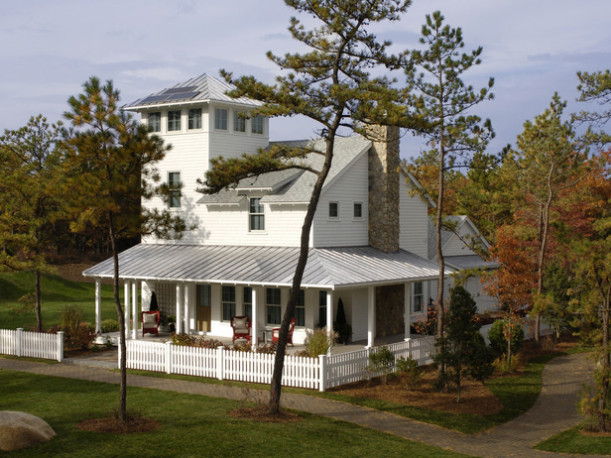 Have you seen HGTV's Green Home 2010 in Plymouth, Massachusetts? It's more my style than the Dream Home 2010 in New Mexico was, and I'm especially digging the front porch, the white picket fence, and that three-story tower. But I've heard some rumblings that some viewers aren't quite so crazy about it. Take a look and then tell me what you think!
This year's Green Home is seeing a lot of red. I didn't realize exactly how red it was until I watched the video tour–it looks a lot more subtle in these photos.
Not only is this sofa red, but the kitchen countertops are, too. Bright red. The countertops are even a little sparkly. Not sure it would be my choice, but it's an interesting one considering how neutral the rest of the kitchen is.
There is no formal Dining Area–just an open corner next to the kitchen. I realize that these types of light fixtures are very hip right now, but to me it looks like it's in a weird kind of cage.
I'm also not sure about all those wicker chairs crammed together like that. Maybe two on a side and two on the ends would've looked a little less crowded?
We see more red in the master bedroom, as well as another dark blue rug. All the dark rugs kind of surprised me. I would've liked to have seen something lighter in the bedroom, especially.
The "Tower Room" is fun, but I expected them to do something a little more creative with an unusual space like this. What would you do with it? I'm thinking some kind of built-in bench would've been great, like a windowseat.
I sound really negative, but overall, I think this would make a nice little vacation house for someone. And hey, if you're that lucky someone, promise that you'll invite me over to see it in person, would ya?
The Sweepstakes starts Friday, April 16–enter at HGTV.com. HGTV host Jamie Durie will give us the televised tour on HGTV Sunday night at 8 pm (ET). You can see the entire slideshow of the house here and take a video tour here, which really gives you a better sense of the space.
(Visited 3 times, 1 visits today)